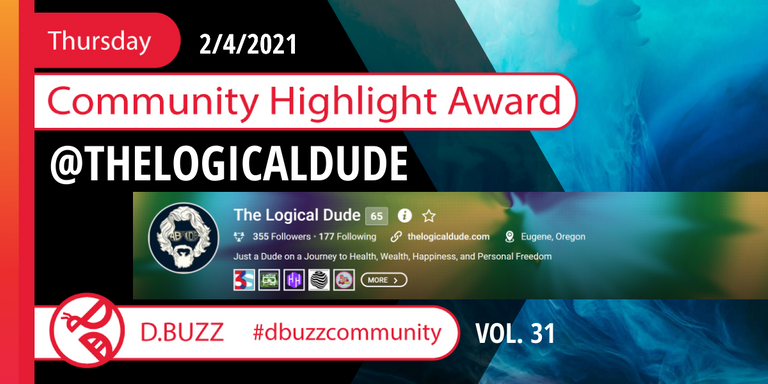 ---
D.Buzz Community Highlight of the week
@thelogicaldude
---
What's Buzzing D.Buzz?
The Hive block chain is as much about community as it is about building. In a lot of ways it is a giant sandbox for you to play in. Hive provides freedom to design and make whatever you want. If you want to post content and engage with friends, awesome, if you want to build an empire and make your own decentralized applications, awesome. The power is yours!
That is truly one of the best features about our blockchain. This ability to grow and scale, mint your own tokens and issue them, and flourish.
Today's community highlight is someone who is building, developing and growing decentralized applications on HIVE as well as engaging in communities and making friends.
Let's discover who they are below.
---
We like to believe that D.Buzz is more than just a Dapp; it's a community. It is a community of people with a passion for Crypto, a passion for censorship-resistant content, engagement, and a passion for spreading their message.
---
We see you, and we love you all.
---
To give back and express our thanks, every Thursday we will highlight someone from our community in a post across social media. They will be listed as a 50% beneficiary in the post as a way to say thanks!
---
Today, We would like to highlight @thelogicaldude!

---
When we were sitting around the office talking about whom to nominate for today's community highly, we began to make a list, a "Hivelist", then it us, @thelogicaldude!
If you don't know, @thelogicaldude is the founder of https://hivelist.io/ , a very groovy hive dapp that works like a classified site, where you can post listings for objects for sale and services. Along with this they are building other applications to support this and recently released their own token (LIST).
That above is pretty cool, but what made them really stand out is there active engagement on the D.BUZZ platform. They are part of our community, post great updates about their projects with us, even recorded nice video about D.BUZZ, and well, we think they are pretty swell person. :)
@thelogicaldude, Keep being the awesome individual you are, keep the hustle strong, keep the development going and on track, you are rocking!
If you don't know who @thelogicaldude is, check them out and, check out the many sweet projects they are working on such as https://hivehustlers.com/ and https://hivelist.io/ .
:D.
Much love,
Your Friends over at D.BUZZ.
---
Do you have someone you feel we should highlight?
Post their name below and the reason why, and we may highlight them. :D
---
Community Highlights
Wall of Fame
---
---
Over and out.
---
---
Is a censorship-resistant short form microblogging platform that empowers you to share your thoughts in 280 characters or less.
Censorship resistant and built for the community with love.
---
We strive to have a fun and neutral stance on topics. If you have any concerns with the content, please contact @jacuzzi, who writes and generates the content for our articles, or the @dbuzz team for clarification.
---


---