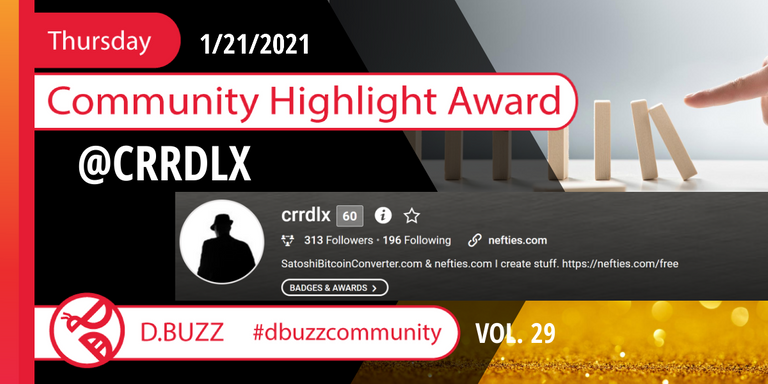 ---
D.Buzz Community Highlight of the week
@crrdlx
---
Let's talk initiative!
When D.Buzz was in its infancy around this time last year, the creators were filled with initiative. They believed in uniting community and people together. They worked tirelessly and hard to bring us to where we are today, with really little or no support. It was that unseen initiative and that drive that compelled them, and brought us here.
Initiative is like the spark that triggers a rockets' engine to ignite, initiative is what spurs the world to move forward towards its goals and objectives and, it takes initiative on the parts of people to make everything better.
Initiative is also what our community highlight of the week has. We have to say that they have it great quantity as well.
Fire up your initiative and read on to discover more!
---
We like to believe that D.Buzz is more than just a Dapp; it's a community. It is a community of people with a passion for Crypto, a passion for censorship-resistant content, engagement, and a passion for spreading their message.
---
We see you, and we love you all.
---
To give back and express our thanks, every Thursday we will highlight someone from our community in a post across social media. They will be listed as a 50% beneficiary in the post as a way to say thanks!
---
Today, We would like to highlight @crrdlx!

---
While sitting around the office, we were discussing how much would like to have some croissants, a tasty treat. But we were all too busy to get up and go. However, an hour later someone walks in with a bag of tasty croissants, this made us all smile with the initiative they took. They were not asked to go out and get croissants, however they did it on their own, and they made the team and the community happy. This is just like what @crrdlx does!
@crrdlx joined the D.Buzz Community around 2 months ago (HERE). We don't know what was inside their heart however shortly after joining, they took initiative and released a newcomers guide to D.Buzz, Then just a short 13 days ago started rolling out the idea for the "The Buzzies - awards for the best buzzes of 2020. 50 HIVE to give away" (OMG) you can read it right HERE.
They did this without anyone asking them to, but just because they have passion and so much initiative that they are a rocket ship unto themselves!!! It's for these reasons and many more that we feel they are an ideal candidate to highlight this week.
@crrdlx, consider our minds blown. You are an epic individual, and we have a lot of gratitude and thanks for all you do. It is humbling and it is delightful to know that people like you are using our platform!
Please keep that initiative strong... even though you might not get thanks all the time realized that people do have gratitude for you. :D
Much love,
Your Friends over at D.BUZZ.
---
Do you have someone you feel we should highlight?
Post their name below and the reason why, and we may highlight them. :D
---
Community Highlights
Wall of Fame
---
---
Over and out.
---
---
Is a censorship-resistant short form microblogging platform that empowers you to share your thoughts in 280 characters or less.
Censorship resistant and built for the community with love.
---
We strive to have a fun and neutral stance on topics. If you have any concerns with the content, please contact @jacuzzi, who writes and generates the content for our articles, or the @dbuzz team for clarification.
---


---