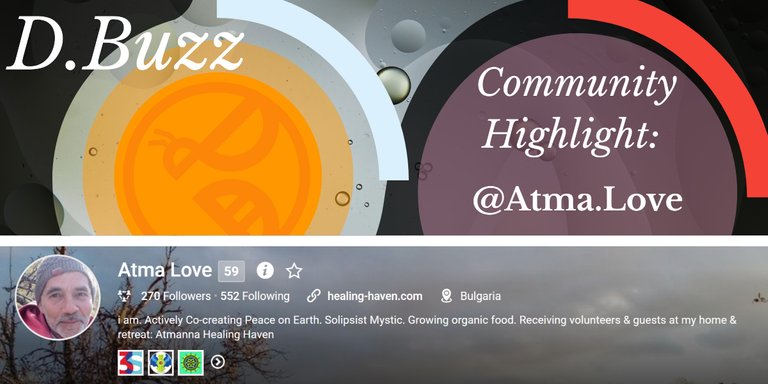 ---
D.Buzz Community Highlight of the week
@atma.love
---
Hey Gals and Guys
It's that time of the week when we take our spotlight, and we shine it at somebody who is particularly awesome.
We like to believe that D.Buzz is more than just a Dapp; it's a community. It is a community of people with a passion for Crypto, a passion for censorship-resistant content, engagement, and a passion for spreading their message.
---
We see you, and we love you all.
---
To give back and express our thanks, every Thursday we will highlight someone from our community in a post across social media. They will be listed as a 50% beneficiary in the post as a way to say thanks!
---
Today, We would like to highlight @atma.love!

---
Ideas and discord (* not the web app but discussion). Talking and deliberating points, discussing each other ideas in useful and practical manners. This all is freedom of speech, and freedom of speech is an underlying principle on which D.Buzz was formed.
When we were discussing who to nominate for this week's highlight, @atma.love name was brought up. The reason being that he is working towards developing a model for freedom of speech that allows deliberation towards consensus on ideas. You can watch his matrix 8, 3 speak video here.
We thought this was a really fascinating idea. The reason being, a lot of times with freedom of speech, discussions can get dragged out and no resolutions and forward progress can be made. However with integrated systems in place to help promote freedom of speech, while working towards a solution, This honors people's voices while allowing progress to be made. AND THAT is really awesome!
It is for these reasons,For being a active member on D.Buzz while also working towards ways to further freedom of speech, and drafting up new ideas to better the overall functionality of HIVE, we wanted to nominate @atma.love as our community member of the week!
If you do not know who @atma.love is, It's high time you do! check out their page and give them a follow and read about some their fantastic ideas they have towards bettering our blockchain.
@atma.love, keep on being amazing and keeping be you!
P.S I hope one day to get out there and check out your awesome living places as well :D, Zucchini Burgers? Yes!
.....
Much love,
Your Friends over at D.BUZZ
---
Do you have someone you feel we should highlight?
Post their name below and the reason why, and we may highlight them. :D
---
Community Highlights
Wall of Fame
---
---
Over and out.
---
---
Is a censorship-resistant short form microblogging platform that empowers you to share your thoughts in 280 characters or less.
Censorship resistant and built for the community with love.
---
We strive to have a fun and neutral stance on topics. If you have any concerns with the content, please contact @jacuzzi, who writes and generates the content for our articles, or the @dbuzz team for clarification.
---


---