---
¡Bienvenidos a mi blog!
¡Welcome to my blog!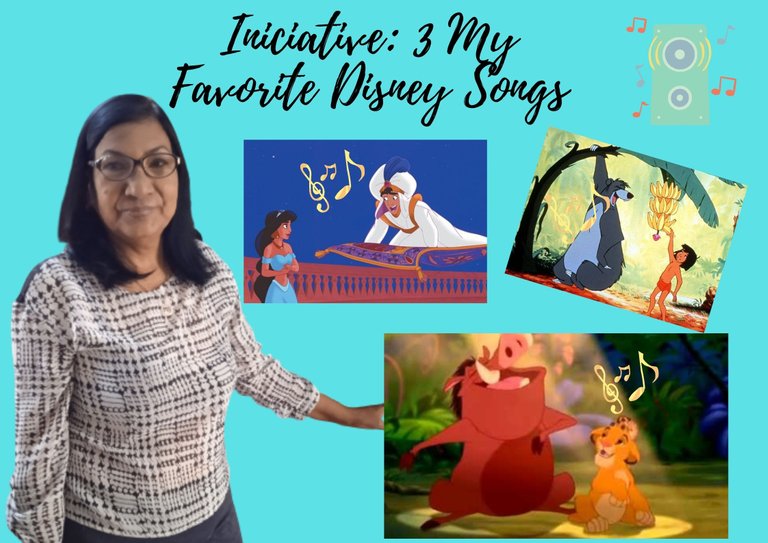 ¡Hola amigos!En esta ocasión les voy a presentar la iniciativa de mi amiga @ anaout97 en la que les invita a mencionar esas 3 canciones favoritas de Disney. Gracias a @nathyortiz por la invitación a participar en este gran espacio y hablar de estas películas que cautivaron mi corazón, cuando me convertí en madre amé más a este personaje que entró a mi casa con sus excelentes películas y música que transmite amor y alegría y nosotras. gusta disfrutar de su magia.
Hello friends! This time I am going to present the initiative of my friend @anaout97 in which she invites you to mention those 3 favorite Disney songs. Thanks to @nathyortiz for the invitation to participate in this great space and talk about these movies that captivated my heart, when I became a mother I loved more this character that entered my home with his excellent movies and music that transmits love and joy and we like to enjoy his magic.
Cuando mi hijo era pequeño disfrutábamos viendo esas películas infantiles de Disney como El Rey León, Aladdin, El libro de la selva, Cenicienta, Raspuzel, Enredados, La Bella y la Bestia, entre otras, cada una tenía un lugar para mí en mi corazón, también estas películas con sus temas musicales me traen hermosos recuerdos ya veces me pongo nostálgico pero disfruto cada uno de ellos.
When my son was little we enjoyed watching those Disney children's movies like Lion King, Aladdin, The Jungle Book, Cinderella, Raspuzel, Tangled, Beauty and the Beast, among others, each one had a place for me in my heart, also these movies with their musical themes bring me beautiful memories and sometimes I get nostalgic but I enjoy each one of them.
Entre los temas musicales de Walt Disney que son mis favoritos tenemos:
Among the Walt Disney musical themes that are my favorites we have:
Hakuna Matata
Una de las canciones es de la película del Rey León "Hakuna Matata" cantada por Timon y Pumba. Esta canción me trae muchos recuerdos primero esta película del Rey León es una de mis favoritas de Walt Disney la vi muchas veces con mi hijo, esta canción tiene un valor importante porque tiene un significado increíble "sin problemas" también nos enseña valores como Como optimismo, cuando lo escuché en la película nos dio esa sensación de alegría por vivir y disfrutar.
Hakuna Matata

One of the songs is from the Lion King movie "Hakuna Matata" sung by Timon and Pumba. This song brings me a lot of memories first this Lion King movie is one of my favorite Walt Disney I saw it many times with my son, this song holds an important value because it has an incredible meaning "no problems" also teaches us values such as optimism, when I heard it in the movie gave us that feeling of joy for living and enjoying.
Un Mundo Ideal
"Un mundo Ideal" este tema musical es de la película Aladin una canción que me robó el corazón y cada vez que la escucho me muevo a ese mundo mágico y de fantasía, donde nos trae esos hermosos recuerdos de este mundo que nadie quiere irse, el mundo de nuestra infancia. Esta música es cantada por Ricardo Montaner, un cantante con una voz única y especial que nos transporta a ese mundo romántico lleno de amor. Esta canción la canta Aladin para ganarse el amor de Jasmin.
An Ideal World

"Un mundo Ideal" this theme song is from the movie Aladin a song that stole my heart and every time I hear it I move to that magical and fantasy world, where it brings us those beautiful memories of this world that no one wants to leave, the world of our childhood. This music is sung by Ricardo Montaner, a singer with a unique and special voice that takes us to that romantic world full of love. This song is sung by Aladin to win the love of Jasmin.
Busca lo más vital
Este tema musical es de una película que me robó el corazón "El libro de la selva" niño llamado Mowgli criado por una manada de lobos en la jungla, esta es una música suave y majestuosa que cuando la escuchamos nos hace sentir muy bien, también me recuerda escuchar a Baloo el oso enseñándole a mowgli cómo vivir sin preocupaciones, vivir la vida sin complicaciones, buscar lo más vital y esencial que la naturaleza nos da para existir, para mí es una de las mejores películas de Disney.
"Busca lo más vital solo
Lo que es solo una necesidad
Y olvídate de la preocupación
Solo lo más esencial
Para vivir sin luchas
Y la naturaleza te lo da"

Search for what is most vital

This theme song is from a movie that stole my heart "The Jungle Book" boy named Mowgli raised by a pack of wolves in the jungle, this is a gentle and majestic music that when we hear it makes us feel very good, also reminds me to listen to Baloo the bear teaching mowgli how to live without worries, live life without complications, look for the most vital and essential that nature gives us to exist, for me it is one of the best Disney movies.
"Look for what is most vital only
What is only a necessity
And forget about worry
Only what is most essential
To live without struggle
And nature gives it to you"
Me encantó hacer esta iniciativa porque me recordó ese mundo mágico que todo niño debería vivir y disfrutar.
I loved doing this initiative because it reminded me of that magical world that every child should live and enjoy.