Hello Hivers!
---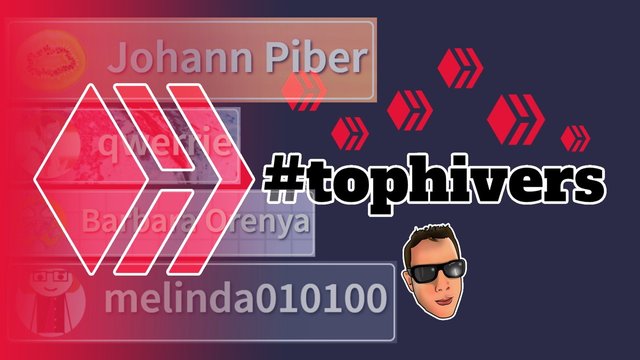 ---
Today I would like to join in the TopHivers Initiative, launched by @theycallmedan. What is it? A simple method to share your own preferences about the Hive Ecosystem. Who are the best bloggers you leave your attention to? Describe them and your experience with and share all under the #tophivers tag.
---
---

The first one I want to recommend is @johannpiber. He was one of the first who started considering my posts on Steem. You may find it very captivating, especially if you are passionate about photography and nature. In his works, you will find breathtaking landscapes and natural details immortalized to perfection. Sometimes use some basic retouching, or leave the photos as they are. Take a look at it when you have time.
---

The second hiver I want to name is @qwerrie. He was the first participant of the PhotoChain contest, the first who believed in his potential. He also dropped some tokens with which to increase the weekly premium. When I met him, it was a mushroom period and his posts showed many different ones. Young and old, colorful and desaturated, edible and not: you could make an encyclopedia, I assure you. His posts contain photos of all kinds and many different subjects. He often creates incredible and striking images and often tells curious stories showing everyday life through the photography in which he is a master.
---

The third is surely @melinda010100, an avid contest organizer. Those who come from Steem and frequent the photography tag will probably have come across at least once in his posts and in his now unstoppable Shadowhunter contest. What's this? Simple: if you often come across curious shadows scattering around you and just as many times you can't hold yourself back from portraying with your smartphone or your camera, here, look at Melinda's blog and the tag #shadowhunter. Every week there was a new edition on Steem with many, many winners. I hope the trend is not downhill here on Hive, of course, I always support BULL. In addition to this, always interesting photos and posts to which a glance never hurts. Melinda was also an assiduous participant - and a winner - in the first editions of Photochain. I count on seeing her still on the podium steps as much as in the past.
---

Let's spend the last paragraph for @barbara-orenya, an excellent blogger who caught my attention by participating in the contest that I organize. From there I decided to pay more attention to his posts and especially to his photos: really curious images, very nursery rhyme style, in my opinion; that light blur, those soft, nuanced, evanescent colors. It looks like animation, instead, they are made-by-her images that I have learned to recognize as a signature on this platform.
There would be many other bloggers on this platform that I would like to mention but for reasons of space I will not go on. Among other things, I mentioned the ones that most characterized my recent arrival on hive starting from a base on steemit. Many projects are still in the process of settling after this fork and, of someones, we don't even know the future well. We will see...
In the last step, I can only thank @theycallmedan for the initiative he launched and for his contribution both on the steem and, as far as I can see, on the hive. So, if you want the fifth name, keep an eye on @theycallmedan because you will certainly have fun.
---
Greetings from Italy, Dears!