Because sometimes confusion dominates everything and we can doubt even the most basic.

Porque a veces la confusión lo domina todo y podemos dudar incluso de lo más básico.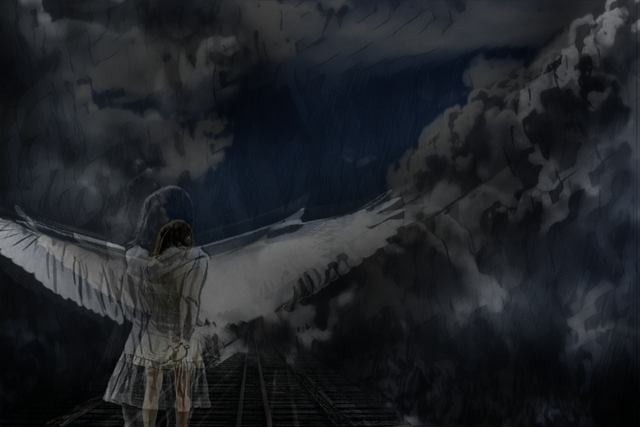 --->
---

DECIDING IF I SHOULD FIGHT FOR MY LIFE
DECIDIENDO SI DEBO LUCHAR POR LA VIDA


---

Complete darkness was all I was sure of. It was a vague darkness in which there was no happiness or sadness, where coherence lost its meaning and there was only me.

La completa oscuridad fue todo de lo que estuve plenamente segura. Era una oscuridad vaga en la que no había felicidad ni tristeza, donde la coherencia perdía sentido y sólo estaba yo.

I was startled when little reflections arrived without warning that darkness, reflections of a life that I have not yet finished living... Or did i?
Me sobresalté cuando pequeños reflejos llegaron sin aviso esa oscuridad, reflejos de una vida que aún no he terminado de vivir... ¿O si?

I hear constant crying, I know that some words are spoken very close to my ear, but I cannot understand them. He did not stop feeling the pressure that something was doing to one of my hands, like someone who clings to the hope of transmitting connection.
Escucho llantos constantes, sé que algunas palabras se pronuncian muy cerca de mi oído, pero no logro comprenderlas. No dejó de sentir la presión que algo hacía a una de mis manos, como quien se aferra a la esperanza de transmitir conexión.

I did not understand what was happening, because I only feel a nervous feeling inside me, I understood that something was happening but I could not understand it. I asked my mind to speed up any conclusion, becoming increasingly clear that I wanted answers.
No entendía que sucedía, porque solo siento en mi interior una sensación nerviosa, entendía que algo sucedía pero no lograba comprenderlo. Pedí a mi mente que acelerara cualquier conclusión, siendo cada vez más evidente que quería respuestas.

That was how the distressing feeling came, that feeling of who yells at a deaf person to be heard. It was a late concern that was still present and a question was repeated in my ramblings:
Así fue como llegó la sensación angustiante, esa sensación de quién le grita a un sordo para ser escuchada. Era una preocupación tardía que aún seguía presente y una pregunta se repetía en mis divagaciones:
Why were importants the movements?

¿Por qué los movimientos eran importantes?


Movements... Movements... Mmm... I was not aware that I was making any movements. The desire to open the eyes grew and grew, But it was not my eyes that tried to open, but the darkness was still there.
Movimientos... Movimientos... Mmm... No era consciente de estar haciendo algún movimiento. Las ganas de abrir los ojos fueron creciendo y creciendo, Pero no eran mis ojos los que intentaba abrir, pero la oscuridad continuaba allí.

Then I felt that everything touched a point of clarity, with the vision blurred like that of who is surprised by a bright light. And there I was, seeing a pale girl in that bed. Still blurred, the image seemed so empty to me, because I had no idea who that woman was.
Luego sentí que todo tocaba un punto de claridad, con la visión borrosa cómo la de quién es sorprendido por una luz brillante. Y allí estaba yo, viendo a una chica pálida en aquella cama. Aún borrosa la imagen me pareció tan vacía, porque no tenía ni idea de quién era aquella mujer.

Instinctively I thought I was dreaming, I let myself be carried away by the feeling of floating and without knowing why I had the impression that I had to hold on so as not to continue climbing. I suppose it was because of the vertigo produced by the height, although I had the feeling that they were squeezing my hand again.
Instintivamente pensé que estaba soñando, me dejé llevar por la sensación de estar flotando y sin saber porqué tuve la impresión de que debía sujetarme para no seguir subiendo. Supongo que fue por el vértigo que produce la altura, aunque volví a tener la sensación de qué apretaban de nuevo mi mano.

I began to receive in more detail the images and that sound... I noticed the agitation in those people around the bed, nurses running from one side to the other, trying to drive away those relatives. But the sound continued to stun me.
Comencé a recibir con más detalle las imágenes y aquel sonido... Noté la agitación en aquellas personas que rodeaban la cama, enfermeras corriendo de un lado a otro, intentando alejar a aquellos familiares. Pero el sonido continuado aturdiéndome.

I tried to have more attention to detail, I recognized that bracelet immediately, just as I had designed it for her. But that is not possible?
Intenté prestar mayor atención a los detalles, reconocí enseguida aquel brazalete, justo cómo lo había diseñado para ella. ¿Pero eso no es posible?

And right behind that girl, I knew who it was that was trying to calm her down. The cold seeped into the air in which he floated and he was afraid to turn the bed over again.
Y justo detrás de esa niña, supe quien era el que trataba de calmarla. El frío se coló en el aire en el que flotaba y tenía miedo de voltear de nuevo la cama.

The deafening whistle continued to sound. Sadness seeped into me when I no longer felt the pressure on my fingers, he and she were no longer there, next to the bed. A chill hit ran through my energy and I saw at the same time something stirred in the bed.
Continuaba sonando aquel ensordecedor pitó. La tristeza se coló en mí cuando ya no sentí la presión en mis dedos, él y ella ya no estaban allí, al lado de la cama. Un golpe de escalofrío recorrió mi energía y ví que al mismo tiempo algo se agitó en la cama.

I understood everything! My sight quickly saw the reflection of my face in that woman ... It was me!
¡Lo comprendí todo! Mi vista rápidamente vió el reflejo de mi rostro en aquella mujer... ¡Era yo!

My reactions were not logical, I would never imagine that I would act this way. The feeling of relief ran through me for a moment, I thought that everything would end and that after a few tears they would continue their lives.
Mis reacciones no fueron lógicas, jamás imaginaría que yo actuaría de esta manera. La sensación de alivio me recorrió por un momento, pensé qué todo terminaría y que luego de unas cuantas lágrimas ellos continuarían sus vidas.

Another chill hit ran through my energy just as those doctors were trying to get my heart to beat again.
Otro golpe de escalofrío recorrió mi energía justo en el momento en el que aquellos doctores intentaban que mi corazón volver a latir.
____________________


But my mind traveled through her memories, traveled in search of farewells, traveled in hopes of continuing to remember. Although after each image, after each feeling, my hands decided to cling to the air, to hold tightly all the motives. Seeing with each tear the reason for his laughter, making the decision of what he wanted to continue being.
Pero mi mente viajó por sus recuerdos, viajó en busca de despedidas, viajó con esperanzas de seguir recordando. Aunque tras cada imagen, tras cada sentimiento, mis manos decidieron aferrarse al aire, sujetar con fuerza todos los motivos. Viendo en cada lágrima la razón de sus risas, tomando la decisión de qué quería seguir estando.

A sigh warmed the air at the center of my energy, taking advantage of that next electrical impulse to grab all my strength to plummet onto my body.
Un suspiro calento el aire en el centro de mi energía, aprovechando en ese siguiente impulso eléctrico para aferrar todas mis fuerzas para caer en picada sobre mi cuerpo.
PUM... PUM... PUM...



AND MY WORLD RETURNED INTO A BEAT!
¡Y MI MUNDO VOLVIÓ EN UN LATIDO!
THE END /// FIN


---
---
This post is part of the Freewriter Challenge of the The Terminal.
Este post es parte del Escritura Libre de la comunidad de The Terminal.
PRESS HERE FOR JOIN // PRESIONA AQUÍ PARA UNIRSE
(CHAT - DISCORD - CHAT)
For see the rules of this Challenge follow this link.
---
---

Twitter: https://twitter.com/FemmeDark
Instagram: https://www.instagram.com/dark.femme.box
Discord: DarkFemme#3243
Telegram: @DarkFemme
Facebook: Darkfemme box

Nota:
Todos los separadores, el Gif y firma son de mi autoría.
La imagen de portada fue modificada con Ibispaint y Picsart.
Contenido original publicado en varias redes con el mismo nombre de usuario.
---

---