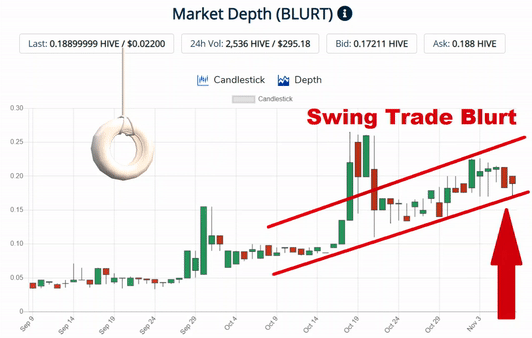 Src Hive-Engine
I noticed that the #blurt token is swinging up and down lately from .018 to the .023 levels. It was late until I realized that I should had set my buy order at .018-/+ and then sell it at .023-/+ and then incrementing it at a higher price and higher low points.
But I was able to buy at .019 so I might cancel my sell order at a higher price and then sell it in those projected price levels i.e. .023-/+. So by doing so I might accumulate #blurt tokens which is another way of building my account.
I have no more extra money to spare over buying #blurt as some of my funds are just scheduled to be allocated for my other needs. But if I would earn a bit more then I might add some more buying funds to sell later and then buy again at higher lows.

Src - Hive-Engine
It is because I do think that Blurt's price would rise given the fact that there are many supportive curators here that are making all users to have a level playing field in getting a chance to grow and be a part of the successful Blurt community ecosystem.
Anyway that would be my plan in my #blurt token trading journey and it is an exciting thing to realize that this trend could be beneficial not only for me but also for small traders out there who also wants to take advantage of this kind of trading technique which is called "Swing Trading".