I usually go to Sto. Tomas Batangas to eat my favorite Pork Nilaga or Beef Bulalo. It's a pork or beef soup with clear broth. Sometimes, I also eat Gotong Batangas or Beef Innard Soup. I like dishes with broth. Today since we are still in community quarantine, I cook my own version of Pork Nilaga.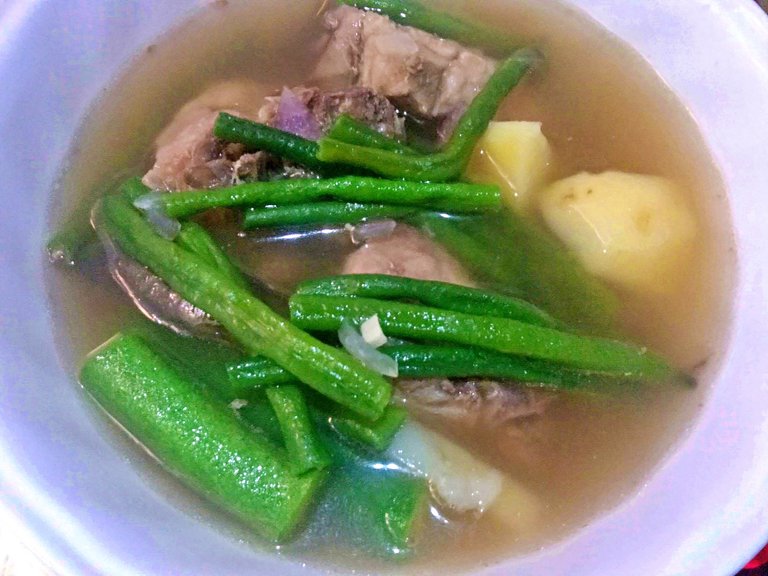 Pork Nilaga or Filipino Pork Soup is a common dish in the Philippines. Filipinos love eating soup dishes and Pork Nilaga is an example.
Yesterday when I went to the market I bought 1/2 kilo of pork meat with bones, Buto-buto. I prefer meat with bones because I want the soup to be tastier. I use different vegetables in my Pork Nilaga. Usually, others use pechay and banana (saba). I want it more healthier so I add different vegetables to it.
Here's the ingredients
1/2 kilogram Pork
2 big potatoes - sliced
5 pcs. okra
10 pcs. string beans
1 pc. egg plant
1 knorr pork cube
1 onion chopped
2 tbs fish sauce and salt
8 cups of water
1 tbs pepper corn
Procedure:
Put water in a pot, bring to boil.
Add pepper corn and onion, let it boil until onion is tender.
Add the pork, stir. Cook it for 60 minutes or until the pork is tender.
Add the potato, until the potato is tender.
Add string beans and eggplant. Cook for 3-5 minutes.
Put the fish sauce and salt. Add the okra and bring it to boil.
Put it in a bowl and serve.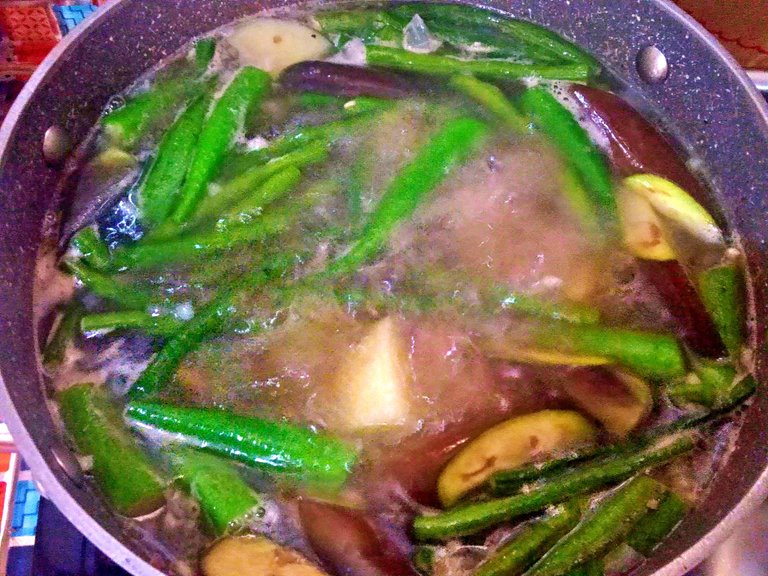 NUTRITIONAL BENEFITS
PORK - is an excellent source of protein and provides several important vitamins and minerals.
SITAW - contains vitamins and mineral with folate.
OKRA - is rich in magnesium, folate, fiber, antioxidants, and vitamin C, K1, and A.
POTATO - contains fiber, potassium, vitamin C, and vitamin B6.
---
I hope you like my cooking today. I included the nutritional benefits for you to appreciate. You can add different vegetables to put more nutritional value to your cooking.

image source:
| Device | Location | Person |
| --- | --- | --- |
| Oppo A3s | our house | @coolath |

Your Blog Owl,

Follow Me: