MY SCAM EXPERIENCE
Helo hivers,sorry I haven't been online for about five days now,things haven't been easy with me,my Facebook account was hacked,and the hacker has been scamming people with my account,it has been a heart-breaking week for me.
HOW IT ALL STARTED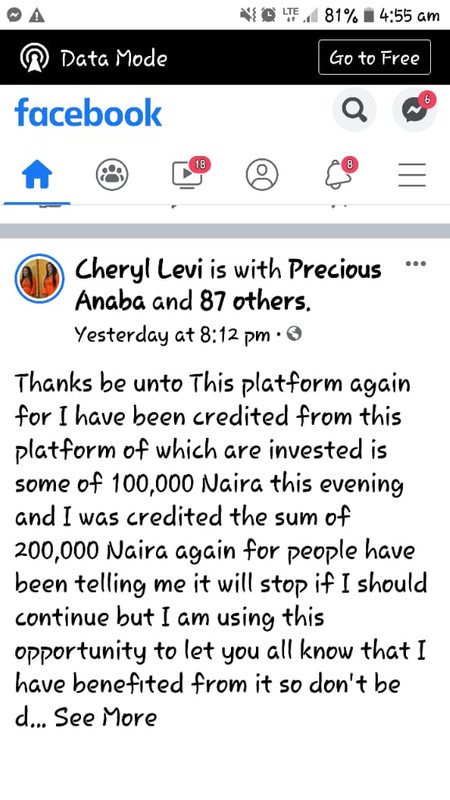 On April 13th,one beautiful afternoon,I was gisting with my husband in the sitting room, somehow I was also going through my Facebook,I saw a post for a class shared in the group that i was interested in,the author of the post asked interested members to drop their contacts as we would be added to a WhatsApp class,I dropped my contact and logged out afterwards.
After about one hour,a guy called me on the phone and said he was the "admin" of the group I indicated interested in on WhatsApp and that the are creating a group to add the participants,he stated that he will send me my registration code for confirmation,just about five minutes,he called back and requested for the code,so I called it out for him. My husband was quite confused and he asked me what the code was all about and I told,that was when he shouted that it was scam and that my account was going to be hacked.
I just couldn't believe it immediately because my mind never went to something like that,as at then I didn't know if it was my WhatsApp or Facebook account that was to be hacked,so I quickly went to my WhatsApp and sent broadcast messages to my contacts that my account might be compromised,then I logged into my Facebook account to change my password immediately,that was when I discovered that my Facebook number and password has been changed,and it was exactly with the contact of the guy that called me. I started panicking,so I dropped a post immediately warning my Facebook friends to note that my account has been hacked,it wasn't long when i was completely logged out of my account.
The guy took over the account and blocked my husband and every one he suspected was my relation,he also deleted the post I made so that my friends wouldn't see it.
He started using my account to make post asking people to invest in Rich connect invest,that it's legit,what made it worst is that he used other hacked accounts of his to give testimonies on the post that way anyone who sees it would believe since some person's were confirming payments already. Some of my friends fell for it.
WHY SOME PEOPLE FELL FOR IT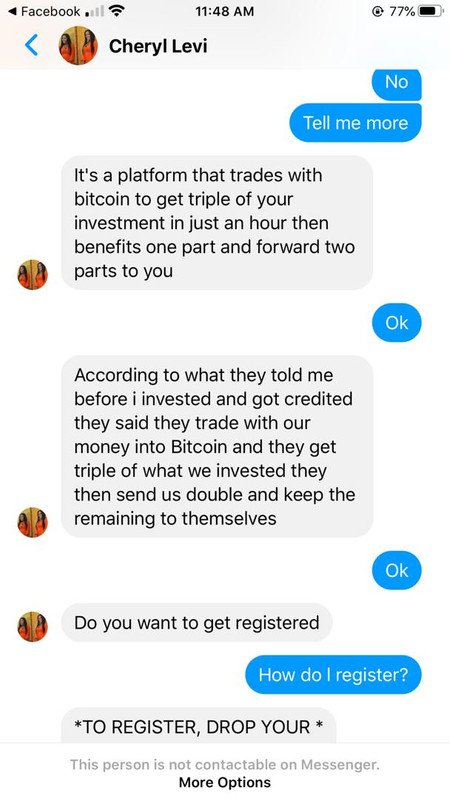 Lots of friends knows me to be honest and sincere,they see me as being responsible and that I wouldn't bring up an investment platform if it wasn't legit, also I do Jumia business and I have lots of people who entrusts funds into my hands and they know it's safe,the most heartbreaking of it all was my cousin who paid two hundred and eighty thousand naira,she felt relaxed that I was the one and she trusted me,she didn't call and she paid.
The guy was so smart,he made her believe that her money would be doubled in one hour and that he was sending her details to their admin who will confirm her and merge her with whom to pay,that same guy chatting as me was still the same person that called her.
THE EFFECT ON ME
It hasn't been funny, almost every hour, someone is calling me,either to tell me they have paid and haven't seen their returns or calling to confirm if am really the one,I have lost appetite,I have fallen sick,I have lost sleep,I have been depressed.
I tried retrieving the account but couldn't since it wasn't linked to my email address,lots of people have reported the account but is still yet to be closed,so I made lots of broadcast on WhatsApp,and started calling my friends one after the other,then I begged some friends to help me make post on Facebook and tag our mutual friends so that lots of people will be aware that it's not me.
MY ADVICE TO HIKERS
Please the rate at which accounts are hacked now is alarming so kindly ensure that your social media accounts are linked to your mail for retrieval purposes then also try to enable 2FA authentication so that whenever your account is logged into any device you would be notified instantly,never give out any code to anyone from your phone,it might be a hacker,then never exposure your vital informations on social media because it might be used to get to you. Finally also know that Ponzi doesn't work anymore,there is no where that money is doubled in one hour, everyone wants more money but don't let it take away your sense of reasoning.
Am glad I could share to enlighten others,I hope to get over all these soon. Keep staying safe!
---
---