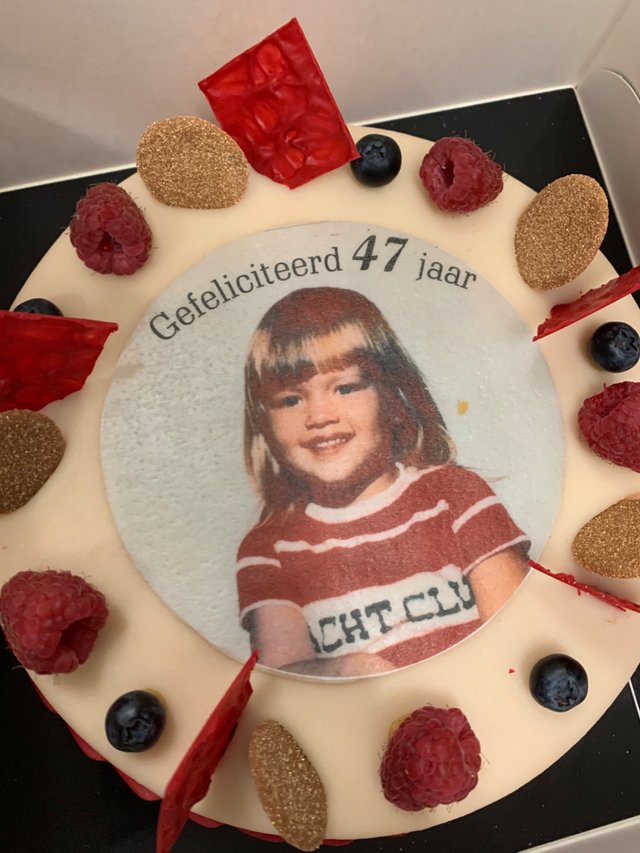 Having your birthday in covid times asks for new solutions to normal things. We already did this very many time's ( 46 time's to be exact ) and still one of the nicest days needed to be different today. My cake was send to me by my parents , made by a bakery especially for me with a picture from 40 ( my god that much ? Yes that much) years ago and in a flavour I love so much.

I had friends come over and be with me from the street. In pairs because we still aren't allowed to be with more than 3 so the pairs could be with me and we would be with 3. Than they would leave a small gift and that way I saw all of them and my family and could talk to them live! Loved that. Gosh I miss being social. I even saw the pregnant belly from my sister in law.

I got flowers and a card. My family knows I am a bee on Hive now!


Covid birthdays can rock and I was spoiled with all these nice presents. And because it all was a surprise it's been a fantaboulous day!


I had so many messages from all of you in DM, discord and the general chatrooms and I wanted to take a minute to say that was highly appreciated and a great way to spend the day. There was the cake blog by @theterminal, thank you @thekittygirl for doing that and I love the fruity cake, and the sweet sweet words. Here is that wonderful blog.

https://peakd.com/hive-101265/@theterminal/birthday-greetings-brittandjosie

And two of our terminalers made me blogs aswell: and I highly appreciated them, want to read the blogs here are the links:

https://peakd.com/happybrithday/@suheri/happy-brithday-brittandjosie

https://hive.blog/theterminal/@sirpee6/happy-birthday-brittandjosie

My COVID style 47th birthday was great being on the next one.

Thanks for stopping by, its appreciated and remember focus on being creative instead of being bee-zy.

Consistent Actions Create Consistent Results. Not everyone is a blogger but everyone has something great to offer.

Lover of Life and L❤️ve in General - @brittandjosie


(c) All images and photographs, unless otherwise specified, are created and owned by me. @brittandjosie originals. Sources used : Pixabay and Pexels and with others its mentioned in my blog. I only use a canon camera and my iPhone.

I would like to thank you for reading my blog, feel free to leave me any feedback, if not, read you next time.

Your personal Discord terminal invite : https://discord.gg/XZGPGpz




Are you under 500 HP or SP , want to win prizes or delegations? Than you can enter the REDFISHRALLY, go to @theterminal blog and see what its all about.
Date : my birthday 7 May 2020