Bushfires are something that happens in Australia every year. There is a bushfire season, but practically there are always ones throughout the year. Some of them are intentionally laid for various reasons, others are caused by arson or weather conditions. In 2014 we came dangerously close to a smaller grass fire without realizing it.
Buschfeuer sind etwas, was jedes Jahr in Australien stattfindet. Zwar gibt es eine Buschfeuer Saison aber praktisch finden dass ganze Jahr über immer wieder welche statt. Manche davon werden aus diversen Gründen absichtlich gelegt, andere wiederum entstehen durch Brandstiftung oder durch Wettereinflüsse. Im Jahr 2014 sind wir einem kleineren grass Feuer gefährlich nahe gekommen ohne es wirklich zu bemerken.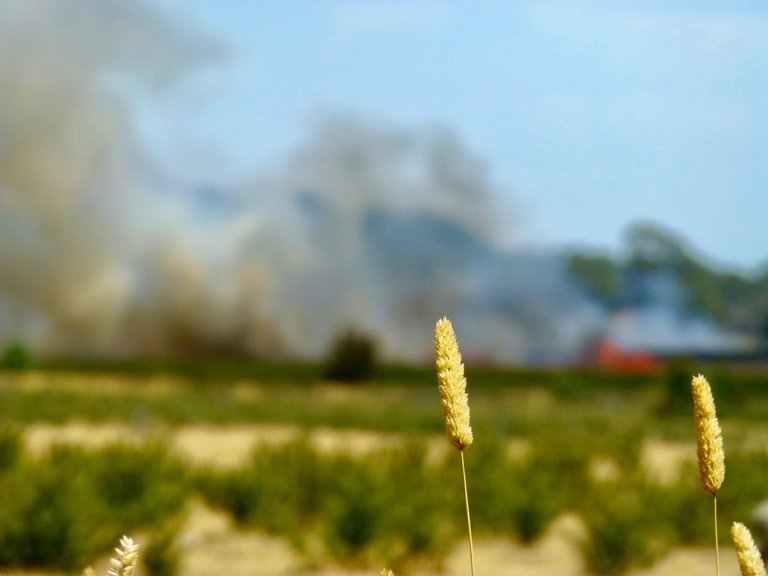 ---
It happened on our way to the Grampians, a national park in the state of Victoria. It was the end of the Australian summer and it was damn hot that day. We smelled it before we could see anything. A few minutes later we discovered smoke on our left side, it seemed to be so far away that we didn't care about it, but always had an eye on it.
Es geschah auf unserem weg zu den Grampians, einem Nationalpark im Bundesstaat Victoria. Es war gegen ende des australischen Sommers und an diesem Tag war es verdammt heiß. Wir rochen es, bevor wir überhaupt etwas sehen konnten. Einige Minuten später entdeckten wir Rauch zu unserer linken Seite, es schien soweit entfernt zu sein dass wir uns nicht weiter darum sorgten, jedoch immer ein Auge darauf hatten.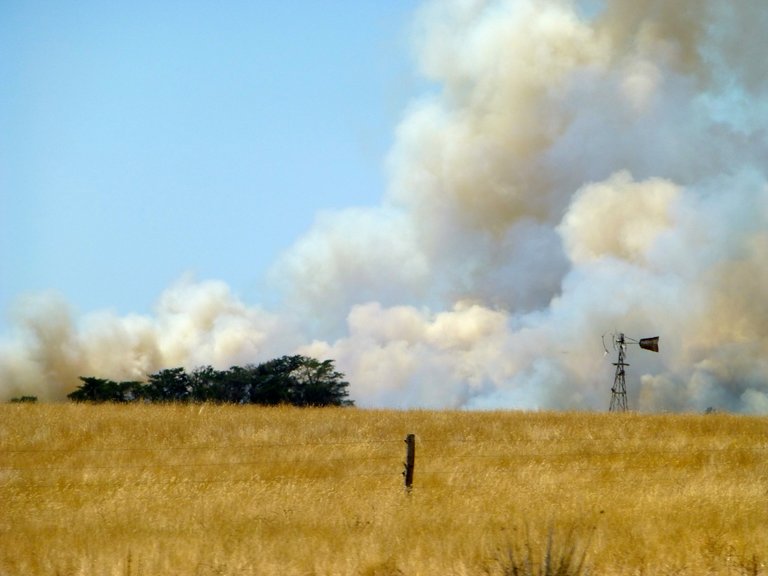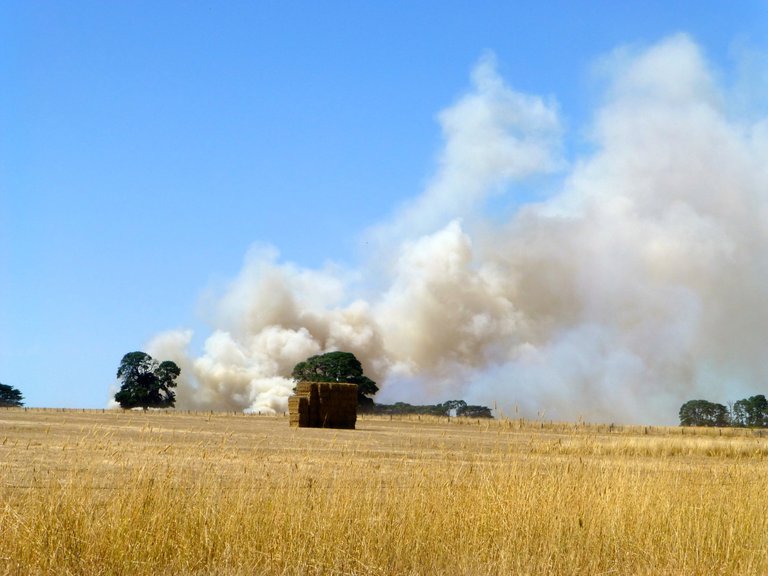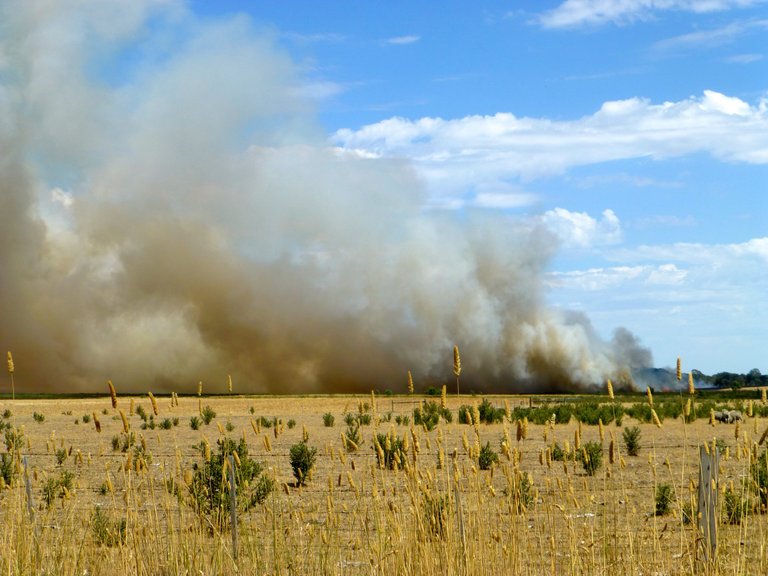 ---
Suddenly, however, the road made an arc and we drove straight in the direction of the fire. After a few Kilometers we saw blue lights in front of us and a big truck standing on the street. We stopped and I asked the truck driver what was going on, although I could already guess the answer. He informed me that there is a grass fire which is spreading rapidly due to the wind. However, traffic would soon be redirected.
Plötzlich machte die Straße jedoch einen Bogen und wir fuhren nun direkt in die Richtung des Feuers. Nach einigen Kilometern sahen wir vor uns Blaulicht und einen großen Truck auf der Straße stehen. Wir hielten an und ich fragte den Truckfahrer was los sei, obwohl ich mir die Antwort schon denken konnte. Er teilte mir mit dass es ein Grassfeuer gibt welches sich bedingt durch den wind rasend schnell ausbreitet. Jedoch würde der verkehr in kürze umgeleitet werden.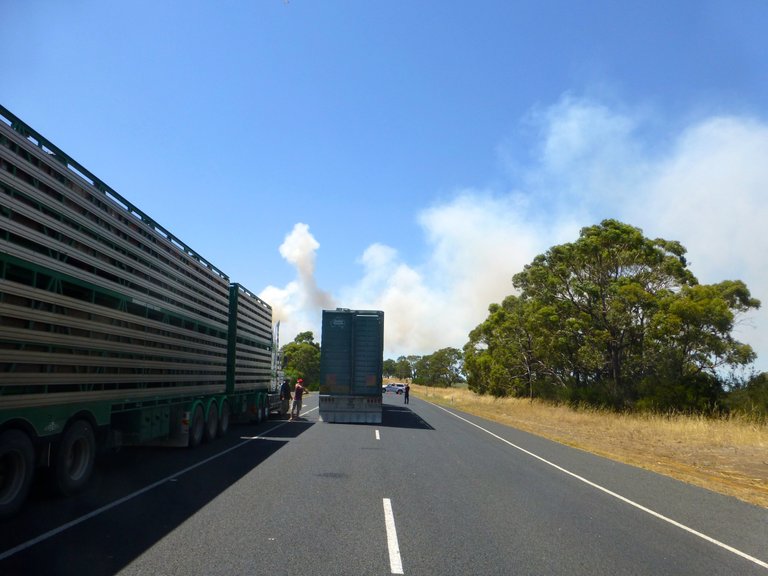 ---
After a few minutes of waiting, the police rerouted our trip. It continued along a small field path, past the fire at a safe distance. When we were already a few Kilometers on the dusty path and the distance to the fire was safe enough, we got out of the car to take some pictures. The size and smoke development of the fire was very scary. The fire trucks looked like toy cars next to the huge, yellowish smoke towers.
Nach einigen Minuten des Wartens leitete die Polizei unsere fahrt um. es ging weiter über einen kleinen Feldweg, in sicherem abstand am Feuer vorbei. Als wir bereits einige Kilometer auf dem staubigen Weg unterwegs waren und uns der Abstand zum Feuer sicher genug war, stiegen wir aus dem Auto um einige Fotos zu machen. Die Größe und die Rauchentwicklung des Feuers war schon sehr beängstigend. Die Feuerwehr Autos wirkten neben den riesigen, gelblichen Rauchtürmen wie Spielzeugautos.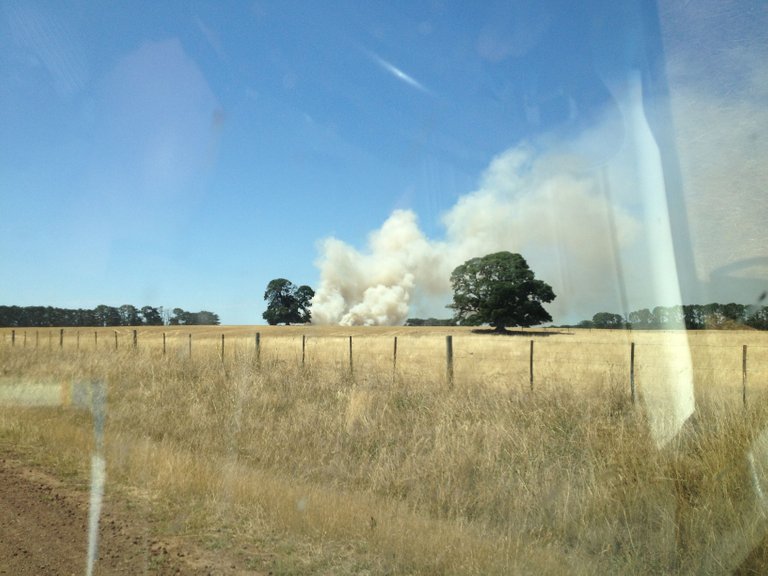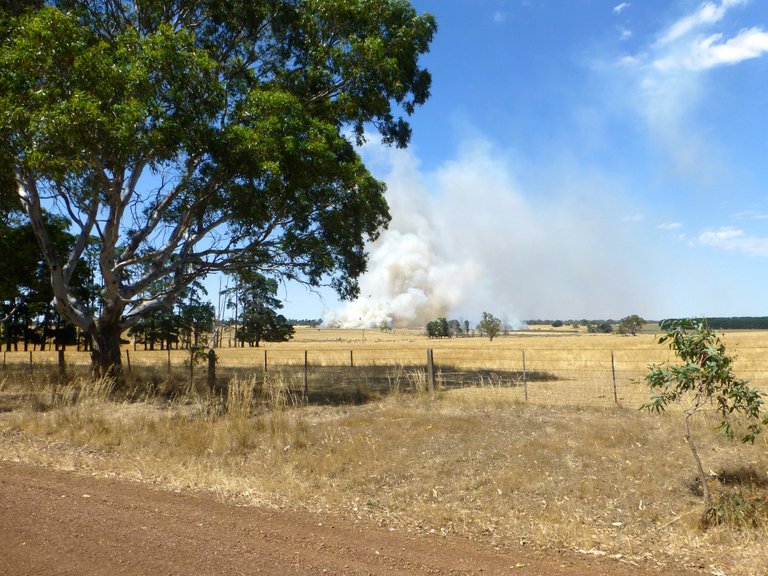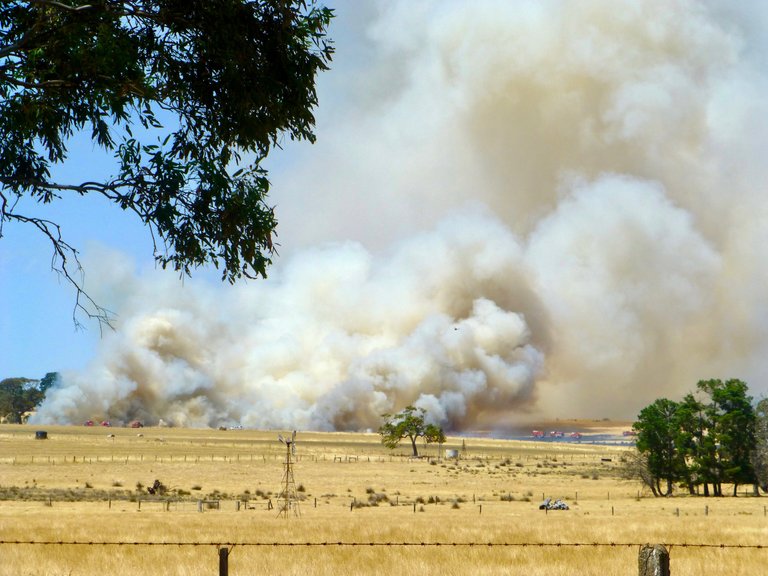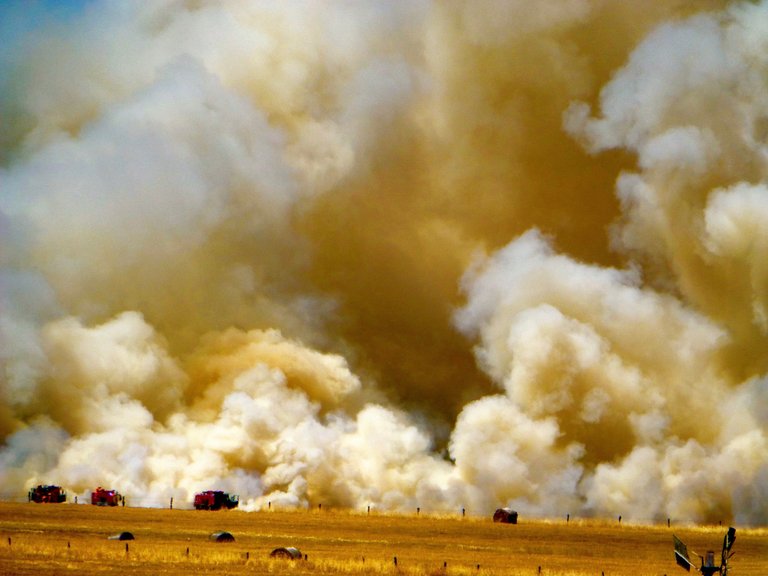 ---
These fires may not be as dangerous as the famous australian bush fires, which sometimes burn for months. However, you should be very careful as these fires can spread very quickly. Since that day I am always very careful when I see smoke somewhere in the distance.
Diese Feuer mögen nicht ganz so gefährlich sein wie die berühmten australischen Buschfeuer die gerne auch mal über Monate hinweg brennen. Jedoch sollte man sehr aufpassen da diese Feuer sich rasend schnell ausbreiten können. Seit diesem Tag bin ich immer sehr vorsichtig wenn ich irgendwo in der Ferne Rauch sehe.