---
Splinterlands weekly challenge and this week theme is BARKING SPIDER
Well, for all the time of weekly challenges this one really appeared to be hardest one. And not only by the fact that I normally do not use this card, since Earth deck really has many more stronger ones and usage of the Barking Spider is really quite limited due quite high mana and only one additional ability from 6th level. The main problem is appeared to be to get the fight conditions where I could be able to use this card at all. The game was kind of joking on me today in 80% of cases giving some special rules like "No Earth Splinter", "Melee Mayhem" or "Only Odds". As a result I had to play over 20 matches finally being able to win one with Barking Spider used. HELL!!!
But result was achieved and lets see
FIGHT. Keep Your Distance + 21 Mana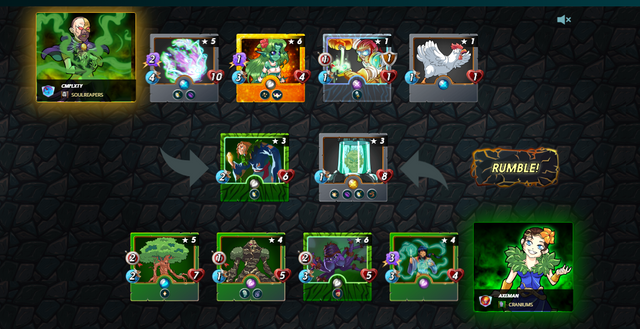 https://steemmonsters.com/?p=battle&id=8b65381989f87ef12e4299c0255984c6323538a9
Keep your distance means quite high possibility for opponent to use Magic attack. At this point not bad strategy is to place Lord Arianthus at first line and try to set mostly Range Attack monsters
Here is final line-up using Earth Splinter
LORD ARIANTHUS. Very strong Legendary perfect against Magic and Melee attacks
MAGI OF THE FOREST. Great Epic card with high Magic attack and decent speed
BARKING SPIDER. Average range attack, average speed and decent life. Blind ability
SWAMP THING. Very slow with low Range attack, but Low Mana and two additional abilities: Weaken and Slow
SCREAMING BANSHEE. Decent Magic attack and low mana. Low speed and Life, but can manage to make enough damage...
EARTH ELEMENTAL. Average Range attack with average Speed. But vey high life and Self Healing ability
Counting main fight condition it was still a bit risky to use Magi of the Forest, but to have Lord Arianthus as tank and all rest Range attack only not the best choice even, only if to put Earth Elemental at second position with heavy Self Healing. But decision was made
Opponent used Delwyn Dragonscale on basis of Earth deck as well and it looks like with same idea, counting that I will use heavy magic. But not this time... Not too much heavy Ranged attack still did the trick eliminating Magic Reflecting opponents monsters and Halfing Alchemist was kind of useless against Lord Arianthus.
Blind ability of Barking Spider wasn't used this time at all, but Range attack was still of use...
Hope you have enjoyed!
---

If You still not into this amazing game - JOIN HERE