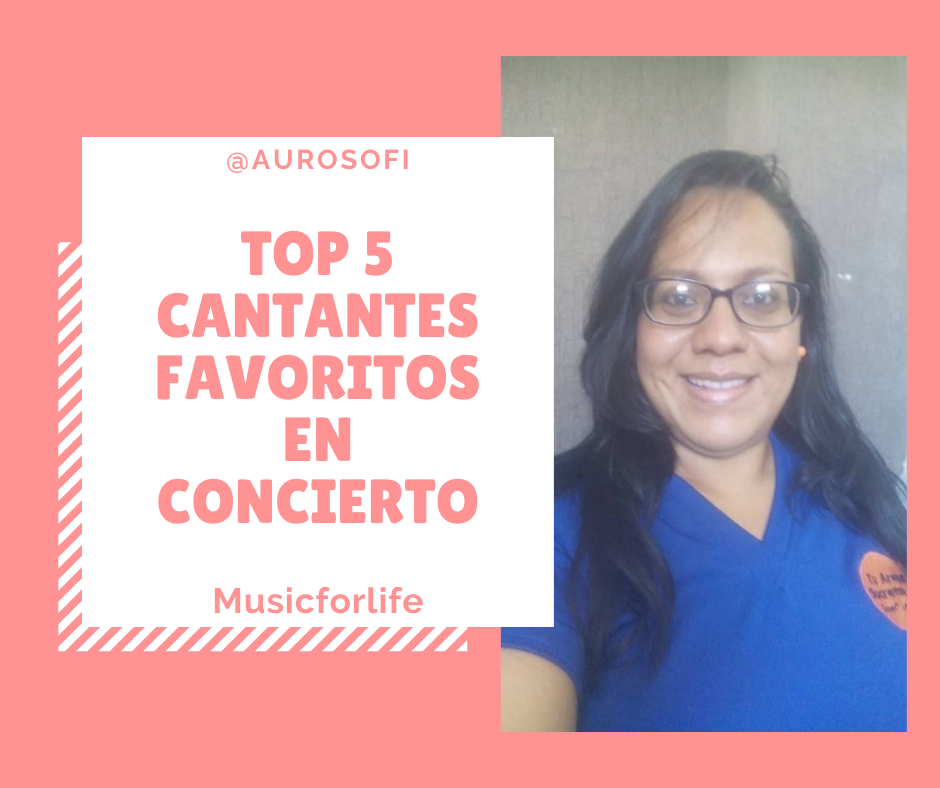 Imagen elaborada con canva

ES
Hola mis queridos y apreciados lectores y curadores, espero se encuentren muy bien. El día de hoy quiero unirme a una iniciativa presentada por nuestro colega @baesed en la que nos invita a compartir 5 videos de nuestros artistas favoritos en concierto.
Siempre me ha llamada la atención participar en éste tipo de ideas, ya que nos ayuda a fluir al momento de elegir temas y desarrollarlos, es por ello que al encontrarlas en la plataforma, no dudo ni un segundo de sumarme a ellas.
Por ésta razón en éste día vengo con todo el gusto a mostrarles aquellos videos de conciertos de mis 5 artistas favoritos y comienzo de la siguiente manera:
ENG
Hello my dear and appreciated readers and curators, I hope you are doing well. Today I want to join an initiative presented by our colleague @baesed in which he invites us to share 5 videos of our favorite artists in concert.
It has always caught my attention to participate in this type of ideas, since it helps us to flow when choosing topics and developing them, that is why when I find them on the platform, I do not hesitate for a second to join them.
For this reason, on this day I am happy to show you those concert videos of my 5 favorite artists and I begin as follows:
Fuente del video
Éste espectacular cantante de bachata ha tenido una excelente carrera como solista luego de haber pertenecido a un gran grupo musical conocido como "Aventura" donde se inició. Cómo siempre su maravillosa voz nos cautiva en cada presentación, sin duda alguna moriría por estar en un concierto de éste gran artista.
This spectacular bachata singer has had an excellent solo career after having belonged to a great musical group known as "Aventura" where he started. How always his wonderful voice captivates us in each presentation, without a doubt he would die to be in a concert by this great artist.
Fuente del video
Una señora de la ranchera es ésta estupenda mujer quien en sus grandes conciertos nos deleita con su fabulosa voz en vivo y la interpretación de sus canciones con tanto sentimiento que nos hace llorar, disfruto demasiado sus presentaciones y shows, mientras más años pasan mejor se pone su voz, soy 100% amante de sus excelentes éxitos.
A lady of the ranchera is this wonderful woman who in her great concerts delights us with her fabulous live voice and the interpretation of her songs with so much feeling that it makes us cry, I enjoy her presentations and shows too much, the more years go by the better it gets his voice, I am 100% a lover of his excellent successes.
Fuente del video
Éste par de hermanos hacen la dupla perfecta a la hora de crear sus composiciones y aunque su especialidad es la balada, me encantan sus canciones, sus conciertos son muy lindos y llenos de sentimiento, creo que pasaría una noche entera disfrutando una presentación en vivo de ellos, definitivamente me encantan.
This pair of brothers make the perfect pair when creating their compositions and although their specialty is ballads, I love their songs, their concerts are very beautiful and full of feeling, I think I would spend a whole night enjoying a live performance of them, I definitely love them.
Fuente del video
Gran exponente de la música vallenata que se caractriza por dar conciertos musicales muy rítmicos y llenos de energía, su música es muy diferente a la de otros vallenateros ya que siempre le pone su toque personal, me encantan sus canciones e interpretaciones en las que siempre deja muy en clara su sincera manera de ser.
A great exponent of Vallenato music that is characterized by giving very rhythmic and energetic musical concerts, his music is very different from that of other Vallenateros since he always puts his personal touch on it, I love his songs and interpretations in which he always leaves his sincere way of being very clear.
Fuente del video
Para cerrar con broche de oro les uno de los últimos conciertos de la gran Selena, una espectacular cantante que ya no ésta con nosotros, pero sigue siendo una de mis cantantes favoritas, sus conciertos eran espectaculares con un show con bailarines y con su voz en vivo siempre tan melodiosa y hermosa. Espectacular siempre!
To close with a flourish one of the last concerts of the great Selena, a spectacular singer who is no longer with us, but is still one of my favorite singers, her concerts were spectacular with a show with dancers and with her voice in I always live so melodious and beautiful. Always spectacular!
ES
Siempre he dicho que no es igual cantar o interpretar canciones en la comodidad de un estudio de grabación que en un escenario en vivo con un inmenso público aclamándote y coreando tus canciones, la adrenalina que debe sentir un artista a hacer ésto debe ser inmensa, mi respeto y admiración para cada uno de ellos.
Queridos amigos, de ésta forma finaliza éste estupendo conteo de cantantes favoritos en concierto, espero les haya gustado, saludos.o
El texto lo traduje utilizando google traductor
ENG
I have always said that it is not the same to sing or perform songs in the comfort of a recording studio than on a live stage with a huge audience cheering you and chanting your songs, the adrenaline that an artist must feel to do this must be immense, my respect and admiration for each of them.
Dear friends, in this way this great count of favorite singers in concert ends, I hope you liked it, greetings.
I translated the text using google translator