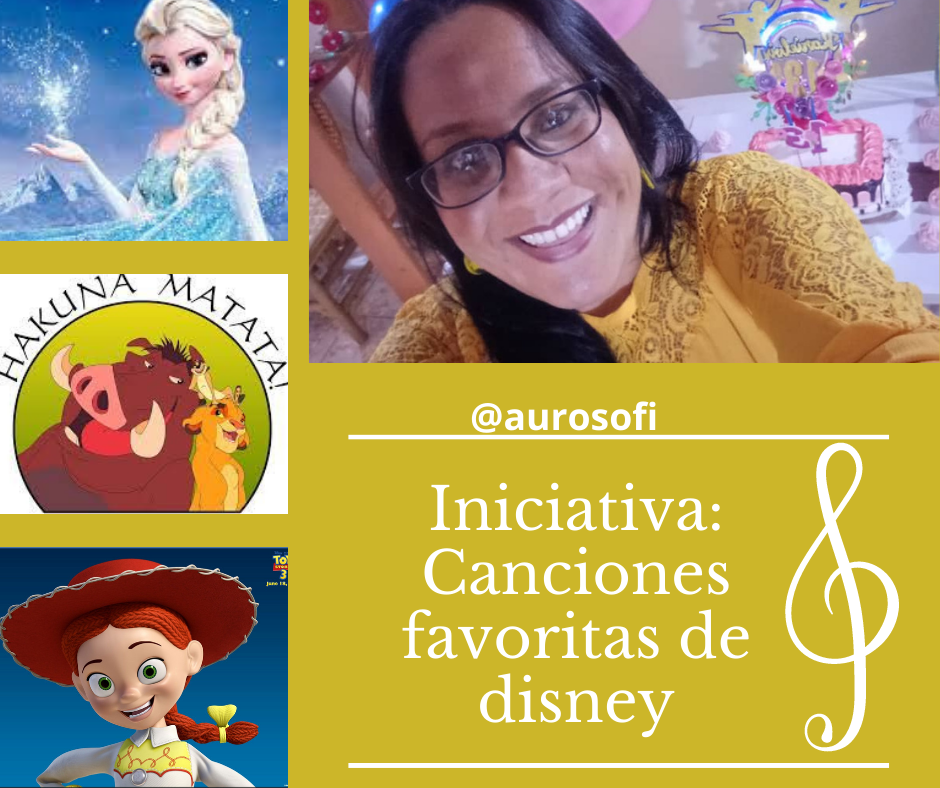 Imagen elaborada concanva
Fuente imagen 1Fuente imagen 2Fuente de la imagen

Hola mis queridos y apreciados lectores espero se encuentren muy bien el día de hoy indagando un poco en la plataforma me encontré con una estupenda iniciativa que nos presenta @anaout97 en la que nos invita a hablar de 3 canciones de Disney que se convirtieron en nuestras favoritas.
Hello, my dear and appreciated readers, I hope you are very well today, investigating a little on the platform, I found a great initiative that @ anaout97 presents to us, in which we are invited to talk about 3 Disney songs that became our favorites. .
Siempre me han encantado las películas de disney ya que siempre cuentan una linda historia y dejan un mensaje educativo a sus espectadores, pero la parte musical le da un toque especial y es muy necesario para que la producción esté completa.
I have always loved disney movies as they always tell a beautiful story and leave an educational message to their viewers, but the musical part gives it a special touch and is very necessary for the production to be complete.
Por tal motivo quiero compartir con ustedes aquellas canciones que a mi parecer son las mejores del maravilloso mundo de disney.
For this reason I want to share with you those songs that in my opinion are the best in the wonderful world of Disney.
Comenzamos de la siguiente manera:
We start as follows:
En ésta linda película se nos presenta la canción libre soy, la cual nos habla de como se siente una persona cuando puede mostrarse al mundo tal y como es sin tener que ocultar nada de su personalidad por miedo al que dirán, no hay nada como sentirse libre y ser uno mismo.
In this beautiful film we are presented with the free song I am, which tells us how a person feels when he can show himself to the world as he is without having to hide anything about his personality for fear of what they will say, there is nothing like feeling free and be yourself.
Fuente del video
Hakuna matata "El rey león"
Sin duda alguna una de las mejores canciones que ha producido disney, ya que transmite un lindo mensaje de como todos debemos ver la vida y aprovechar cada instante de ella sin complicarnos por nada ni nadie, simplemente disfrutar cada instante y ser felices.
Undoubtedly one of the best songs that Disney has produced, since it transmits a beautiful message of how we all must see life and take advantage of every moment of it without complicating ourselves by anything or anyone, simply enjoy every moment and be happy.
Fuente del video
Cuando alguien me amaba "Toy story"
Una de las canciones más tristes que he escuchado en todas las peliculas de disney ha sido cuando alguien me amaba de la película toy story, unlindo tema en el que Jessy una vaquerita de juguete recuerda lo que fué la infancia de su dueña y de todo lo que experimentó junto a ella en esa bonita etapa y de como poco a poco comenzó a crecer y a olvidarla ya que sus prioridades o intereses eran otros, esto nos ha pasado a todos en la vida, existen juguetes que cuando somos niños son todo para nosotros, pero mientras vamos creciendo dejamos a un lado, debo confesarles que en ésta parte de la película no pude dejar de llorar.
One of the saddest songs I have heard in all disney movies has been when someone loved me from the movie toy story, a cute song in which Jessy a toy cowgirl remembers what was the childhood of her owner and everything. that he experienced with her in that beautiful stage and how little by little he began to grow and forget her since his priorities or interests were others, this has happened to all of us in life, there are toys that when we are children are everything to us, but while we are growing we put aside, I must confess that in this part of the film I could not stop crying.
Fuente del video
En el maravilloso mundo de disney existe una inmensa cantidad de canciones que complementan las grandiosas historias que se nos muestran en caricaturas, las cuales son utilizadas como herramientas para enviar un bonito mensaje o simplemente para transmitir de manera diferente algún sentimiento.
In the wonderful world of Disney there is an immense amount of songs that complement the great stories that are shown in cartoons, which are used as tools to send a beautiful message or simply to convey a feeling in a different way.
Bueno mis queridos lectores y curadores hasta aquí mi publicación de hoy, Agradecimientos a la amiga @anaout97 por plantearnos ésta estupenda idea, recuerden siempre dejar sus comentarios, saludos!
Well my dear readers and curators so far my publication today, Thanks to the friend @ anaout97 for bringing us this great idea, always remember to leave your comments, greetings!
El texto lo traduje por medio de google traductor
I translated the text using google translator