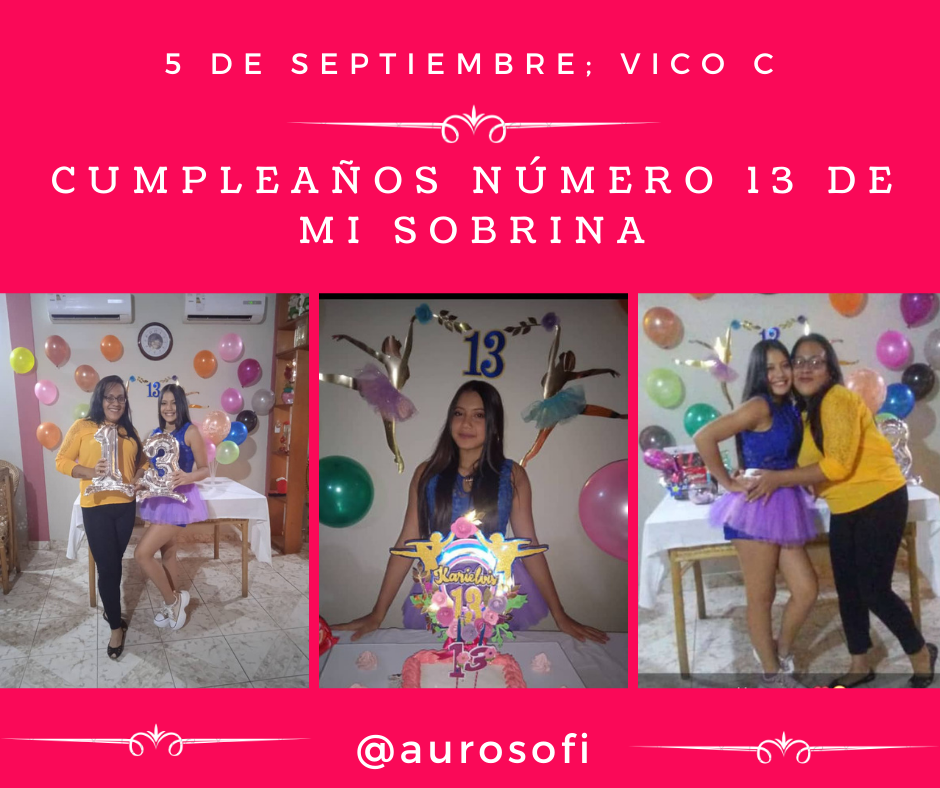 La imagen fué creada con canva

Hola mis queridos y apreciados lectores, espero se encuentren muy bien. Siempre tenemos un sobrino al que queremos como que fuera nuestro propio hijo, ésto es exactamente lo que me pasa con mi sobrina mayor.
Hello my dear and appreciated readers, I hope you are very well. We always have a nephew that we love as our own son, this is exactly what happens to me with my older niece.
Una hermosa chiquilla que nació hace exactamente 13 años atrás y que desde el primer día de su nacimiento me robó el corazón. Siempre con un carisma espectacular y una belleza única.
A beautiful little girl who was born exactly 13 years ago and who has stolen my heart from the first day of her birth. Always with a spectacular charisma and a unique beauty.
Por tal motivo e día de hoy quiero compartir con ustedes su cumpleaños número 13 y dedicarle una canción muy emblemática del cantante Vico C, la cual escribió para su hija exactamente cuando ésta cumplía la misma edad.
For this reason today I want to share with you his 13th birthday and dedicate a very emblematic song by singer Vico C, which he wrote for his daughter exactly when she was the same age.
Con una decoración muy sencilla alusiva a bailarinas y una reunión muy íntima celebramos la vida de ésta hermosa princesa.
With a very simple decoration alluding to dancers and a very intimate meeting we celebrate the life of this beautiful princess.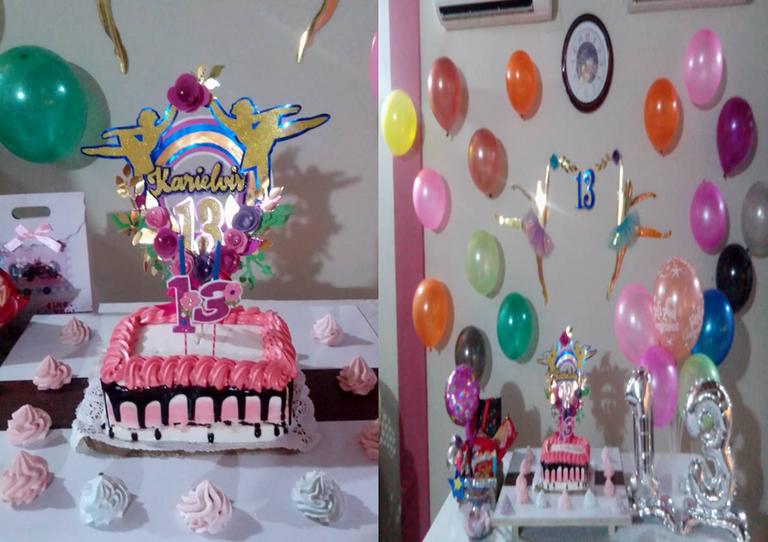 Sólo asistimos su primos y abuela debido a que no podemos tener aglomeraciones por la cuarentena por covid-19.
We only attended his cousins ​​and grandmother because we cannot have crowds due to the covid-19 quarantine.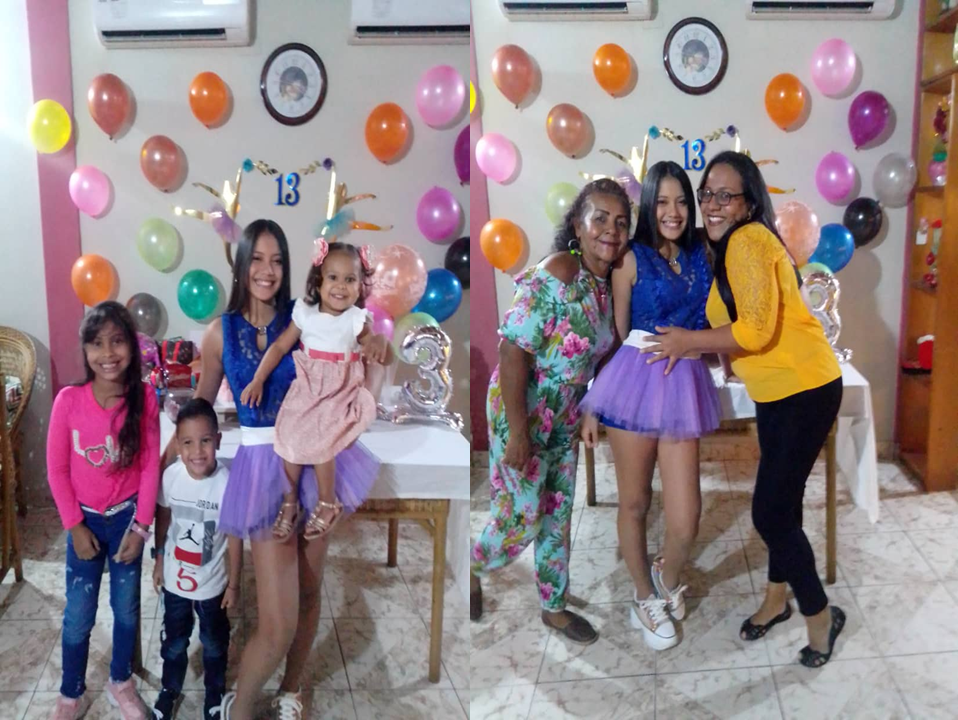 Es increíble como pasa el tiempo, parece que fué ayer cuando vi nacer a mi sobrina y ya hoy se ha convertido en toda una señorita con una vida por delante y un futuro prometedor, pero hay una cosa que me preocupa y es que está en una de las etapas más difíciles de la vida como lo es la adolescencia, donde tienden a ponerse muy rebeldes y en algunos casos las muchachas llegan a tomar malas decisiones que frustran el cumplimiento de sus sueños.
It is incredible how time passes, it seems that it was yesterday when I saw my niece being born and today she has become a true lady with a life ahead and a promising future, but there is one thing that worries me and that is that she is in a from the most difficult stages of life such as adolescence, where they tend to get very rebellious and in some cases girls make bad decisions that frustrate the fulfillment of their dreams.
Cómo les mencioné anteriormente Vico C escribió y produjo una canción en el cumpleaños número 13 de su hija la cual encierra una gran verdad y deja muy claro los sentimientos que tenemos por nuestros hijos, en mi caso por mi sobrina al llegar ésta el momento en el que dejan de ser niños para enfrentarse a la vida.
As I mentioned before, Vico C wrote and produced a song on his daughter's 13th birthday which contains a great truth and makes very clear the feelings we have for our children, in my case for my niece when the moment arrives at the that stop being children to face life.
A continuación les muestro su letra, aunque fué una canción tan exitosa en aquel tiempo que no creo que nunca la hayan escuchado:
Here I show you its lyrics, although it was such a successful song at that time that I don't think you have ever heard it:

Hoy es 5 de Septiembre
Y mi hija cumple 13
El tiempo paso volando
Ya ni me acuerdo
Cuando empezó a ser señorita
Hoy es 5 de Septiembre
Y mi hija cumple 13
Tengo mezcla de emociones
Alegrías y temores
Y el corazón se me agita
Hoy es 5 de Septiembre
Mi hija cumple 13
Una edad de confusiones
Y de nuevos horizontes
Dentro de su corta vida
Yo le ofrezco mi amistad
Cuando tenga la necesidad
Cuando tenga un problema bien grande
Y no encuentre salida
Y yo lo único que puedo desear
Es que termine su carrera escolar
Que no se fije en ninguno de los tiburones
Que al mirar como desarrolla le tiran flores
Pues para mí es solo una niña
Y va muy bien
Saco mis ojos, tiene mi mente también
Es la princesa de mi reino y tengo miedo
Que venga un charlatán y le ponga encima un dedo
Que venga un charlatán y le ponga encima un dedo
Tengo que ser bien amable en lo que es inevitable
Cuando tenga un noviecito olvidarme de los mitos
De que no es conveniente
Tengo que ser confiable con las posibilidades
De que cometa un error en las redes del amor
Y se la lleve la corriente
Tengo que ser respetable y hasta un poco negociable
Cuando tome decisiones mas allá de mis visiones
Porque es independiente
Que la bendigan desde arriba
Y que se me mantenga viva
Que su orgullo no muera por lo que murmure la gente
Y yo lo único que puedo yo pedir
Es que ningún maestro me la pueda confundir
Al insinuar que de nada sirven las oraciones
Enseñando raras teorías de evoluciones
Y yo lo único que puedo exigir
Es que no coja la costumbre de mentir
Y aunque con su madre he discutido tanto
Le agradezco como la cuida y le seca el llanto
Le agradezco como la cuida y le seca el llanto

Es duro aceptar que mi sobrina ya creció y se convirtió en una hermosa señorita que en cualquier momento comienza a tener pretendientes y a relacionarse con niños de su edad, siempre he sentido temor de que éste día llegara, pero el tiempo pasa y ya ocurrió.
It is hard to accept that my niece has already grown up and became a beautiful young lady who at any moment begins to have suitors and to interact with children her age, I have always been afraid that this day would come, but time passes and it has already happened.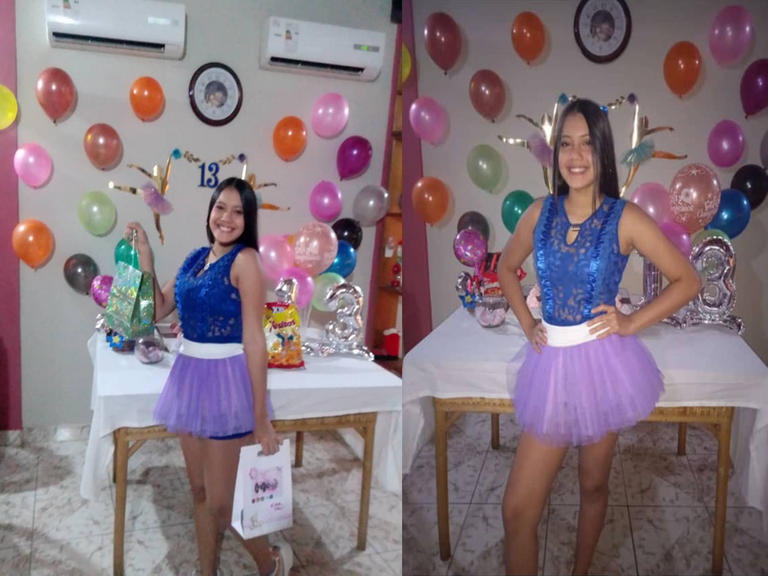 Cada vez que tengo oportunidad trato de aconsejarla y dejarle claro que la vida no es fácil y que tiene que vivir una etapa tras otra, sin prisa, que en su camino se encontrará toda clase de persona y debe ser muy selectiva con sus amistades y mucho más cuando le toque escoger pareja.
Every time I have the opportunity, I try to advise her and make it clear that life is not easy and that she has to live one stage after another, without haste, that on her way there will be all kinds of people and she must be very selective with her friends and a lot more when it comes to choosing a partner.
También quiero que centre sus horizontes en culminar sus estudios y convertirse en una profesional en lo que ella decida, pero que se realice como persona para que algún día se convierta en una gran mujer como lo soy yo.
I also want her to focus her horizons on completing her studies and becoming a professional in whatever she chooses, but for her to do as a person so that one day she will become a great woman like I am.
Queridos amigos de ésta manera finaliza mi post de hoy, espero les haya gustado mi post, aquí les dejo el video de ésta fantástica canción para que la disfruten. Nos vemos en una nueva oportunidad.
Dear friends, this is how my post today ends, I hope you liked my post, here is the video of this fantastic song for you to enjoy. See you in a new opportunity.
Fuente del video
Las imagenes emitidas son de mi propia autoría
The images issued are of my own authorship
El texto fué traducido por google traductor
The text was translated by google translator