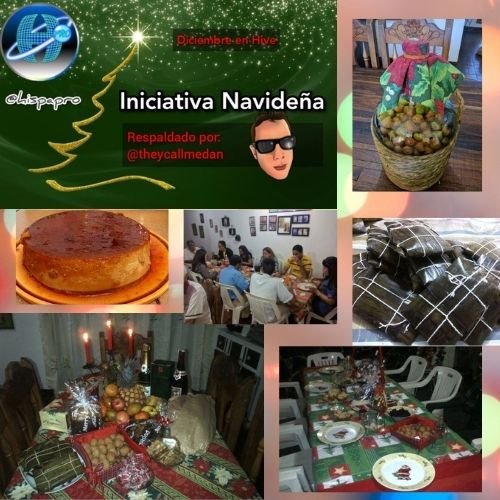 Me sumo a la iniciativa de los amigos de @hispapro, respaldada por @theycallmedan para compartir un poco de la gastronomía de la época navideña que preparo en casa y que es similar en la mayoría de los hogares del país.
Pese a las circunstancias que estamos viviendo, guardo la esperanza de poder compartir en familia, como todos los años, estas festividades que son tan importantes para el regocijo y la unión familiar. Ahora más que nunca necesitamos de estos momentos. Con poco o mucho, lo esencial es estar juntos, sabernos presentes y amados por nuestros seres queridos.
join the initiative of @hispapro's friends, supported by @theycallmedan, to share some of the Christmas gastronomy that I prepare at home and that is similar in most homes in the country.
In spite of the circumstances we are living through, I keep the hope of being able to share with my family, as we do every year, these festivities that are so important for the joy and union of the family. Now more than ever we need these moments. With little or much, the essential thing is to be together, to know that we are present and loved by our loved ones.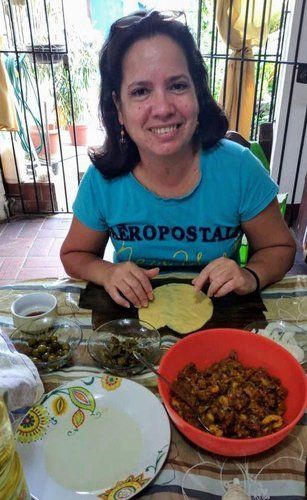 La hallaca es la comida tradicional para las festividades de diciembre. En la cena navideña de nuestro país no pueden faltar las deliciosas hallacas que son las protagonistas de la mesa navideña.
Esta es un pastel multiśapido que se prepara con harina de maíz y un guiso cargado de muchos aliños con carne de res y de cochino. Se extiende la masa en una hoja de cambur y se rellena con el guiso, se envuelve en las hojas, se amarra con hilo pabilo y se ponen a cocinar por media hora aproximadamente.
Al abrirlas tenemos la hallaca lista para disfrutar.
También es costumbre preparar pernil y ensalada de gallina para completar el plato y, para acompañar, unas ruedas de pan de jamón.
Hallaca is the traditional food for the December festivities. In the Christmas dinner of our country can not miss the delicious hallacas that are the protagonists of the Christmas table.
This is a cake multiśapido that is prepared with corn flour and a stew loaded with many seasonings with beef and pork. The dough is spread on a cambur leaf and filled with the stew, wrapped in the leaves, tied with wicker thread and cooked for about half an hour.
When opening them we have the hallaca ready to enjoy.
It is also customary to prepare hind leg and chicken salad to complete the dish and, to accompany, some ham bread wheels.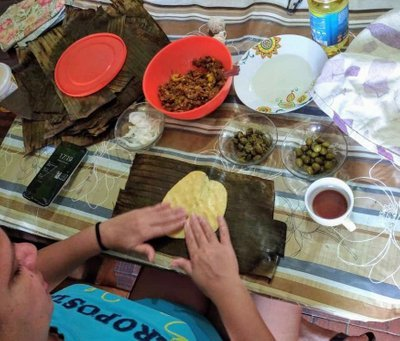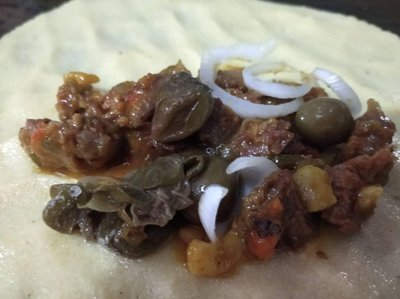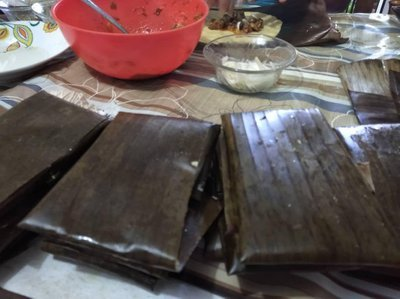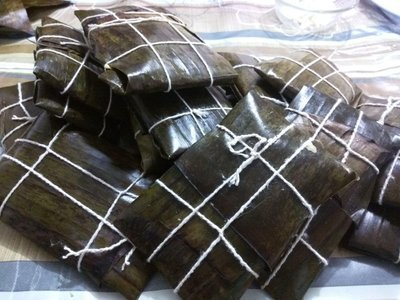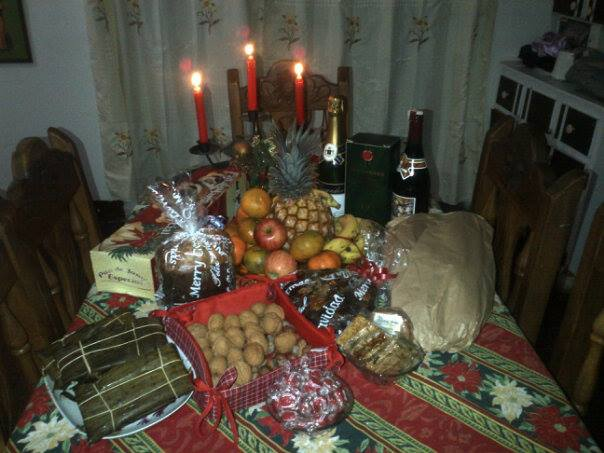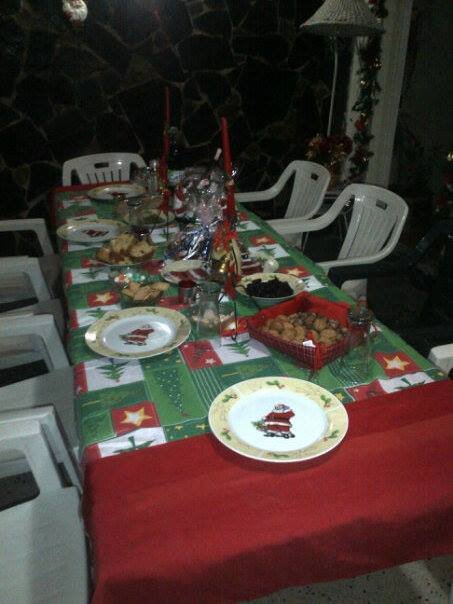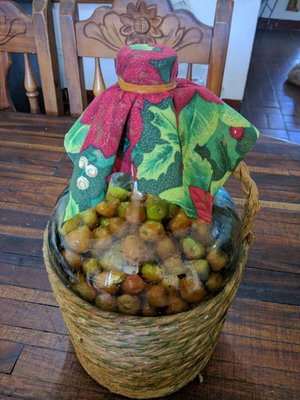 En cuanto a las bebidas tradicionales que se consumen en estas festividades navideñas, tenemos el Ponche crema y el Ron de ponsigué. Las dos me gustan, y son bebidas dulces que hay que tomar con cuidado. Les cuento cómo se prepara este último.
El ron de ponsigué es una bebida tradicional venezolana de preparación artesanal, los ingredientes para prepararlo son el ron o aguardiente blanco y los ponsigués.
Cada familia tiene una preparación diferente y a la que le van agregando otros ingredientes como azúcar, canela o clavo.
Para que este ron quede más sabroso y picantico, como decimos cuando está más fuerte de licor, debemos dejarlo macerando por varios meses. Es costumbre prepararlo a inicio de año, guardarlo los meses siguientes y sacarlo en diciembre para consumirlo.
As for the traditional drinks that are consumed during this Christmas season, we have the Ponche Crema and the Ron de Ponsigué. I like both of them, and they are sweet drinks that have to be taken with care. I'll tell you how to prepare the latter.
Ponsigué rum is a traditional Venezuelan drink made by hand. The ingredients to prepare it are rum or white liquor and ponsigués.
Each family has a different preparation to which they add other ingredients such as sugar, cinnamon or cloves.
To make this rum tastier and more pungent, as we say when it is stronger than liquor, we must leave it macerated for several months. It is customary to prepare it at the beginning of the year, keep it the following months and take it out in December to consume it.
Preparación
Esterilizar la botella
Lavar muy bien los ponsigués y quitar los tallitos que tienen en la parte superior.
Luego se agrega en la botella limpia y seca el licor, el azúcar y se mezcla moviendo enérgicamente.
Se añaden los ponsigués y los clavitos, se tapa bien y se deja macerando.
Preparation

Sterilize the bottle
Wash the pons very well and remove the stems that have in > the upper part.
Then add in the clean and dry bottle the liquor, the > sugar and mix it moving energetically.
The ponsigués and the cloves are added, it is covered > well and it is left macerating.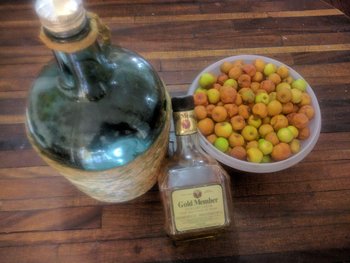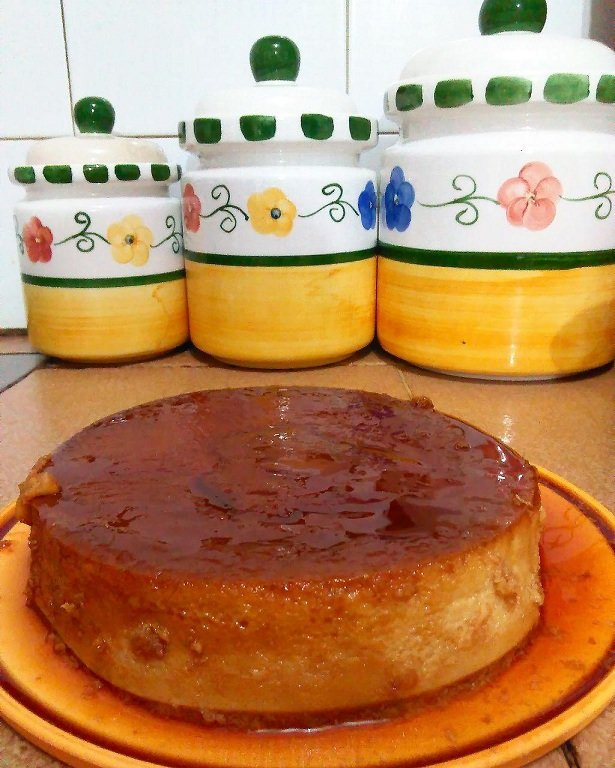 Y para el postre, preparo los quesillos que son mi especialidad. Tengo años, también, haciendo este dulce con la receta que me regaló mi abuela. A todos les gusta como me queda y yo disfruto sabiendo que quedan complacidos.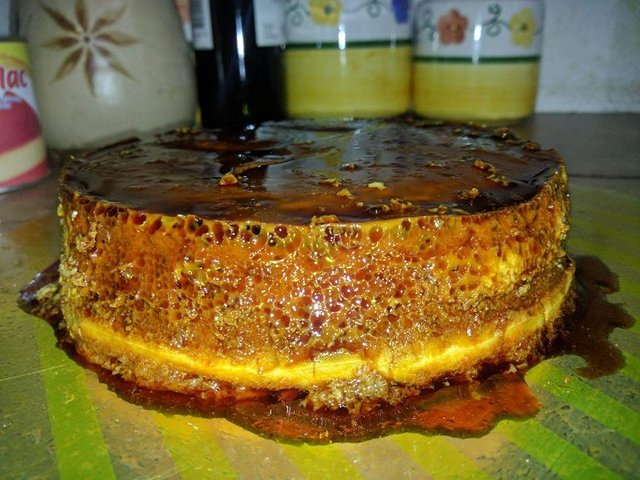 And for dessert, I prepare the quesillos which are my specialty. I have years, too, making this sweet with the recipe my grandmother gave me. Everyone likes the way it looks and I enjoy knowing that they are pleased.

Gracias, amigos de
@hispapro
, por esta hermosa iniciativa que nos permite valorar los momentos vividos y mantener la alegría intacta para disfrutar los que vienen próximamente.
Thank you, friends of @hispapro, for this beautiful initiative that allows us to value the moments lived and keep the joy intact to enjoy those to come soon.

Las fotos son de mi propiedad. La foto de portada y el banner son mis diseños en Canva y los separadores realizados en Powerpoint.