¡Hola!🙌 ¿Recuerdan que el otro día les expliqué que mi hermana, estudiante de Psicología, dijo que por cada dos experiencias negativas que contase, debía contar cuatro positivas?😆 ¡Pues el día de hoy me ocurrió algo bastante gracioso, pero para ello debo darles los antecedentes!😜
Hace un año empecé a trabajar en una Agencia de Marketing Digital💻. En esta, tenía compañeras que llevaban años tatuándose, y yo, una muchachita de 22 años, me antojé de hacer lo mismo😌. Claro, no de llenar mi cuerpo con tatuajes, cero. Sino de al menos hacerme uno que en verdad me gustase y yo misma hubiese diseñado🤗.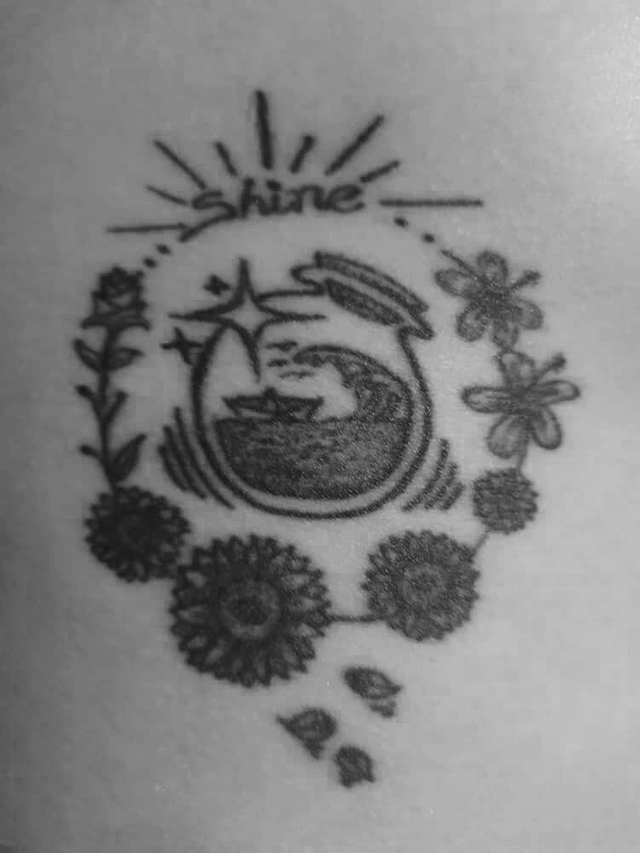 Pic taken by me
Hello! 🙌 Remember the other day I explained to you that my sister, a student of Psychology, said that for every two negative experiences I counted, I had to count four positive ones? 😆 Well, something rather funny happened to me today, but for that I must give you the background! 😜
A year ago I started working in a Digital Marketing Agency💻. In this one, I had colleagues who had been tattooing for years, and I, a little girl of 22, felt like doing the same 😌. Of course, not fill my body with tattoos, zero. But to at least get one that I really liked and that I would have designed myself 🤗.
Como dice mi mamá: "¿Si alguien se tira de un puente, tú te tiras también?"🤷‍♀... y la respuesta en esta ocasión fue SÍ🤦‍♀, pues aprovechando que una de ellas se iba a tatuar con uno de sus amigos, decidí pedirle el favor de que me hiciera una cita con él para la siguiente semana😏. Además, tenía una oferta súper cool de 2 tatuajes por el costo de 1, así que podría llevarme a un familiar también y no sentir que estaba haciendo una locura yo solita... ¡Por fin cumpliendo uno de mis sueños superficiales, jaja!🤣
La cuestión estaba en que tuve esa semana para terminar el diseño de mi tatuaje (el cual terminó diseñando mi novio porque dibuja bien detallado🤗) y, al llegar ese día a mi cita, resultó ser que mi familiar no apareció, por ende, para poder tatuarme por el precio de la promo... ¡debía hacerme YO los DOS tatuajes!😱 Así que me dije: bueno, me hago uno en una costilla, y me invento otro para la costilla restante (LOCA, JAJA)😬.
As my mom says, "If someone jumps off a bridge, you jump off too?" 🤷... and the answer on this occasion was YES 🤦, so, taking advantage of the fact that one of them was going to get a tattoo with one of her friends, I decided to ask her the favor of making an appointment with him for the following week 😏. Besides, he had a super cool offer of 2 tattoos for the cost of 1, so I could take a family member too and not feel that I was doing something crazy by myself? Finally fulfilling one of my superficial dreams, haha! 🤣
The thing was that I had that week to finish the design of my tattoo (which ended up being designed by my boyfriend because he draws very detailed 🤗) and, when I arrived that day at my appointment, it turned out that my relative did not show up, therefore, to be able to tattoo me for the price of the promo... I had to get TWO tattoos! 😱 So I said to myself: well, I'll get one on one rib, and I'll invent another one for the remaining rib (LOCA, HAJA)😬.
Tuve que decidir en pocos minutos qué quería hacerme en mi otro costado y me dije... costado... costado de Cristo... ¡CRISTO!⛪️ ¡Vamos a tatuarnos algo que represente al Dios en el que creo! (Súper original, gracias😅). Tenían que verme buscando diseños en Google mientras estaba en la sala espera🤡. Terminé haciendo un diseño súper lindo donde aparecía la palabra FE, una rosa debajo de este que representaba a la Virgen María y a mi abuela -otro cuento por contarles-, y arribita una clave de Sol, ya que amo la música y mi hobby es cantar🎼. ¿Lo curioso? Casualmente canto en un Ministerio de Música llamado FE. Así que todo cuadraba perfectamente, jajaja😬.
Para hacerles el cuento corto, después de haber aguantado el dolor que representaba haber elegido mis costillas como locación del tatto, terminé SUMAMENTE FELIZ con el resultado😍😍.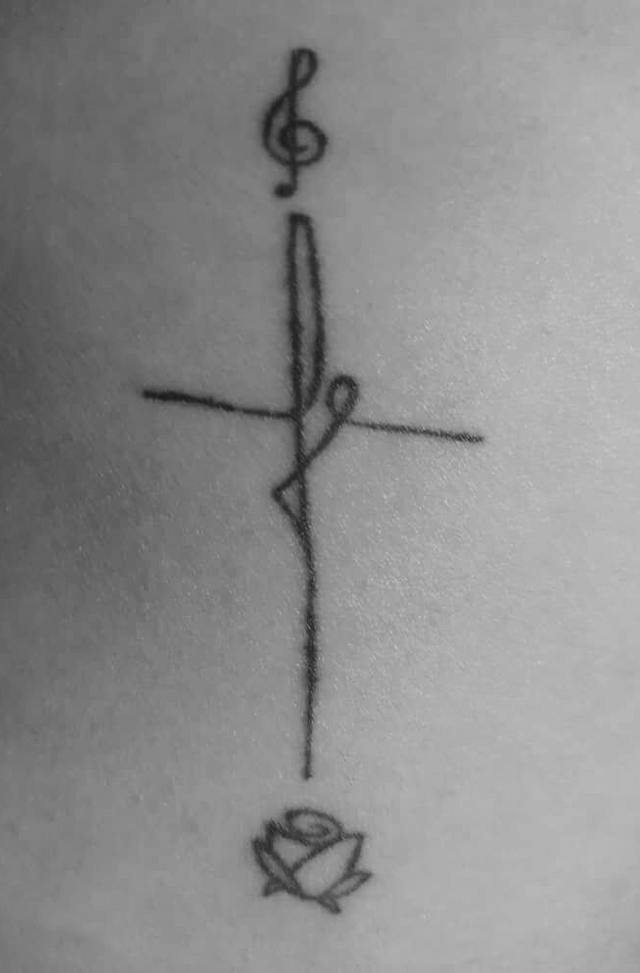 Pic taken by me
I had to decide in a few minutes what I wanted to do on my other side and I said to myself side... side of Christ... CHRIST!⛪️ Let's get a tattoo that represents the God I believe in! (Super original, thank you 😅). I had to be seen googling designs while I was in the waiting room 🤡. I ended up making a super nice design where the word FAITH appeared, a rose underneath it representing the Virgin Mary and my grandmother - another story to tell you- and a treble clef, since I love music and my hobby is singing 🎼. The funny thing? I happen to sing in a music ministry called FE. So everything fits perfectly, hahaha 😬.
To make a long story short, after having endured the pain of having chosen my ribs as the location for the tattoo, I ended up VERY HAPPY with the result 😍 😍.
Ahora sí, regresemos a un año después, es decir, HOY☀️. Resulta ser que, viendo mis estados de WhatsApp, me encontré con uno de mi tatuador pidiendo ayuda ya que tenía un problema muy grande con su cuenta empresarial de Instagram, así que, a pesar de no haberle escrito en meses, decidí acudir a su ayuda ya que las redes sociales son mi especialidad📲.
Lo primero que me dijo fue: Llevo horas tratando de solucionar este problema, y por más que lo intente, no lo logro😔. Ya varias personas han intentado ayudarme, y nada funciona😖. Si haces que mi cuenta vuelva a la normalidad, te prometo que te doy como recompensa un tatuaje nuevo😏.
Now, let's go back to a year later, that is, TODAY ☀. As it turns out, looking at my WhatsApp statements, I found one of my tattoo artists asking for help as he had a big problem with his Instagram business account, so despite not writing to him for months, I decided to go to him for help as social networking is my specialty 📲.
The first thing he said to me was: I've been trying to solve this problem for hours, and no matter how hard I try, I can't get it done 😔. Several people have already tried to help me, and nothing works 😖. If you can get my account back to normal, I promise I will give you a new tattoo as a reward 😏.
➡️ Y, yo por dentro: "¡¿QUÉ?! LO DESEO DEMASIADO. ¡CLARO QUE SÍ!"🤓
➡️ Pero, yo por fuera: "Humm... vale. Creo poder ayudarte. Porfa envíame tu cuenta y contraseña."👸
5 minutos después: "Solucionado. Quiero mi tatuaje."😜
El chico, anonadado, me empezó a bombardear con preguntas sobre cómo lo había hecho y, al explicarle, volví a decirle: "Quiero mi tatuaje."😜
OBVIAMENTE YO NO SABÍA QUÉ TATUARME. Y SIGO SIN SABERLO😂. Yo ya era feliz con los dos que tenía. ¡Claro! En Instagram tengo mil modelos que quisiera hacerme, pero son al estilo de: "Appa de Avatar", "a Haku de El Viaje de Chihiro", o "un personaje de Jojo´s Bizarre Adventure"... ¡Claramente son cosas que no me iba a terminar tatuando!😩
Pasé una hora buscando algo que me gustase lo suficiente y... me rendí😵. Preferí no tomar decisiones por impulso y emoción✌️. Así que decidí llamar a mi comadre (sí, ya soy una señora con comadre), y, como ella moría por tatuarse una camándula, le dije que le regalaría mi premio por haber logrado estabilizar nuevamente una red social💅.
¿Al final?🤷‍♂ Espero algún día decidirme sobre qué otra cosa me gustaría dibujar en mi cuerpo y vuelva a ayudar a mi amigo tatuador para que me termine regalando otro tatuaje😉.
¡Chau!🙋
➡. And, on the inside, I'm like, "What?! I WANT IT SO BADLY. OF COURSE I DO!" 🤓
➡. But on the outside, I'm like, "Hmm... okay. I think I can help you. Please send me your account and password." 👸
5 minutes later: "Solved. I want my tattoo." 😜
The boy, stunned, began to bombard me with questions about how I had done it and, as I explained, I said, "I want my tattoo." 😜
I OBVIOUSLY DIDN'T KNOW WHAT TO GET TATTOOED. AND I STILL DON'T KNOW 😂. I was already happy with the two I had. Right! On Instagram I have a thousand models I'd like to do, but they're like: "Appa from Avatar", "Haku from Chihiro's Journey", "a character from Jojo´s Bizzare Adverture"... Clearly these are things I wouldn't end up tattooing out of thin air! 😩
I spent an hour looking for something I liked enough and... I gave up on 😵. I preferred not to make decisions on impulse and emotion ✌. So, I decided to call my "comadre" (yes, I'm already a lady with a "comadre"), and since she was dying to get a tattoo of a camandula, I told her that I would give her my reward for having managed to stabilize a social network again 💅.
In the end? 🤷 I hope someday to decide what else I would like to draw on my body and help my tattooist friend again so he can end up giving me another tattoo😉. Bye! 🙋