17/06/2020
Aliendres, A.
Hola Hiveans
Hello Hiveans
En toda situación por difícil que parezca, hay una oportunidad de aprendizaje que debemos detectar y aprovechar de manera sana para bien nuestro y de los demás. Durante el compartir contextual de mis post he hablado moderadamente sobre mi amado padre @victorealiendres, un extraordinario hombre que a sus 76 años se mantiene trabajando agricultura de manera artesanal o rudimentaria porque no cuenta con equipos ni herramientas industriales. En cambio, sobre mi talentosa y amada madre @auraf he expresado muy poco; se trata de una mujer con avanzada edad o madurez experimental que nunca se conformó con un único papel en la familia, ama de casa.
In every situation, however difficult it may seem, there is a learning opportunity that we must detect and take advantage of in a healthy way for the good of ourselves and others. During the contextual sharing of my posts I talked moderately about my beloved father @victorealiendres, an extraordinary man who at 76 years old keeps working in agriculture in a handcrafted or rudimentary way because he has no industrial equipment or tools. On the other hand, about my talented and beloved mother @auraf I have expressed very little; she is a woman of advanced age or experimental maturity who never settled for a single role in the family, mother of the house.
Mujer de vanguardia, jubilada del sector salud, cronista parroquial, compositora y poeta aficionada, esposa, madre, abuela y talentosa costurera de ropa interior, me sorprendió con el audaz anuncio que aceptará Hive y Hive Black Dollar como medio de pago por el intercambio de sus productos (prendas íntimas), confeccionados con la mejor tela e hilo que pueda existir, amor y pasión por su talento en corte y costura; porque nunca le ha agradado llamarlo trabajo.
In every situation, no matter how difficult it may seem, there is an avant-garde woman, retired from the health sector, parish chronicler, composer and amateur poet, wife, mother, grandmother and talented seamstress of underwear, who surprised me with the audacious announcement that she will accept Hive and Hive Black Dollar as a means of payment for the exchange of her products (underwear), made with the best fabric and thread that can exist, love and passion for her talent in cutting and sewing; because she has never liked to call it work.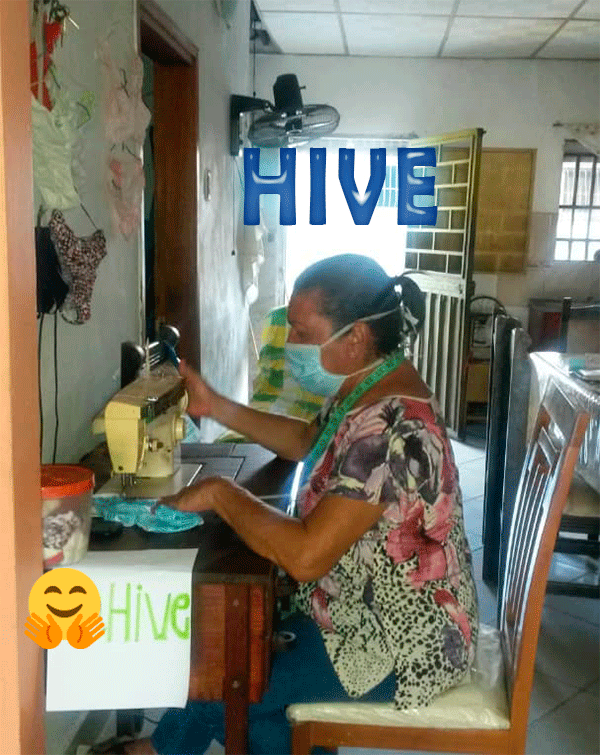 Su idea nace de la dificultad que se ha agudizado en Venezuela respecto a la fluidez del circulante oficial de intercambio comercial, el Bolívar; coloquialmente bautizado como el efectivo. Como escribo para usuarios y consumidores de contenido de diferentes regiones y países, bien merece la pena una digresión. Desde hace unos cinco o más años, en Venezuela se represó el circulante de intercambio (físico) por diversas razones, entre ellas la falta de consciencia social sería la de mayor peso; con la vertiginosa devaluación de la moneda Bolívar, el papel de impresión superó en gran proporción el valor real de los billetes según las denominaciones monetarias, algunos se dedicaron a represar el circulante para venderlo a interesados en papel moneda barato que sería sometido a procedimientos químicos y dejado listo para utilizar en la falsificación de monedas internacionales con mayor valor.
Its idea was born from the difficulty that has become acute in Venezuela regarding the fluidity of the official commercial exchange, the Bolivar; baptized as the cash. As I write for users and consumers of content from different regions and countries, it is well worth a digression. For about five or more years, Venezuela has been damming the exchange currency (physical) for various reasons, among them the lack of social awareness would be the most important; with the vertiginous devaluation of the currency Bolivar, the printing paper exceeded in a great proportion the real value of the bills according to the monetary denominations, some were dedicated to damming the currency to sell it to interested parties in cheap paper currency that would be submitted to chemical procedures and left ready to use in the counterfeiting of international currencies with greater value.
Volviendo al propósito informativo del post, en la actualidad quien maneja la mayor parte del circulante físico es el comercio local y banca (pública y privada). El asunto es que si un venezolano, al menos en la zona oriental del país; quiere cierta cantidad de dinero en efectivo, debe dirigirse a un establecimiento comercial, supermercados, panadería u otros... y comprarlo. Sí, leyó bien; si por alguna circunstancia requiere de equis cantidad de dinero fiat en físico, usted debe comprarlo en una proporción que varía de acuerdo al nivel de consideración del comerciante, los rangos se ubican entre 30%, 40% y hasta 60%.
Returning to the informative purpose of the post, at the present time who handles most of the physical circulation is the local commerce and banking (public and private). The point is that if a Venezuelan, at least in the eastern part of the country; wants a certain amount of cash, he should go to a commercial establishment, supermarket, bakery or other... and buy it. Yes, you read correctly; if for some circumstance you require an equal amount of fiat money in physical, you should buy it in a proportion that varies according to the level of consideration of the merchant, the ranges are between 30%, 40% and up to 60%.
En criollo, usted se dirige donde el comerciante Pepe y le dice: ¡Quiero que me cambies Bs. 400.000,00! Él toma tu tarjeta de débito y la raspa por Bs. 600.000,00 porque solo te cobrará el 40% ya que es un ciudadano consciente del proceso de degradación social y axiológica que experimenta la población venezolana; te entrega Bs. 400.000,00 en billetes y listo. Tú le agradeces por su buen servicio cambiario y te retiras a comprar o pagar los bienes y servicios que necesites. El dinero continúa su circulación viciosa y vuelve a las manos de los conscientes comerciantes que brindan la oportunidad de tener otra vez el circulante en tus bolsillos. Así, el ciclo se repite una e infinidades de veces hasta que surja una ejemplar Política Pública que rompa este morboso fenómeno social.
In Creole, you go to the merchant Pepe and say: I want you to exchange Bs. 400.000,00! He takes your debit card and scratches it for Bs. 600.000,00 because he will only charge you 40% since he is a citizen aware of the social and axiological degradation process that the Venezuelan population is experiencing; he gives you Bs. 400.000,00 in bills and that's it. You thank him for his good exchange service and you go off to buy or pay for the goods and services you need. The money continues its vicious circulation and returns to the hands of the conscientious merchants who provide the opportunity to have the circulation in your pockets again. Thus, the cycle repeats itself one and infinite times until an example Public Policy emerges to break this morbid social phenomenon.
| | |
| --- | --- |
| | |
Como ya tienes una aproximación del panorama socioeconómico detrás del dinero fiat, es momento de mirar a la iniciativa de mamaíta, como acostumbré a llamarla. Me manifestó que por el inconveniente ya explicado en párrafos anteriores, iba a aceptar los tokens de intercambio de la Blockchain Hive, aprovechando que muchas personas que se benefician con su producto, hacen vida en esta ejemplar plataforma de creación y consumo de contenidos. El mecanismo abrirá las puertas a interesados que no quieran caer con el sistema usurero y explotador que vende el dinero físico. También, queda abierta la posibilidad que otros emprendedores tomen la iniciativa, se registren en la Blockchain Hive y creen valor agregado a esta prometedora criptomoneda.
Since you already have an approximation of the socio-economic landscape behind fiat money, it's time to look at mommy's initiative, as I used to call it. He told me that due to the inconvenience already explained in previous paragraphs, he was going to accept the exchange tokens of the Blockchain Hive, taking advantage of the fact that many people who benefit from his product, make life in this exemplary platform of content creation and consumption. The mechanism will open the doors to interested parties who do not want to fall for the usurious and exploitative system that sells physical money. Also, it is open to other entrepreneurs to take the initiative, register in the Blockchain Hive and create added value to this promising crypto currency.
𝕲𝖗𝖆𝖈𝖎𝖆𝖘 𝖕𝖔𝖗 𝖙𝖚 𝖛𝖎𝖘𝖎𝖙𝖆
you for your visit
Recurso 📸 Resource
Dispositivo móvil iPhone 6 plus.
Mobile device iPhone 6 plus
Contenido original
Original content