Hola amigos de hive, hoy quiero compartir con ustedes como hice la letra A en cartón, tenía tiempo que quería hacer la inicial de mi nombre para decorar la cómoda de mi cuarto y en estos días busque los materiales que no son tantos y la hice, es sencilla de hacer aparte puedes hacerlo con cualquier letra que quieras con la misma técnica y adornarla como desees eso depende del gusto de cada quien.
---
Hello friends of hive, today I want to share with you how I made the letter A in cardboard, I had time I wanted to make the initial of my name to decorate the chest of drawers of my room and these days look for materials that are not so many and I made it, it is simple to make apart you can do it with any letter you want with the same technique and decorate it as you want that depends on the taste of each one.
---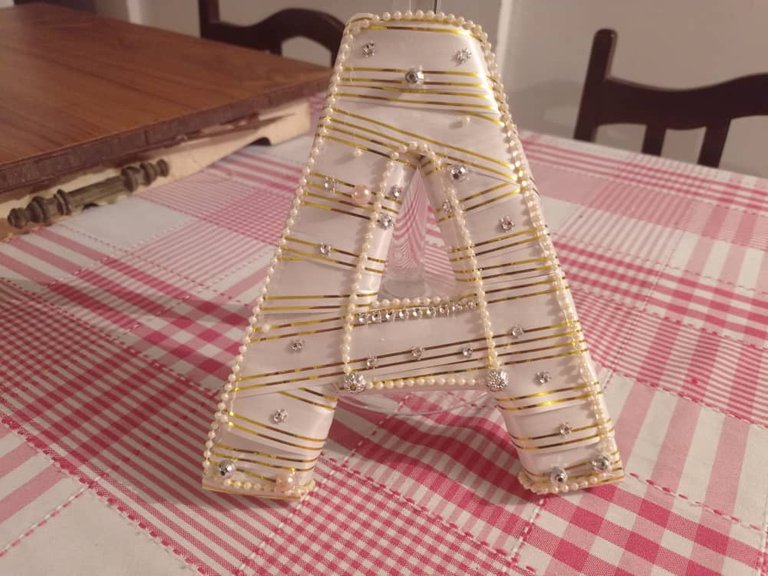 ---
Materiales - Materials
---
Cartón
Cinta
Cinta adhesiva
Molde
Tijera
Perlas y adornos
Silicón
Cutter
Lápiz o marcador
Cardboard
Tape
Mold
Adhesive tape
Scissors
Pearls and decorations
Silicone
Cutter
Pencil or marker
---
Primero para más comodidad imprimimos un molde con la letra A la recortamos para empezar a marcar con un lápiz o marcador en el cartón que de preferencia sea liso y no tenga ningún tipo de escrito o algo para que sea más fácil poder marcar la letra 4 veces en el cartón sin ningún tipo de inconveniente.
---
First, for more convenience, we print a mold with the letter A. We cut it out to start marking with a pencil or marker on the cardboard that is preferably smooth and does not have any type of writing or something to make it easier to mark the letter 4 times on the cardboard without any inconvenience.

---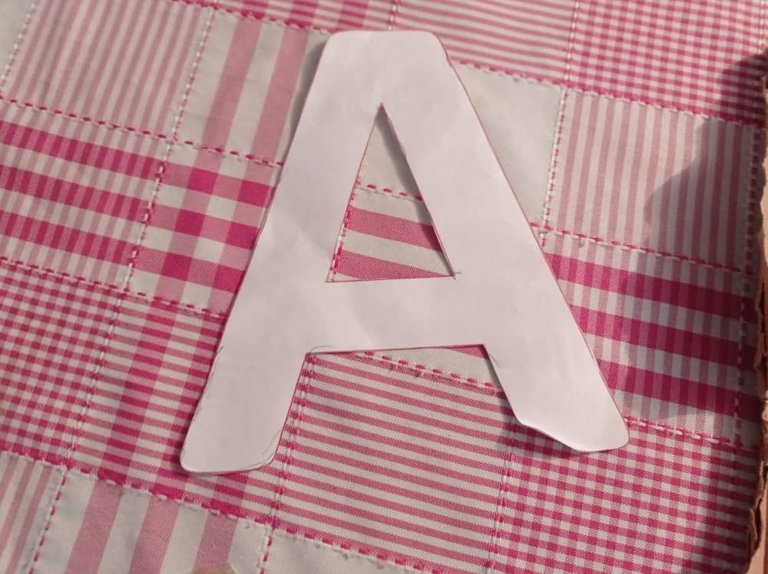 ---
---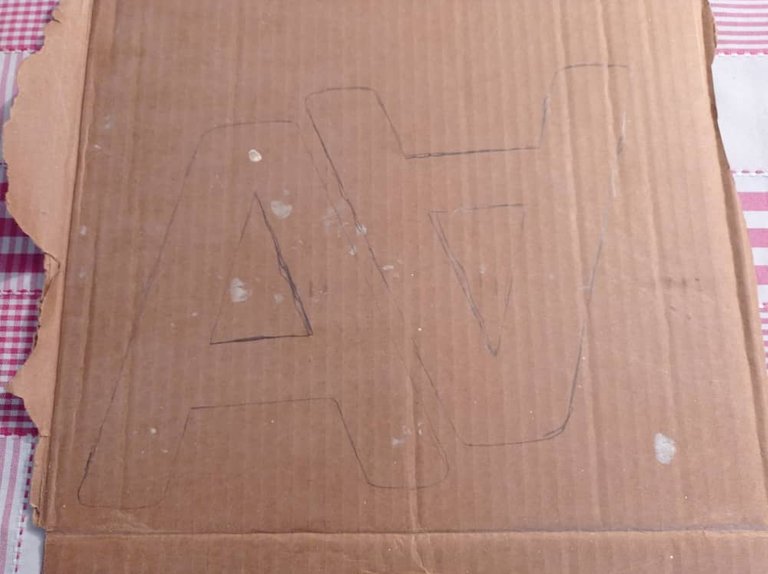 ---
Ahora comenzamos a recortar las A con un cutter para más precisión a la hora de cortar las letras en el cartón, puede ser un poco complicado en el centro así que si pueden utilicen una tabla de madera debajo para evitar accidentes.
---
Now we start to cut the A's with a cutter for more precision when cutting the letters on the cardboard, it can be a little complicated in the center so if you can use a wooden board underneath to avoid accidents.
---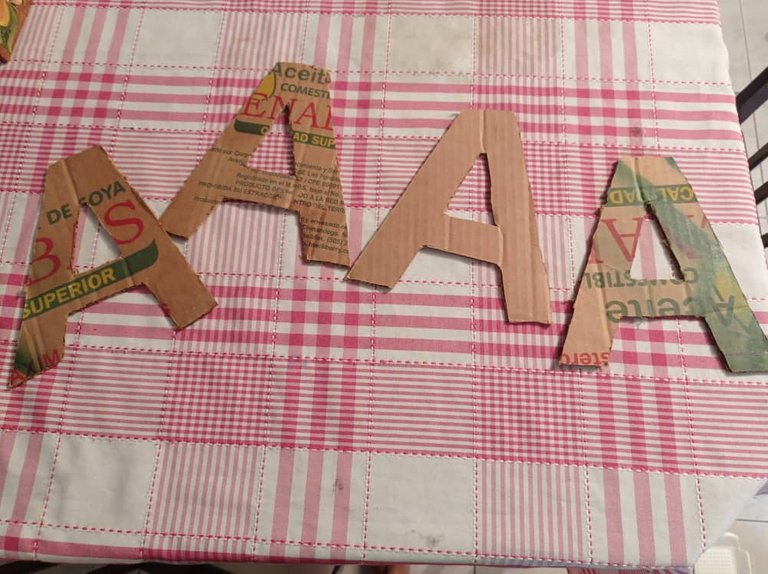 ---
Luego cuando se haya recortado todas las A las pegamos con silicón una encima de otra que queden exactamente alineadas, después empezamos a cubrirla con pedazos de cinta adhesiva poco a poco hasta que esté completamente cubierta, esto se hace mayormente para tapar las imperfecciones a los lados del cartón.
---
Then when all the A's have been cut out we glue them on top of each other with silicone that is exactly aligned, then we start to cover it with pieces of adhesive tape little by little until it is completely covered, this is done mostly to cover the imperfections on the sides of the cardboard.
---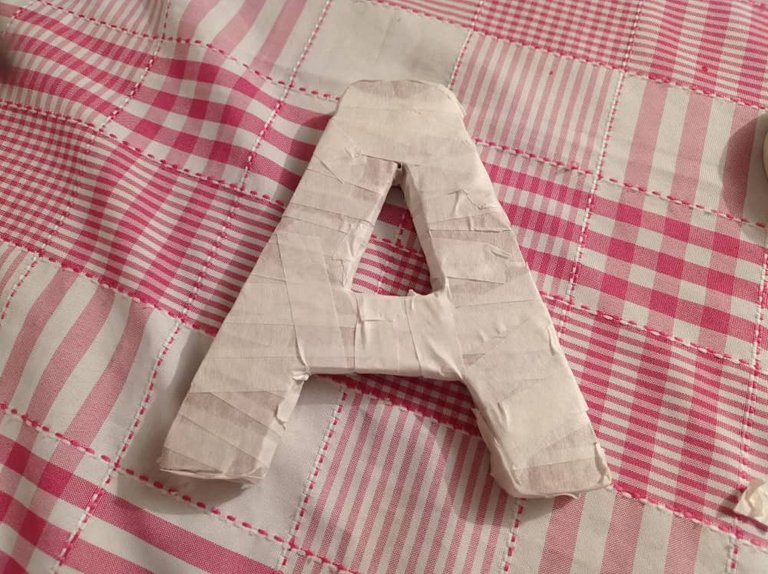 ---
Por ultimo le colocamos cinta de regalo para cubrirla completamente y después de eso empezamos a adornarla con pequeñas perlas y todo lo que queramos colocarle para adornar la letra y así terminamos con nuestra A de carton decorada.
---
Finally we put gift ribbon to cover it completely and after that we start decorating it with small pearls and everything we want to put on it to decorate the letter and so we end up with our decorated cardboard A.
---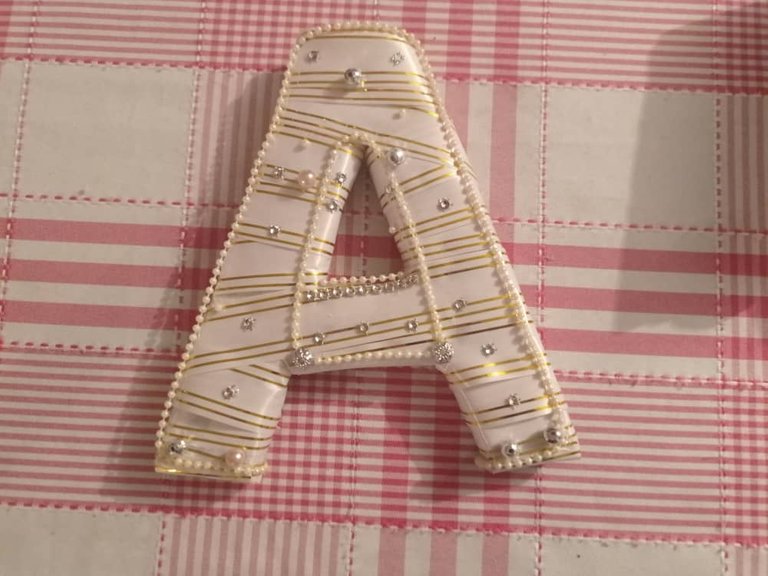 ---
Espero les guste.
I hope you like it
Gracias por Leer.
Thanks for reading
Fotos de mi propiedad.
Camara: Telefono Xiaomi Redmi note 9
---
---

---