¡Hola a todos, es un placer saludarles a esta hora!
Cambiando un poco el contenido de mi blog, he decidido en escribir sobre el nuevo presidente de Estados Unidos, Joe Biden, quien el día de hoy tomo el cargo que le correspondía para su mandato.
Hello everyone, it's a pleasure to greet you at this hour!
Changing the content of my blog a bit, I have decided to write about the new president of the United States, Joe Biden, who today took office for his term in office.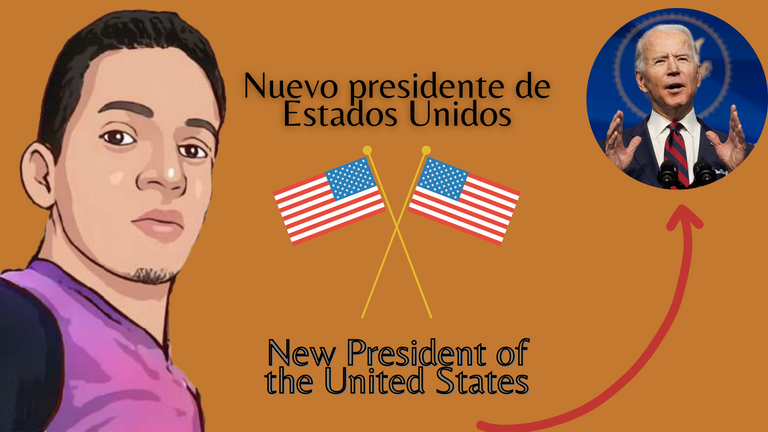 La foto fue tomada en mi cuarto con mi teléfono inteligente alcatel tetra, fuente de la foto de Joe Biden: elmundo, edición de la foto hecha por mi y edición termina de toda la foto desde canva


Cada 4 años, se lleva a cabo las elecciones en Estados Unidos, con el fin de que los ciudadanos estadounidenses voten por su favorito y un cambio de país en cuanto a la toma de decisiones se refiere.
Every 4 years, elections are held in the United States, so that American citizens vote for their favorite and a change of country in terms of decision making.
Para este año 2021, Joe Biden, ganó las elecciones, quedando cómo presidente de los Estados Unidos, con mérito e ideas para su país. Pese a estas palabras que estoy plasmando, el día de hoy les escribiré detenidamente acerca de Trump, el daño que le hizo a nuestro país Venezuela con sus malas decisiones y sobre el nuevo presidente de los Estados Unidos.
By this year 2021, Joe Biden, won the election, remaining as president of the United States, with merit and ideas for his country. Despite these words that I am expressing, today I will write to you carefully about Trump, the damage he did to our country Venezuela with his bad decisions, and about the new president of the United States.
Donald Trump, Nicolás Maduro y un poco más // Donald Trump, Nicolas Maduro and a little more
Al comienzo de la presidencia de Donald Trump, en el año 2017, ocurrieron cambios con respecto a nuestro país Venezuela, debido a que Trump aplico medidas de bloqueos contra el territorio criollo, medidas de las cuales venían hace años atrás (2002). Barack Obama, fue también uno de los involucrados en el año 2015, dando como amenaza a Venezuela para la seguridad nacional de los Estados Unidos, en donde sostuvo sanciones contra 7 funcionarios. Además de esto, el mundo entero sabe que el pueblo llanero ha sido victima del ex Presidente, Donald Trump, de 74 años de edad, presidente que ha tomado malas decisiones en su lapso como presidente. Igualmente, todo esta crisis que vivimos nosotros los Venezolanos, como son el hambre y la miseria, en gran parte se debe a Trump y a Nicolás Maduro, este último, sigue prometiendo "una economía estable". Con todas estas medidas, a nuestro país se nos han cerraron las puertas con otros países, con los cuales teníamos un intercambio en cuanto a alimentos, medicinas, ropa y calzado, por ende, nuestra economía se ha visto afectada.
De igual manera, la realidad del pueblo Venezolano, debido al gran bloqueo que ejecuto Trum durante su Presidencia, hoy por hoy, se puede decir que es nefasta, ya que el sueldo de todos los empleados públicos equivale a un dólar quincenal. Imagínense, qué podemos comer con una quincena, siendo que la harina pan sobrepasa nuestro sueldo. Es triste y lamentable para nosotros ver a los niños sin zapatos, sin ropa, sin alimentos. Todo lo que necesitamos y pedimos, es que los Estados Unidos lleguen a un acuerdo con nuestro país con el nuevo Presidente, Joseph Robinette Biden Jr, para que así, sean eliminadas todas estas sanciones, pudiendo poder exportar e importar a los países nuestro producto, llegando de esta manera, a fortalecer nuestra economía, para que en un futuro no muy lejano salga de la crisis y ser el país que era antes, un país rico en todo. Aparte, sabemos que las decisiones de Nicolás Maduro Moros, han sido pésimas en todo el sentido de la palabra, por eso, necesitamos un cambio de una vez por todas, con la finalidad de fortalecer el país en el comercio y un salario digno para el docente que día a día se esfuerza en educar a las futuras promesas de nuestro territorio.
At the beginning of Donald Trump's presidency, in the year 2017, there were changes with respect to our country Venezuela, because Trump applied measures of blockades against the Creole territory, measures which came years ago (2002). Barack Obama was also one of those involved in the year 2015, giving Venezuela as a threat to the national security of the United States, where it maintained sanctions against 7 officials. In addition to this, the whole world knows that the Llanero people have been victims of the former President, Donald Trump, 74 years old, a president who has made bad decisions in his time as president. Likewise, all this crisis that we Venezuelans are living, such as hunger and misery, is in great part due to Trump and Nicolás Maduro, the latter of whom continues to promise "a stable economy". With all these measures, our country has closed the doors with other countries, with which we had an exchange in terms of food, medicine, clothing and footwear, thus our economy has been affected.
Similarly, the reality of the Venezuelan people, due to the great blockade that Trum executed during his Presidency, today, can be said to be dire, since the salary of all public employees is equivalent to one dollar every two weeks. Imagine, what can we eat with a fortnight, when the bread flour exceeds our salary. It is sad and regrettable for us to see children without shoes, without clothes, without food. All we need and ask is that the United States reach an agreement with our country with the new President, Joseph Robinette Biden Jr., so that all these sanctions can be eliminated, so that we can export and import our product to the countries, thus strengthening our economy, so that in the not too distant future it will come out of the crisis and be the country it was before, a country rich in everything. Besides, we know that Nicolas Maduro Moros' decisions have been terrible in every sense of the word, so we need a change once and for all, in order to strengthen the country in trade and a decent salary for the teacher who day by day strives to educate the future promises of our territory.
Donald Trump y Nicolás Maduro // Donald Trump and Nicolas Maduro
Trump en su Presidencia de los Estados Unidos, se encargo de sancionar a los países que le prestan ayuda a Venezuela, encargándose él personalmente de expropiar a las empresas Venezolanas, tal como Citgo y la Petroquímica Monómeros, de Colombia, quien en el año 2006 paso a ser propiedad de Venezuela, gracias Ecopetrol y el Instituto de Fomento Industrial, quienes vendieron todas sus acciones a la Petroquímica Venezolana Pequiven. Monómeros, se encuentra ubicada a metros del río Magdalena, en la vía 40 de Barranquilla, específicamente en tierras Colombianas. Cada destacar que Trump, ha sido una persona rica de cuna, ni el hambre le interesa, ni muchos menos la vida del Venezolano que padece y se siente nervioso ante las decisiones que tomo el ex Mandatario de Estados Unidos, quien hoy dice le Adiós a la Casa Blanca. Por otro lado, Nicolás Maduro, con sus "palabras de esperanzas" nos tiene con mucha impotencia; por eso mismo, muchas personas han decidió abrirse camino a otro país, con la intención de poder solventar los gastos económicos y tener una vida digna de lujos y de una motivación, que se convierta en felicidad, ya que al ver las caras de nuestros familiares, podemos apreciar lo gratificante que se ven al tener una segunda oportunidad en otro país, como Perú, Colombia, Chile, Ecuador, Panamá y hasta en los Estados Unidos.
Trump in his Presidency of the United States, was in charge of sanctioning the countries that help Venezuela, taking charge personally of expropriating Venezuelan companies, such as Citgo and Petroquímica Monómeros, from Colombia, which in 2006 became property of Venezuela, thanks to Ecopetrol and the Institute of Industrial Promotion, who sold all their shares to Petroquímica Venezolana Pequiven. Monómeros, is located meters away from the Magdalena River, on route 40 in Barranquilla, specifically on Colombian soil. Every time it is pointed out that Trump has been a rich person from birth, he is not interested in hunger, nor in the life of the Venezuelan who suffers and feels nervous about the decisions made by the former U.S. President, who today says goodbye to the White House. On the other hand, Nicolás Maduro, with his "words of hope" has us with much impotence; that is why many people have decided to make their way to another country, with the intention of being able to pay the economic expenses and have a life worthy of luxury and motivation, which becomes happiness, because when we see the faces of our relatives, we can appreciate how gratifying they are to have a second chance in another country, like Peru, Colombia, Chile, Ecuador, Panama and even in the United States.
Donald Trump vs Joe Biden
Entonces, podemos decir que Trump, es un señor nuevo en la política, que en sus 4 años de Gobierno, logró cosas muy importante en el país de Norteamérica, como ganarle la guerra de aranceles a China en 2018, donde le hizo pagar 25 millones de dólares y luego vino la guerra biológica, logrando acuerdos necesarios en el medió Oriente, como sentar a los Talibanes con los Gobernantes de Afganistán a un acuerdo de paz, logró acuerdos de paz con Israel, fue precursor de mover la embajada de EEUU a Jerusalén, en su Gobierno como Presidente tuvo niveles de muy bajos de desempleo. Joe Biden, de 78 años de edad, ganó las elecciones presidenciales el Martes 3 de Noviembre del año 2020, convirtiendo en el Presidente número 46 de los Estados Unidos, ganando con 306 votos a favor, con un porcentaje de 51,4 % según indican los resultados de las elecciones de 2020 en EE.UU. Por su parte, Trump, obtuvo 232 votos, quedando en el segundo lugar, con 46%. Es decir, Biden, fue ganador con sus ideas y planes para su país, desafiando este año 2021 con una victoria, en pro de lograr una estabilidad y crear un programa nacional de test y rastreo.

Then, we can say that Trump is a new man in politics, who in his four years of government, achieved very important things in the country of North America, like winning the war of tariffs against China in 2018, where he made it pay 25 million dollars and then came the biological warfare, achieving necessary agreements in the Middle East, like sitting the Taliban with the rulers of Afghanistan to a peace agreement, achieved peace agreements with Israel, was a precursor to move the U.S. embassy to Jerusalem, in his government as President had very low levels of unemployment. Joe Biden, 78 years old, won the presidential elections on Tuesday, November 3, 2020, becoming the 46th President of the United States, winning with 306 votes in favor, with a percentage of 51.4% according to the results of the 2020 elections in the U.S. For his part, Trump, obtained 232 votes, coming in second place, with 46%. In other words, Biden was a winner with his ideas and plans for his country, challenging this year 2021 with a victory, in favor of achieving stability and creating a national testing and tracking program.
---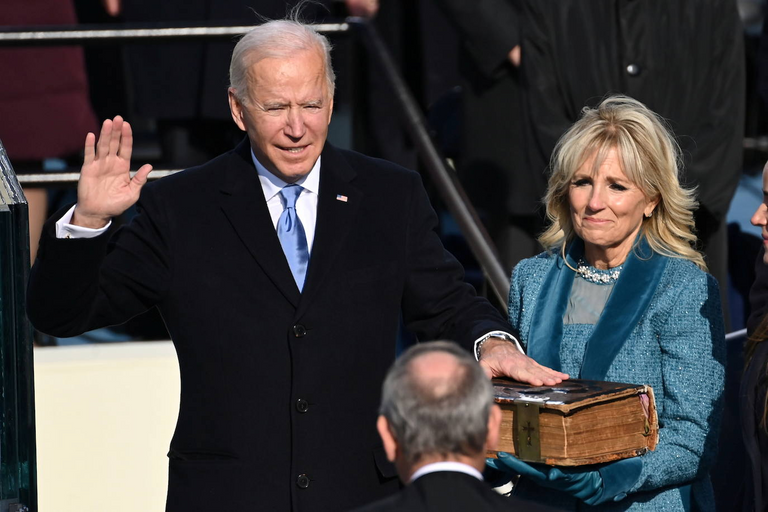 Fuente: elcorreo



A continuación, les dejaré algunas de las palabras más importantes copiadas por mi en la Ceremonia de Juramentación del día de hoy por el Presidente, Joe Biden:
"Tenemos que terminar con esta guerra civil".

"Vamos a reparar las alianzas".

"Estados Unidos se ha puesto a prueba".

"Vamos a liderar no solo con el ejemplo".

"Mi primer acto como presidente es elevar una plegaria por las victimas fallecidas del Covid-19".

"El virus ha desatado desigualdades".

"Es el momento de ser audaces y valientes".

"Yo solo pienso en el mañana".
Below, I will leave you with some of the most important words copied by me at today's Induction Ceremony by the President, Joe Biden:
We have to end this civil war.

We are going to repair the alliances.

The United States has put itself to the test.

We will lead not only by example.

My first act as president is to raise a prayer for the dead victims of Covid-19.

The virus has unleashed inequalities.

It is time to be bold and courageous.

I only think about tomorrow.
---
Espero poder ver alguna opinión de ustedes en la caja de comentarios.
I hope to see some feedback from you in the comment box.
---