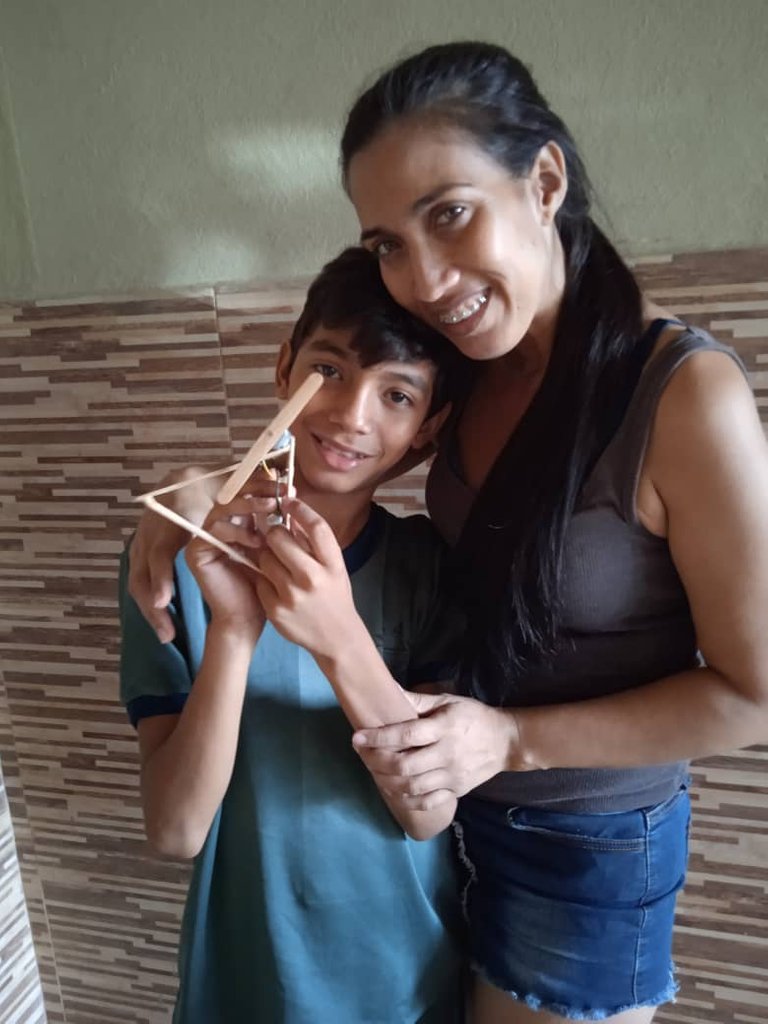 Hola comunidad hive, realizar actividades con mis hijos es lo que más me apasiona; pues su crecimiento dependerá de la motivación que reciba. Desde pequeño hay que inculcarle a nuestros niños el interés de cada día aprender algo, que se interesen por investigar lo desconocido, instruirse, adquirir conocimientos que le servirán a futuro. De esta forma estaremos creando prospectos que ayudarán al progreso de un país, la educación es la base del desarrollo.
Hello hive community, doing activities with my children is what I am most passionate about; as its growth will depend on the motivation it receives. From a young age we must instill in our children the interest of each day to learn something, that they are interested in investigating the unknown, educating themselves, acquiring knowledge that will serve them in the future. In this way we will be creating prospects that will help the progress of a country, education is the basis of development.
❀~✿ ❀~✿ ❀~✿ ❀~✿❀~✿ ❀~✿ ❀~✿ ❀~✿❀~✿ ❀~✿ ❀~✿ ❀~✿❀~✿
Mi hijo mayor José Román de once años, desde muy pequeño le ha gustado crear, construir, armar y desarmar, reparar cosas, en muchas ocasiones me ha dicho que quiere ser en un futuro un gran ingeniero eléctrico, en gran parte porque su papá siempre se ha dedicado a trabajar con corriente, José Román es muy observador y aprende muy rápido.
My eldest son José Román, eleven years old, from a very young age has liked to create, build, assemble and disassemble, repair things, on many occasions he has told me that he wants to be a great electrical engineer in the future, largely because his father always He has dedicated himself to working with the current, José Román is very observant and learns very quickly.
❀~✿ ❀~✿ ❀~✿ ❀~✿❀~✿ ❀~✿ ❀~✿ ❀~✿❀~✿ ❀~✿ ❀~✿ ❀~✿❀~✿
La tarde de hoy se dedicó a construir un pequeño ventilador con materiales que tenía a su alcance para ello utilizo los siguientes:
Un motorcito de un carro de pila
Una pila AAA
Dos pedacitos de cables delgado
4 paletas
1 silicón al frío.
Today afternoon he dedicated himself to building a small fan with materials that he had at his fingertips, for which he used the following:

A little motor from a battery car
One AAA battery
Two bits of thin cables
4 pallets
1 silicone cold.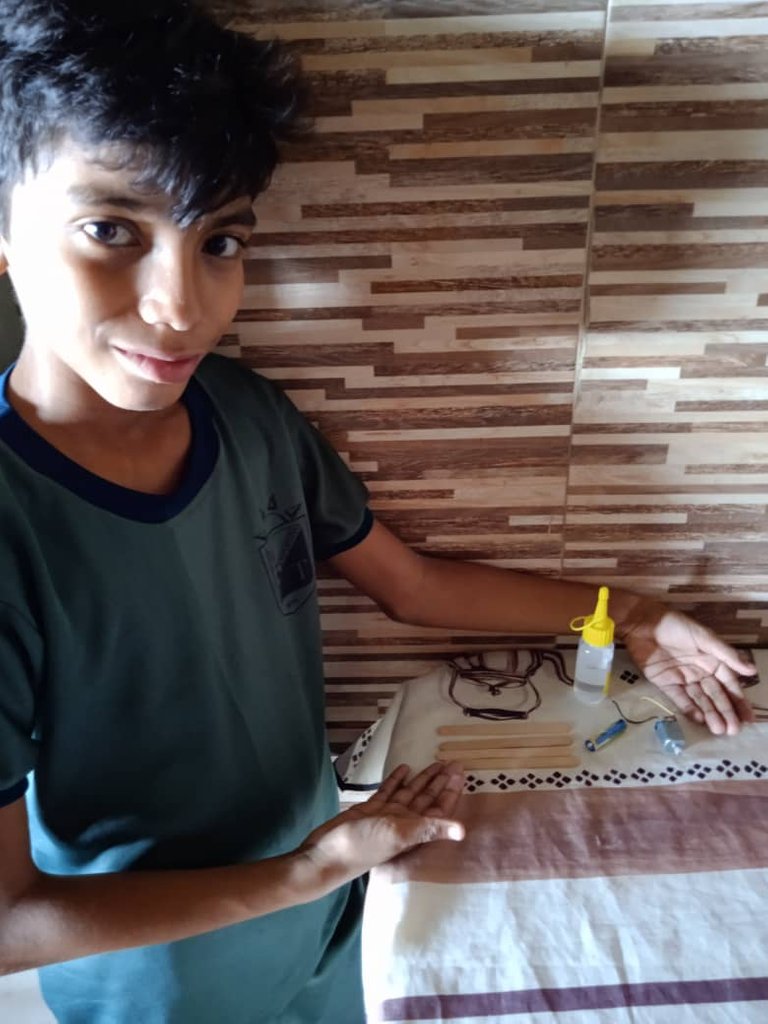 Para su procedimiento comenzó por tomar una paleta que tendría como función la del aspa del ventilador, la sujeto al motorcito desde su centro.
For his procedure, he began by taking a blade that would function as the fan blade, attached to the little motor from its center.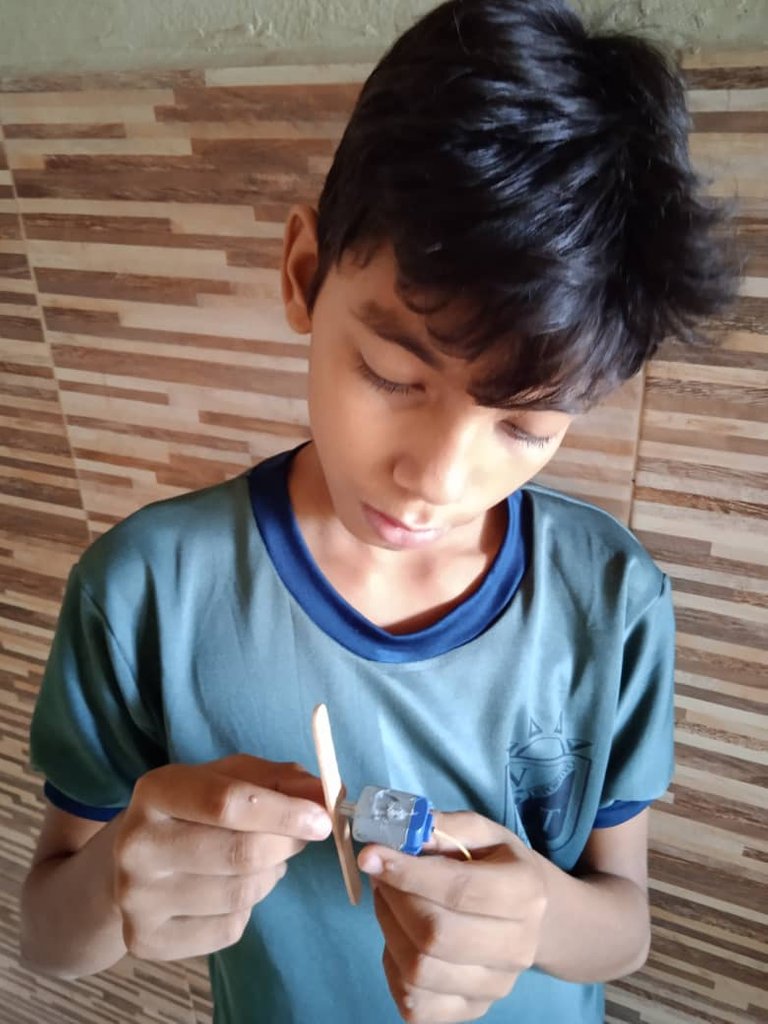 Luego con las otras tres paletas restantes formo un triángulo pegándole unas con otra con el silicón al frío.
Then with the other three remaining paddles I form a triangle by hitting each other with the cold silicone.
Tomo el par de cables y lo conecto de lado a lado al motorcito.
I take the pair of wires and connect it side to side to the little motor.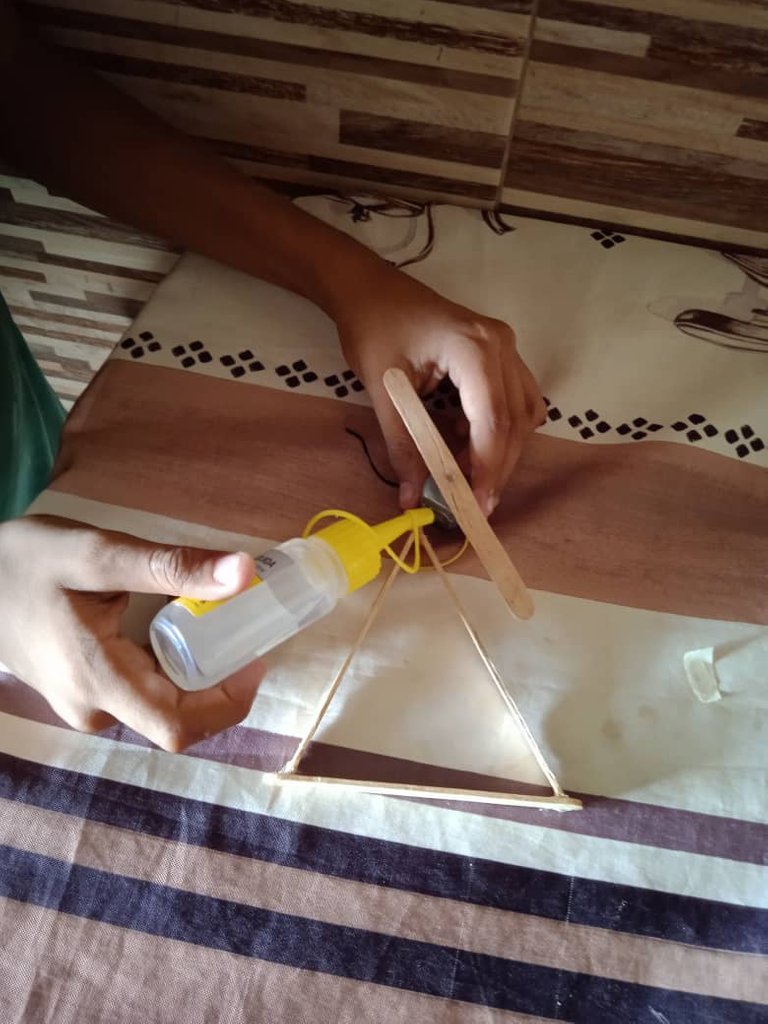 El otro unio al polo positivo de la pila, sujetó el motor a la base.
The other one attached to the positive pole of the battery, attached the motor to the base.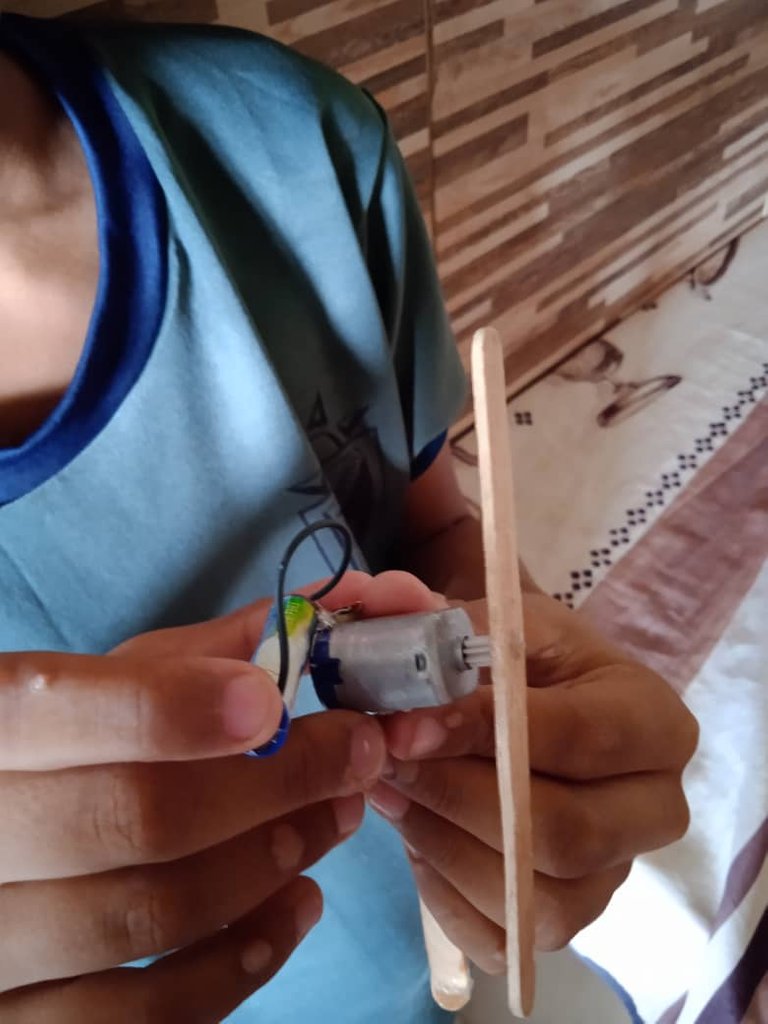 Una vez estar todo ensamblado se procedió a conectar el cable que estaba libre al polo negativo de la pila y se pudo observar como giraba el aspa.
Once everything was assembled, we proceeded to connect the cable that was free to the negative pole of the battery and it was possible to observe how the blade rotated.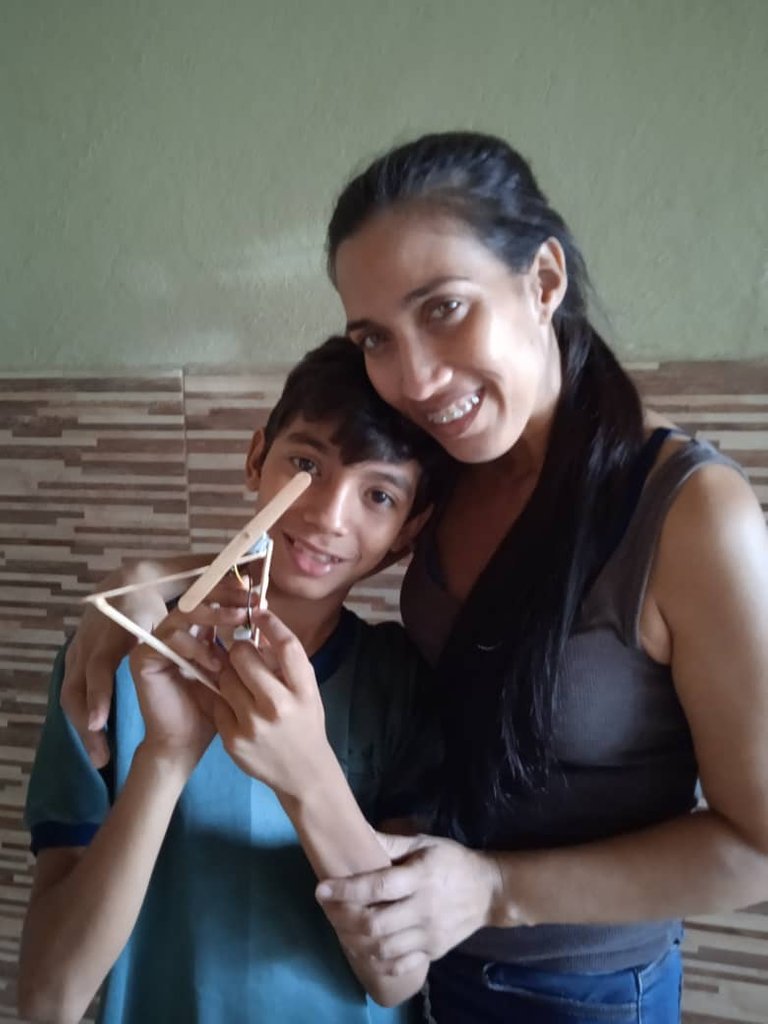 ❀~✿ ❀~✿ ❀~✿ ❀~✿❀~✿ ❀~✿ ❀~✿ ❀~✿❀~✿ ❀~✿ ❀~✿ ❀~✿❀~✿
Espero que les halla gustado el trabajo realizado por mi hijo, agradecida por compartir con ustedes en este espacio.
I hope you liked the work done by my son, grateful for sharing with you in this space.
Y recuerden al mal tiempo buena cara
And remember the bad weather good face