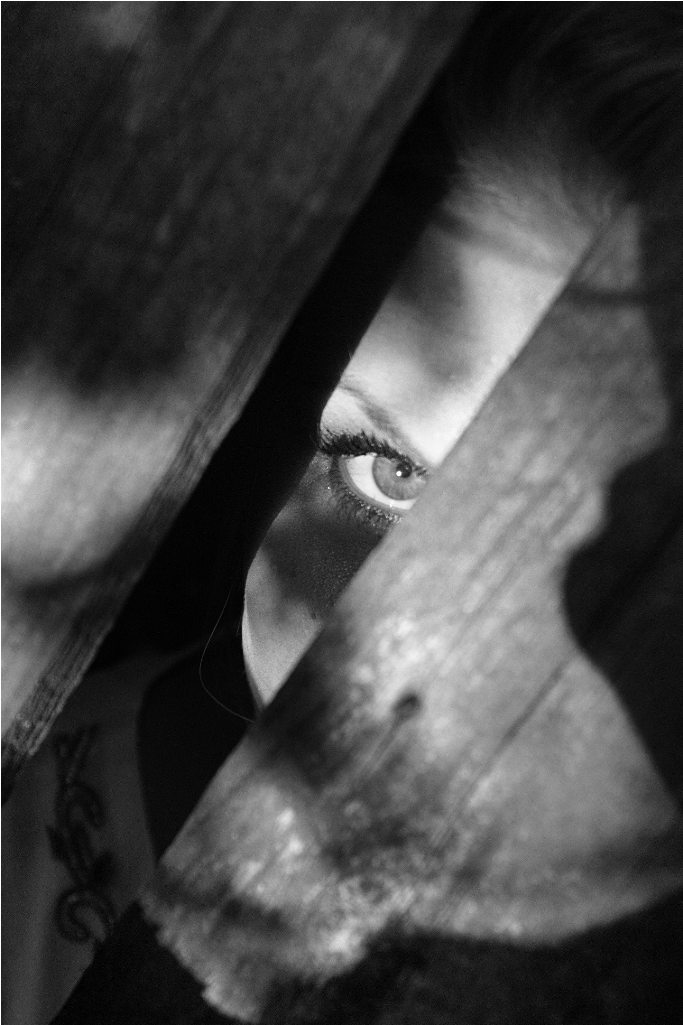 That night she left her house not knowing where she was going, a terrible disease invaded her mind, she walked through the most valuable lands of the city and nothing could touch her, she was dressed in black and white, nobody recognized her, her blue eyes did not shine anymore and her rich hands stopped showing beauty.
Aquella noche salio de su casa sin saber a donde iba, una terrible enfermedad invadía su mente, camino por los terrenos mas valdios de la ciudad sin que nada pudiera tocarla, vestida de negro y blanco nadie la reconocía, sus ojos azules ya no brillaban y sus manos pudientes dejaron de mostrar belleza.
Every day she was deteriorating, disoriented and didn't know what she was feeling or why she was there. Hunger was eating away at her entrails and the distant horizons frightened her. Rebeca was her name, a name she couldn't remember, but a name that kept her alive, because she had her daughter's name tattooed on her right hand, Rebeca the name of three (3) generations, Rebeca the only thing she couldn't forget.
Cada día se iba deteriorando, desorientada no sabia lo que sentía, ni porque estaba allí. El hambre carcomía sus víceras y los lejanos horizontes la asustaban. Rebeca era su nombre, nombre del que no se acordaba, pero nombre que la mantenía con vida, pues llevaba tatuado el nombre de su hija en la mano derecha, Rebeca el nombre de tres (3) generaciones, Rebeca lo único que no podía olvidar.
In the dark squares she managed to hide so as not to be seen by the hungry dogs who were stronger than she was and whom she saw as hungry lions
En las plazas oscuras lograba esconderse para no ser vista por los perros hambrientos que tenían más fuerza que ella y a quienes veía como hambrientos leones.
Rebeca liked flowers and sunsets, she liked to look at the stars and the wet smell of rain, she in her unrememberable memory had no name for it, but she could see the love and beauty in things, she knew that some of this lived in her. Every day Rebeca bathed in the fountain in the plaza, people already called her crazy, but many wanted to enjoy that crystal clear water on those hot days and no one did. Rebecca took advantage of her madness to satisfy the hidden pleasures that sanity did not allow her.
A Rebeca le gustaban las flores y el atardecer, les gustaba mirar las estrellas y el olor húmedo de la lluvia, ella en su irrecordable memoria no tenia nombre para aquello, pero lograba ver el amor y la belleza en las cosas, sabia que algo de esto vivía en ella. Todos los días Rebeca se bañaba en la fuente de la plaza, ya la gente la llamaba loca, pero muchos querían disfrutar de aquella agua cristalina en los días de inmenso calor y nadie lo hacia. Rebeca se aprovechaba de su locura para satisfacer los placeres ocultos que la cordura no le permitía.
One day I was sitting in the square and I missed something, but I didn't know what, I felt that something was missing in her but I didn't know what. So this force made her walk, walk and walk for a few days, without a fixed destination, Rebeca was in search of that which she believed belonged to her and should be with her.
Un día estando sentada en la plaza, extraño algo, pero no sabía que, sentía que algo había en ella que le hacía falta pero no sabía qué. Así que esta fuerza la hizo caminar, caminar y caminar por algunos días, sin rumbo fijo, Rebeca estaba en la búsqueda de aquello creía le pertenecía y debía estar con ella.
Every step was a challenge, people helped her with anything on the way, a piece of bread a glass of water, but nobody knew where Rebecca was going and to tell you the truth, many had never seen her before, she walking managed to see the most beautiful landscapes she could have seen in her state of memory loss, the starry nights without light in the city, she could enjoy the sunsets with twilights and the orange sunrises.
Cada paso era un reto, la gente le ayudaba con cualquier cosa en el camino, un pedazo de pan un vaso de agua, pero nadie sabía a dónde iba Rebeca y a decir verdad, muchos no la habían visto nunca, ella caminando logro ver los paisajes más hermosos que pudo haber visto en su estado de pérdida de memoria, las noches estrelladas sin luz de la ciudad, pudo disfrutar de los atardeceres con crepúsculos y los amaneceres anaranjados.
But none of this I knew the name. She was moved by a force that called her, that something she missed, that belonged to her.
Pero a nada de esto le sabia el nombre. Ella estaba movida por una fuerza que la llamaba, ese algo que extrañaba, eso que le pertenecía.
Four days later Rebeca arrived at a small town, after a long walk, there people did not recognize her, everyone thought that a new crazy had arrived in town. But Rebeca felt that she should stay there, she wandered around for a couple of nights, until on the seventh day after arriving in front of the hospital, Rebeca felt a magnetic force that attracted her to that place, as soon as the guards came in they tried to take her out, but a nurse recognized her, it was Dr. Rebeca Bracamonte who in her Alzheimer's attack had gotten lost from her home and nobody knew where she was. Rebeca arrived at the hospital she founded with her husband and where she died.
Cuatro días después rebeca llego a un pequeño poblado, después de un largo caminar, allí la gente no la reconoció, todos pensaron que había llegado una nueva loca al pueblo. Pero Rebeca sentía que allí debía quedarse, estuvo divagando un par de noches, hasta que al séptimo día de haber llegado paso frente al hospital, Rebeca sintió una fuerza magnética que la atraía a aquel lugar, a penas entro los vigilantes la intentaron sacar, pero una enfermera la reconoció, era la Dra Rebeca Bracamonte que en su ataque de Alzheimer se había perdido de su casa y nadie sabía a dónde estaba. Rebeca llego al hospital que fundó con su esposo y en que cual murió.

Hello dear Hivers, this time I have come to bring you a story, actually my forte is poetry, but I love it from time to time when writing suspense stories, so today I come to show you some of my material in terms of stories.
Hola queridos hivers, esta vez he venido a traerles un cuento, en realidad mi fuerte es la poesía, pero me encanta de vez en cuanto escribir cuentos de suspenso, así que hoy vengo a mostrarles algo de mi material en cuanto a cuentos.
I hope you liked it and enjoyed it as much as I did, a hug and thanks for getting here.
Espero que les haya gustado y lo hayan disfrutado tanto como yo, un abrazo y gracias por llegar hasta aqui.