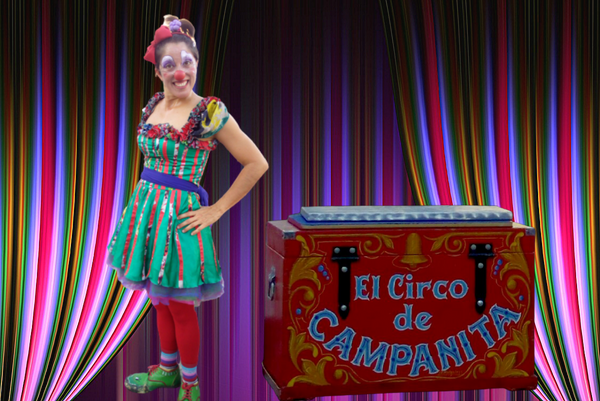 Saludos comunidad
@gems
y a los autores que hacen vida en esta tribu que apoya el contenido diverso de calidad valorado como piedra preciosa, en fin, hoy comparto una experiencia acerca del arte desarrollado en las plazas para hacer empatía con el público infantil y poder mantener el espíritu en tiempo de pandemia.
Greetings @gems community and authors who make life in this tribe that supports diverse quality content valued as a precious stone, anyway, today I share an experience about the art developed in the squares to empathize with the child audience and to keep the spirit in time of pandemic.
---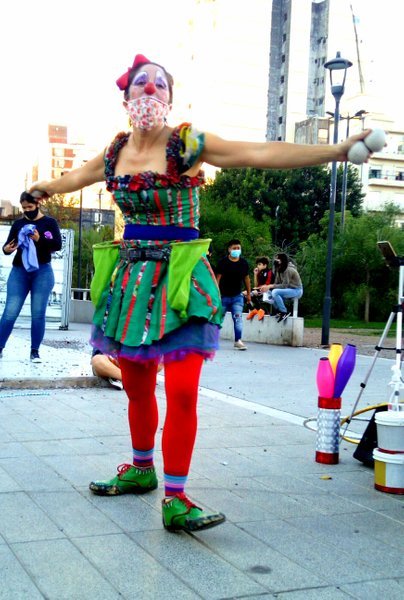 Campanita es una payasa que posee un circo; usa un vestido que reúne el requisito llamativo y acordé para conquistar a un público exigente como los niños, un vestido verde con varios colores combinables. Los rasgos característicos de Campanita son de una payasa que está maquillada exagerada, pero divertida, zapatos grandes con medias largas de rayas, una nariz roja, un peinado sencillo y reciente para el vestuario usa responsablemente un tapaboca.
Tinkerbell is a clown who owns a circus; she wears a dress that meets the flashy and chorded requirement to conquer a demanding public such as children, a green dress with several colors. The characteristic features of Tinkerbell are that of a clown with an exaggerated but funny make-up, big shoes with long striped stockings, a red nose, a simple hairstyle and, recently for the costume, she responsibly wears a mask.
---
Durante una visita a la Plaza 66 entre la Av. Jujuy y Belgrano y las calles Moreno y Catamarca en Argentina, por un breve espacio de tiempo demostró el talento de entretener a los pequeños. Campanita lleva su equipo con ella, la música y el baúl, suficiente para realizar su presentación, el cual es darse a conocer, saluda, hace preguntas y todo bajo la premisa de provocar sonrisas; sin embargo, el uso del barbijo impide percibir las muecas, por tanto, exagera los movimientos del cuerpo y esto no es ningún problema para Campanita, porque al final niños y padres comprende la situación graciosa y pasan un rato agradable.
In a visit to Plaza 66 between Jujuy and Belgrano Avenue and Moreno and Catamarca Streets in Argentina, for a short time she demonstrated her talent to entertain the little ones. Campanita carries her equipment with her, the music and the trunk, enough to perform her presentation, which is to make herself known, greets, asks questions and everything under the premise of provoking smiles; however, the use of the chinstrap prevents to perceive the grimaces, therefore, exaggerates the movements of the body and this is no problem for Campanita, because at the end children and parents understand the funny situation and have a nice time.
---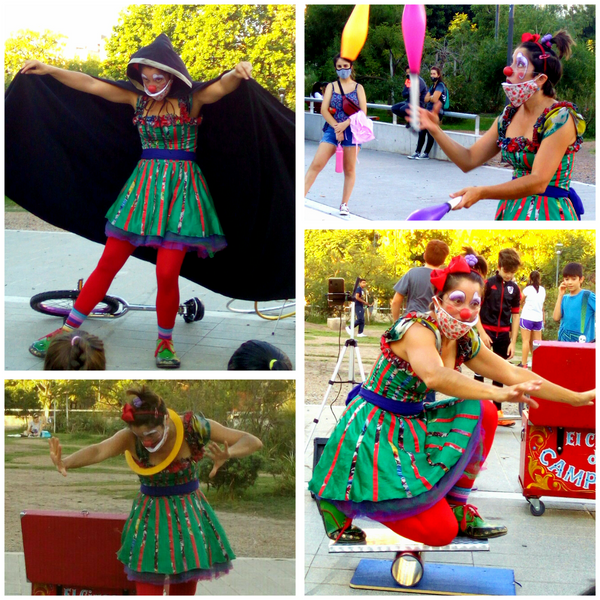 Campanita realizó un espectáculo basado en malabares, humor con aros, equilibrio y una capa para realizar un acto de magia fallido. Una tarde inesperada para mi hija que rompió con la rutina de retirarse de la plaza temprano para evitar las aglomeraciones en pandemia; el rostro de mi hija Amanda era de asombro por conocer un payaso, me suplicó, así que decidí disfrutar con ella.
Campanita performed a show based on juggling, humor with hoops, balance and a cape to perform a failed magic act. An unexpected afternoon for my daughter who broke with the routine of leaving the square early to avoid the pandemic crowds; my daughter Amanda's face was one of amazement to meet a clown, she begged me, so I decided to enjoy it with her.
---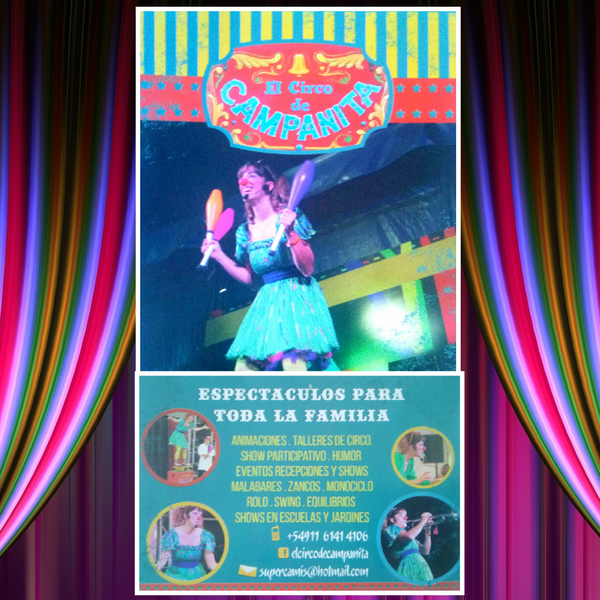 Desde otro punto de vista, la pandemia obligó a muchos a reinventarse y profesionales del entretenimiento como actores, circos, entre otros, han sido golpeados con las reglas de confinamiento y distanciamiento social, que como muchos profesionales están en busca de redescubrirse a través de su talento para llegar a las personas de otra manera.
From another point of view, the pandemic forced many to reinvent themselves and entertainment professionals such as actors, circuses, among others, have been hit with the rules of confinement and social distancing, which like many professionals are in search of rediscovering themselves through their talent to reach people in another way.
---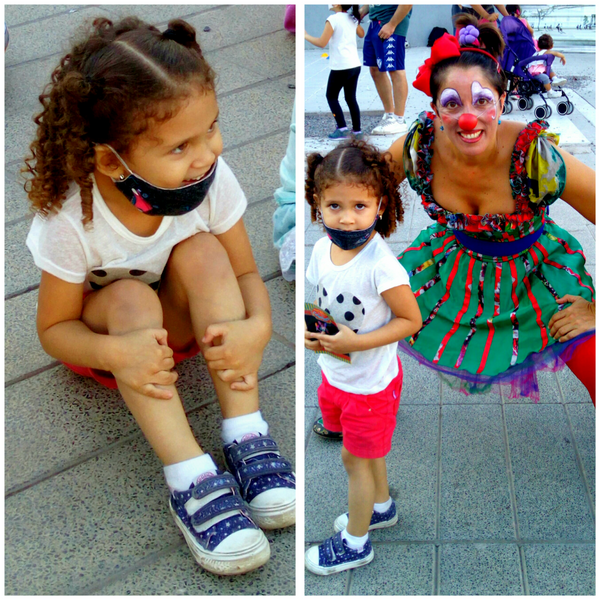 Gracias, Campanita la tarde de ayer martes 6 de abril de 2021 fue de impacto y reconfortante para mi hija, ya que habló el resto de la tarde y noche sobre el circo de Campanita, asimismo, lograste avivar recuerdos de mi infancia cuando mi padre me llevaba a disfrutar de estos espacios placenteros para compartir y aprender a través de una experiencia alegre.
Thank you, Tinkerbell yesterday afternoon, Tuesday, April 6, 2021 was impactful and comforting for my daughter, as you talked the rest of the afternoon and evening about Tinkerbell's circus; you also managed to revive memories of my childhood when my father would take me to enjoy these pleasant spaces to share and learn through a joyful experience.
---
🎈 ------ 🎈 ------ 🎈 ----- 🎈
Aquí dejo el Instagram de Campanita por si están interesados en visitar y además agrego un capture de la conversación de WhatsApp que está feliz por el homenaje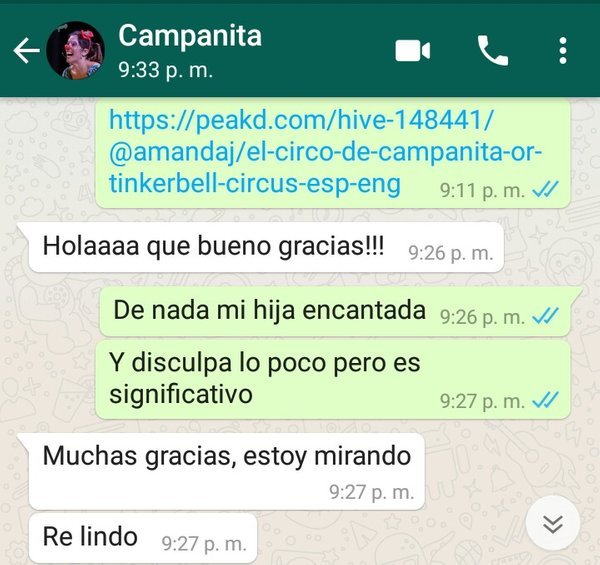 Gracias por la visita y dejar su opinión.

Fotos tomadas y editada con mi teléfono Nobleza modelo 551.

La primera y la quinta imagen creada con la aplicación Fotocollages.



[Fuente]
Somos un club con derecho de admisión reservado que reúne a los mejores y más destacados miembros de la comunidad hispana, dándoles voz y voto, ya que nuestra estructura es democrática.
Visita y forma parte de nuestra comunidad The Talent Club
Visítanos en nuestro servidor de Discord

[Spanish City]
La Ciudad donde todos brillan.
Visita Discord

Diseño realizado en Canva
@AntonietaGonzl7
Twitter