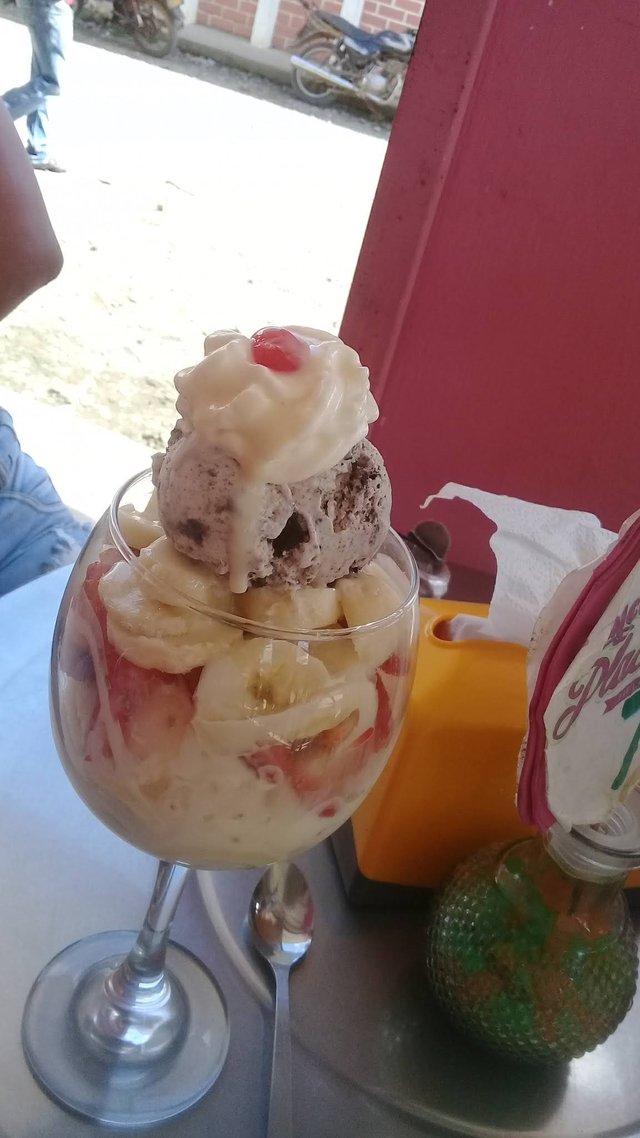 Un delicioso helado motivo de alegrias y disfrute para deleitarlo en familia, novios, esposos, amigos nunca esta demás saborear y refrescarse con un postre como el de la foto, cierto?

En uno de mis anteriores post he mencionado lugares que he tenido la oportunidad de conocer en el hermano País desde que me mudé a Colombia, gracias a seres maravillosos que la Divinidad ha puesto en mi camino brindandome una mano amiga y abriendome las puertas no solo de su tierra sino también de sus corazones a todos y cada uno mis bendiciones e infinita gratitud por todo el apoyo, respeto, solidaridad y enseñarme sus lugares, culturas y abrirse aprender de la mia 💖
A delicious ice cream to enjoy with family, boyfriends, husbands, friends and never this other taste and refresh with a dessert like the one in the picture, right?
In one of my previous posts I have mentioned places that I have had the opportunity to know in brother Country since I moved to Colombia, thanks to wonderful beings that the Divinity has put in my way offering me a friendly hand and opening the doors not only of their land but also of their hearts to each and every one my blessings and infinite gratitude for all the support, respect, solidarity and showing me their places, cultures and openness to learn from mine 💖

Cuando en unos de mis post escribí sobre un Municipio Colombiano llamado Río Sucio El chocó mencioné a una de mis amigas que cariñosamente le decimos la paisa le llamamos asi porque es oriunda de la Ciudad de Medellín Colombia y asi les dicen a las personas de allá.

En ese viaje cuando ibamos a Rio Sucio obligatoriamente se hace una parada en el Municipio Belén de Bajirá que esta 2 hrs antes y es alli donde se agarra el transporte para el siguiente pueblo o sea Río Sucio el costo del transporte es de 20.000 pesos Colombianos al menos eso me costo el año pasado.
When in one of my posts I wrote about a Colombian municipality called Rio Sucio El Choco I mentioned to one of my friends that we affectionately call it la paisa because it is native to the city of Medellin Colombia and that is what they call the people there.
On that trip when we were going to Rio Sucio we had to stop at the Municipality of Belen de Bajira which is 2 hours earlier and that's where we got the transport to the next town or Rio Sucio the cost of transport is 20,000 Colombian pesos at least that cost me last year.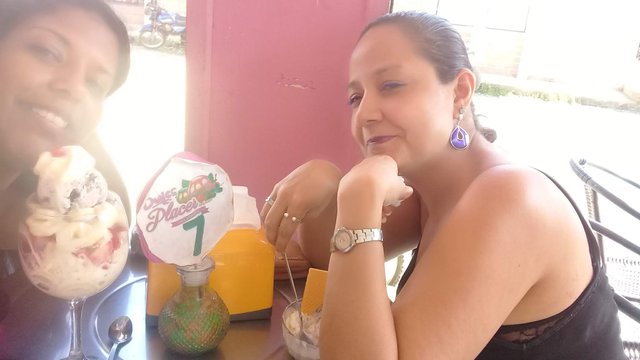 Debo confesar que cuando me hizo la invitación a estos lugares me imaginé como unos pueblos muy muy desactualizados puro campo, fincas, animales pero la idea me gustó para desconectarse del ruido de las grandes Ciudades por unos dias y entrar en contacto con la naturaleza, pero al llegar a estos sitios me encontré lugares actualizados con discotecas, restaurantes, hoteles de varias categorias, mercados, tiendas de ropa, zapatos, corresponsales bancarios y hasta una heladeria.

El clima es muy caluroso asi que nos venian muy bien unas buenas frías (cervezas) o un delicioso helado para refrescarnos antes de continuar nuestro viaje, elejimos la segunda opción ya que me llamó la atención que alli hubiera hasta heladeria y para los que ya saben pues me encanta el helado y mi debilidad chocolate.
I must confess that when I got the invitation to these places I imagined them as very very outdated villages pure country, farms, animals but I liked the idea to disconnect from the noise of the big cities for a few days and get in touch with nature, but when I arrived at these places I found updated places with discos, restaurants, hotels of various categories, markets, clothing stores, shoes, bank correspondents and even an ice cream shop.
The weather is very hot so we could use a good cold (beer) or a delicious ice cream to cool down before continuing our journey, we chose the second option because I noticed that there was even ice cream and for those who already know because I love ice cream and my weakness chocolate.

Si algún día llegan por estos rinconcitos de Colombia y desean disfrutar de un rico y apetitoso helado y algo mas no dejen de visitar y sentir el Dulce Placer en Belén de Bajirá una heladeria pequeña pero con muy buena higiene, excelente atención y complacencia, música amena, tv.

Con una variedad de helados como cestas de frutas, banana split etc. Además venden una ensalada de frutas a la que a gusto del cliente pueden colocarle yogurt, cereales, tres sabores de helados, leche condensada, y hasta queso rallado.
If one day you arrive in these corners of Colombia and want to enjoy a rich and tasty ice cream and something else do not stop visiting and feel the Sweet Pleasure in Bethlehem Bajan an ice cream shop small but with very good hygiene, excellent care and compliance, music, TV.
With a variety of ice cream as fruit baskets, banana split etc. They also sell a fruit salad to which the customer can add yogurt, cereals, three flavors of ice cream, condensed milk, and even grated cheese.

Yo al ver el menú de helados que ofrecen escogí una cesta de frutas que a decir verdad en la foto de muestra lucia mas pequeña y al ver esa rica copa que traian a mi mesa me quedé boquiabierta es mucho mas grande y mi expresión fue de sorpresa y contenta dije: ¿todo esto lo pedí yo? Todos reiamos a carcajadas.

La fruta muy fresca mi copa tenía fresas fileateadas y cambur(banana) en ruedas, leche condensada, helado de brownie, crema chantilly.
When I saw the ice cream menu they offer, I chose a fruit basket that looked smaller in the sample photo and when I saw that nice glass they brought to my table, I was amazed that it was much bigger and my expression was one of surprise and happiness. We all laughed out loud.
The very fresh fruit in my glass had filleted strawberries and bananas on wheels, condensed milk, brownie ice cream, whipped cream.
Todas las imagenes son de mi propiedad tomadas con telefono celular Samsung J2 Prime
All images are of my property taken with Samsung J2 Prime cell phone

Apreciados hivers a mi me encanta el helado y mas con cualquier presentación de chocolate y a ti cuentame ¿te gusta el helado? ¿Cuál es tu favorito? 💖💫
Dear Hivers I love ice cream and more with any presentation of chocolate and you tell me, do you like ice cream? What is your favorite? 💖💫
Traducido con ayuda de traductor deelp version gratuita
Translated with the help of translator of the free version