One of the most popular markets to visit in Seoul is called Insadong. Unlike most markets in Korea, this market is mainly geared towards overseas tourists and travellers. Since it is in the old downtown part of Seoul, it is nearby a lot of other tourist attractions.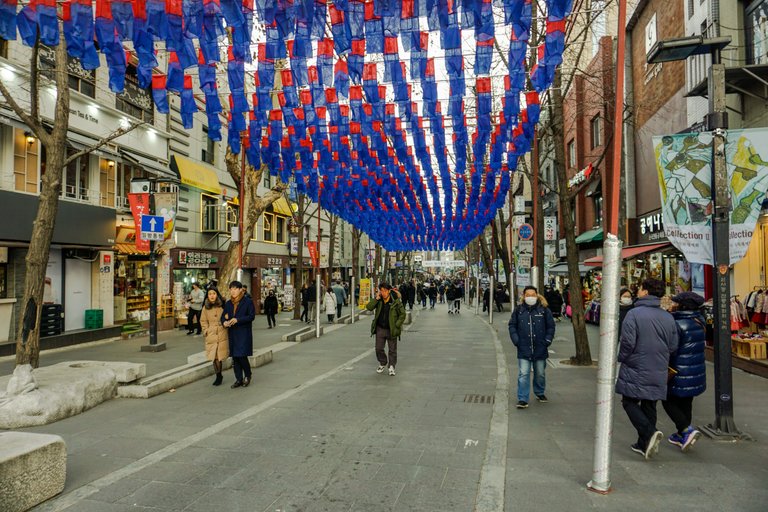 Insadong has been a neighbourhood in Seoul for at least 500 years and there has probably been a market in the area for about this long. However, most of the shops and the current design was made around 20 years ago a few years before the 2002 World Cup when Seoul started to become a popular tourist destination.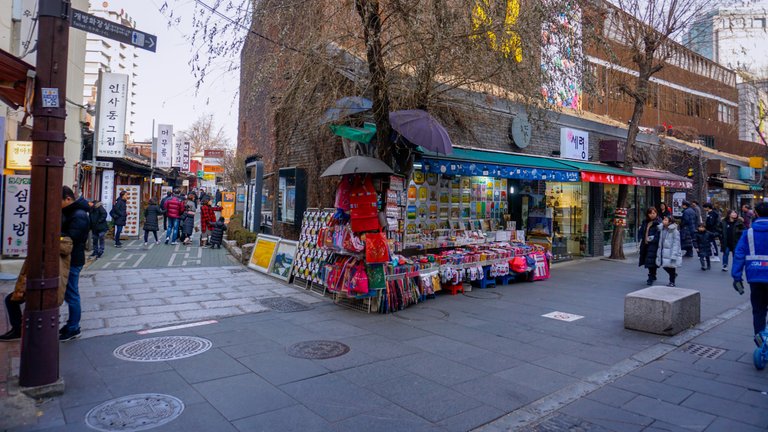 I last visited Insadong about 2 months ago during Lunar New Year. I just walked along the main street in Insadong. I wasn't there to shop, just to enjoy the nice afternoon and take some photos. Since it was during the holidays, it wasn't as busy as going on a normal weekend or holiday. People tend to leave Seoul during the long holidays. That's good, I can do without the crowds.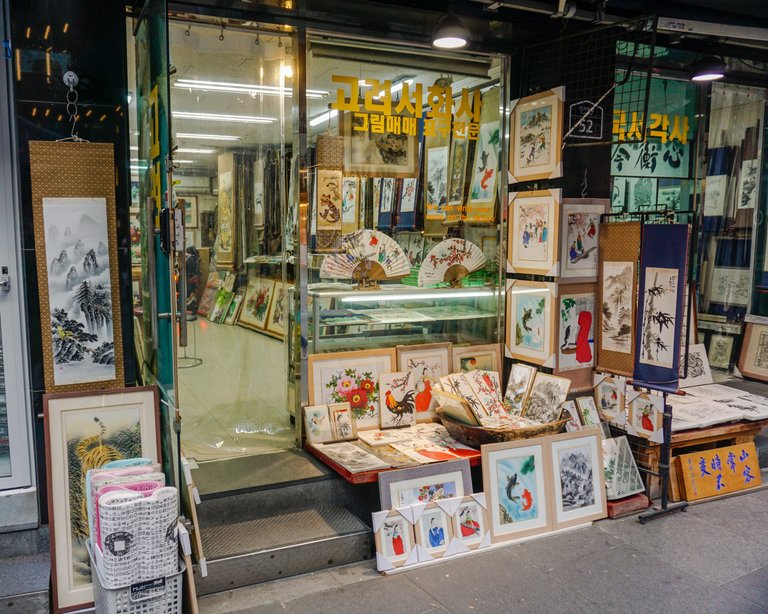 Here is a nice shop, they appear to sell prints and paintings. A nice framed painting or tapestry always looks nice on an empty wall. There is also wrapping paper and even folding fans.
The wrapping paper is actually quite nice since it is just made of Korean alphabet characters. Some times I use that for art. I think paintings make excellent gifts for people and can see why this shop is popular.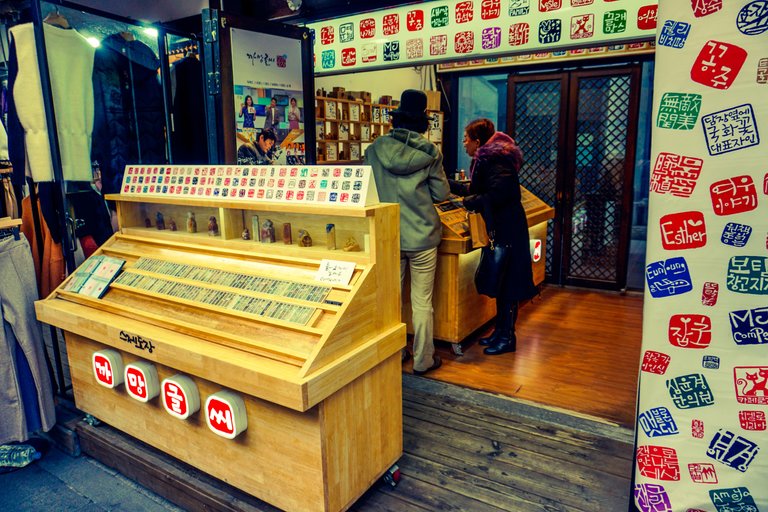 Here is a stamp and seal shop. These are very popular souvenirs. Most people just write whatever, usually in modern Korean writing or just some simple design. These can make fun little gifts, especially for artists to sign their work or teachers to approve the work of students.
Koreans actually still use a version of these stamps for official business. They will write their name in Chinese Postscript and use it to stamp their signature on documents. However, the stamps themselves don't tend to be as fancy. If you pull out a jewelled king's stamp at the bank, the teller is going to think you are a little odd.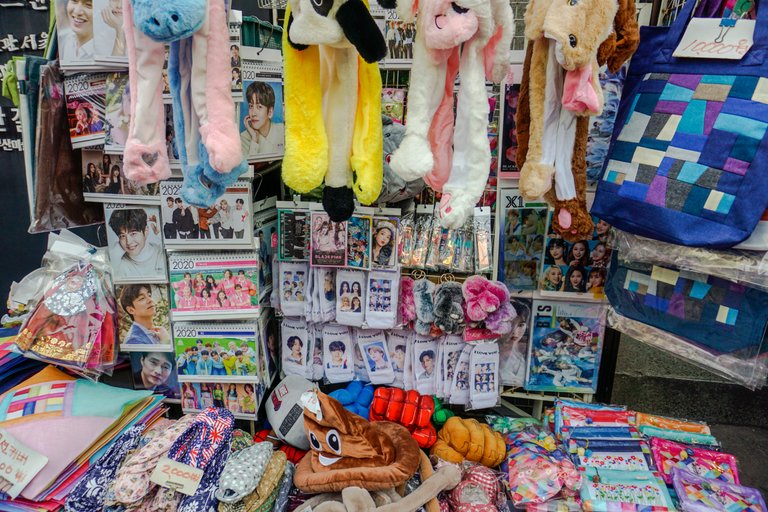 Here is the stall that sells k-pop stuff. I see stickers, calendars, and posters. There is more expensive stuff inside. My favourite is the bunny hats, if you squeeze the paws, the ears flat up. Very cute.
I don't know much about k-pop, but I'm pretty sure any fan would love to go shopping here.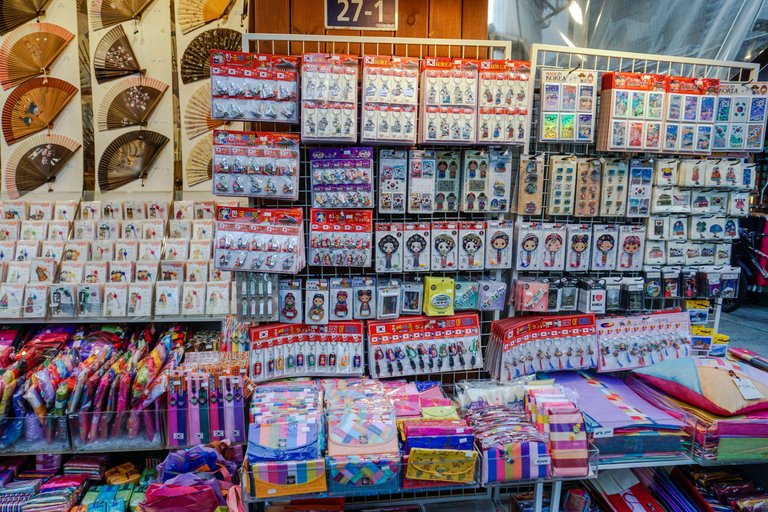 Here are some random souvenirs. Fridge magnets and bookmarks make the perfect gifts for people who you barely know or only feel obligated to buy something for. These are perfect for random coworkers. Actually the nail clippers and bottle openers are my favourites.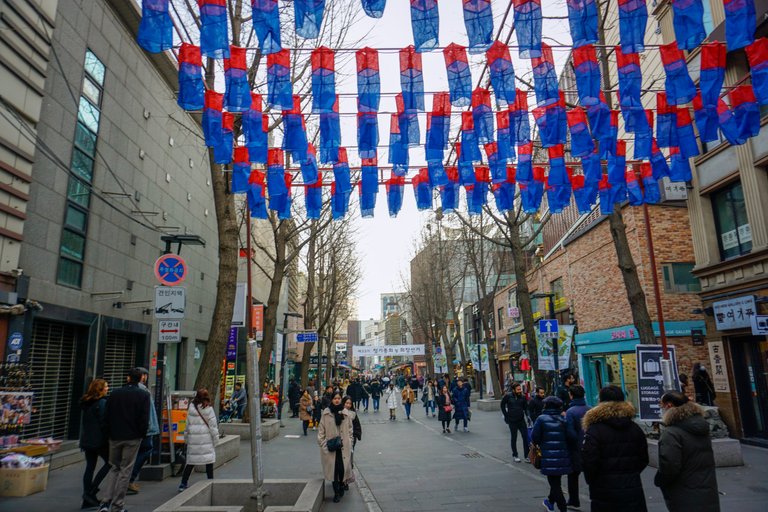 A word of warning, everything in Insa-dong (and most tourist markets worldwide) is overpriced. For buying cheap souvenirs, this usually isn't a problem, but if you think you are going to get a deal here, you are sadly mistaken. I'd avoid buying anything expensive or 'authentic antiques'. For the best deals, check the internet. Chances are you can buy it back home on Amazon for cheaper, too.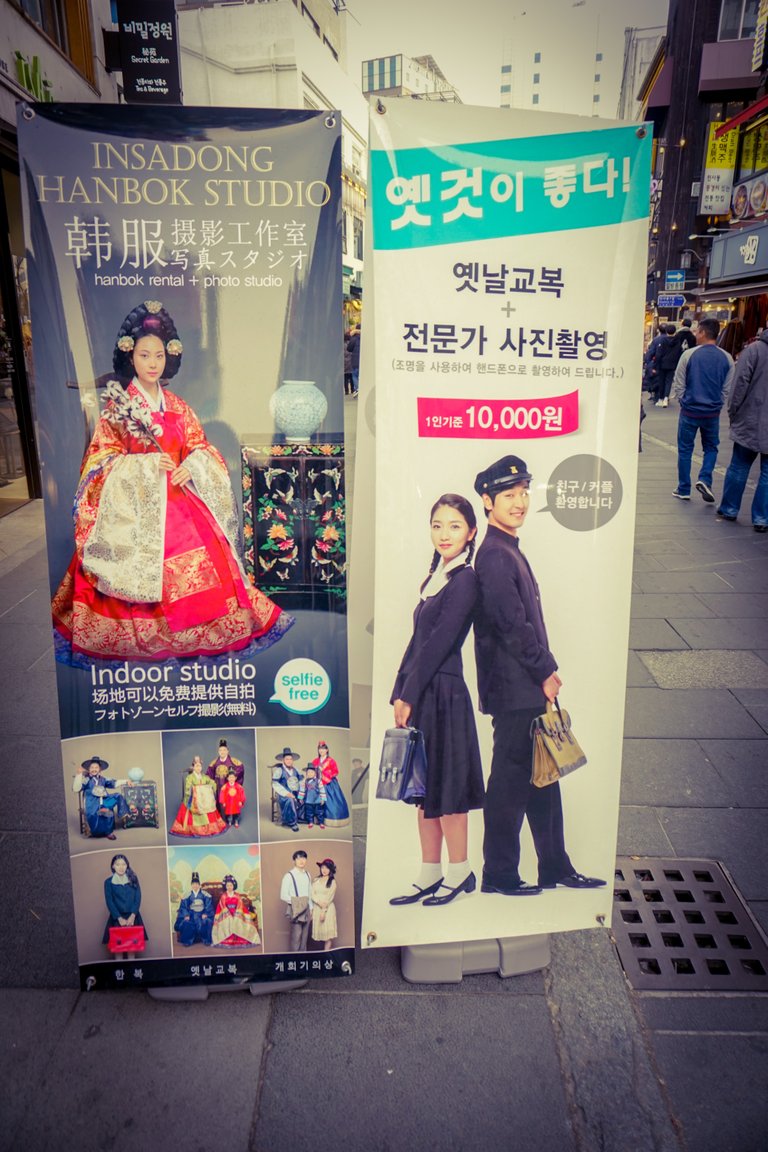 Although, not a shop, this is one of my favourite activities. Dressing up in traditional hanbok costumes or 1960s~1980s style school uniforms is fun for the whole family. I've actually done it a few times. Some shops will even rent them out to you for the day, so you can walk around in style. You can even save money on admission to most places if you show up in #CosPlay. It's an excellent way to embarrass your teenage children, lol.
In the back allies or on the upper floors, restaurants and studios are more common. so, there are often advertisements on the streets or even people approaching you. Insadong is safe, so generally talking to these people is fine, but I wouldn't get into a taxi, or stray more than a few dozen meters from the main street.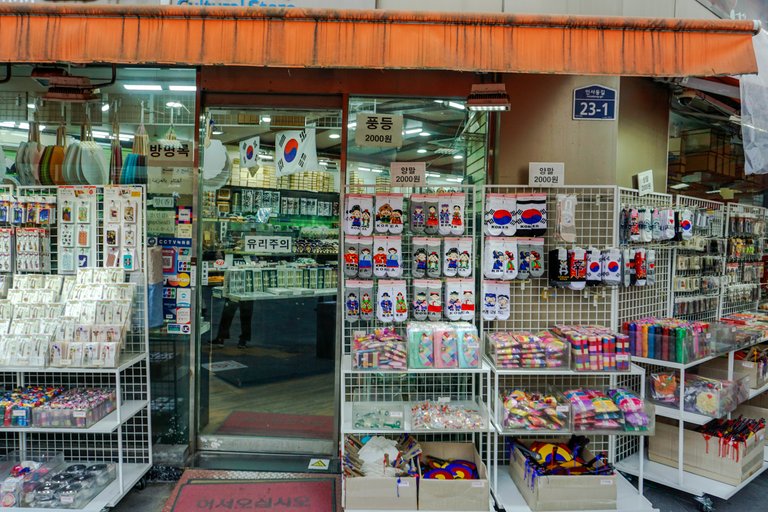 This shop sells hand fans, purses and socks!!! I love socks, who doesn't? Socks can be fun, new socks are the best. Everyone wears socks! These make the perfect gifts. They appear to be 2000KRW each here which is currently like 1.50$.
You can probably find them for half the price near a random subway station, or a less touristy market elsewhere, but it's not really a big deal. I'm sure if you buy a lot you can negotiate. Negotiating is possible pretty much anywhere except places with price scanners.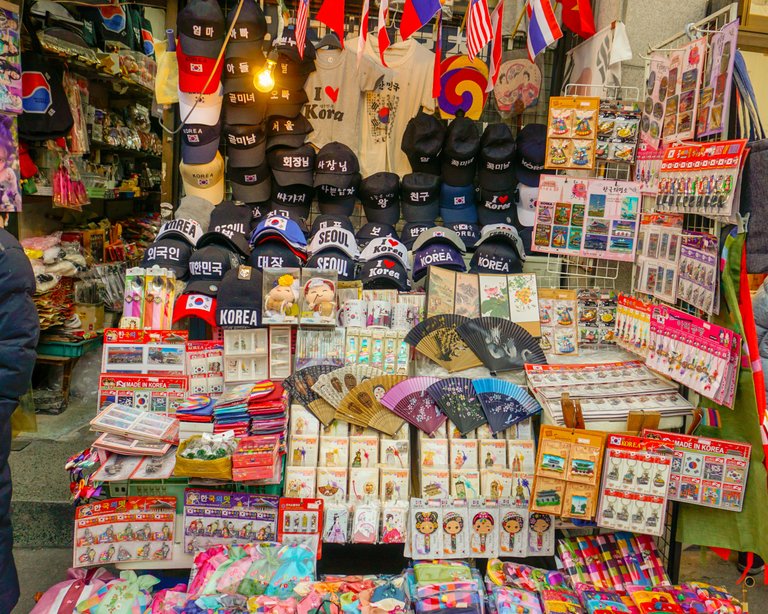 A favourite of the Foreigner, or Waygookin, is the hat with Korean writing on it. I never see Koreans wearing printed shirts with Hangul script unless it is the name of their company or club.
My wife thinks it is really embarrassing, so I always threaten her saying I will buy the "I ❤ Korea" hat and wear it around. I also think it is interesting that there are international flags for sale. If you come to a tourist market in Korea and end up buying a US flag (beautiful flag by the way), you are an odd duck.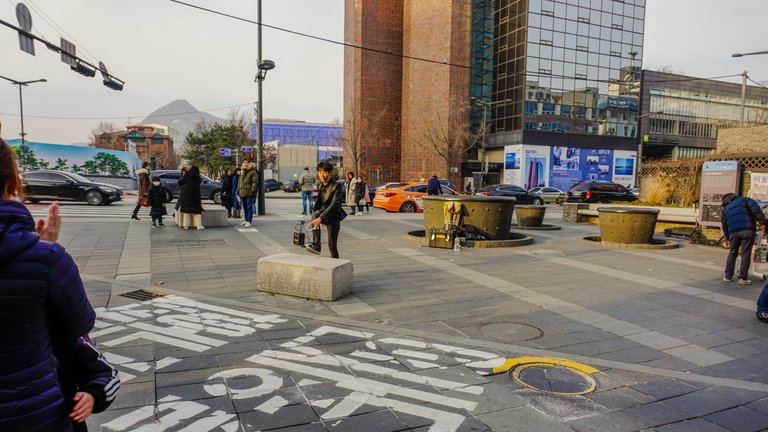 Here is the back entrance to Insadong's main street. Actually, it is closest to Anguk Station and Gwangwhamun Palace, Seoul's main palace.
There was a street magician at the corner. I didn't stick around to watch his show, but it looked like he was just getting started. Usually, the people who are in the most popular areas are really good at their trade.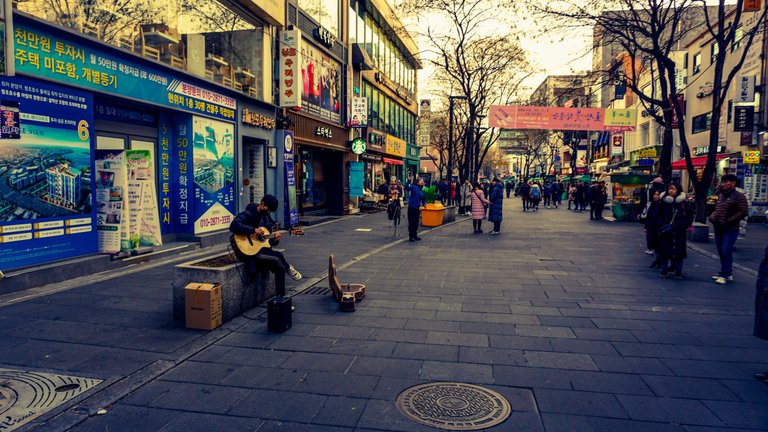 Here is a more amateur act. This guy probably also has permission to be here. I didn't really listen to him, but I'm sure he is okay at playing guitar, lots of people are. I've seen better gigs with several musicians together and even singers and dancers. This isn't a popular place for street musicians, there are better places for that in Seoul.
Buskers and especially "beg-packers" are disliked in Korea even more so than pan-handlers. Unless you have permission from the city or the shopkeepers, and are registered and paying taxes no one wants to see you working without a permit unless you look absolutely desperate. I'm actually happy there aren't a ton of beggars around, scammers ruin tourism (the taxi drivers are the only truly annoying people).
Ceramics are a very popular gift. The ones outside are quite cheap and can be purchased at dollar stores (best places to buy souvenirs by the way Daiso is the big brand in Korea).
Inside they have some more expensive ceramics. However, if you don't know what you are doing, don't buy an expensive one. There are art galleries in this area where you can actually get master crafted stuff. However, I think a few ceramic bowls, teacups or a flower vase make a great gift.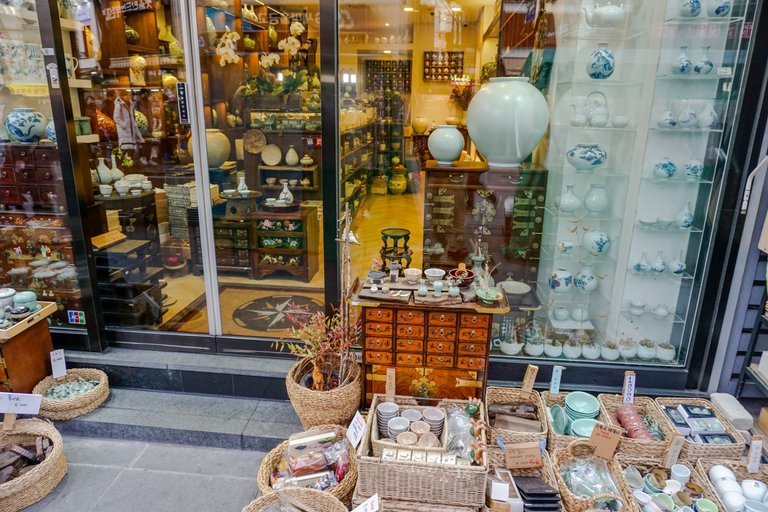 This is one of my favourite shops to look at. It has expensive porcelain and inlaid furniture and jewellery boxes. Nothing inside that shop is cheap, but like everywhere else, they have cheaper stuff out front.
They have really beautiful artwork, so it's probably not a good shop to bring small children inside. I'm guessing they have you break it you buy it policy.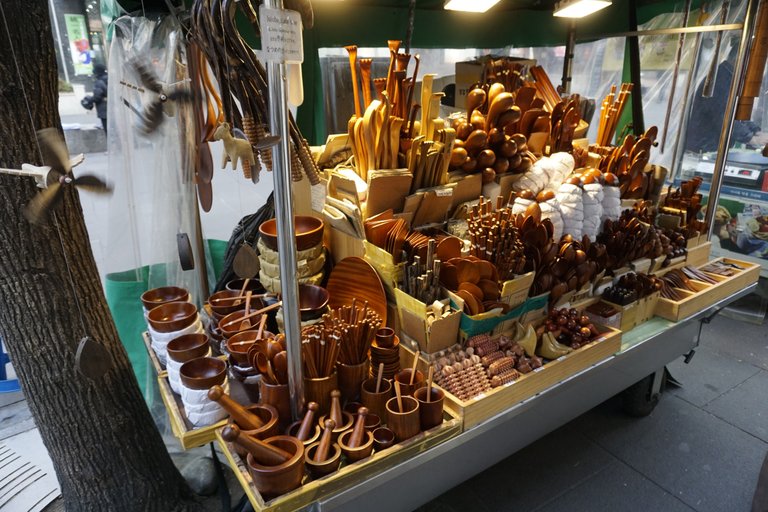 Some of the vendors don't even have shops, they just have wagons in the middle of the street. Most of these people have permits now, especially in expensive areas like this. However, in some areas organized gangs still control who can be a vendor or not. That is usually more common in the countryside now.
Actually, I do like buying wooden utensils, bowls and massage thingys. They are relatively light (wood floats) and won't break in your luggage either. It can all be bought at the dollar store too, so don't overpay.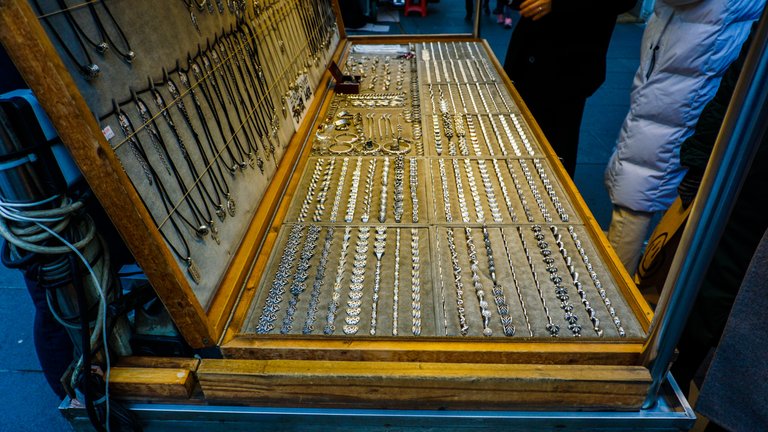 Some people sell jewellery. This place has rings bracelets and necklaces. It looks like stainless steel and probably is. If they tell you it is precious metals or jewels, don't trust them unless you know what you are doing.
I doubt actual vendors will lie, but there may be others hanging around who will lie. Sometimes 'students' try to sell jewellery and may have a small display board with samples. It's a popular scam, these people don't have a 'project' often they are cult members just trying to see if you are dumb enough to give them a lot of money for their cult leaders. Depending on how they mark you, they will either just sell you some junk or try to get you to waste even more money doing a cultural activity. Who knows, if you are really lucky, you may even end up finding a new messiah!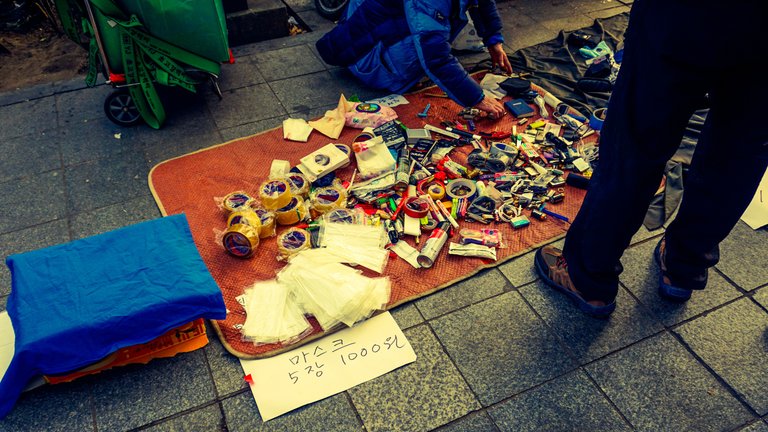 These are the poorest vendors. A lot of them are almost homeless and live in boarding houses. I have no idea how they get their stuff and they are probably managed by some shady people. The police don't really bother them if they follow some basic rules and stick to certain areas. They are often out front of subway entrances. I usually support them because I think it is much better than just begging for money. I bought 5 dental masks for 1000KRW (15 cents each).
I visited the Insadong during lunar new years this year, it was just around the outbreak of the Covid-19 pandemic in Korea. People were still around and there were still a lot of international tourists. Although the mood has changed now, Seoul still isn't on lockdown. But people are wearing masks and avoiding crowds. Those masks sure came in handy and now they are probably selling for 5-10X the price.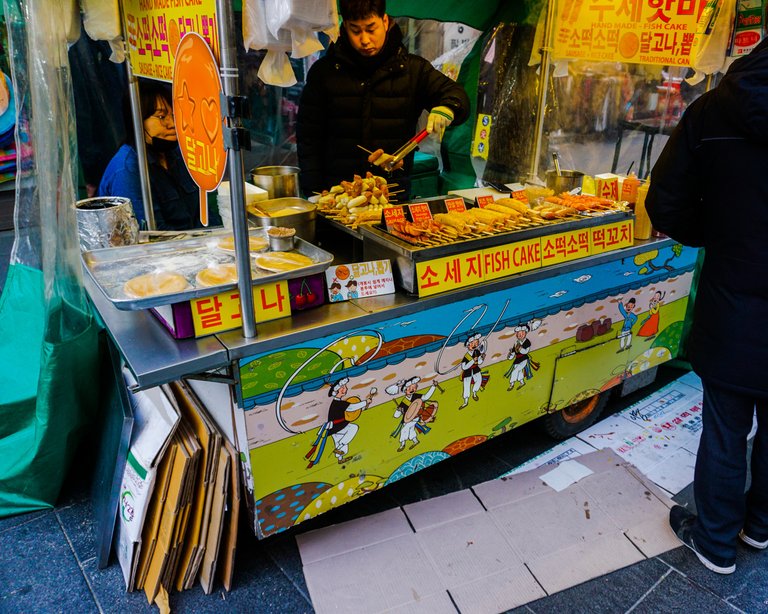 Another thing to do at the market is eating street food. In this case, it's all deep-fried again before eating it, so you don't really need to worry about anything except for your cholesterol levels. It tastes good, especially if you are hungry or drunk.
Personally, I avoid most street vendors unless the conditions are sanitary or I'm in a rush. I've never been sick and I've eaten some dodgy stuff. I just think the quality is quite low compared to proper restaurants and food stalls.
Here is another vendor selling sweets. This vendor wasn't quite in the Insadong area, but I like what they are selling. The lollipops are actually fun to make. It is sugar heated to a liquid then you add some baking soda and stamp it. They have some fun characters.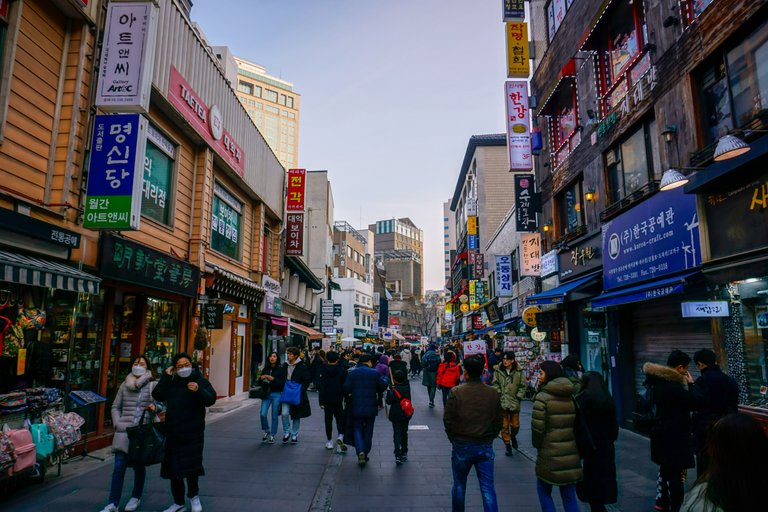 I like visiting the markets. This one isn't covered and doesn't sell much food, so it's the perfect place for a walk on #marketFriday!