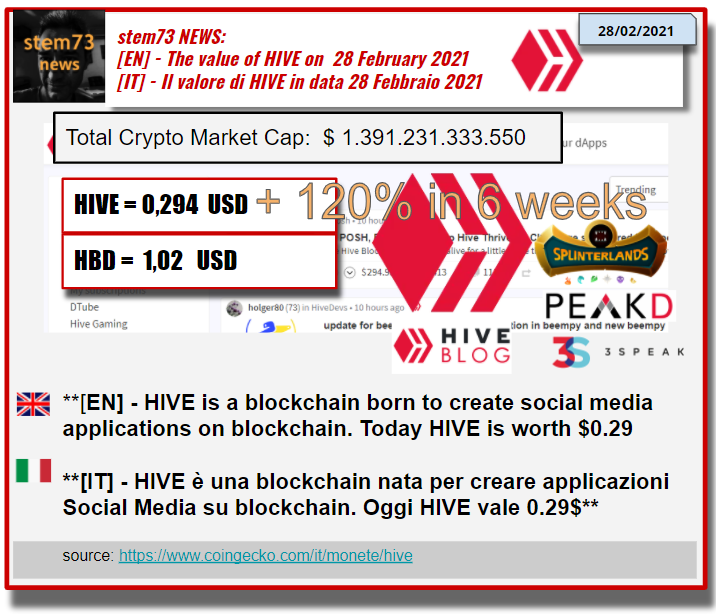 [EN] - HIVE is a blockchain born to create social media applications on blockchain. Today HIVE is worth $0.29
[IT] - HIVE è una blockchain nata per creare applicazioni Social Media su blockchain. Oggi HIVE vale 0.29$
source: https://www.coingecko.com/it/monete/hive
[EN] - My opinion
On January 18, 2021, HIVE was worth $ 0.13, today it's worth $ 0.29. The value grew 120% in a month and a half. Since January 18, HIVE's market capitalization has gone from $ 57 million to $ 110 million, while the market capitalization of the entire crypto sector has gone from $ 1 trillion to $ 1,39 trillion. So in my opinion the + 120% of HIVE is a good performance if we think that the market capitalization has grown by 39% while that of HIVE has grown by 120%. However, it should be noted that HIVE has slipped behind the one hundred and fiftieth position in the ranking of the most capitalized cryptocurrencies. Other lesser known cryptocurrencies such as GALA are now worth more than HIVE in terms of market capitalization. HIVE still has a large and functioning ecosystem, so I believe that in 6 months the price of HIVE will be higher than the current one.
[IT] - Considerazioni personali
Il 18 Gennaio 2021 HIVE valeva 0,13$, oggi vale 0,29$. Il valore è cresciuto del 120% in un mese e mezzo. Dal 18 Gennaio la capitalizzazione di mercato di HIVE è passata da 57 milioni di $ a 110 milioni di dollari, mentre la capitalizzazione di mercato di tutto il comparto crypto è passata da 1.000 miliardi di dollari (1 trilione di dollari) a 1.390 miliardi di dollari. Quindi a mio avviso il +120% di HIVE è una buona performance se pensiamo che la capitalizzazione di mercato è cresciuta del 39% mentre quella di HIVE è cresciuta appunto del 120%. Bisogna però notare come HIVE sia scivolato dietro alla centocinquantesima posizione della classifica delle cryptomonete più capitalizzate. Altre cryptomonete meno conosciute come GALA, oggi valgono più di HIVE in termini di capitalizzazione di mercato. HIVE ha comunque un ecosistema ampio e funzionante, quindi credo che tra 6 mesi il prezzo di HIVE sarà maggiore di quello attuale.