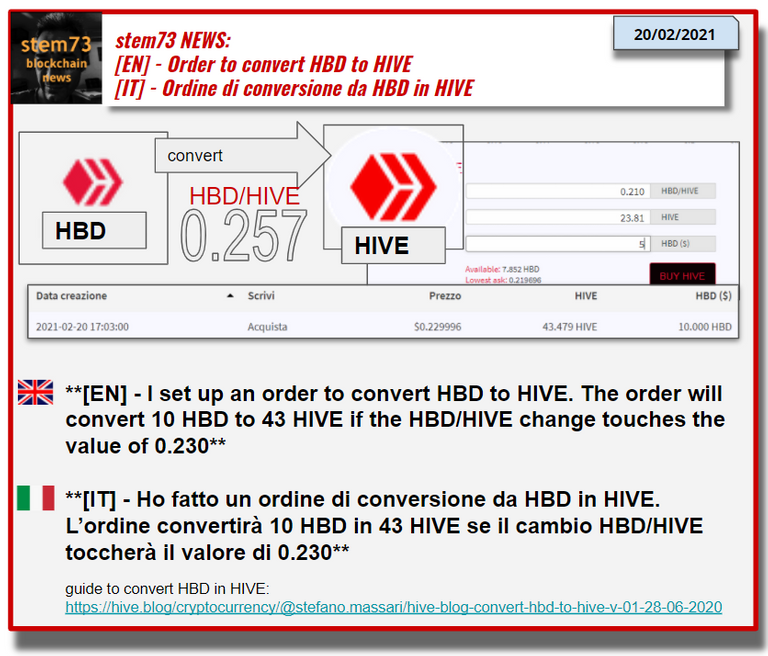 [EN] - I set up an order to convert HBD to HIVE. The order will convert 10 HBD to 43 HIVE if the HBD/HIVE change touches the value of 0.230
[IT] - Ho fatto un ordine di conversione da HBD in HIVE. L'ordine convertirà 10 HBD in 43 HIVE se il cambio HBD/HIVE toccherà il valore di 0.230
guide to convert HBD in HIVE: https://hive.blog/cryptocurrency/@stefano.massari/hive-blog-convert-hbd-to-hive-v-01-28-06-2020
[EN] - My opinion
At the end of September I had placed an order to convert HBD to HIVE and with that order I took 60 HIVE with 10 HBD. In September the HBD / HIVE exchange rate was 0.167, today the exchange rate is 0.257. The ratio has definitely increased, almost 55%. I try to do an operation similar to that of September and convert 10 HBD to an HBD / HIVE ratio of 0.230. If this order is activated my 10 HBDs will be converted to 43 HIVE. The price of HIVE has been rising since early February and today 1 HIVE is worth $ 0.31, while the price of HBD (Hive Dollar) is at $ 1.26.
It seems that the value of the change to trigger the order I have moved it quite low. Compared to the current exchange rate, I went from 0.257 to 0.230, which is 10% less. Personally I don't think it is much, as the crypto market is quite volatile, moreover this ratio can be varied not only by HIVE, but also by HBD, which at this moment is not very close to the dollar in value, although in theory its value should be pegged to the dollar. If we check the HBD value of the last week, we see that it has reached a maximum of $ 1.47. Therefore, both currencies appear to be participating in the change in the HBD / HIVE ratio in this period.
Now we just have to wait and see if this conversion order will be activated and the next few days.
Disclaimer: I am not a financial advisor, so this post is not an investment incentive, but remains an information and topical post. If you want to invest, you must do it responsibly after doing your research.
---
[IT] - Considerazioni personali
A fine Settembre avevo fatto un ordine di conversione di HBD in HIVE e con quell'ordine presi 60 HIVE con 10 HBD. A Settembre il cambio HBD/HIVE era a 0.167, oggi il cambio è a 0.257. Il rapporto è decisamente aumentato, quasi di un 55%. Provo a fare un'operazione simile a quella di Settembre e convertire 10 HBD ad un rapporto HBD/HIVE di 0.230. Se questo ordine verrà attivato i miei 10 HBD verranno convertiti in 43 HIVE. Il prezzo di HIVE sta salendo dai primi giorni di febbraio ed oggi 1 HIVE vale 0.31$, mentre il prezzo dell HBD (Hive Dollar) è a 1,26$.
Sembra che il valore del cambio per far scattare l'ordine io l'abbia spostato abbastanza in basso. Rispetto al valore attuale del cambio, sono passato da 0.257 a 0.230, che equivale ad un 10% in meno. Personalmente non credo che sia molto, in quanto il mercato crypto è abbastanza volatile, inoltre questo rapporto può essere variato non solo da HIVE, ma anche da HBD, che in questo momento non è molto vicina al dollaro come valore, anche se in teoria il suo valore dovrebbe essere agganciato al dollaro. Se andiamo a verificare il valore dell'HBD dell'ultima settimana, vediamo che addirittura ha toccato un massimo di 1,47$. Quindi a partecipare alla variazione del rapporto HBD/HIVE, in questo periodo, sembra che ci siano entrambe le monete.
Ora non rimane che aspettare e vedere se ei prossimi giorni questo ordine di conversione verrà attivato.
Disclaimer: io non sono un consulente finanziario, quindi questo post non è un incentivo all'investimento, ma rimane un post di informazione e attualità. Se volete investire dovete farlo responsabilmente dopo aver fatto le vostre ricerche.
---
My HIVE referral link:
https://hiveonboard.com?ref=stefano.massari