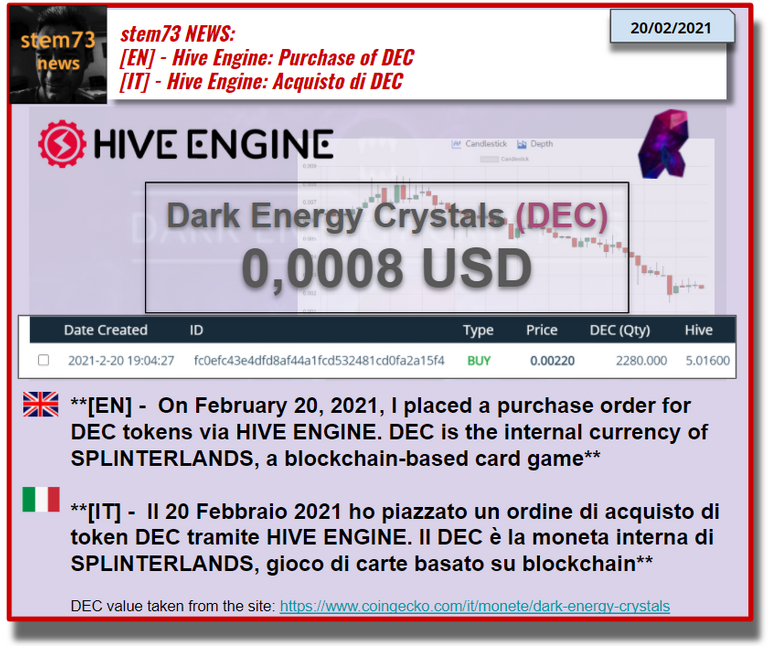 [EN] - On February 20, 2021, I placed a purchase order for DEC tokens via HIVE ENGINE. DEC is the internal currency of SPLINTERLANDS, a blockchain-based card game
[IT] - Il 20 Febbraio 2021 ho piazzato un ordine di acquisto di token DEC tramite HIVE ENGINE. Il DEC è la moneta interna di SPLINTERLANDS, gioco di carte basato su blockchain
DEC value taken from the site: https://www.coingecko.com/it/monete/dark-energy-crystals
[EN] - My opinion
On February 20, I used HIVE's decentralized exchange, or HIVE ENGINE, to purchase DEC tokens. The HIVE/DEC exchange rate is 0.0023. This relationship has been on a decline lately, so I try to take advantage of the situation. I placed a buy order of 2280 DEC with a buy ratio of 0.0022. 0.0020 corresponds to a 4% lower value than the current exchange value. If the order is activated, with 5 HIVE I will purchase 2280 DEC. Personally I believe that the value of the DEC is destined to rise, I think that during this 2021 it can reach the value of one thousandth of a dollar (0.001 $). In 2022, I expect a lot of gamers to start playing on the blockchain, so I assume that many blockchain-based games will grow in popularity. Those who see, like me, an opportunity in blockchain-based gaming, I think they are almost obliged to try SPLINTERLANDS and think about using it seriously. Today SPLINTERLANDS is the most popular blockchain-based game and it has been throughout 2020. In short, in 2022 there will certainly be DEC in my portfolio.
Disclaimer:
I am not a financial advisor, so this post is not an investment incentive, but remains an information and topical post. If you want to invest, you must do it responsibly after doing your research.
---
[IT] - Considerazioni personali
Il 20 Febbraio ho utilizzato l'exchange decentralizzato di HIVE, ovvero HIVE ENGINE, per acquistare dei token DEC. Il cambio HIVE/DEC è a 0,0023. Questo rapporto ultimamente ha avuto un calo, quindi cerco di approfittare della situazione. Ho piazzato un ordine di acquisto di 2280 DEC con un rapporto di acquisto di 0,0022. Lo 0,0020 corrisponde ad un valore inferiore del 4% rispetto all'attuale valore di cambio. Se l'ordine verrà attivato, con 5 HIVE acquisterò 2280 DEC. Personalmente credo che il valore del DEC sia destinato ad alzarsi, io penso che durante questo 2021 possa raggiungere il valore di un millesimo di dollaro (0.001 $). Nel 2022 mi aspetto che molti gamers inizieranno a giocare sulla blockchain, quindi suppongo che molti giochi basati su blockchain accresceranno la propria popolarità. Chi vede, come me, nel gaming basato su blockchain un'opportunità credo che sia quasi obbligato a provare SPLINTERLANDS e a pensare di usarlo seriamente. Oggi SPLINTERLANDS è il gioco basato su blockchain più popolare e lo è stato per tutto il 2020. Insomma, nel 2022 all'interno del mio portafoglio ci saranno sicuramente dei DEC.
Disclaimer:
io non sono un consulente finanziario, quindi questo post non è un incentivo all'investimento, ma rimane un post di informazione e attualità. Se volete investire dovete farlo responsabilmente dopo aver fatto le vostre ricerche.