---
---
Scroll down for English version
---
---
ITA
A metà Agosto ho impostato dei voti automatici per migliorare il rendimento della mia curation e per evitare di sprecare preziosa potenza di voto. Ho fatto ciò in un periodo in cui gli autori che seguo hanno ridotto il loro ritmo di pubblicazione (comprensibile, visto il periodo di ferie).
I risultati ottenuti sono veramente buoni e riesco ad avere potenza di voto da dedicare ad altri utenti che seguo e che non godono ancora del mio voto automantico, ma questo post vuole trattare un altro tema.
---
Da qualche giorno, ricevo come curation reward porzioni di HIVE e HBD liquidi, come potete vedere qua sotto:


---
Essendo totalmente all'oscuro di questa funzionalità, ho deciso di informarmi meglio. L'unico indizio in mio possesso, infatti, è che queste rewards "liquide" mi arrivano solamente per aver curato i post di @acidyo, famosissimo utente di Hive, creatore della Community OCD e costantemente impegnato nella curation, ma non solo.
Comunque, vado sull'account @reward.app, non aspettandomi di trovare post recenti (visto che di solito questi account non pubblicano ma gestiscono solamente il movimento di HIVE e HBD) e trovo un recentissimo post che potete trovare qua.
---
@reward.app è un tool che ogni autore può utilizzare qualora volesse ottenere le proprie ricompense d'autore in HIVE/HBD liquidi anzi che in HIVE/HBD vincolati al wallet e ottenibili solamente dopo 13 settimane di powerdown.
Va precisato che il tool gestisce solamente la ricompensa d'autore e non quella da curatore.
Il tool trattiene l'1% della ricompensa d'autore come fee.
Di default, un ulteriore 4% della ricompensa d'autore viene ridistribuita tra tutti i curatori, sotto forma di HIVE/HBD liquidi (ecco perché io sto ricevendo porzioni di HIVE/HBD liquidi per il mio voto automatico).
Questo valore può essere modificato, da 0 a 100, dove con 0 si decide di tenere tutta la ricompensa d'autore per se (escluso l'1% di fee) mentre con 100 si decide di ridistribuire tutta la ricompensa d'autore tra i curatori.
Per modificare questo valore è sufficiente inviare 0.001 HIVE all'account @reward.app inserendo come MEMO il valore percentuale che desideriamo ridistribuire tra i nostri curatori.
---
Il progetto è sostenuto da @cardboard e proprio @acidyo (ecco perché ricevo questa particolare ricompensa dai suoi post).
Personalmente penso che sia uno strumento buono, da pubblicizzare e far presente quando incontriamo qualcuno che non vuole entrare in HIVE perché "aspettare 13 settimane è troppo".
Con questo strumento, ogni 7 giorni puoi decidere cosafare con le tue ricompense d'autore e non hai alcun vincolo.
Per il momento non sfrutterò il tool perché ho già il mio meccanismo di power up affiancato da un power down costante, che mi permette, in 13 settimane, di guadagnare circa l'equivalente del power down. A fine power down, infatti, il mio HP è praticamente identico a quello che ho subito dopo aver fatto power up. Per adesso si tratta di 20 HIVE a settimana che sono abbastanza facili da accumulare anche per un autore che non scrivere 7/7, più avanti vedremo.
---
Dimenticavo una cosa importante: come utilizzare il tool.
È sufficiente cliccare su Advanced (affianco alla sezione in cui si inseriscono i TAG del post) e selezionare use @reward.app nel menu a tendina.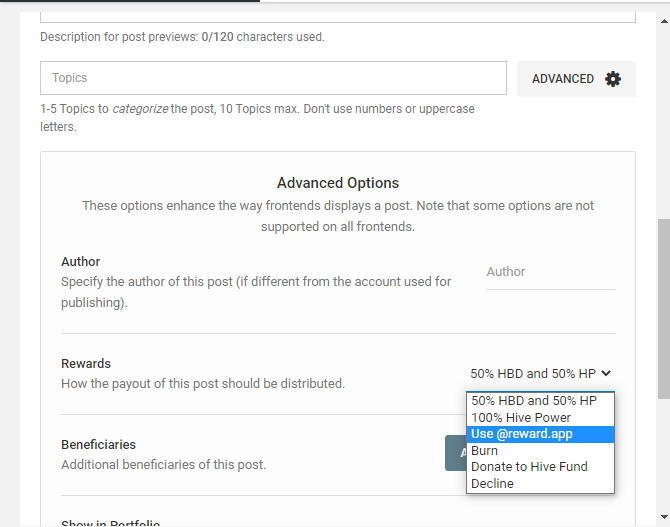 ---
Spero di aver fatto un'opera utile per voi tutti, a qualcuno potrebbe interessare questo tool e penso che in futuro lo utilizzerò sicuramente.
Faccio i complimenti a @cardboard che ho conosciuto per il progetto @tipu e ad @acidyo che è un grande utente di Hive.
Buona serata!
---
---
Le immagini sono screenshots di proprietà dell'autore.
ENG
In mid-August I set automatic votes to improve the performance of my curation and to avoid wasting valuable voting power. I did this at a time when the authors I follow have reduced their rate of publication (understandable, given the holiday period). The results obtained are really good and I am able to have voting power to dedicate to other users I follow and who do not yet enjoy my automantic vote, but this post wants to deal with another topic.
---
For a few days now, I have been receiving liquid portions of HIVE and HBD as curation reward, as you can see below:


---
Being totally unaware of this functionality, I decided to find out more. The only clue in my possession, in fact, is that these "liquid" rewards come to me only for having voted the posts of @acidyo, famous user of Hive, creator of the OCD Community and constantly engaged in curation, but not only.
Anyway, I go to the @reward.app account, not expecting to find recent posts (as these accounts don't usually publish but only manage the HIVE and HBD movement) and find a very recent post that you can find here
---
@reward.app is a tool that every author can use if they want to obtain their own author rewards in liquid HIVE/HBD or rather than wallet-bound HIVE/HBD rewards that can only be obtained after 13 weeks of powerdown.
It should be noted that the tool only manages the author's reward and not the curator's reward.
The tool retains 1% of the author's reward as a fee.
By default, an additional 4% of the author's reward is redistributed among all curators in the form of liquid HIVE/HBD (that's why I am receiving portions of liquid HIVE/HBD for my automatic vote).
This value can be modified, from 0 to 100, where with 0 you decide to keep all the author's reward per se (excluding 1% fee) while with 100 you decide to redistribute all the author's reward among the curators.
To change this value simply send 0.001 HIVE to the @reward.app account and enter as MEMO the percentage value that we wish to redistribute among our curators.
---
The project is supported by @cardboard and @acidyo itself (which is why I receive this particular reward from its posts).
Personally I think it is a good tool, to advertise and point out when we meet someone who does not want to get into HIVE because "waiting 13 weeks is too long".
With this tool, every 7 days you can decide what to do with your author's rewards and you have no restrictions.
For the moment, I will not use the tool because I already have my power up mechanism alongside a constant power down, which allows me, in 13 weeks, to earn about the equivalent of power down. At the end of power down, in fact, my HP is practically identical to the one I have immediately after power up. For now it's 20 HIVE per week which are quite easy to accumulate even for an author who doesn't write 7/7, we'll see later on.
---
I forgot one important thing: how to use the tool.
Simply click on Advanced (next to the section where you enter the TAGs of the post) and select use @reward.app in the drop-down menu.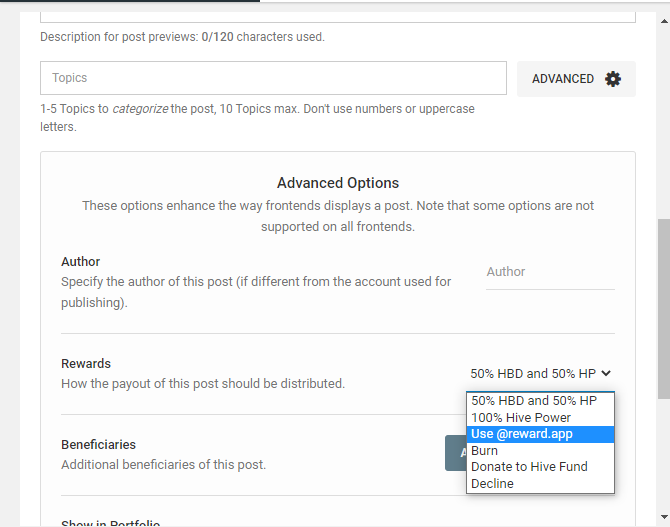 ---
I hope I have done a useful work for you all, someone might be interested in this tool and I think I will definitely use it in the future.
I congratulate @cardboard that I met for the @tipu project and @acidyo who is a great user of Hive.
Have a good evening!
---
---
The images are screenshots owned by the author.