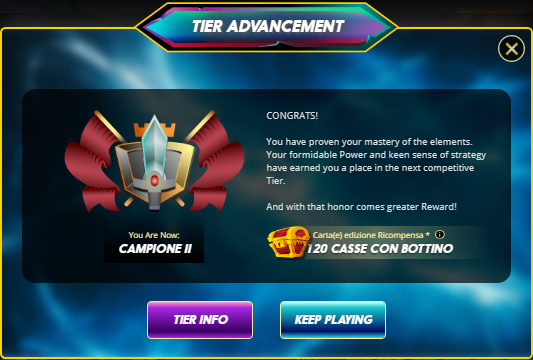 Already from yesterday I had firmly settled in the score range of 4000-4150, with quick bets up to almost crossing the threshold of the much-coveted threshold of 4200 points, necessary to obtain the Champion League II and the 120 consequent Cards, this morning, thanks to the forced work stoppage by state provisions, I played a few games, and just before leaving with the daily Daily Mission there was a quick but significant crossing of the mythical threshold, at the right moment a hit and run, but enough to trigger the beautiful inscription of the entrance image...
You are now Champion II
That it was in the air we had told each other among us Edsf Guildmates, it was likely that it would only be a matter of time, what struck me a bit strange was the fact that there was, so far, just a peak at 4215 and then down again between 4000 and 4100, yet I completed the Daily Mission with the Water Element, which I simply adore, having also maxed out several Cards of this Element, but there are days when I back down, there is no it's nothing to do, I lose battles after battles even in conditions, theoretically, more than favorable, to the point that I have resigned myself to the 16 cards...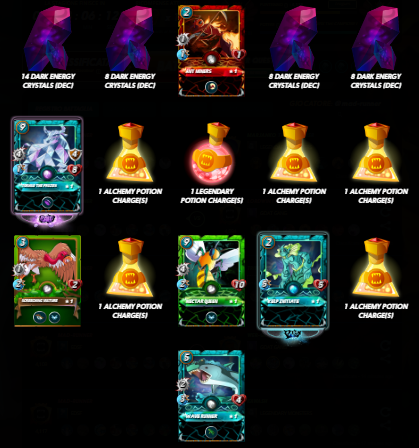 There are so many 16 Cards, in a single day, I realize this when I go to read the posts on Splinterlands of the other members of our Edsf Guild, this is one of the reasons why I must never complain even if I have a poor unpacking, as it will always be higher than the average of my colleagues, and in any case, as you can easily verify, it was not at all poor today...
38 DEC and 6 Cards, with a beautiful Epic Card such as Torhilo the Frozen, 200 DEC enhancement, as well as Kelp Iniziate, Rare Card of the Water Element, all to mean which went well overall...
At this point, what are my real goals on Splinterlands?
More or less always those, max out other cards, support my fellow Edsf Guilds, accumulate DEC to invest in profitable activities on Splinterlands, continue to confirm myself on the Champion Leagues, all to be harmonized with the other activities I carry out on the net, even in consideration of the fact that there is a close synergy between Splinterlands and Hive, as one supports the other and vice versa, in a constant growth of the whole overall movement, sometimes I withdraw DEC to be converted into Hive, or I buy Credits on Splinterlands with liquid Hives or HBDs, the various dynamics are dictated by the needs to be pursued, which constantly change as the time to devote to these activities is always limited, in recent times, due to the forced closure of my customers I more time available, but I hope it is a contingent situation, that as soon as possible everything will return to normal, as far as possible, even if I think it takes still more time, in the meantime I will focus on the closing of the next Season, and on the imminent next distribution of the Lands of Splinterlands, now there are less than 2 days to this event, a little DEC on the account are ready for this eventuality. ..
Well, everything is well what ends well, I hope I have made you a pleasant report, if you want to try the experience of this pleasant game you can register using my affiliate code:
https://steemmonsters.com?ref=mad-runner
The entrance image was taken from the Splinterlands game, I made a screenshot with my computer...
---
Versione Italiana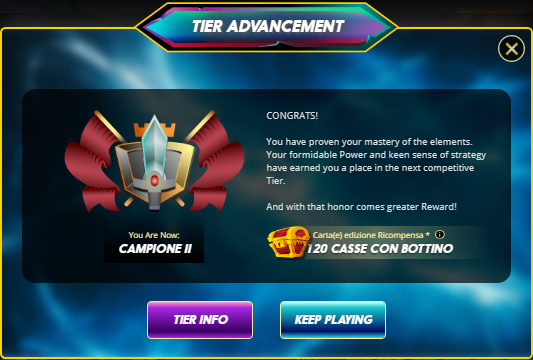 Già dalla giornata di ieri mi ero stabilmente insediato nella fascia di punteggio di 4000-4150, con rapide puntate fino quasi a sfiorare lo sconfinamento nella tanto agognata soglia dei 4200 punti, necessari per ottenere la Lega Campione II e le 120 Carte conseguenti, questa mattina, complice il forzato fermo lavorativo da disposizioni statali ho fatto qualche partita, e poco prima di partire con la quotidiana Missione Giornaliera c'è stato un veloce ma significativo superamento della mitica soglia, al momento giusto un toccata e fuga, ma sufficiente per far scattare la bella scritta dell'immagine d'ingresso...
Tu sei ora Campione II
Che fosse nell'aria ce lo eravamo detto tra noi compagni della Gilda Edsf, era probabile che sarebbe stata solamente una questione di tempo, quello che mi è suonato un po' strano è stato il fatto che c'è stato, finora, giusto un picco a 4215 e poi giù di nuovo tra i 4000 e i 4100, eppure ho completato la Missione Giornaliera con l'Elemento Acqua, che semplicemente adoro, avendo oltretutto maxato diverse Carte di questo Elemento, ma ci sono giorni in cui arretro, non c'è nulla da fare, perdo battaglie su battaglie anche in condizioni, teoricamente, più che favorevoli, al punto tale che mi sono rassegnato alle 16 carte...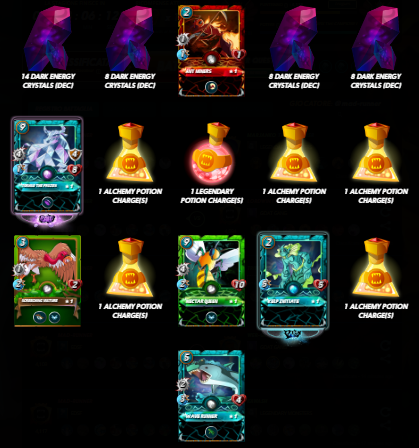 Sono tante 16 Carte, in un solo giorno, me ne rendo conto quando vado a leggere i post su Splinterlands degli altri componenti della nostra Gilda Edsf, questo è uno dei motivi per cui non devo mai lamentarmi anche se ho uno spacchettamento scarso, in quanto sarà mediamente sempre superiore a quello medio dei miei colleghi, e in ogni caso, come potete facilmente verificare, non è stato affatto scarso quest'oggi...
38 DEC e ben 6 Carte, con una bella Carta Epica quale Torhilo the Frozen, 200 DEC di valorizzazione, oltre a Kelp Iniziate, Carta Rara dell'Elemento Acqua, il tutto a significare che è andata complessivamente più che bene...
Arrivati a questo punto, quali sono i miei reali obiettivi su Splinterlands??
Più o meno sempre quelli, maxare altre carte, supportare i miei compagni della Gilda Edsf, accumulare DEC da investire in attività profittevoli su Splinterlands, continuare a confermarmi sulle Leghe Campione, il tutto da armonizzare con le altre attività che svolgo in rete, anche in considerazione del fatto che c'è una stretta sinergia tra Splinterlands e Hive, in quanto l'una supporta l'altra e viceversa, in una costante crescita di tutto il movimento complessivo, a volte prelevo DEC da convertire in Hive, oppure acquisto Crediti su Splinterlands con gli Hive liquidi oppure con gli HBD, le varie dinamiche sono dettate dalle esigenze da perseguire, che mutano costantemente in quanto il tempo da dedicare a queste attività è sempre contenuto, in questi ultimi tempi, a causa della chiusura forzata dei miei clienti ho più tempo a disposizione, ma mi auguro che sia una situazione contingente, che al più presto tutto ritorni, nel limite del possibile, alla normalità, anche se penso che ci voglia altro tempo ancora, nel frattempo mi concentrerò sulla chiusura della prossima Stagione, e sull'imminente prossima distribuzione delle Terre di Splinterlands, ormai mancano meno di 2 giorni a questo evento, un po' di DEC sull'account sono pronti a questa eventualità...
Bene, tutto bene quel che finisce bene, spero di averti fatto un rapporto piacevole, se vuoi provare l'esperienza di questo piacevole gioco puoi registrarti usando il mio codice affiliato:
https://steemmonsters.com?ref=mad-runner
Le immagini di questo post sono state prese dal gioco Splinterlands, ho realizzato screenshots con il mio computer.