His hands are kneaded all over...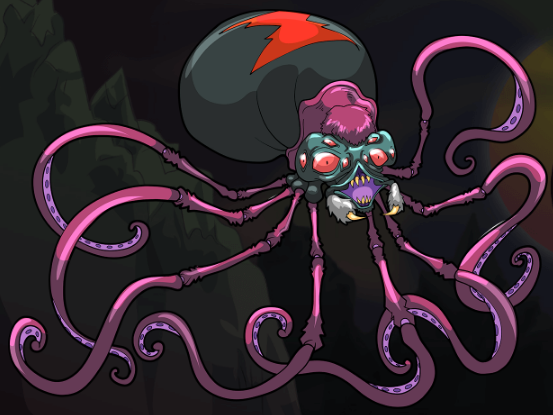 When I saw the subject of this week's Splinterlands contest, I had no doubts, as sometimes I just have to go and find what the card, or the subject, of this contest is, this time it was clear right away, and of course, with a name like that...
Octopider, how do you confuse such a name ?? Impossible, because in the name itself there is a reference to the sprawling monster that represents this Charter, so I was, at the time theoretically, okay, because I really said...
"This week we participate in the contest..."
Easy, in my head, a little less in practice, because there is always the fact of the presence of the Daily Mission to be considered, so the Death Element does not always happen, but it is also true that I play several daily games even outside the Daily Mission, which is why, summing up, where was the difficulty of bringing Octopider onto the field??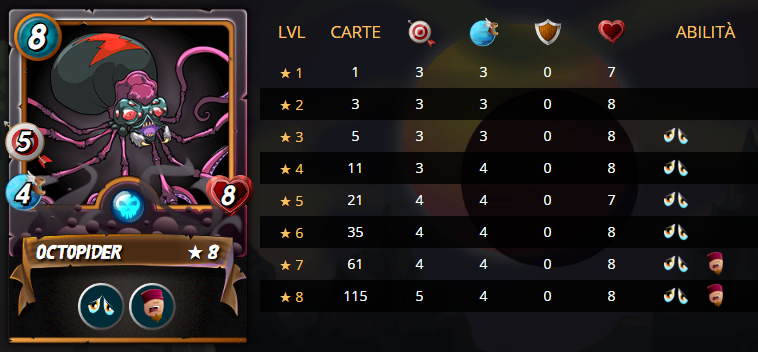 Simple, Octopider has a cost of 8 Mana, so making it take to the field, maintaining a chance to win the fight, is not easy, even if you hold this Card at the maximum possible power, as in the my case, it was one of the first that I maxed out of the Death Element, my Octopider has a valuation, at the moment, of almost 15 dollars (7245 DEC), the qualities are there but they are not excellent , good, nothing more, but certainly good...
5 shots for each round of firing, combined with 8 lives, adding the skills of Demoralize and Blind, make, as mentioned above, Octopider a good card, which, especially in games with over 30 Mana, can do a good deed, especially when deployed in the rear...
Who were the snack companions for the contest battle? Here they are...
1st position
Shadowy Presence
2nd position
Horny Toad
3rd position
Maggots
4th position
Haunted Spirit
5th position
Gelatinous Cube
6th position
Octopider
Precisely in this game, which you can view via this link...
https://steemmonsters.com?p=battle&id=d8258ea67a622c84cd3f271ac065faa6b7f6a638&ref=mad-runner
... in this fight Octopider has stood out, contributing in large part to..., eehhh no, if you want to see how she disengaged, watch the fight...
I sincerely thank Splinterlands for several reasons for these wonderful opportunities that it offers us, and if any of you are not yet registered in this game I recommend with increasing determination and pleasure, this is my affiliate code...
https://steemmonsters.com?ref=mad-runner
If you want to participate in this very valid contest, here is the link to access it...
https://peakd.com/splinterlands/@splinterlands/share-your-battle-weekly-challenge-octopider
The images were taken from the Splinterlands game, I made a screenshot with my computer...
---
Versione Italiana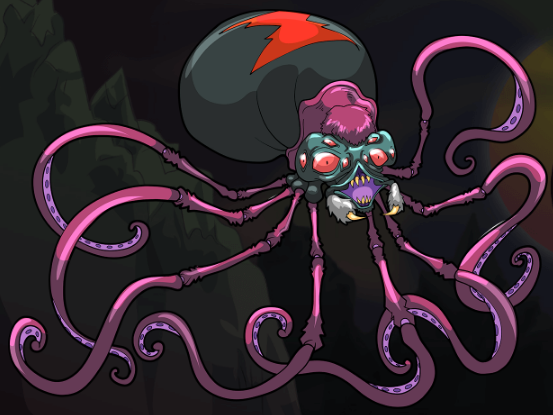 Quando ho visto il soggetto del contest di questa settimana di Splinterlands, non ho avuto dubbi, in quanto a volte devo proprio andare a cercare qual è la carta, o il soggetto, di questo contest, questa volta è stato chiaro sin da subito, e per forza, con un nome del genere...
Octopider, come si fa a confondere un nome del genere?? Impossibile, perché nel nome stesso c'è il richiamo al mostro tentacolare che rappresenta questa Carta, per cui ero, al momento teoricamente, a posto, perché mi son proprio detto...
"Questa settimana si partecipa al contest..."
Facile, nella mia testa, un po' meno in pratica, perché c'è sempre da considerare il fatto della presenza della Missione Giornaliera, per cui l'Elemento Morte non sempre capita, ma vero è anche il fatto che io faccio diverse partite giornaliere anche fuori della Missione Giornaliera, ragion per cui, tirando le somme, dov'è stata la difficoltà di far scendere in campo Octopider??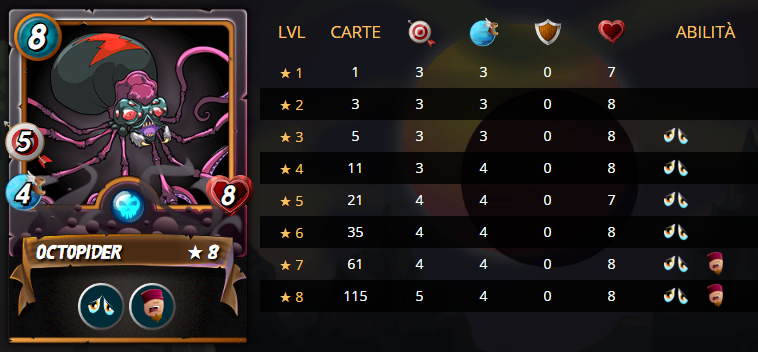 Semplice, Octopider ha un costo di ben 8 Mana, per cui farla scendere in campo, mantenendo una possibilità di vincere il combattimento, non è per facile, anche se si detiene questa Carta alla massima potenza possibile, come nel mio caso, è stata una delle prime che ho maxata dell'Elemento Morte, la mia Octopider ha una valorizzazione, al momento attuale, di quasi 15 dollari (7245 DEC), le qualità ci sono ma non sono eccellenti, buone, nulla di più, ma buone certamente...
Ben 5 colpi per ogni tornata di sparo, combinate con 8 vite, aggiungendo le abilità di Demoralize e Blind, rendono, come accennato poca sopra, Octopider una buona Carta, che, soprattutto nelle partite con oltre 30 Mana, può svolgere una buona azione, in particolar modo quando viene schierata nelle retrovie...
Chi sono stati i compagni di merenda, per la battaglia del contest?? Eccoveli qua...
1° posizione
Shadowy Presence
2° posizione
Horny Toad
3° posizione
Maggots
4° posizione
Haunted Spirit
5° posizione
Gelatinous Cube
6° posizione
Octopider
Proprio in questa partita, che potete visionare tramite questo link...
https://steemmonsters.com?p=battle&id=d8258ea67a622c84cd3f271ac065faa6b7f6a638&ref=mad-runner
...in questo combattimento Octopider si è ben distinta, contribuendo in buona parte al..., eehhh no, se volete vedere come si è disimpegnata, guardatevi il combattimento...
Ringrazio sinceramente Splinterlands per diversi motivi per queste meravigliose opportunità che ci offre, e se qualcuno di voi non è ancora registrato in questo gioco, raccomando con crescente determinazione e piacere, questo è il mio codice affiliato...
https://steemmonsters.com?ref=mad-runner
Se vuoi partecipare a questo concorso molto valido, ecco il link per accedervi...
https://peakd.com/splinterlands/@splinterlands/share-your-battle-weekly-challenge-octopider
Le immagini sono state prese dal gioco Splinterlands, ho realizzato uno screenshot con il mio computer...
---
---