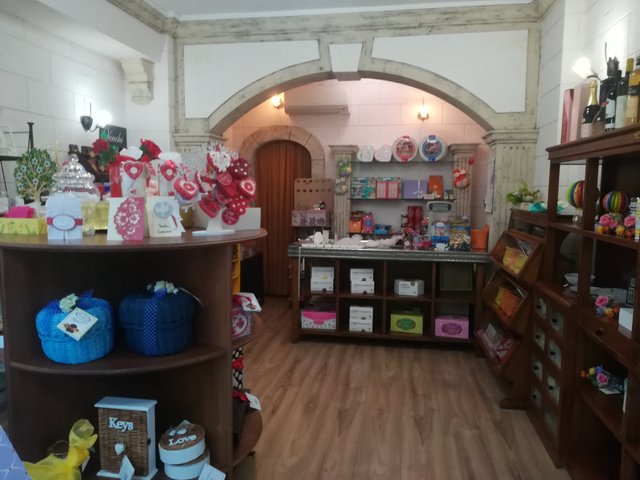 Photo owned by @libertycrypto27
---
Quando al posto del cuore hai solo una manciata di soldi
---
Ciao amici,
quello che vedete in foto è il piccolo negozio di mia moglie.
Un negozio di circa 35 metri quadri, piccolino ma grazioso.
Per questo piccolissimo locale mia moglie paga un fitto di 600 euro al mese.
Il fitto è sceso gradualmente nel corso degli anni, circa 14 anni fa mia moglie pagava 1100 euro.
Ci sono stati periodi difficili ma tutto sommato l'attività ha sempre restituito qualcosa.
Negli ultimi anni ha sempre restituito poco, tanto poco che più volte abbiamo valutato l'ipotesi di chiuderlo.
Se devi lavorare quasi e solo per pagare il fitto tanto vale che l'attività la chiudi!
---
Chiudere o non chiudere?
---
Dopo mesi di valutazioni e ragionamenti sul chiudere o non chiudere l'attività e prima che arrivasse il Corona Virus mia moglie aveva deciso di trasferirsi.
Mio suocero ha un locale vuoto da ristrutturare e così lei ha deciso di trasferire l'attività lì.
I lavori di ristrutturazione sarebbero dovuti terminare entro il mese di Maggio.
Sembrava tutto filare per il verso giusto: una ditta seria e veloce per i lavori di ristrutturazione, tutte le autorizzazioni ottenute nonostante i tempi lunghi della burocrazia italiana...cosa poteva andare storto?
---
Il Corona Virus
---
Ecco quello che non ti aspetti!
Un virus fa saltare tutti i piani. Arriva il lockdown, la ditta è costretta a sospendere i lavori di ristrutturazione e mia moglie è costretta a chiudere il negozio per due mesi.
Tra l'altro per un negozio come quello di mia moglie che vende cioccolate, biscotti, bomboniere, colombe e caramelle rimanere chiusi a Pasqua con chili di ovetti di cioccolata e colombe già ordinati ed esposti in negozio è stata proprio una bella "botta di fortuna".
Fortunatamente sono stati i clienti a chiamare mia moglie e a chiedere la consegna a domicilio e quindi le perdite sono state almeno limitate.
Molti cioccolatini e alcune colombe pasquali le abbiamo date in beneficenza e così almeno qualche famiglia meno fortunata ha potuto mangiare una colomba artigianale.
---
L'ultimo mese di fitto
---
Il nuovo locale sarà pronto il primo settembre.
Oggi termina l'ultimo mese di fitto per mia moglie.
Per il mese di Luglio e Agosto è preferibile tenere l'attività chiusa piuttosto che pagare il fitto.
Ed ecco come è adesso il locale della foto in copertina.
---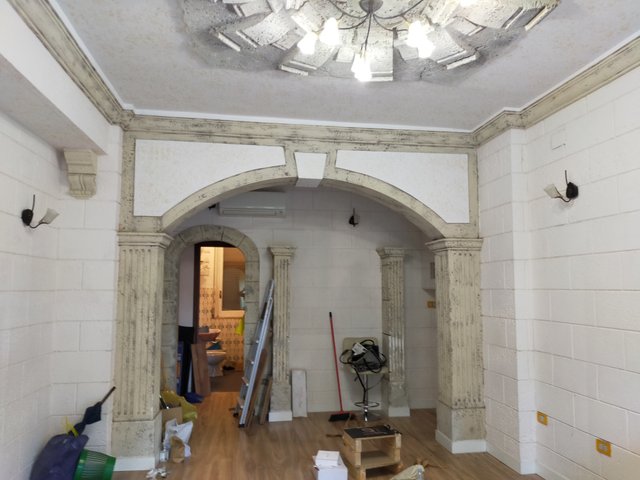 Photo owned by @libertycrypto27
---
Sono due giorni che smonto scaffali e carico e scarico pacchi e cartoni per liberare il locale.
Nella foto in basso potete vedere la mia macchina in uno dei miei innumerevoli viaggi verso il garage di casa mia.
---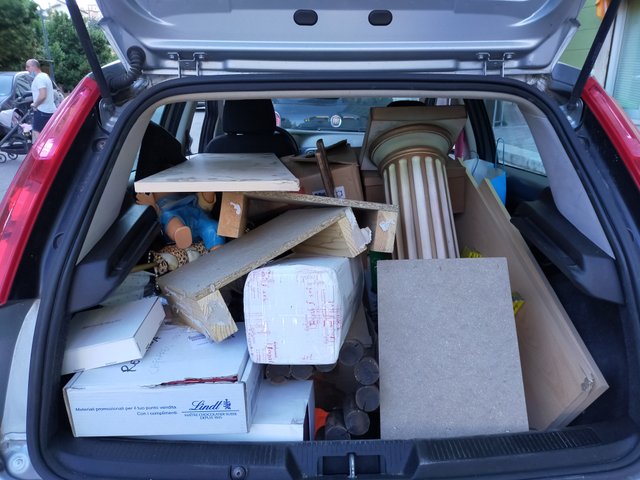 Photo owned by @libertycrypto27
---
Potete anche notare il Ciccio Bello di mia figlia che si è reso disponibile a dare una mano e a sorreggere una mensola di legno :).
Mia moglie è visibilmente stanca ma sono contento che adesso potrà godersi un pò di più mia figlia.
Quando sei un commerciante hai davvero poco tempo, corri in continuazione e cerchi sempre di far quadrare i conti...
---
Quando al posto del cuore hai solo una manciata di soldi
---
Ed eccoci arrivati al titolo di questo mio post.
Titolo che dedico al proprietario del locale di mia moglie.
In tanti anni ha sempre avuto pagato il fitto e tranne in rarissimi casi sempre entro la scadenza mensile e di questi tempi non è una cosa tanto comune...
Qualche mese fa gli avevamo chiesto di ripensare all'importo del fitto perchè altrimenti o avremmo chiuso o ci saremmo trasferiti.
La risposta?
No, a meno di 600 euro questo locale non lo fitto!
E' un suo diritto scegliere a chi e a quanto fittare il suo immobile.
Ognuno con le sue cose o proprietà fa quello che vuole e fin qui non ho assolutamente niente da dire.
Per i due mesi di chiusura, causa Corona Virus, il proprietario si è messo una mano sulla coscienza e ha chiesto qualcosa in meno?
Assolutamente no, ma il corona virus non è colpa sua ed è un suo diritto pretendere che il contratto di fitto venga rispettato.
Anche qui quindi non ho nulla da dire anche se io mi sarei comportato diversamente.
Ad esempio mio cognato che ha due appartamenti fittati ha scelto di sua spontanea volontà di chiedere la metà del fitto perchè i suoi inquilini sono lavoratori autonomi costretti a tenere la loro attività chiusa per oltre due mesi.
I 600 euro che mia moglie ha ricevuto dallo Stato sono stati importanti ma in pratica sono serviti per pagare il fitto...
Nel corso del mese di giugno abbiamo chiesto al proprietario del locale se voleva tenersi il parquet, l'arco, la vetrina e la porta.
Infatti il locale che avete visto in foto non è il locale che ha trovato mia moglie quando lo ha affittato.
Il parquet lo ha comprato mia moglie.
Le pareti e l'arco sono lavori realizzati in polistirolo e acquistati da mia moglie (importo 1100 euro).
Il polistirolo oltre ad abbellire il locale mantiene caldi di inverno e freschi d'estate.
la porta e la vetrina sono state acquistate da mia moglie (importo 2100 euro).
il condizionatore lo ha acquistato mia moglie.
---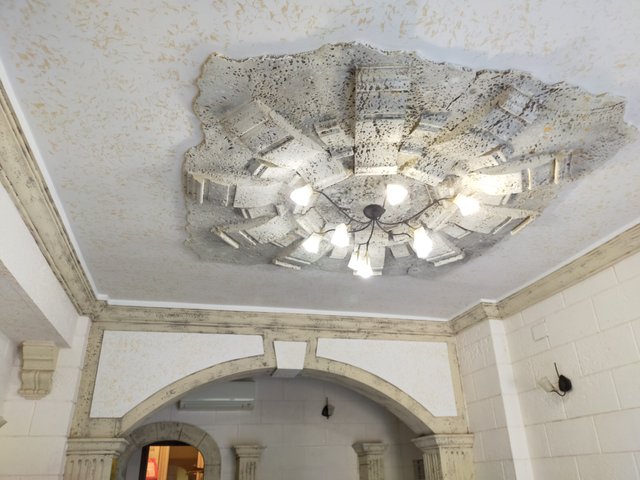 Photo owned by @libertycrypto27
---
Mia moglie ha preso in fitto un locale vuoto con solo le mura e ha pagato inizialmente 1100 euro per poi arrivare negli ultimi anni a pagare 600 euro.
La zona in cui si trova il locale non è il centro della mia città ma è molto vicina al centro.
Il prezzo di 600 euro mensili è un prezzo esorbitante considerata la metratura (soli 35 mq) e considerati i prezzi di mercato degli ultimi anni.
Se hai un'attività da diversi anni non ti sposti con facilità e leggerezza perchè devi pensare alla clientela affezionata e finisci per pagare cifre decisamente sopra i prezzi del mercato.
L'ultima richiesta di mia moglie al proprietario del locale è stata:
Perchè non ti tieni almeno la porta, la vetrina e i lavori in polistirolo?
Così com'è adesso il locale è carino e lo affitteresti più facilmente.
La risposta:
Al massimo mi prendo la porta e la vetrina per 200 euro.
Senti ma la tendina me la lasci? Tanto che te ne devi fare?
Mia moglie voleva lasciargli la porta, la vetrina e i lavori in polistirolo in cambio dell'ultimo fitto (600 euro).
Ma non lasceremo nulla di più di quello che abbiamo trovato.
Ma è comunque un diritto del proprietario del locale scegliere se comprare o tenersi qualcosa.
Nulla da dire dal punto di vista del diritto.
Ma dal punto di vista morale ho tanto da dire.
Se non hai problemi di soldi (il proprietario non ne ha),
se hai guadagnato dal fitto del tuo locale più di quello che avresti oggettivamente meritato,
puoi avere tutti i diritti di questo mondo ma al posto del cuore hai solo una manciata di soldi...
---

---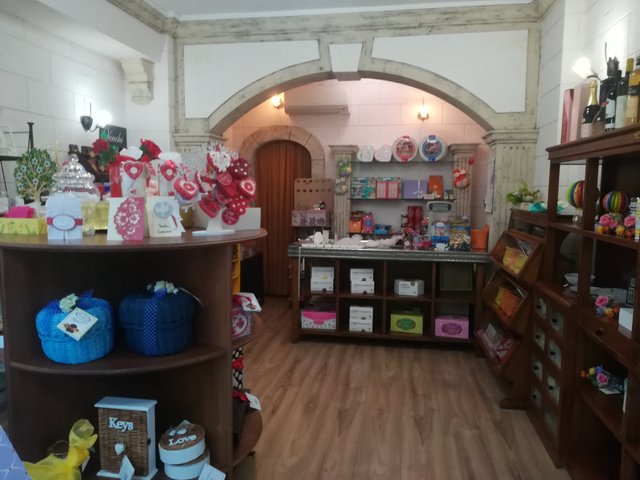 Photo owned by @libertycrypto27
---

---
When you have only a handful of money in place of your heart
---
Hello friends,
what you see in the picture is my wife's small shop.
A shop of about 35 square meters, small but nice.
For this tiny place my wife pays a rent of 600 euros per month.
The rent fell gradually over the years, 14 years ago my wife paid 1100 euros.
There have been difficult times but all in all the activity has always returned something.
In recent years it has always returned little, so little that we have repeatedly evaluated the possibility of closing it.
If you have to work almost and only to pay the rent it is better to close the business!
---
Close or don't close?
---
After months of evaluations and reasoning on closing or not closing the business and before the Corona Virus arrived, my wife had decided to move.
My father-in-law has an empty room to renovate and so she decided to move the business there.
The renovations were due to end by the end of May.
Everything seemed to be going in the right direction: a serious and fast company for the jobs, all the authorizations obtained despite the long times of the bureaucracy ... what could go wrong?
---
The Corona Virus
---
Here's what you don't expect!
A virus blows up all plans. The lockdown comes, the company is forced to suspend the renovations and my wife is forced to close the shop for two months.
Among other things, for a shop like that of my wife that sells chocolates, biscuits, favors, doves and candies to be closed on Easter with kilos of chocolate eggs and Easter doves already ordered and exhibited in the shop, it was a nice "bang of luck ".
Fortunately it was the customers who called my wife and asked for home delivery and therefore the losses were at least limited.
We gave many chocolates and some Easter doves to charity and so at least some less fortunate families were able to eat a artigianal Easter dove.
---
The last month of rent
---
The new venue will be ready on September 1st.
Today ends the last month of rent for my wife.
July and August we prefer to keep the business closed rather than paying rent.
And here's what the cover photo shop is like now.
---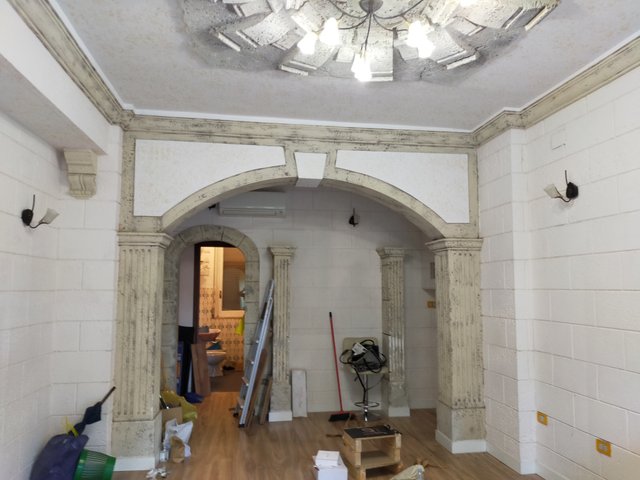 Photo owned by @libertycrypto27
---
I have been dismantling shelves and loading and unloading parcels and cartons for two days to clear the shop.
In the photo below you can see my car on one of my countless trips to the garage of my house.
---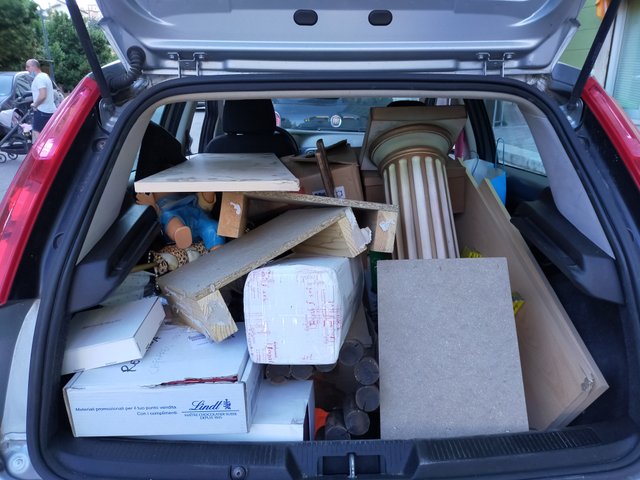 Photo owned by @libertycrypto27
---
You can also notice my daughter's Ciccio Bello who made himself available to help with the support of a wooden shelf :).
My wife is visibly tired but I am glad that now she will be able to enjoy my daughter a little more.
When you have your own business you have very little time, you run constantly and always try to make ends meet ...
---
When you only have a handful of money in place of your heart
---
And here we are at the title of this post of mine.
Title that I dedicate to the landlord of my wife's shop.
In many years he has always received the payment of the rent within the monthly deadline.
A few months ago we asked him to rethink the rent because otherwise we would either have closed or we would have moved.
The answer?
No, for less than 600 euros this place is not rented!
It is your right to choose who and how much to rent your property.
Everyone with their things or properties does what they want and so far I have absolutely nothing to say.
For the two months of closure, due to Corona Virus, has the owner put a hand on his conscience and asked for something less?
Absolutely not, but Corona Virus is not his fault and it is his right to demand that the rent contract be respected.
Here too, therefore, I have nothing to say even if I would have behaved differently.
For example, my brother-in-law who has two rented apartments chose of his own free will to ask for half the rent because his tenants are self-employed workers forced to keep their business closed for over two months.
The 600 euros that my wife received from the state were important but in practice they were used to pay the rent ...
During the month of June we asked the owner if he wanted to keep the parquet, the arch, the shop window and the door.
In fact, the place you saw in the picture is not the place my wife found when she rented it.
My wife bought the parquet.
The walls and the arch are works made of polystyrene and purchased by my wife (amount 1100 euros).
The polystyrene in addition to embellishing the room keeps warm in winter and cool in summer.
the door and the shop window were purchased by my wife (amount 2100 euros).
my wife bought the air conditioner.
---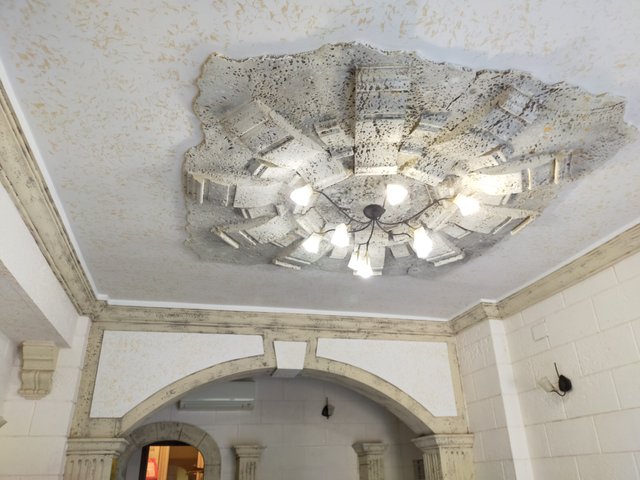 Photo owned by @libertycrypto27
---
My wife rented an empty room with only the walls and paid 1100 euros initially and then paid 600 euros in recent years.
The area where the shop is located is not the center of my city but it is very close to the center.
The price of 600 euros per month is an exorbitant price considering the square footage (only 35 square meters) and considering the market prices of the last few years.
If you have had a business for several years, you do not move easily and lightly because you have to think about loyal customers and end up paying figures decidedly above the market prices.
My wife's last request to the venue owner was:
Why don't you keep at least the door, the window and the polystyrene works?
As it is now the place is nice and you would rent it more easily.
The answer:
At most I take the door and the window for 200 euros.
Listen, but will you leave the curtain so much that you have to do with it?
My wife wanted to leave him the door, the window and the polystyrene structures in exchange for the last rent (600 euros).
We will not leave anything more than what we have found.
But even here it is a right of the owner of the place to choose whether to buy or keep something.
Nothing to say from the point of view of the law.
But from a moral point of view I have a lot to say.
If you don't have money problems (the owner doesn't have any),
if you have earned more than what you objectively deserved from your rent,
you can have all the rights of this world but instead of the heart you only have a handful of money ...
---

---