Ci sono molte carte offensive nel gioco con caratteristiche d'attacco davvero formidabili e quando io devo scegliere quale mostro schierare, sono spesso in difficoltà. Ci sono invece alcune carte che non hanno caratteristiche offensive e possiamo schierarle in modo oculato e spesso sono davvero molto efficaci.
La carta che ho utilizzato nella mia battaglia è GELATINOUS CUBE, un mostro neutrale, nel mio caso in versione dorata.
Come potrete osservare, non ha nessuna abilità d'attacco o abilità offensive ma ha esclusivamente abilità difensive. Il livello base della carta ha l'abilità Scavenger e permette al mostro di guadagnare 1 punto vita ogni qual volta muore un mostro avversario.
A livello 6 GELATINOUS CUBE acquista un'altra abilità difensiva, HEAL con la quale recupera una porzione di punti vita ad ogni round. A livello 10 il mostro acquista il suo massimo potere difensivo Void per ridurre l'attacco magico degli avversari.
Qui sotto potete osservare la mia battaglia in cui ho schierato la carta in prima fila.
Come potete notare, la funzione di GELATINOUS CUBE è formare uno scudo, un muro protettivo contro gli attacchi avversari, affinchè le carte alleate possano sferrare gli attacchi dalla distanza.
Nella mia battaglia il mostro riesce a reggere l'attacco delle carte avversarie per un round intero, permettendomi di abbattere le prime due carte avversarie. Questa strategia si è dimostrata essere vincente.
Nella mia battaglia ho utilizzato l'evocatore ALRIC STORMBRINGER tra i miei preferiti, ed il suo bonus +1 attacco magico mi ha potenziato l'attacco di tutte le mie carte aventi attacco magico.
Questo è stato il mi schieramento:
GELATINOUS CUBE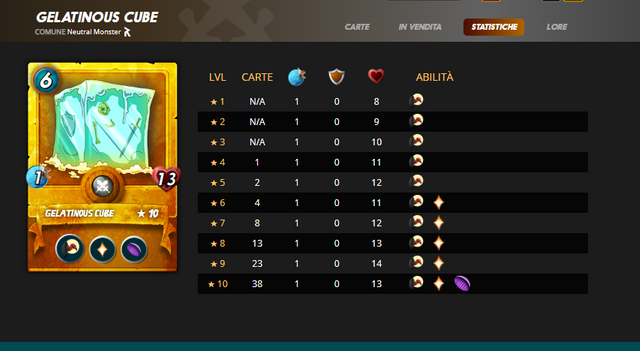 Livello: 4
Mana: 6
Attacco: nessuno
---
PHANTOM OF THE ABYSS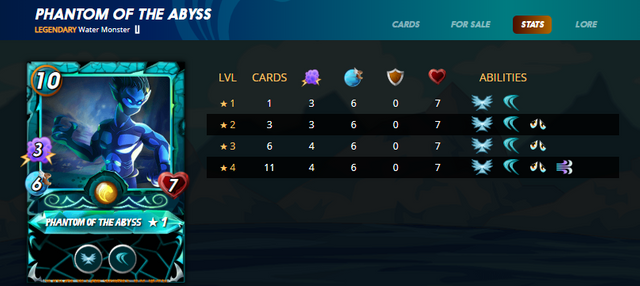 Livello: 4
Mana: 10
Attacco Magico: 3
---
SEA GENIE
Livello: 4
Mana: 6
Attacco Magico: 2
---
RULER OF THE SEAS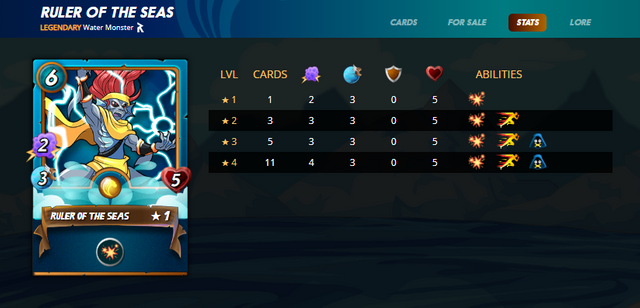 Livello: 2
Mana: 6
Attacco Magico: 3
---
MISCHIEVOUS MERMAID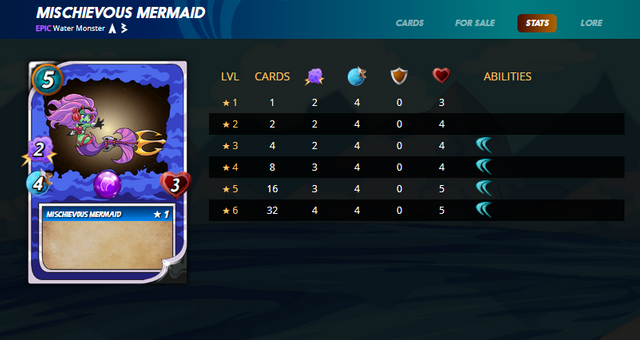 Livello: 2
Mana: 5
Attacco Magico: 2
---
WATER ELEMENTAL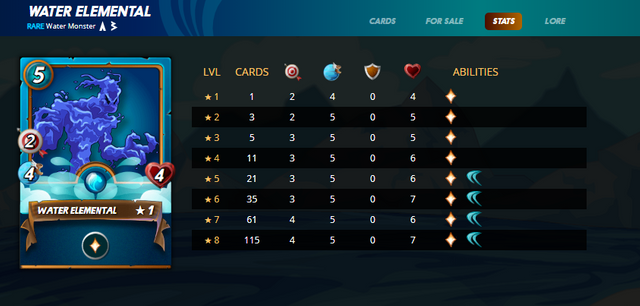 Livello: 3
Mana: 5
Attacco a distanza: 3
---
Questa formazione ha un potere d'attacco magico totale di 10 punti a cui bisogna sommare il bonus +1 per ogni mostro e arriviamo a ben 14 punti vita sottratti nel primo round. Davvero un numero impressionante.
@splinterlands è davvero un gioco stimolante e pieno di risorse, oltre che un ottimo investimento economico!
Spero che questo mio post possa convincere chi ancora non ha deciso di iniziare a giocare. Sono certo che sarete subito appassionati!
Thank you for taking the time to read this post
If you have not yet signed up for Splinterlands, I invite you to try. You can use my [referreal link] (https://steemmonsters.com?ref=claudio83)
ENG
There are many offensive cards in the game with really formidable attack characteristics and when I have to choose which monster to deploy, they are often in difficulty. Instead, there are some cards that do not have offensive characteristics and we can deploy them wisely and they are often very effective.
The card I used in my battle is GELATINOUS CUBE, a neutral monster, in my case in a golden version.
As you can see, he has no attacking or offensive abilities but only defensive abilities. The basic level of the card has the ability Scavenger and allows the monster to gain 1 life every time an opposing monster dies.
At level 6 GELATINOUS CUBE acquires another defensive ability, HEAL with which he recovers a portion of life at each round. At level 10 the monster acquires its maximum defensive power Void to reduce the opponent's magic attack.
Below you can see my battle in which I deployed the card in the front row.
As you can see, the function of GELATINOUS CUBE is to form a shield, a protective wall against opposing attacks, so that allied cards can launch attacks from a distance.
In my battle, the monster manages to hold the attack of the opposing cards for a whole round, allowing me to take down the first two opposing cards. This strategy has proven to be successful.
In my battle I used the ALRIC STORMBRINGER summoner as one of my favorites, and his +1 magic attack bonus boosted the attack of all my magic attack cards.
This was my deployment:
GELATINOUS CUBE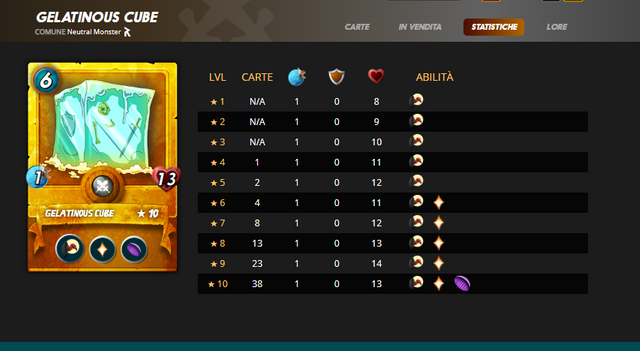 Level: 4
Mana: 6
Attack: none
---
PHANTOM OF THE ABYSS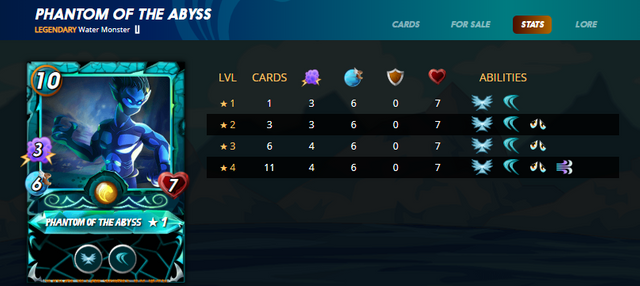 Level: 4
Mana: 10
Magic Attack: 3
---
SEA GENIE
Level: 4
Mana: 6
Magic Attack: 2
---
RULER OF THE SEAS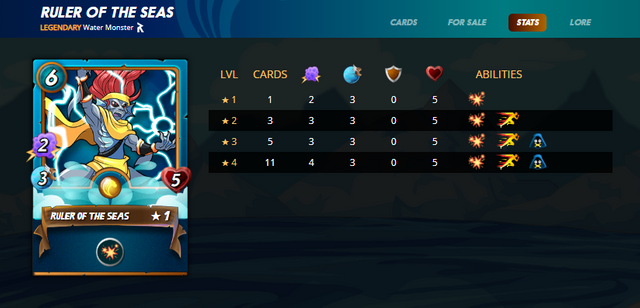 Level: 2
Mana: 6
Magic Attack: 3
---
MISCHIEVOUS MERMAID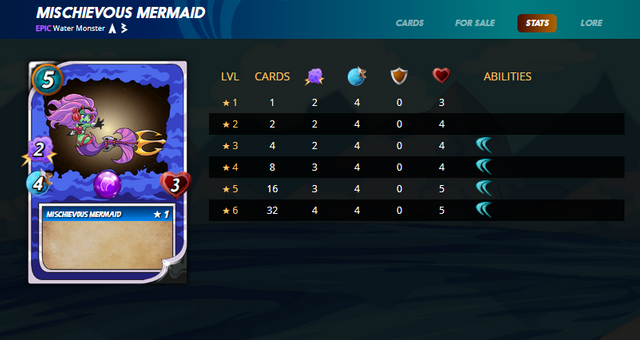 Level: 2
Mana: 5
Magic Attack: 2
---
WATER ELEMENTAL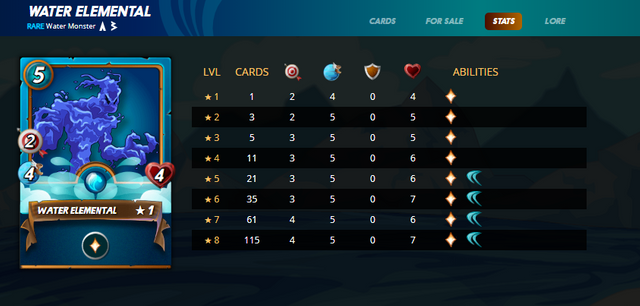 Level: 3
Mana: 5
Ranged attack: 3
---
This formation has a total magic attack power of 10 points to which must be added the +1 bonus for each monster and we get to 14 subtracted life points in the first round. Truly an impressive number.
@splinterlands is truly a stimulating and resourceful game, as well as an excellent economic investment!
I hope this post of mine will convince those who have not yet decided to start playing. I am sure you will be passionate immediately!
Thank you for taking the time to read this post
If you have not yet signed up for Splinterlands, I invite you to try. You can use my [referreal link] (https://steemmonsters.com?ref=claudio83)