my entry to '52 weeks' contest by @wwwiebe
( the initial post & rules , all 52 prompts, this week entry )
This week prompt was: 'Dark', so...
See, I have a lot of night photography files, perhaps low-key photography is not my fave janre, but unfortunately the north-west part of Russia where I live do not count among its features sufficient amount of sunny days in a year and the longevity of daylight hours. Quite on the contrary. Having a job "that slowly kills you" when you are off the office at eight, nine or sometimes (extremum times) even at midnight -- there is not too much opportunities left on my hands, except of a night photography. Well, I also may have Sundays and Saturdays, but since they are supposed to serve as a remedy to relax from the job... lets say I do not have a passsion to go out on photography mission exactly on weekends. I enjoy pretty much 'available photography' which is... yes, sometimes it is 30 mins on your way to the office, and 30 mins when you off and going home. Of course, the things change to better when I am vacations or during the summertime... but still: I do have a lot of examples of nightphotography just cause I had a camera and wanted to shoot -- and the evening streetlife or cityscapes was an only available option for me.
Indeed, I could choose something from my archive. Any streetphoto taken in the evening and edited properly could work for the given subject. But maybe that would be a bit too straightforward and less creative, dont you think? After all, this is a contest for photography and creativity, as @wwiebe suggested in the contest rules guides.
(Here goes the end of my lyrical introduction, hehe).
So, I decided to choose something less direct and, indeed, ended up with this little low-key portrait session from 20014, I made at our camp at Lagoda lake skerries..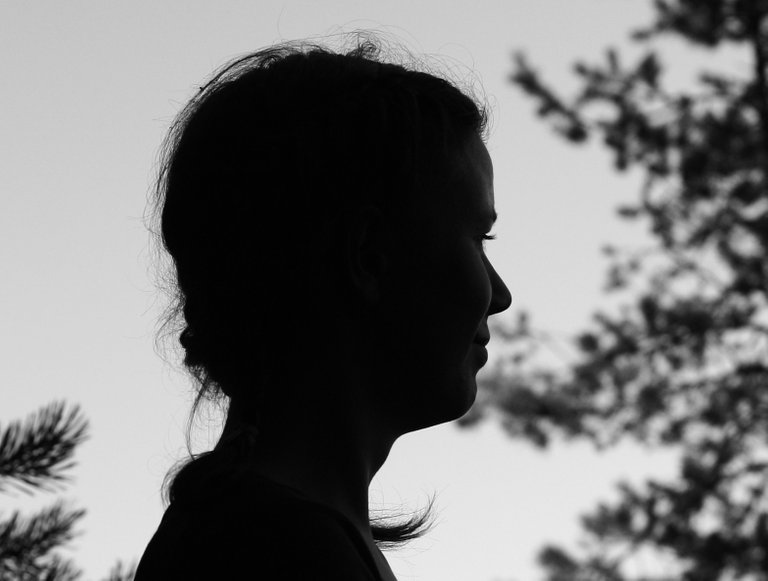 taken with Canon 350D +Canon 50mm 1.4
location: Lagoda lake skerries, Karelia, Russia
date: July 2013
No editing was applied, and no black-and-white conversion, all of this set was shot in black and white mode 'as is'.
I am not totally convinced if it should be considered as portrait genre or a streetphoto genge (there was no any street at all, at the location...) I rather consider it to be a portrait... but it reflects not only the traits of a certain person, but also it reflects a piece of people's life.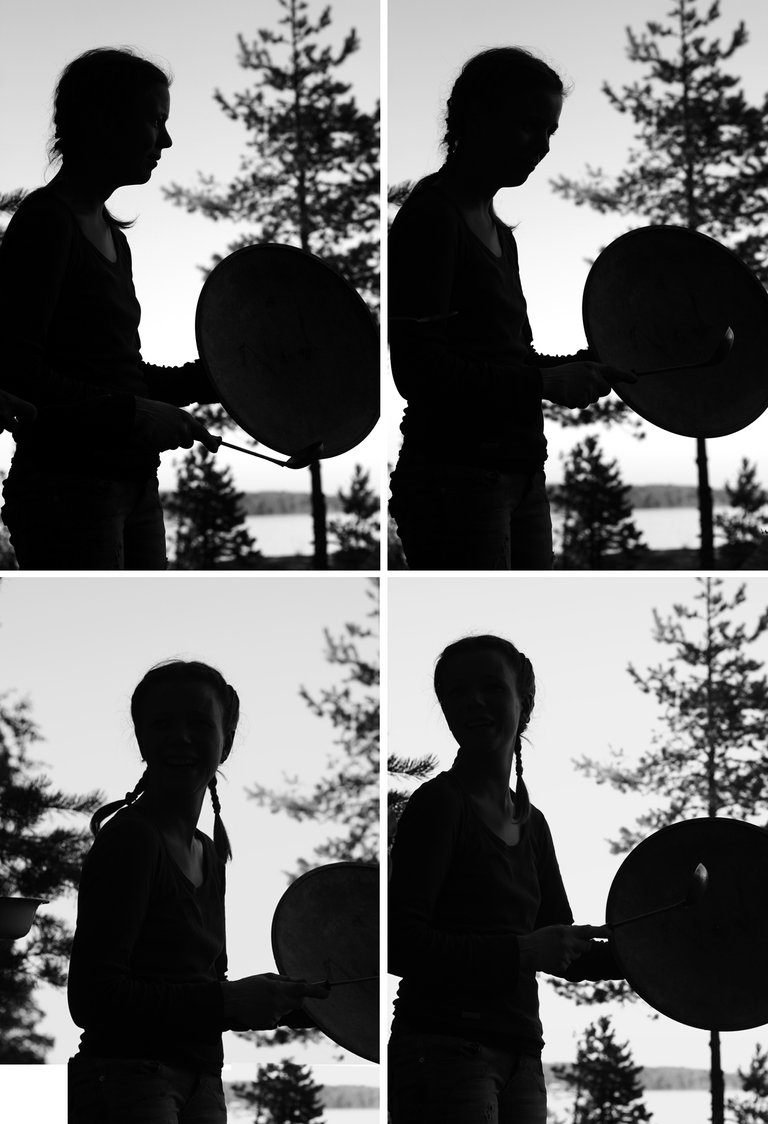 I wonder if anyone can guess what is in without a clue?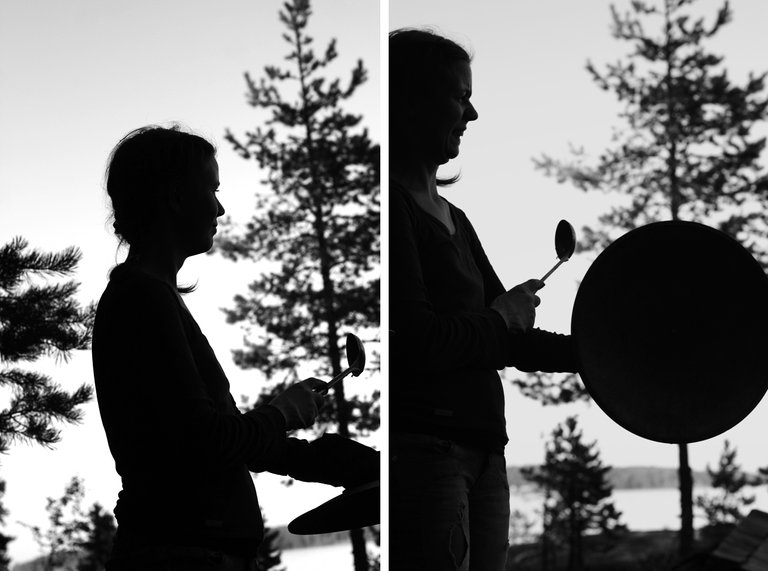 In case you would like to see the face of this lady more clearly, here is another her portrait, also made in low-key. She was a great person (with extremely lovely six year old babygirl named Sana). I enjoyed taking her pics a lot... (Actually, all of the folks in that camp were amazing, creative, intellectual mates, we played intresting team games and I loved being part of that camp very much! I still keep the warmest memories about that holidays).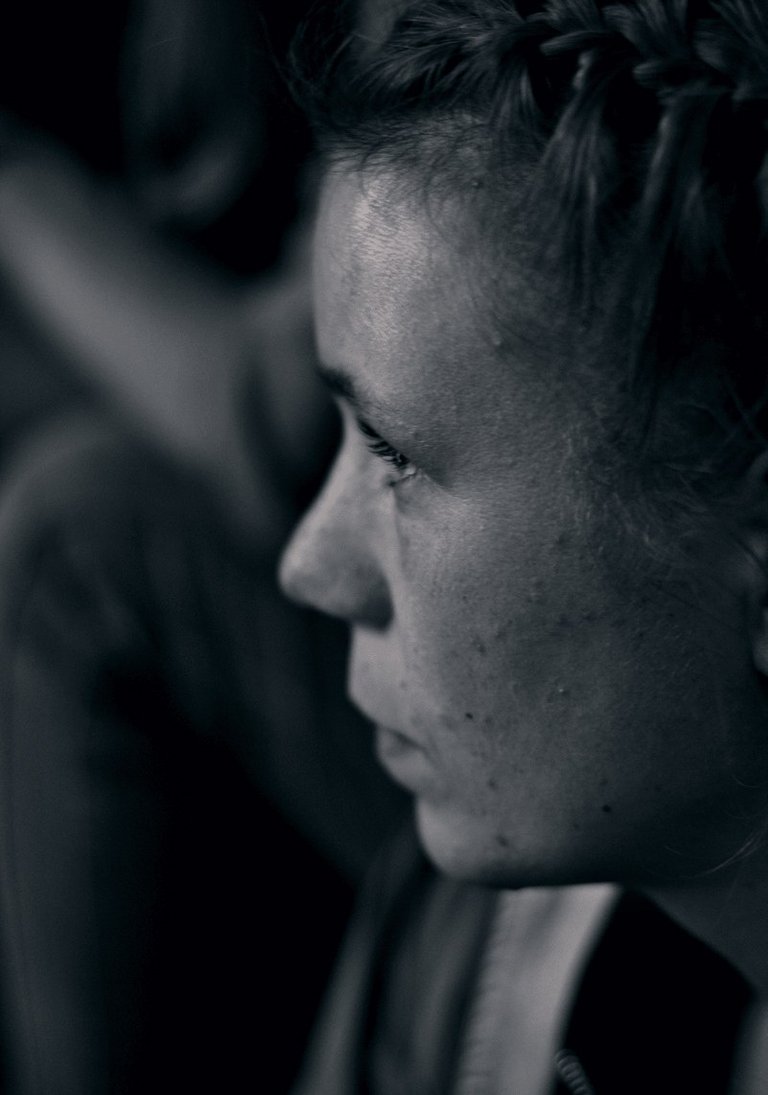 I slightly remember I already have posted this certain image on Steemit, so I re-edited it a bit, to consider it an original content and a decent effort.
Ok, hope you enjoyed both the visuals and the story.
Oh, and the answer! I forgot to tell you the answer to my little riddle. This lady's duties around the camp was cooking. And the time when the scene I was photographing happened was more or less evening .... that is, dinner time; the girl hits the boiler lid with a ladle. She gives signals to the camp: everyone to have supper!
Ах да, я забыл дать ответ на загаданную вам загадку. Эта барышня была в нашем лагере поварихой, дежурной по завтракам, повелительницей обедов и благодетельной снабдительницей кипятка для утреннего кофе. И еще многим, многим другим. Время, когда случилась обснятая мной сцена, было более-менее вечернее.... то есть время ужина; девушка бьет половником о крышку котла. Она шлет по всему лагерю сигналы: всем ужинать!