"STOLEN STORIES" - MONOMAD - 11NOV22 || ENG-ESP || (12 Pics)


---
Hello dear #Hive friends... Today I share again my daily stories, those I usually capture in the streets and rural roads in my town (Montalbán, Carabobo, Venezuela)... Here you can go for a walk with a camera in your hand and find scenes that, although everyday, are full of humanity and eloquence typical of the environment.
Hola estimados amigos de #Hive... Hoy comparto nuevamente mis historias cotidianas, esas que suelo capturar en las calles y caminos rurales de mi pueblo (Montalbán, Carabobo, Venezuela)... Aquí se puede salir a caminar con una cámara con en la mano y encontrarse uno con escenas que, aunque cotidianas, están repletas de humanidad y de elocuencia propias del entorno.
So this is my entry to today's #monomad challenge...
Esta es entonces mi entrada al reto #monomad de hoy...
---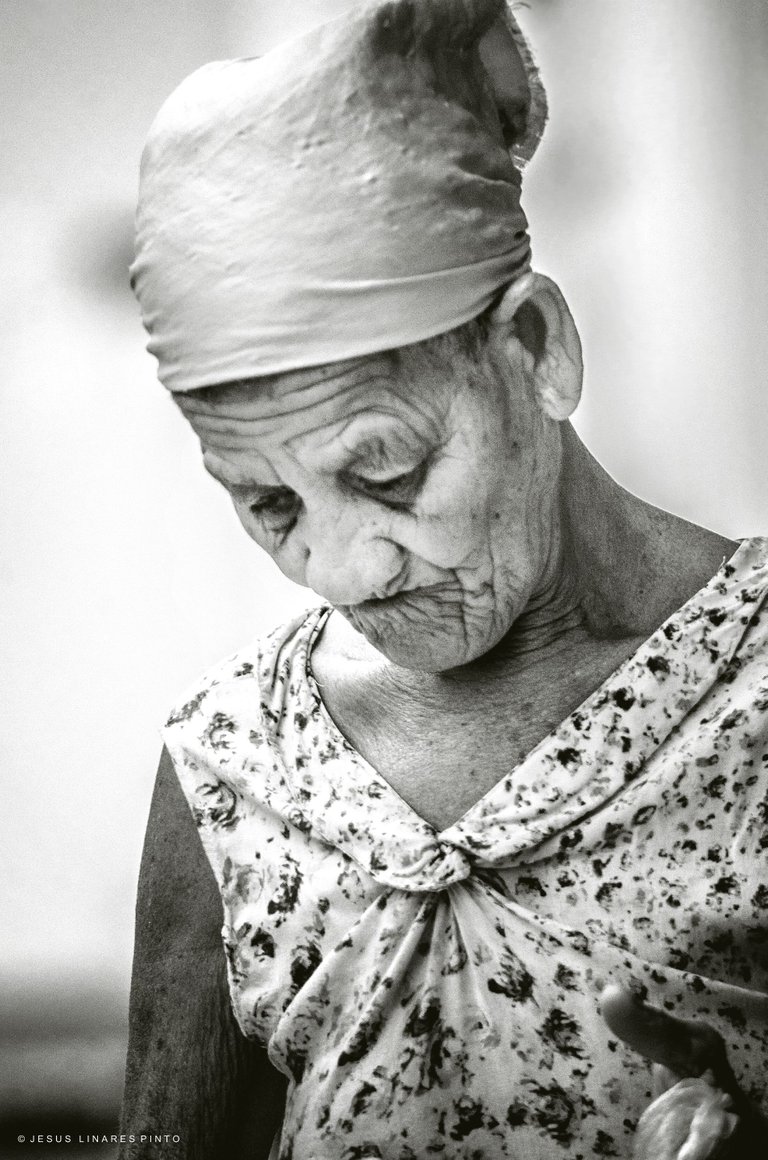 "Na-na-na"... This old woman usually walks quickly through the town streets almost without looking ahead, always seems to be saying something in a low voice... I have asked several people about her, but I have only found out that she is called "Na-na-na"... It is a pending assignment for me, to inquire about it!...
"Na-na-na"... Esta anciana suele caminar rápidamente por las calles del pueblo casi sin mirar hacia adelante, siempre parece ir diciendo algo en voz baja... He preguntado respecto a ella a varias personas, pero solo he logrado averiguar que le llaman así "Na-na-na"... ¡Es una asignatura pendiente para mi, indagar al respecto!...
---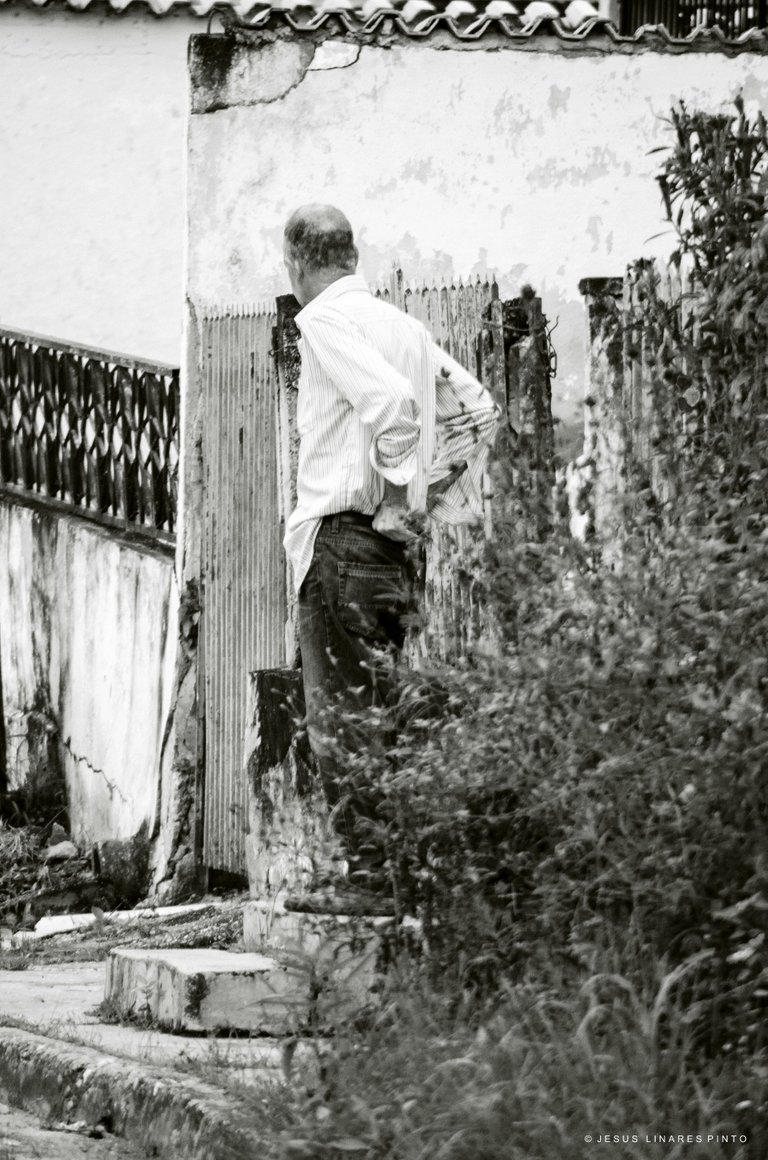 "Pedro"... This is one of my neighbours, I enjoy a lot watching him going out in the mornings from his house and stopping to look at the streets, he seems to wake up very slowly... :)
"Pedro"... Este es uno de mis vecinos, yo disfruto un montón mirándolo salir en las mañanas desde su casa y pararse a observar las calles, parece desperezarse muy lentamente... :)
---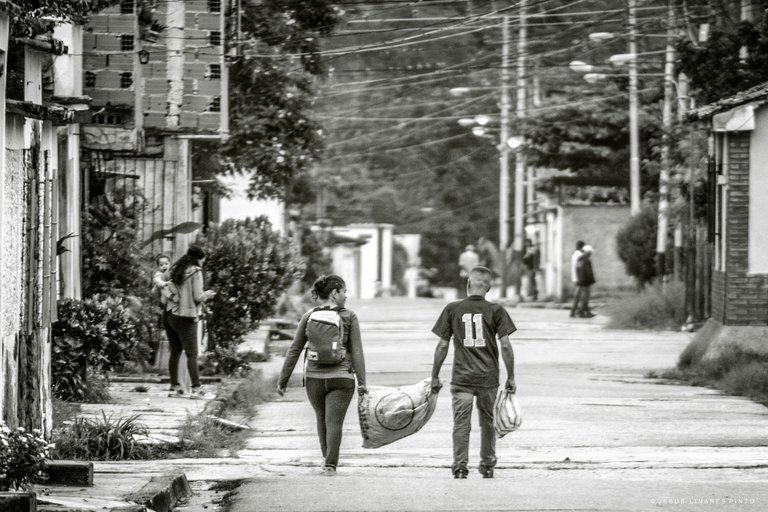 "Home Delivery"... This is a nice thing, they are a young couple who usually grow corn and sell it in sacks... And one of the advantages of buying from them is that: "They have home delivery for their clients" :)... I love to see how people don't give up in spite of adversity...
"Entrega a Domicilio"... Esto es algo lindo, son una pareja que suele sembrar maíz y venderlo en sacas... Y una de las ventajas de comprarle a ellos es que: "Tienen entrega a domicilio para sus clientes" :)... Amo ver como las personas no se dan por vencidas a pesar de la adversidad...
---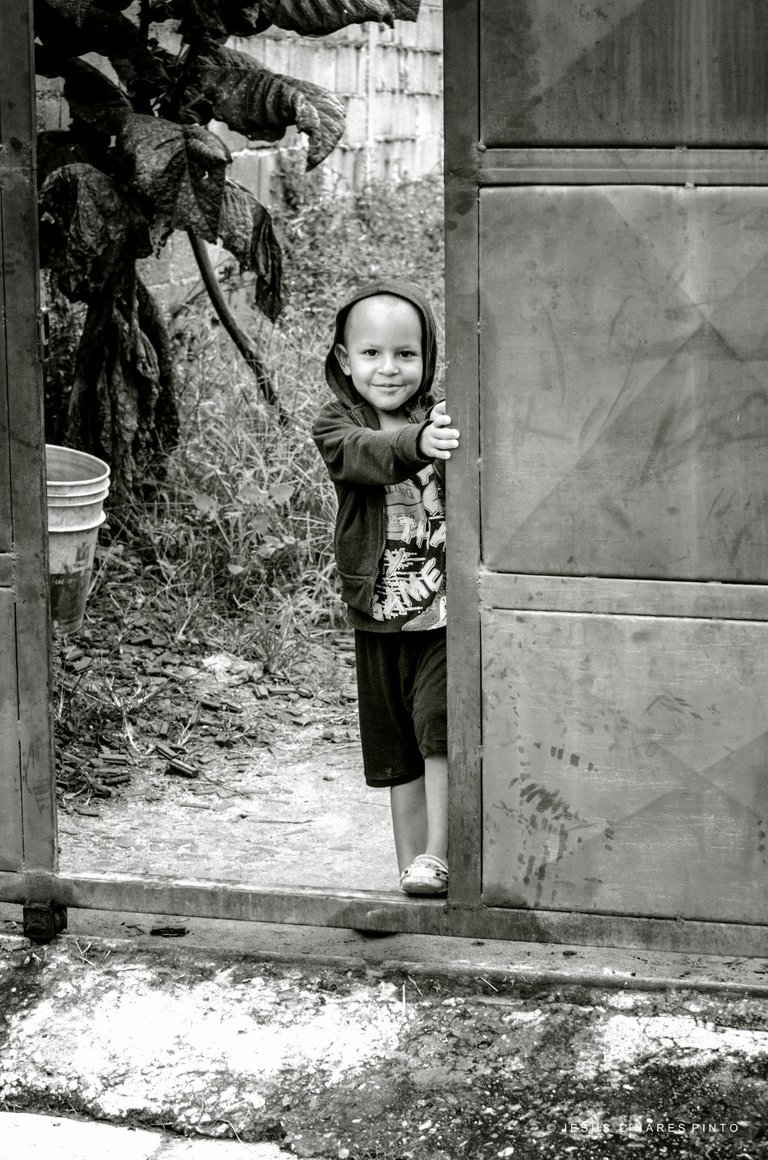 "Early smile"... This charming little boy is the grandson of a friend of mine... The boy has surprisingly appeared on the doorstep of his house and has smiled charmingly... Then the "madman with the camera" took this photo of him!... :)
"Sonrisa temprana"... Este encantador chiquillo es el nieto de un amigo mío... El chico ha aparecido sorpresivamente en el umbral de la puerta de su casa y ha sonreído de forma encantadora... ¡Entonces el "señor loco de la cámara" le ha hecho esta foto!... :)
---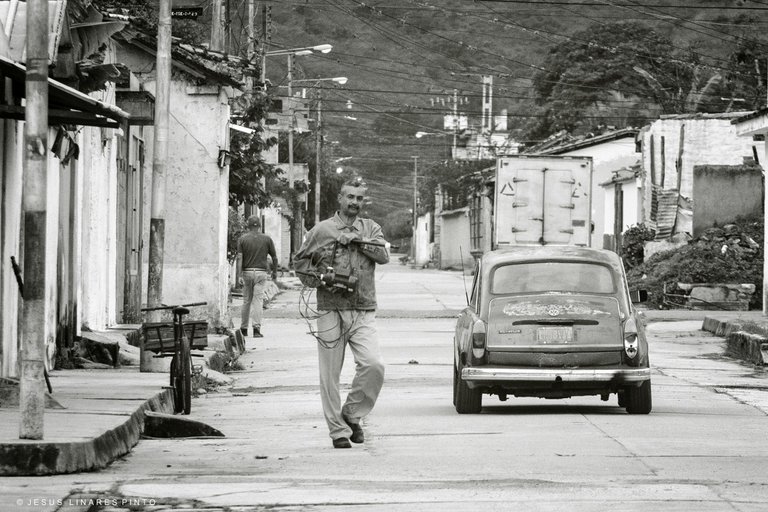 "Back to the past"... Wow!... this photo has impressed me, when I take this kind of photos I usually feel in a very crude way the involution that these small villages have suffered during the last decades... That man is carrying a loaded electric pump to extract water from some pipe where it hardly ever reaches... The old Volkswagen car, the old houses in a precarious state... Really there is a big eloquence dosis...
"Volver al pasado"... ¡Wow!... esta foto me ha impresionado, cuando hago este tipo de fotos suelo palpar de forma muy cruda la involución que han sufrido estos pequeños pueblos durante las ultimas décadas... Ese hombre lleva cargada una bomba eléctrica para extraer agua de alguna tubería donde apenas suele llegar... El viejo auto Volkswagen, las casas viejas y en precario estado... Realmente hay una buena dosis de elocuencia aquí...
---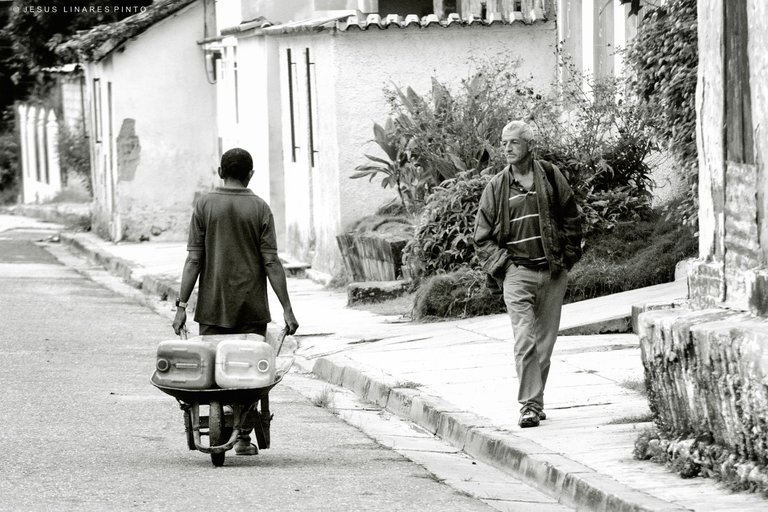 "Neighbourhood"... A man is on his way to fetch some water for his house... The other seems to be on his way to his daily work, perhaps on one of the few remaining productive farms nearby... .... Both look at each other, but without even greeting each other...
"Vecindario"... Un hombre va rumbo a buscar algo de agua para su casa... El otro parece ir rumbo a su labor diaria quizás en algunas de las picas fincas productivas que quedan cerca.... Ambos se miran, pero sin saludarse siquiera...
---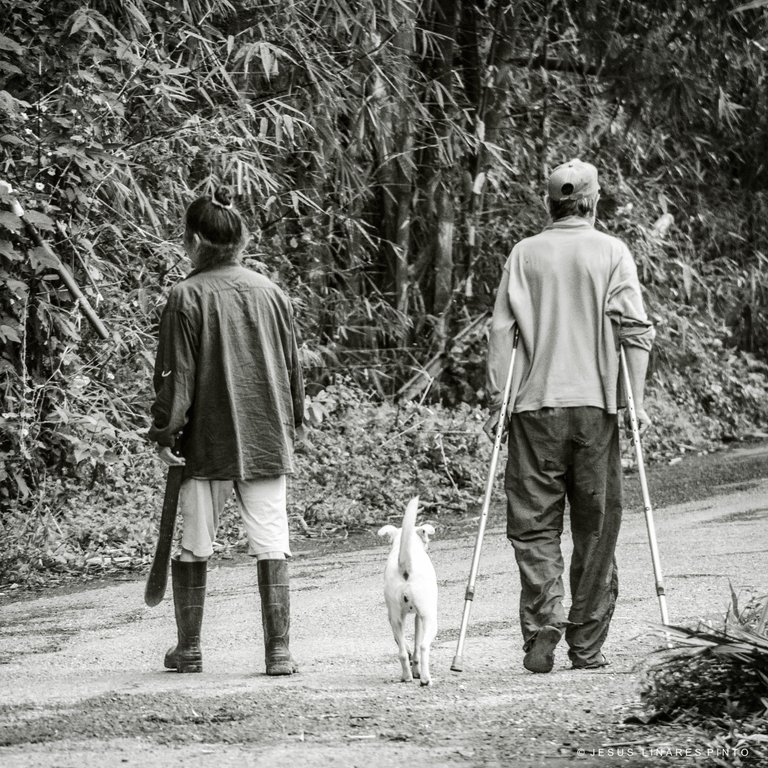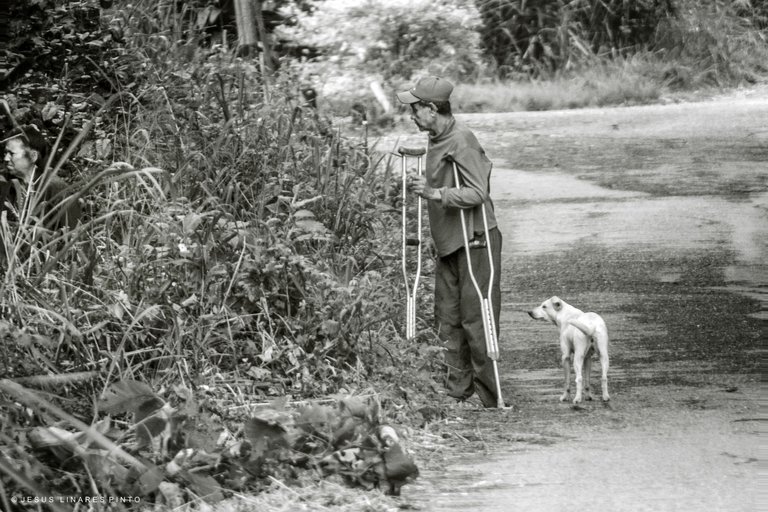 "A little bit of grass"... This man recently suffered an accident, apparently a drunk young man ran over him with his motorbike (something quite frequent here, unfortunately)... The man, his wife and their dog walk along the roadside in search of some grass for their rabbits... At least that's what they answered me when I asked them... :)
"Un poco de pasto"... Este hombre sufrió recientemente un accidente, al parecer un joven ebrio le ha atropellado con su motocicleta (algo bastante frecuente aquí, lamentablemente)... El hombre, su esposa y su perro caminan por la orilla del camino en busca de un poco de pasto para sus conejos... Cuando menos eso fue lo que me contestaron cuando les he preguntado... :)
---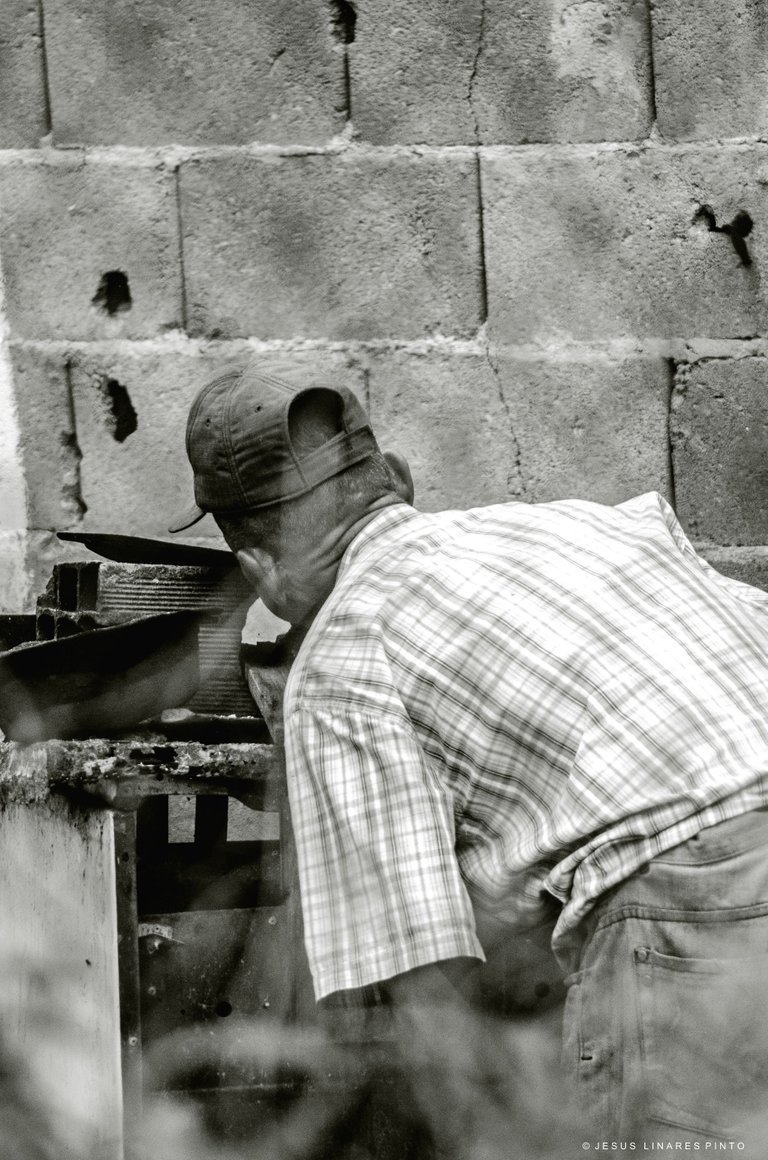 "Lighting up the kitchen"... This man tries to light the small wood cooker outside his house... I have "stolen" this story in a very furtive way, through the old barbed wire...
"Encendiendo la cocina"... Este hombre intenta encender la pequeña cocina de leña en el exterior de su casa... He "robado" esta historia de forma muy furtiva, a través de la vieja alambrada...
---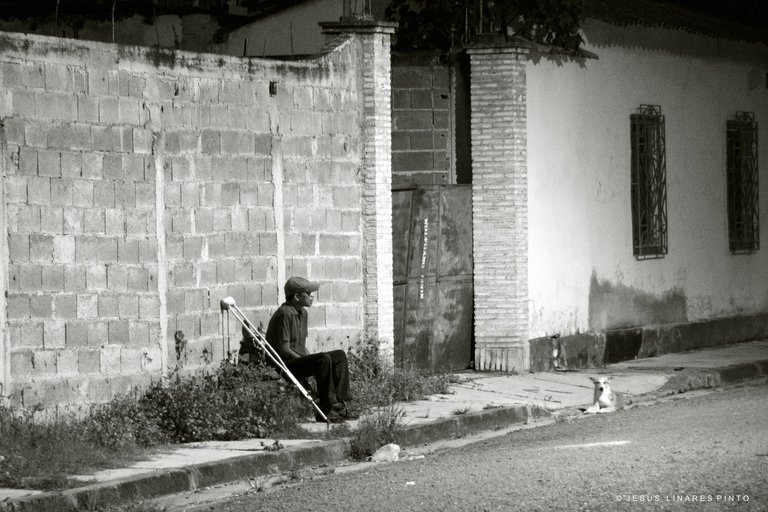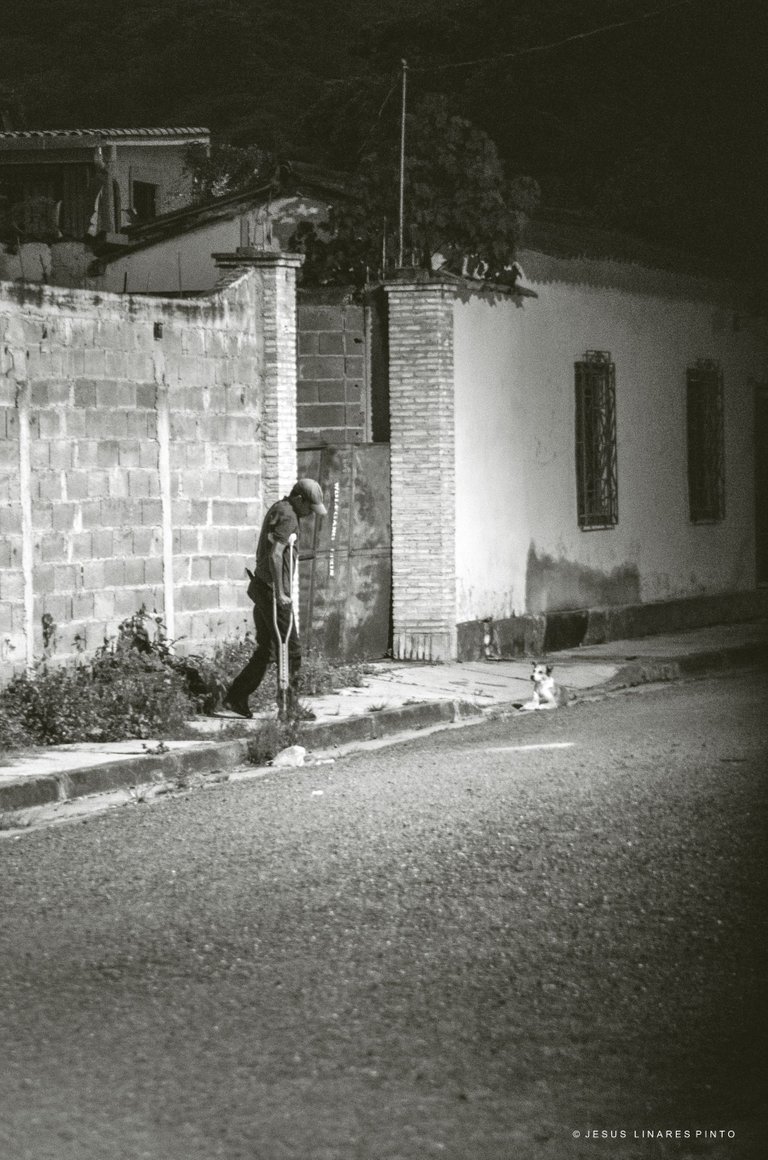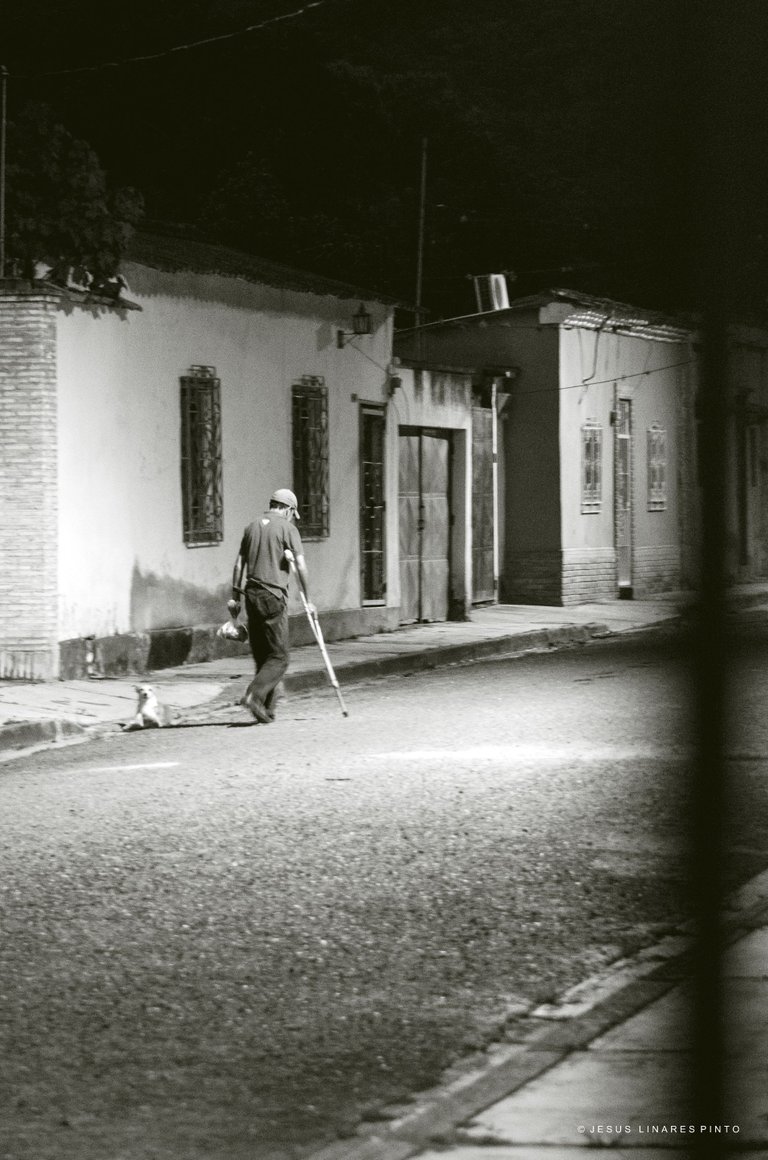 "From my window "... Yes, I'm the kind of crazy guy who can open the window of his room and take a picture!.... :)) I couldn't resist!.... These are night photos and it's about a man on crutches taking a break to go on his way, meanwhile his dog accompanies him...
"Desde mi ventana"... ¡Sí, soy el tipo de locos que puede abrir la ventana de su cuarto y hacer una foto!... :)) ¡No pude resistirme!... Estas son fotos nocturnas y se trata de un hombre con muletas tomando un descanso para seguir su camino, mientras tanto su perro le acompaña...
---
Thank you all very much for stopping by and appreciating, we'll see you soon again with more stories, more streets and more roads... Also with more Black and White pictures as always... A hug to all of you!
Muchas gracias a todos por pasar por aquí y apreciar, nos veremos pronto nuevamente con más historias, más calles y más caminos... También con más fotografías en Blanco y Negro como siempre... ¡Un abrazo a todos!
---
END / FIN
---
"We make photographs to understand what our lives mean to ourselves." - Ralph Hattersley.
"Hacemos fotografías para comprender lo que nuestras vidas significan para nosotros mismos." - Ralph Hattersley.

Camera: Nikon D7000 | Lens: Sigma 18-200mm f3.5-6.3 II DC OS HSM
Cámara: Nikon D7000 | Objetivo: Sigma 18-200mm f3.5-6.3 II DC OS HSM
Montalbán, Carabobo, Venezuela.
---
---