"STOLEN STORIES" - MONOMAD - 08JAN23 || ENG-ESP || (7 Pics)


---
Hello #Hive friends... January is here and I'm determined to keep doing street photography and stealing more stories from the people around me.... So, this is my entry to today's #monomad challenge..... New photos, new lines written... ✍📷
Hola amigos de #Hive... Ha llegado Enero y me he propuesto seguir haciendo fotografía callejera y robando más historias de las personas que tengo alrededor... Entonces, esta es mi entrada al reto #monomad de hoy... Nuevas fotos, nuevas lineas escritas... ✍📷
---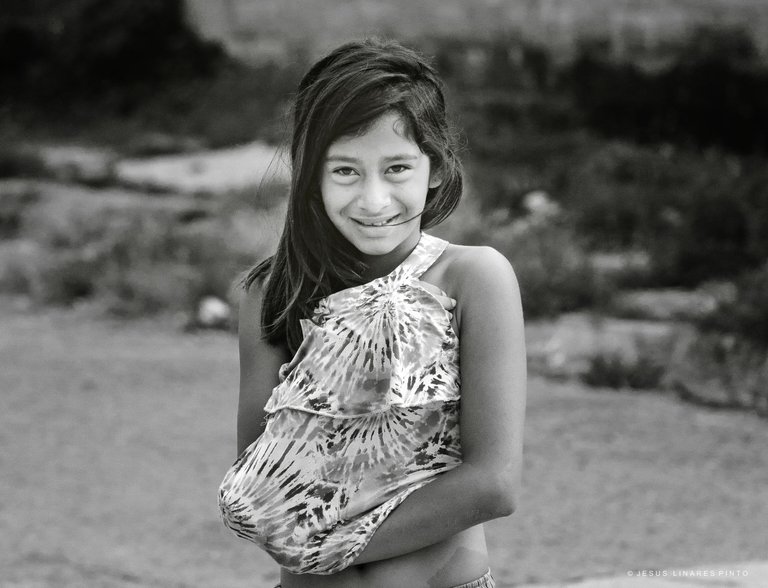 "The unknown girl"... It's a curious thing for me when I meet someone I don't know, because here practically all of us know each other since we are a very small town... So to find this little girl a few streets away from my house, greeting me and allowing me to take this picture of her, really made me curious... I imagine that, as it happens in many houses, she came with her parents to visit their families here and then leave...
"La niña desconocida"... Es algo curioso para mi cuando encuentro a alguien que no conozco, pues aquí prácticamente todos nos conocemos ya que somos un pueblo muy chico... Entonces encontrar a esta niña a pocas calles de mi casa, saludándome y permitiéndome que le haga esta foto, realmente me causo curiosidad... Imagino que, como sucede en muchas casas, ella vino con sus padres a visitar a sus familias aquí y luego irse...
---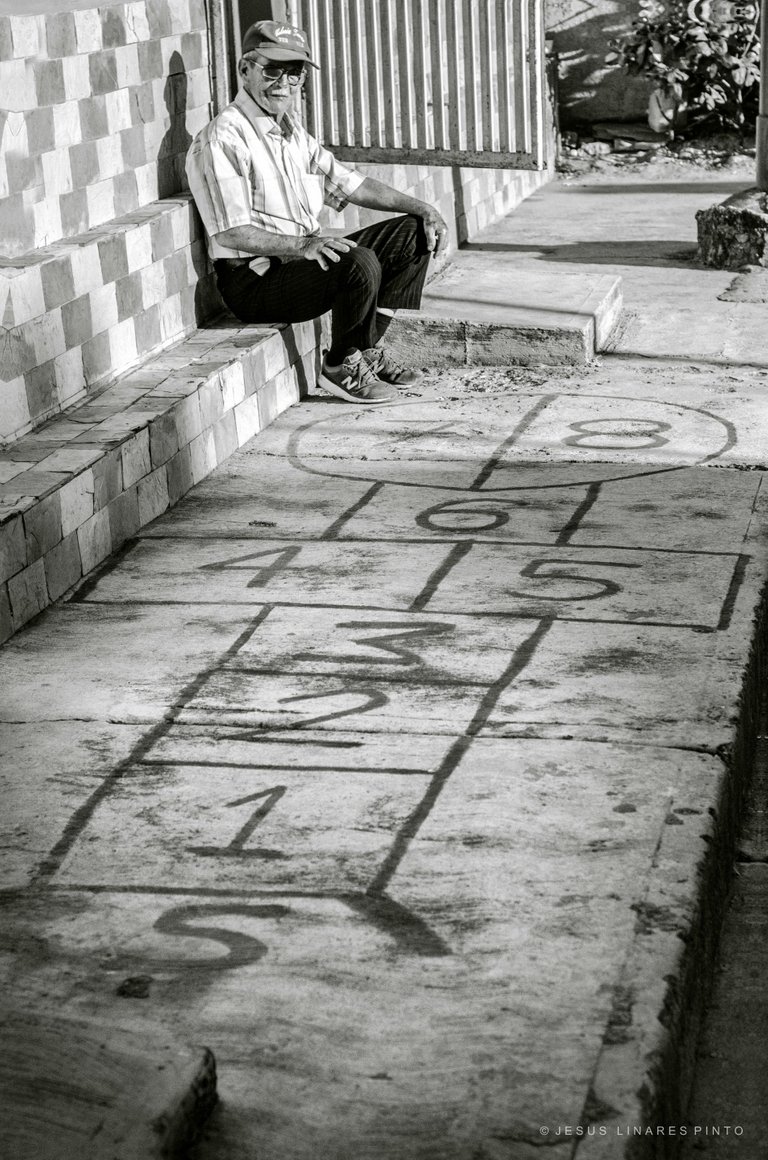 "The grandchildren have left".... Luis is sitting in front of his house basking in the morning sun.... On the pavement you can see the figure of the children's game called "The airplane", which he painted himself in December, so that his grandchildren who came to visit him could play during the day in the street... But now, Luis says nostalgically: "My grandchildren are gone again, they won't come back this year"... Because his children live in another country and it is not common for them to come to visit... That happens with many people here (including myself) our sons emigrated and they come very seldom, in some cases "never come"...
"Los nietos se han marchado"... Luis está sentado en frente de su casa tomando el sol de la mañana... En el pavimento se puede observar la figura del juego infantil llamado "El avión", el cual él mismo pinto en Diciembre, para que sus nietos que vinieron ha visitarlo jugasen durante el día en la calle... Pero ahora, luis dice nostálgico: "Nuevamente se fueron mis nietos, no volverán este año"... Pues sus hijos viven en otro país y no es común que vengan de visita... Eso sucede con muchos aquí (inclusive a mi mismo) nuestros hijos emigraron y vienen muy pocas veces, en algunos casos "nunca vienen"...
---
"What's going on here?... Another very uncommon thing to see here is "two people passing each other on the street without greeting each other".... So when you see two of my neighbors pass by each other without saying hello, I immediately assume they have had some kind of a grudge 😂😂😂... It doesn't even occur to me to ask what has happened, I don't want to expose myself to a scolding for being curious!...
"¿Que pasa aquí?... Otra cosa muy poco común de ver aquí es que "dos personas se crucen en la calle sin saludarse"... Así que cuando ve a dos de mis vecinos pasar uno al lado del otro sin saludarse, de inmediato asumo que han tenido algún tipo de rencilla 😂😂😂... ¡Ni siquiera se me ocurre preguntar que ha pasado, no quiero exponerme a un regaño por ser curioso!...
---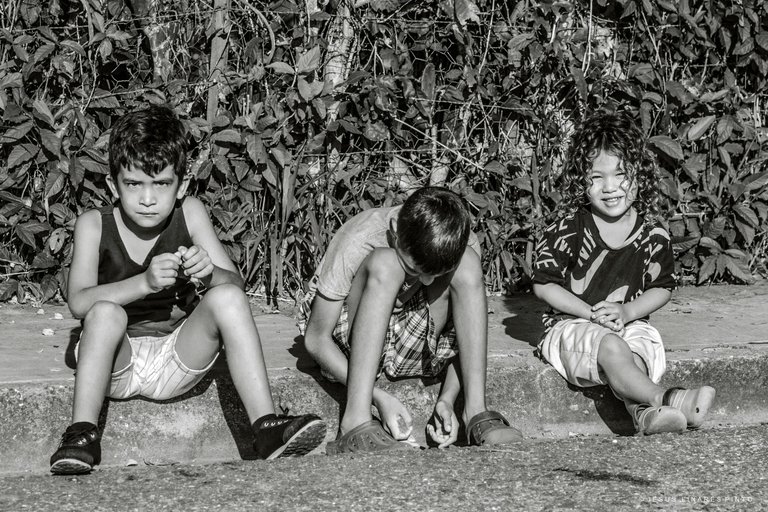 "Favorite neighbors"... I have known these little children since their mothers carried them in their arms.... They live just three blocks from my house and they are always around to take a picture... They are growing up fast, I am always happy to see them well...
"Los vecinos favoritos"... A estos pequeños niños les conozco desde que sus madres les cargaban en brazos... Viven apenas a tres calles de mi casa y siempre están por ahí para hacerles una fotografía... Van creciendo rápido, me alegra siempre verlos bien...
---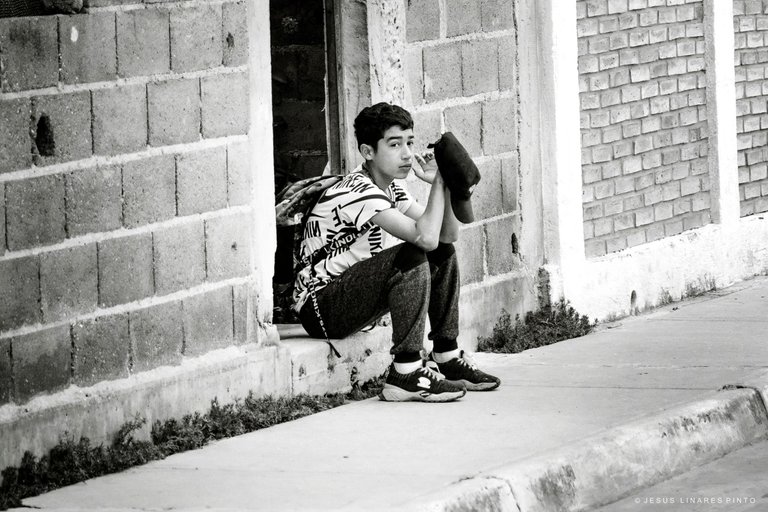 "I missed the team bus".... Young Alberto woke up late and his baseball team bus left without him for a tournament in a neighboring town... Alberto is quite thoughtful about how to tell this to his mother... 😂
"He perdido el bus del equipo"... El joven Alberto se despertó tarde y el bus de su equipo de baseball se fue sin él a un torneo en un municipio vecino... Alberto está bastante pensativo sobre como contar esto a su madre... 😂
---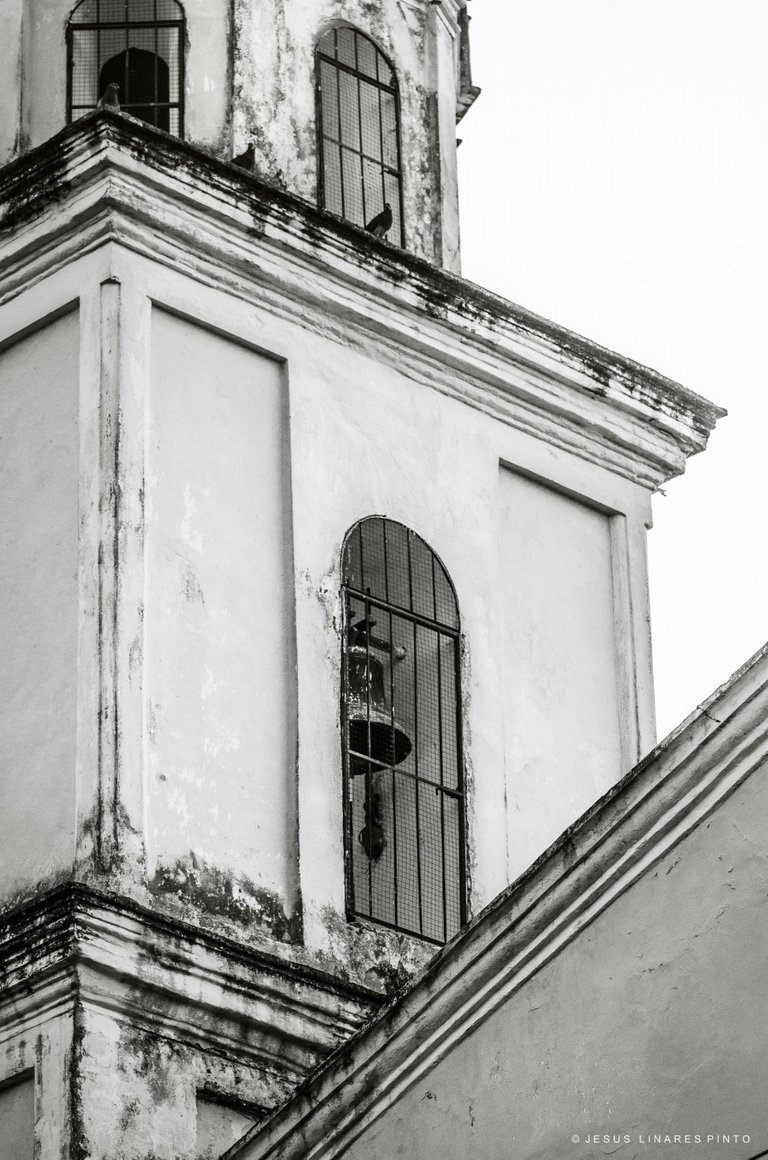 "You want to get paid with the bell".... This is funny... In the late 90's, a local businessman offered to pay for the painting and general repairs of the local church... But he said he would do this in exchange for the 3 church bells!... They are bells made in Germany (when it was Prussia or something like that as the current Parish Priest explained to me) over a century and a half ago and brought by a local parish priest thanks to a collection made in the village back then... Obviously, the businessman wanted to take advantage and have the valuable bells for himself.... So when someone wants to take advantage of another person in a business, here usually says: "You want is to get paid with the bell"... 🔔😂
"Tu quieres que te paguen con la campana".... Esto es divertido... A finales de los 90, un empresario local se ofreció para correr con los gastos de pintura y reparaciones generales de la iglesia local... ¡Pero dijo que haría esto a cambio de las 3 campanas de la iglesia!... ¡Son campanas hechas en Alemania (cuando era Prusia o algo así según me explicó el actual Párroco) hace más de un siglo y medio y traídas por un párroco local gracias a una colecta hecha en el pueblo en aquel entonces... Obviamente, el empresario quería aprovecharse y tener las valiosas campanas para sí... Entonces cuando alguien quiere aprovecharse de otra persona en un negocio, le suelen decir : "Tú lo que quieres es que te paguen con la campana"... 🔔😂
---
"Venancio and his memories"... Venancio doesn't look me in the eyes, whenever he talks to me... He always does it looking far away from the street... He always says the same thing: "These people betrayed us, they got rich and left us with nothing and with needs, full of sadness and hunger"... He repeats such litany almost every time one meets him.... Venancio was a staunch defender of the governments from the beginning of the century until today.... He was a fundamental part of the local party office.... But as the years went by, that changed.... It is said that even his house was confiscated and was returned to him a short time ago in terrible conditions... This is a story that repeats itself many times...
"Venancio y sus recuerdos"... Venancio no me mira a los ojos, siempre que me habla lo hace mirando a lo lejos de la calle... Siempre dice lo mismo "Esta gente nos traicionó, se enriquecieron y nos dejaron sin nada y con necesidades, llenos de tristeza y hambre"... Repite tal letanía casi siempre que uno lo encuentra... Venancio era un defensor acérrimo de los gobiernos desde comienzos de siglo hasta hoy... Era parte fundamental de la oficina local del partido... Pero con el paso de los años eso fue cambiando... Cuentan que inclusive su casa fue confiscada y le fue devuelta hace poco tiempo en pésimas condiciones... Esa es una historia que se repite muchas veces...
---
Thank you very much to everyone for stopping by and appreciating... See you soon again with more monochromatic photography and with more stories and anecdotes from the streets from my town...
Muchas gracias a todos por pasar por aquí y apreciar... Nos veremos pronto de nuevo con más fotografía monocromática y con más historias y anécdotas de las calles de mi pueblo...
---
END / FIN
---
"We make photographs to understand what our lives mean to ourselves." - Ralph Hattersley.
"Hacemos fotografías para comprender lo que nuestras vidas significan para nosotros mismos." - Ralph Hattersley.

Camera: Nikon D7000 | Lens: Sigma 18-200mm f3.5-6.3 II DC OS HSM
Cámara: Nikon D7000 | Objetivo: Sigma 18-200mm f3.5-6.3 II DC OS HSM
Montalbán, Carabobo, Venezuela.

---
---