Sanger Coffee Barista #monomad
A barista biography ( Sapri )
Hi, introduce my name is Sapri, I am a coffee sanger barista who is very popular with Acehnese people in general at a coffee shop called Ulee Kareng Syarief Delima. (Sapri Sapri)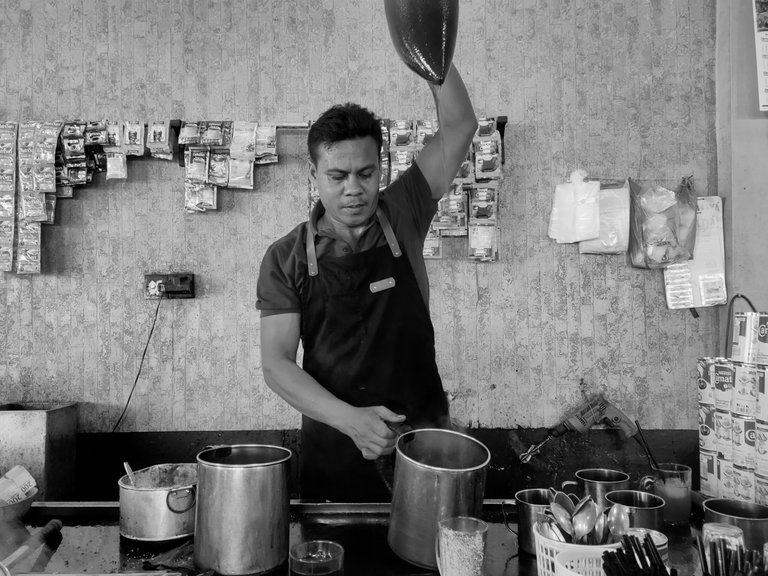 ---
---
Hi Hiver Friends..
On this occasion, I will share the biography and story of a barista that I met at a coffee shop in the city of Lhokseumawe, aceh, he is named SAPRI with his hobby of mixing Original Sanger coffee.
With his hobby, he earns his income according to the wages he received when he worked at a famous coffee shop in the city of Lhokseumawe, since childhood Sapri lived overseas to find work, he offered himself to work in several rice stalls, but they refused by reasons for not being able to cook.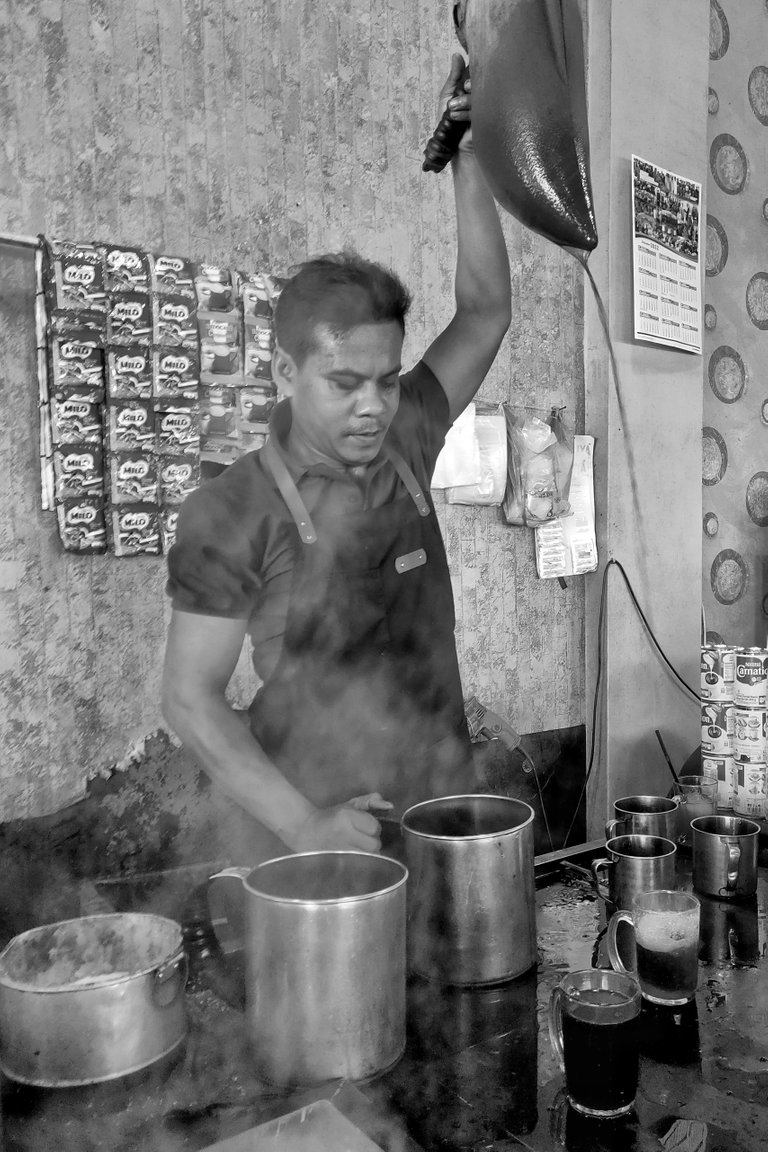 Since then, Sapri has applied for a job at a coffee shop called "Syarief Delima" with his skills as a waiter at this coffee shop, after a long time when he worked there, Sapri learned to mix sanger coffee from various preparations, no one taught him, but he mastered some of the techniques of making this delicious sanger coffee.
Over time, Sapri was able to master Sanger Coffee Compounding, until now he is able to mix and make up to 300 glasses of Sanger Coffee per day.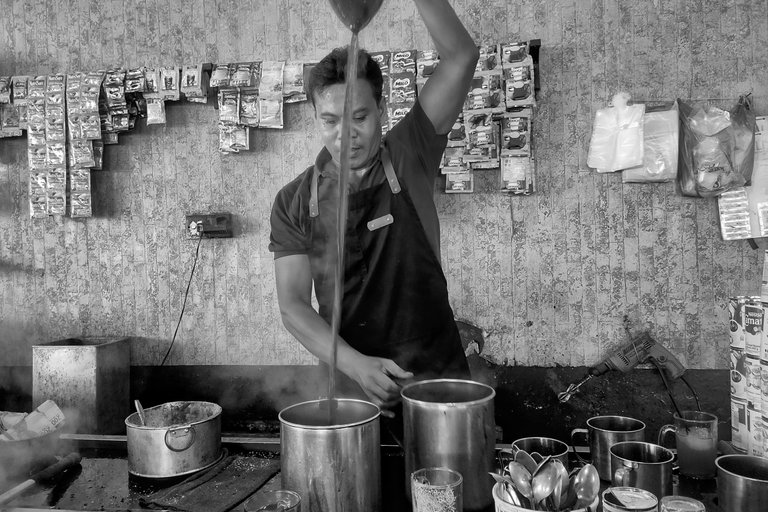 Here are some processing techniques that Sapri does when he stirs the coffee ingredients, in my previous post I have shared and recipes for making Sanger coffee. Here is the post I wrote:
"SANGER" Aceh Coffee Compounding
However, in this post I focus on photography #monomad #blackandwhite a barista.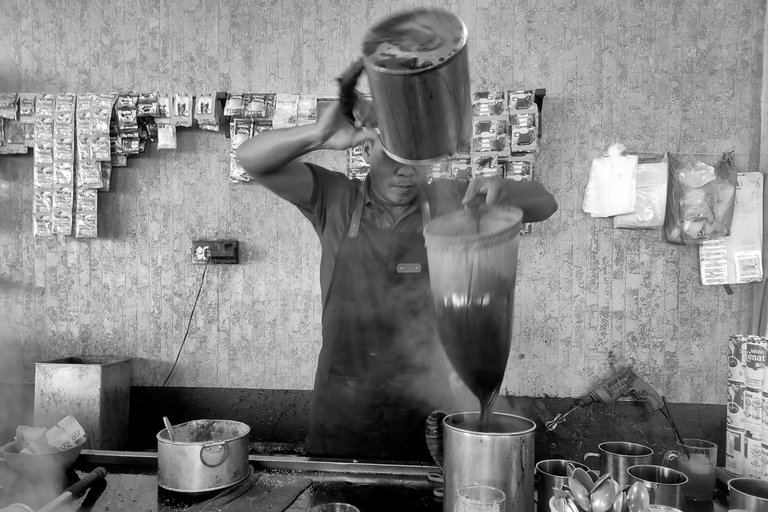 ---
---
Below is a coffee powder that has been heated and boiled for 30 minutes, then put into a coffee filter made of white cloth with a handle and a stainless circle, this filter is round so that it is easy to insert into a dipper that has a handle.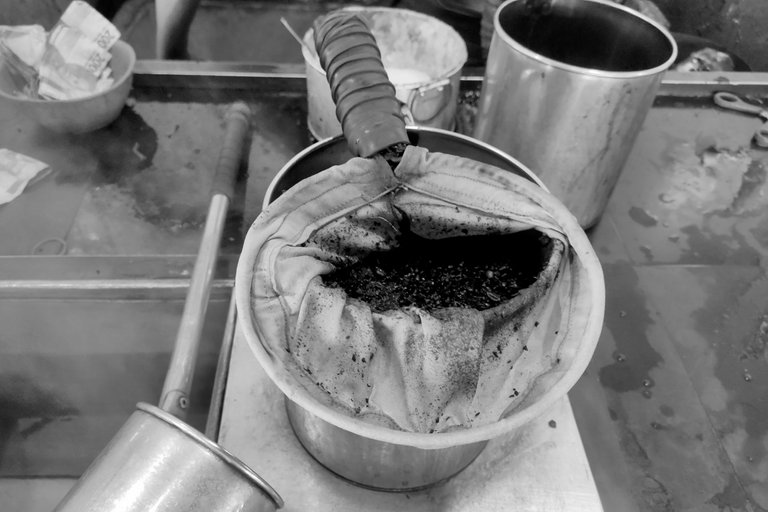 Next is the type of milk that Sapri uses to process this sanger, a well-known and branded type of sweetened condensed milk in the Aceh area.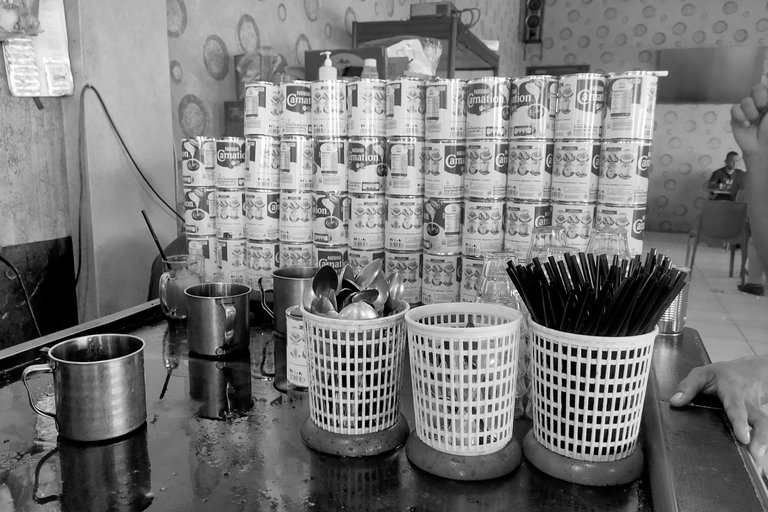 This is my entry for the daily #monomad challenge
Sanger coffee is ready to be served, but I have enjoyed it for 30 minutes, and I took a photo of it, I shot it up to half this glass but only shows the foam from this sanger that is still visible, know that the pleasure of sanger is in these foams.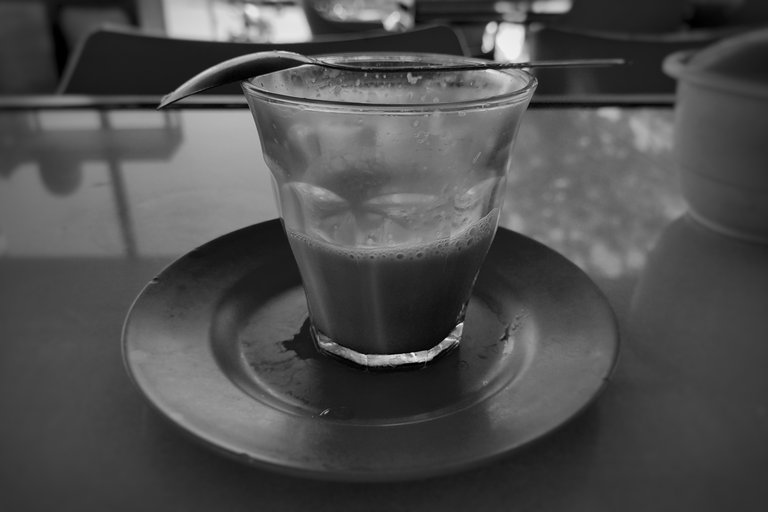 Thanks for stopping by my content post
That's all I can share in this post. I hope you like it, to support my blog and posts give your support so that I always consistently share my photography posts every day.
| Photographer | Camera | Editing | Location |
| --- | --- | --- | --- |
| @dayatsiaulia | Smartphone RMX 5 Pro | Snapseed App | Lhokseumawe |

---
---
---