The Doors To Afrika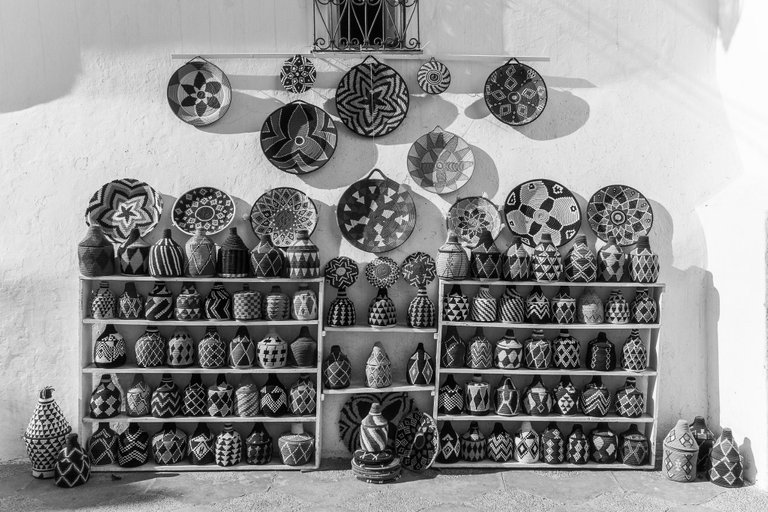 This one I caught in Asilah, Morocco in January 2020
Asilah was the third place in Morocco which I've visited. It is a small touristic town in the North-West of Morocco, on the Atlantic coast. It was the 1st time in my life that I've seen the Atlantic ocean. I was there out of season & it was really a calm & comfortable place to be. On this photo you can see a store selling hand-made stuff - jugs & plates knitted from the outside. This technique of knitting the glass & ceramic jugs is very useful cause it makes the jugs firmer & protects them from breaking. In Croatia we still use the same technique but not with the threads or ropes in colors, only the natural color of ropes in maritime areas or in the color of the special shrubs in the continental areas - the same shrubs which are used to make baskets. But it's every day less & less people who know how to knit the "shirt" for jugs here in my beautiful Croatia.
Of course, I must post the original photo in colors, cause it's Afrika & Africa has loads of colors!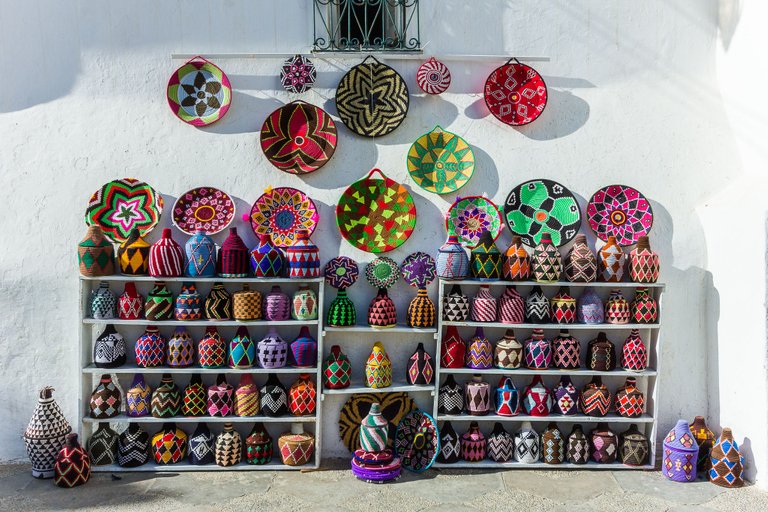 This shot even looks kind of better in colors but cause of the many patterns, it looks great in b&w too!
---
---
---
---
---
I'm in the faze of writing texts & editing the photos to create a travel monograph & also editing the videos to create a documentary movie.
My silver sponsor is Gole Sport from Pula, Croatia & my bronze sponsor is Čisto Čišće d.o.o. from Rijeka, Croatia
---
---
---
Here I also can propose you to use some of the newest tools which can bring you some passive income or just save you some money - my referral links are aside below too:
Get #BAT crypo by using Brave browser: https://brave.com/mis151
Mine #BTC by using CryptoTab browser: https://get.cryptobrowser.site/4100570
Save money with #Cachback: https://cbw.to/5qwe9f
There are also very special bank cards for trading many different goods working worldwide & also with crypto currencies - my referral links are in the blogpost below:
#Revolut: https://revolut.com/referral/nikica7s3!a13221
#Wirex: https://wirexapp.com/r/89fe1d15460749b9a37acaed856384e1
The best mobile app for Hive users for me is #Ecency & here is my referral:
https://esteem.app/signup?referral=careassaktart
---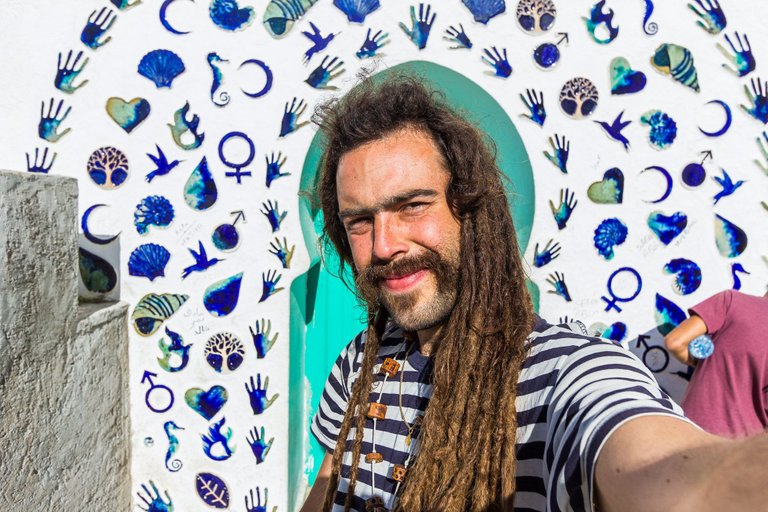 If you like my work, you could support me by upvoting, reblogging, commenting, following & sending donations or becoming a sponsor...
---
Big thanks for stopping by!