In previous posts I talked about how excited I was because my cousin was getting married, how happiness was related to this gratitude and about the coincidence of finding photos of her I took exactly 5 years before the date of her wedding; I also mentioned I'd be taking some shots and probably make a post, and well, after two months finally here we are.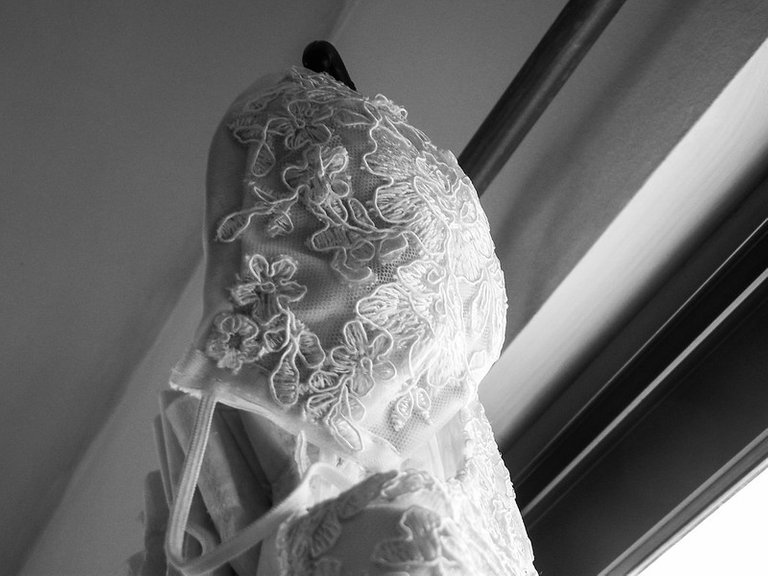 Even though I'm not an expert in wedding photography (or any photography lol) I've always admired and been a fan of how beautiful it can be, specially the way it achieves to express emotion, something I think Black & White photography does it better; I must say my favorite wedding photography is in B&W. So, this why this post will be my favorite B&W and maybe a bit of color from that cute and emotional day.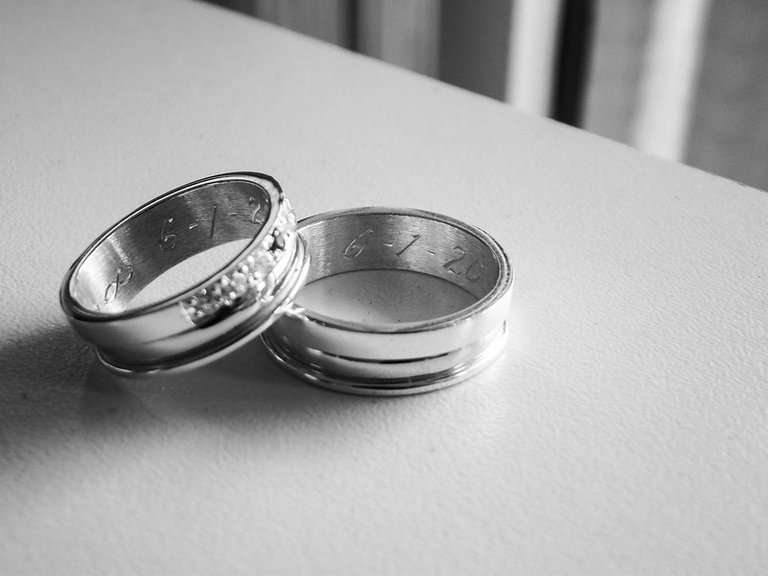 Since December, when my cousin and her boyfriend announced they were getting married, we were always joking about being constantly praying for January 6th to be a rainless and not too hot summer day; and even though that morning was pretty white and a bit gray, we –and specially the bride– were so focused on getting ready that we just didn't mind or say anything about it at least; I have always appreciate her chillness and no-drama personality of her.
When I arrived to her apparment her stylist was getting her hair and makeup ready while I was sending my unkle in law pictures of her and he was making jokes by asking who that cute girl was lol. The gown was waiting in the window...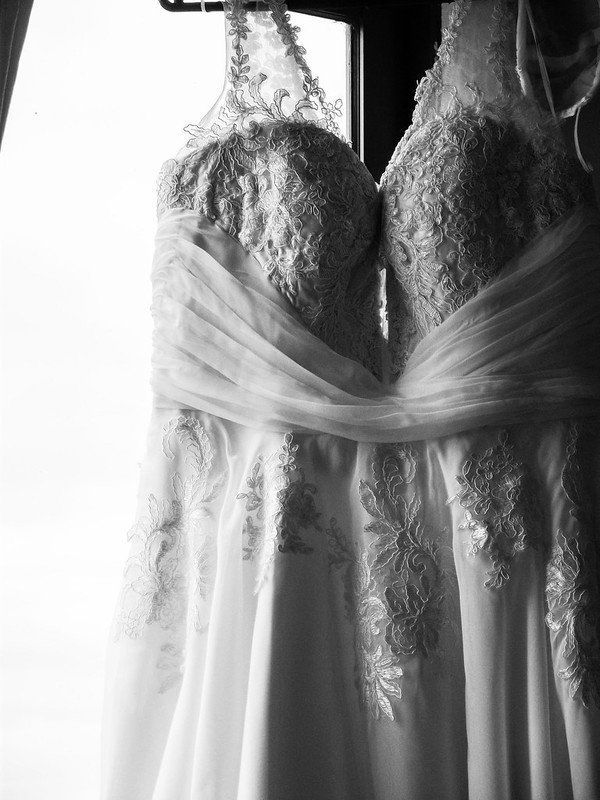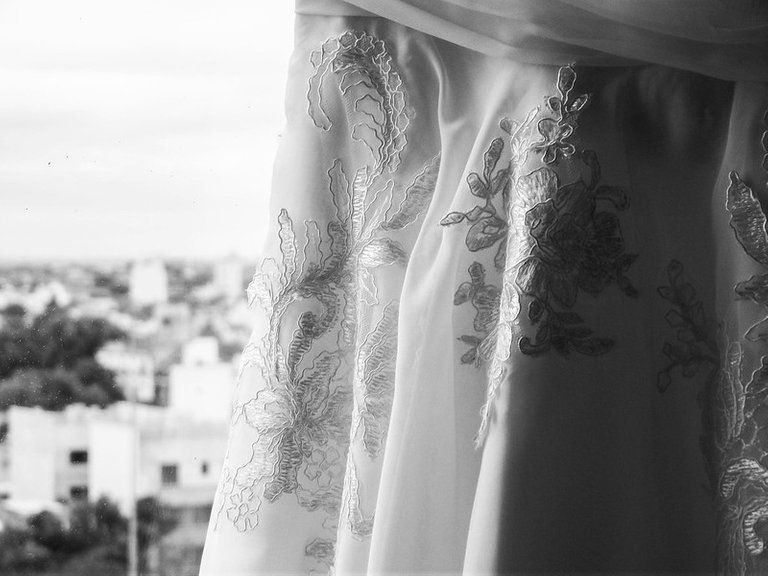 ... and the sky was the whitest and cloudiest ever.
I actually thought it was funny the day was like this, life joking on all of us as always; even though the sky was all covered in clouds they didn't look like rain clouds, they weren't gray at all but totally white actually; though, the weather wasn't hot at all, which was good, at least one of the things we were "praying" for turned out happening! lol
After what it seemed were ages, the stylist finished and my cousin was finally ready to get the dress on and be a beautiful bride.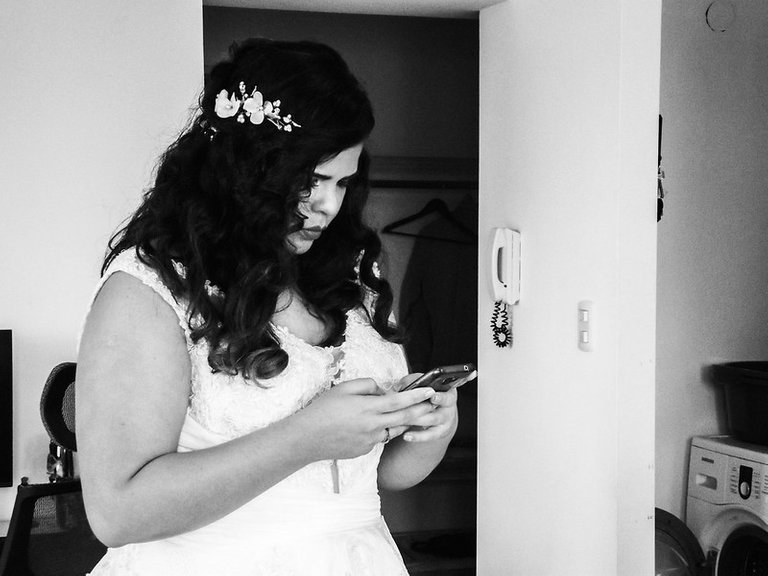 After letting the groom and other guests know we were ready and about to leave, we rapidly picked our stuff and went to the civil registry office; we were a bit late so we had to hurry up.
Despite we're on lockdown, at the civil registry office the weddings were held outside in a cute little park, under a canopy; but when we arrived we didn't see the canopy, it turned out they didn't set it because they thought it was going to rain. That day they held the weddings in indoors.
However, that didn't make the excitement go down and the couple just got into the hussle of form-filling.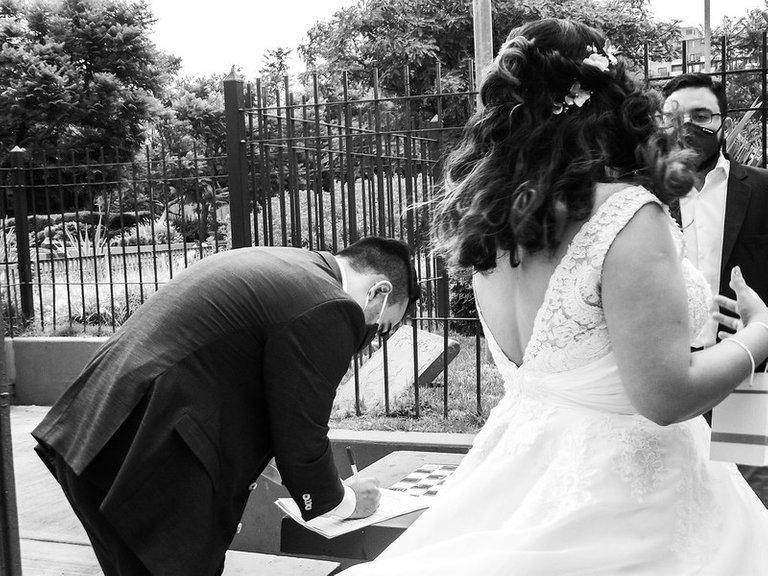 As the event was inside the registry, only the couple and legal witnesses were allowed in, the guests and rest had to watch from outside. Even though I missed the witnesses speeches, thankfully the judge had a microphone and the bugles were set for people outside to hear the sequence of the event.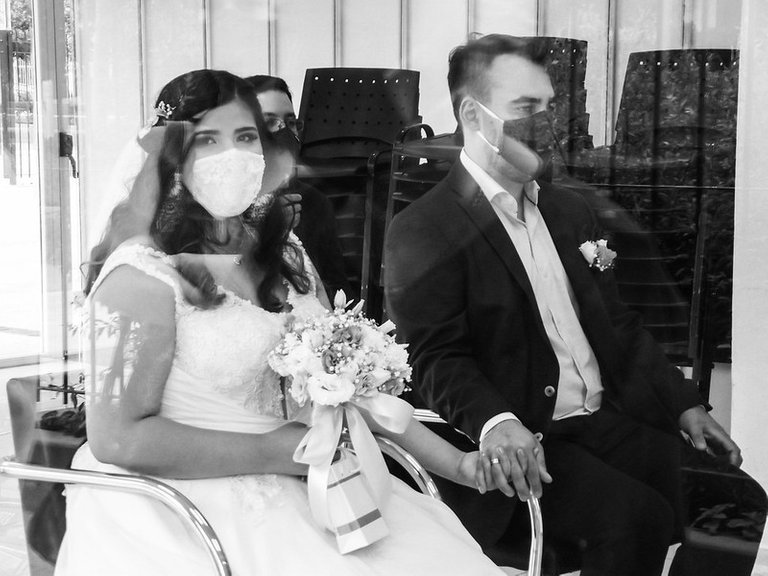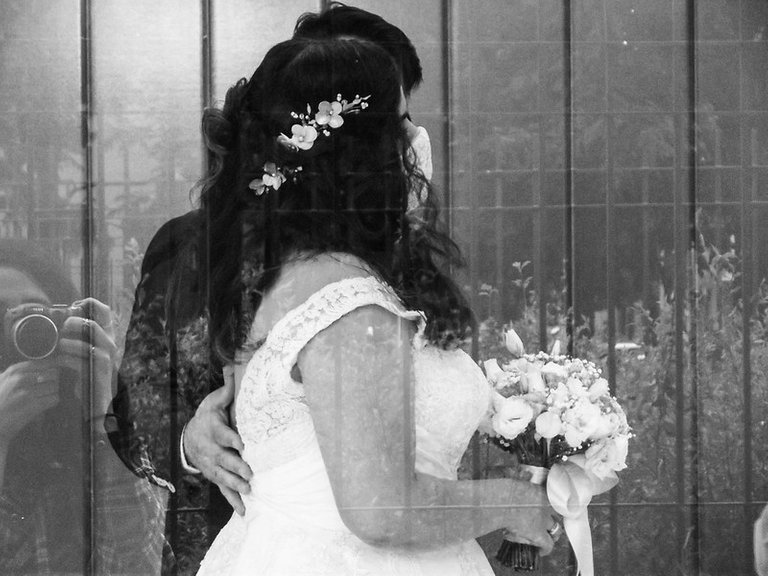 In that old post I mentioned that hopefully my hapiness tears wouldn't stop me from doing the work of taking pictures, and they didn't! Right after I saw my cousin crying when the wedding was just starting I felt the urge to cry too lol but managed to drop just a few tiny tears, though I'm sure that if I had heard the witnesses speeches (only the judge had a mic) I would have cried even more. It was when it was over, they got outside, and the congratulations and hugs started that I just couldn't contain myself anymore lol.
As I said in that old post, love is an important life aspect for me and just knowing she finally found that one person, taking into account I know how much she deserves it, just fills me with hapiness and excitement, and yeah, just as I thought it would be, I basically was the first one that started to cry.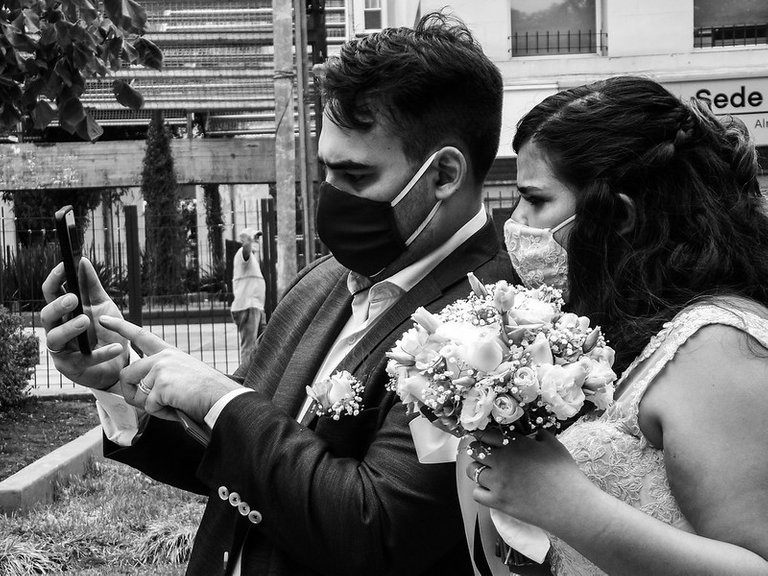 The wedding was live-streamed for those who weren't there, and the newlyweds greeted them all for a while before we took some more pics and went to eat pizza.
The celebration
As you probably know, because of covid making gatherings/celebrations became kind of difficult, however my cousin and his husband prepared a very nice and cozy little summer wedding reception four days later, it was on a very sunny sunday with only the closest family members and a few friends at a large summer ranch in a country club away from the city, that even had a pool!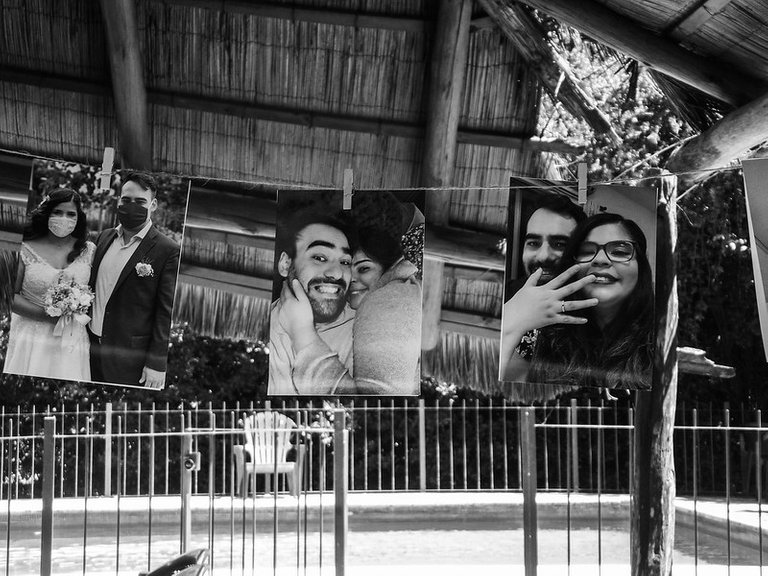 After decorating the place a bit with some of the couple's relationship cute moments pictures we all got comfortable, chatted, drank and ate snacks; till my cousin got her dress on again and I went back to my "wedding photographer" work...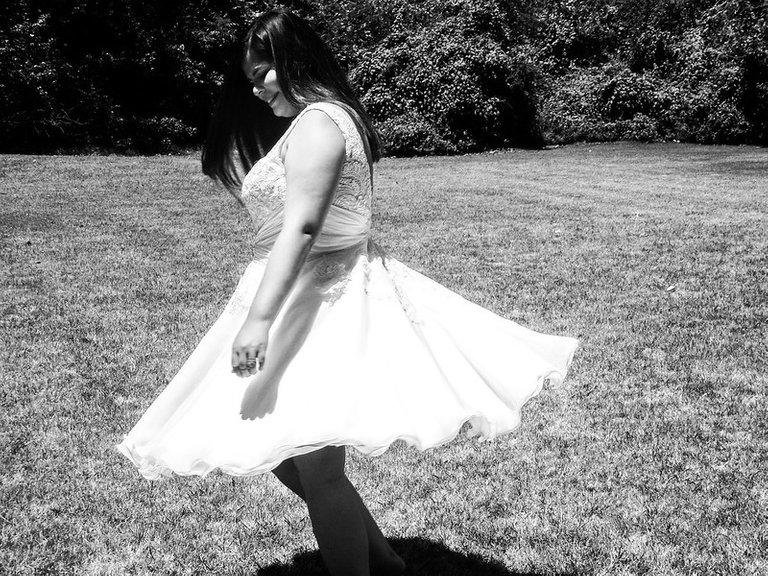 So we tried making a photoshoot session with nature as a background...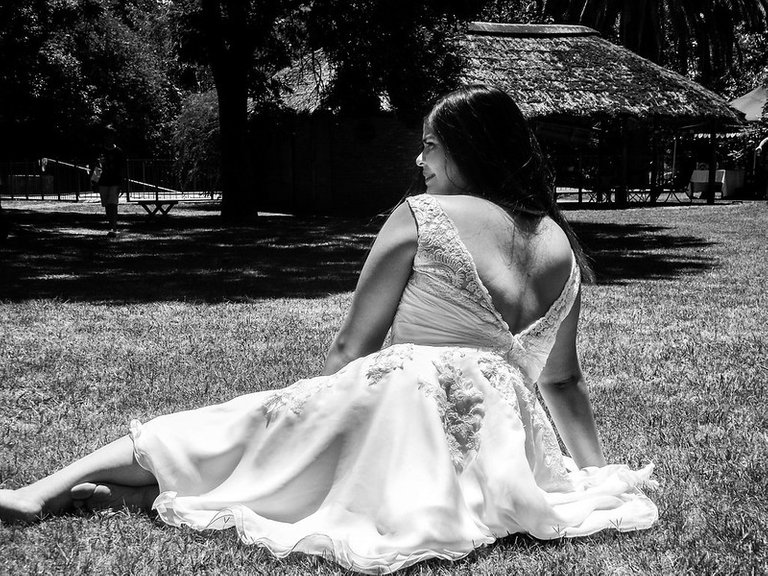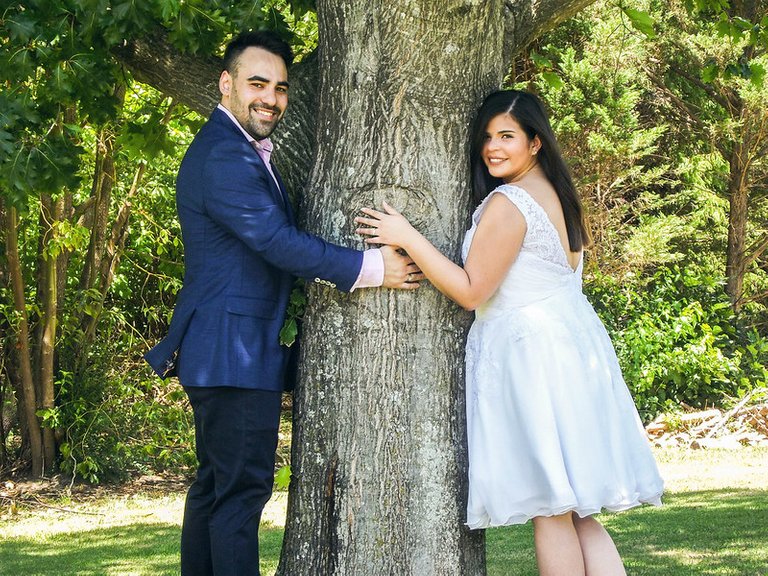 Of course the groom joined the session too :D
It was a very fun time that made me appreciate even more wedding photography and how important is that trust and comfort between the photographers and the models.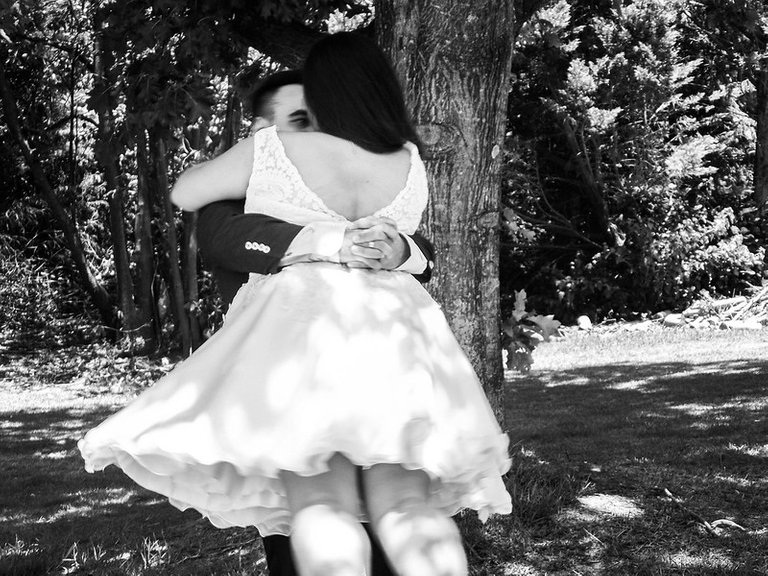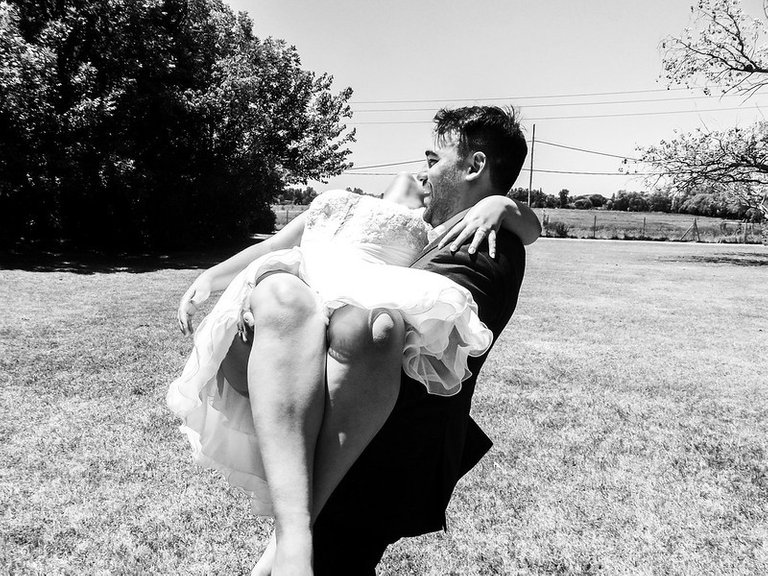 The loveliest shots I got them that day :')
After this little session we just kept on enjoying the weather, the food, the pool and the newsweds.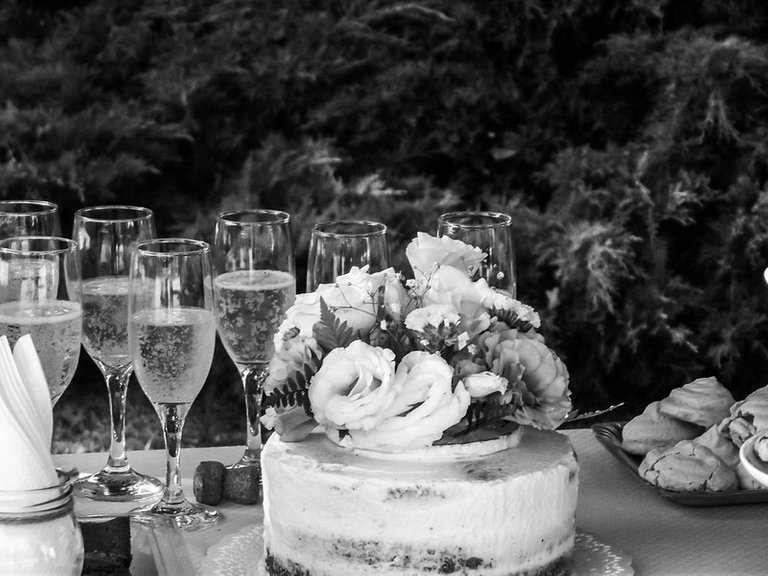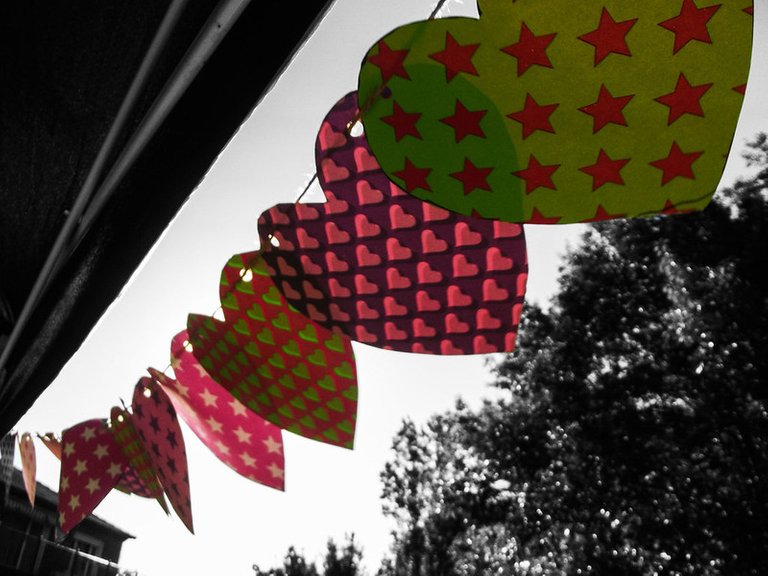 Not only I had the chance to celebrate my cousin's special day and enjoy a lovely summer day but also to attempt some wedding photography, even though I tried to catch on some internet tips about this type of photography I would say what's most important is not only to have a good nunchi in order to catch on the good moments and get nice shots but also to make all the people present trust you and feel comfortable with you around taking shots of them.
Besides this, the fact of being celebrating my cousin's wedding still felt kind of surreal, during these days I kept myself thinking time and life are happening so fast! Not so long ago we were little kids playing hide & seek in our grandma's house and suddenly I'm at her wedding crying and remembering the hide & seek memories.
D&M, thank you very much for letting me make this post and I hope you like it :) Best wishes for you both and a long big hug like it used to be! 💙
Thank you very much for passing by and reading till here! :) And please feel free to tell me what you think of these shots!


For better quality, more info, details and to see the rest of the photos I took during that day please check out the full album on my Flickr account
---
This is my entry for the #monomad challenge hosted by @monochromes and also for the Marriage Celebrations contest by the @crossculture and @smi-le communities
I now invite @nineclaws to participate in the contest too.
---




Icons from Icons8
---