Today's Advent toy was, to me, a little disappointing (and yes, I know yesterday's toy was actually a wrapped broom as a gift, not a bassoon, but it's a toy, I interpreted it, and it fit my story). Today, however, well, this'll be fun to fit in.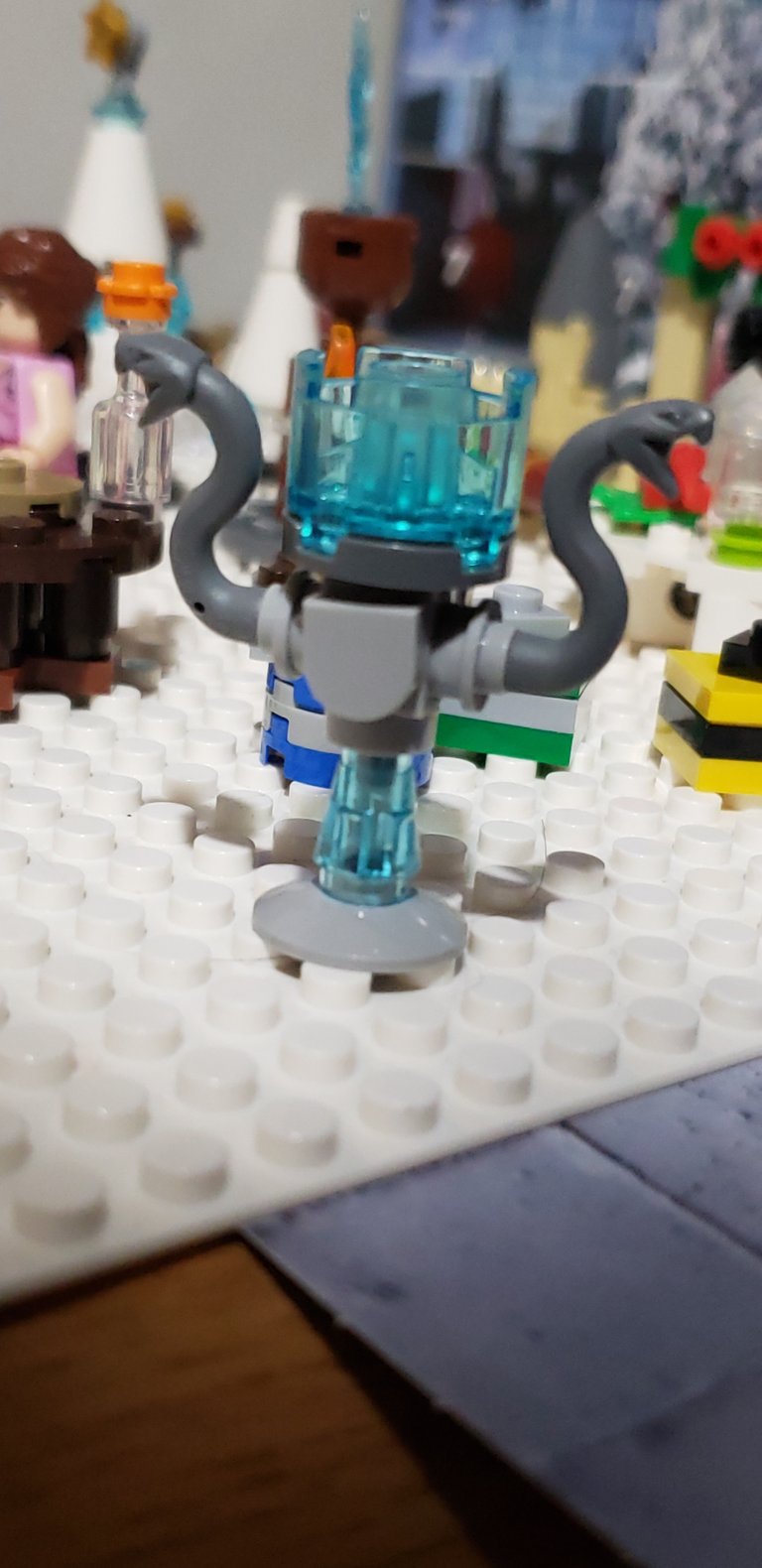 Yes, it's the Tri-Wizard cup. It's a neat piece, particularly for the snake handles; thematically, it's the "correct" piece, I suppose for the last day of Advent (the entire Advent Tournament brought us here, so to speak), but I was honestly hoping for something with more pizzazz to it for the last day.
Regardless, this entire Advent book of Lego goodies was really quite fun. Advent's are adventurous (as always, no pun intended, but always welcome) and those involving toys provide an entire month of fun.
The Yule Story, Completed
Hagrid played the bassoon. He had never played the bassoon before, and even for him, it felt a little odd, like blowing into a hole in a tree. But play he did, with great concentration on the sheet music that Hermione was holding up for him.
Interesting, Harry thought to himself. Hagrid could barely read script, but he could read sheet music.
Within a short amount of time the pandemonium in the mail ballroom seemed to come to an end. Hagrid put the big bassoon down and, cautiously, the group of students - and Hagrid - peeked into the ballroom.
The ice sculptures were no longer exploding. In their place stood a glorious, magnificent cup, a cup that looked like the kind of cup that was awarded as a trophy. Approaching the cup to examine it, the group found that the cup was made of a silver base, an ice cup, and two beautifully sculpted silver handles in the shape of snakes.
Ron and Hermione snorted at the same time. "Figures," Ron snapped.
"What?" Harry asked in confusion.
Hermione answered. "All that chaos, just so Slytherin could replace an ice sculpture of Hogwarts with a trophy glorifying their own house."
All agreed that it was a very... Slytherin... thing to do. But, Harry mused to himself as the others made their way back to their common rooms, it was a very good looking cup.
---
Previous Entries
https://peakd.com/hive-142010/@wwwiebe/harry-potter-lego-advent-day-1
https://peakd.com/hive-142010/@wwwiebe/harry-potter-lego-advent-day-2
https://peakd.com/hive-142010/@wwwiebe/harry-potter-lego-advent-day-3
https://peakd.com/hive-142010/@wwwiebe/harry-potter-lego-advent-day-4
https://peakd.com/hive-142010/@wwwiebe/harry-potter-lego-advent-day-5
https://peakd.com/hive-142010/@wwwiebe/harry-potter-lego-advent-day-6
https://peakd.com/hive-142010/@wwwiebe/harry-potter-lego-advent-day-7
https://peakd.com/hive-142010/@wwwiebe/harry-potter-lego-advent-day-8
https://peakd.com/hive-142010/@wwwiebe/harry-potter-lego-advent-day-9
https://peakd.com/hive-142010/@wwwiebe/harry-potter-lego-advent-day-10
https://peakd.com/hive-142010/@wwwiebe/harry-potter-lego-advent-day-11
https://peakd.com/hive-142010/@wwwiebe/harry-potter-lego-advent-day-12
https://peakd.com/hive-142010/@wwwiebe/harry-potter-lego-advent-day-13
https://peakd.com/hive-142010/@wwwiebe/harry-potter-lego-advent-day-14
https://peakd.com/hive-142010/@wwwiebe/harry-potter-lego-advent-day-15
https://peakd.com/hive-142010/@wwwiebe/harry-potter-lego-advent-day-16
https://peakd.com/hive-142010/@wwwiebe/harry-potter-lego-advent-day-17
https://peakd.com/hive-142010/@wwwiebe/harry-potter-lego-advent-day-18
https://peakd.com/hive-142010/@wwwiebe/harry-potter-lego-advent-day-19
https://peakd.com/hive-142010/@wwwiebe/harry-potter-lego-advent-day-20
https://peakd.com/hive-142010/@wwwiebe/harry-potter-lego-advent-day-21
https://peakd.com/hive-142010/@wwwiebe/harry-potter-lego-advent-day-22
https://peakd.com/hive-142010/@wwwiebe/harry-potter-lego-advent-day-23
---
(c) All images and photographs, unless otherwise specified, are created and owned by me.
(c) Victor Wiebe
---
Photography Tags I Use
---