I was told that yesterday's advent piece was Hermione, and not some random Slytherin. Well, I stand by my decision yesterday, if for no other reason than it fits my story.
Today is much easier! Gifts, and a bassoon!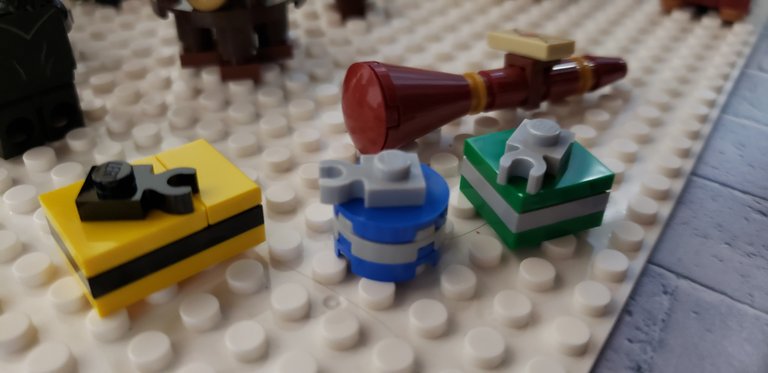 At the very least, I'm going to assume that the long brown tree-looking-like thing is a bassoon. At the very least, it is some form of musical instrument, I'm sure. If the bottom was flat it could easily stand-in as a tree with no branches which, in essence, is what a bassoon is.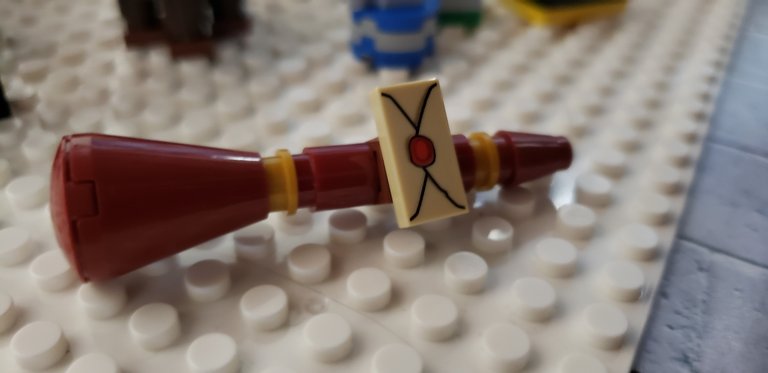 The Yule Story, Continued
"So," Hermione said with a huff as she held out the music to anyone who might want it. "Who knows how to play?"
There was silence as the group of students, and Hagrid, all looked around at each other with silent shrugs.
"Really?" Hermione said in exasperation. "No one?"
Ron took some offence to that. "Well what about you?" he retorted. "You seem to know everything else!"
Hermione 'hmfed' a face at him.
"Well... I've played a flute before," Hagrid finally admitted somewhat bashfully. "But I don't have it with me," he added while patting down all his pockets for emphasis.
Harry began to look around the room. "Well there must be something here," he wondered while beginning to rummage. "What about this?" With two hands Harry held up a large wooden instrument that really looked like nothing more than a tree trunk with a hole bore through it.
"That?" Hagrid demanded in a surprised, rough voice. "I don't think I could play that!"
A large crash and continued explosions from the ballroom convinced the students that they had to convince Hagrid to at least try.
"Well, alright, I'll give it a go," Hagrid murmured while taking the instrument from Harry. "I'm not supposed to do magic, though!"
Hermione was there to give her friend some encouragement. "I don't think anyone is going to mind if it puts an end to what's going on out there."
Hagrid thought about this a moment, nodded, and pulled the instruments to his lips while Hermione held the music up for him to look at. He began to play.
---
Previous Entries
https://peakd.com/hive-142010/@wwwiebe/harry-potter-lego-advent-day-1
https://peakd.com/hive-142010/@wwwiebe/harry-potter-lego-advent-day-2
https://peakd.com/hive-142010/@wwwiebe/harry-potter-lego-advent-day-3
https://peakd.com/hive-142010/@wwwiebe/harry-potter-lego-advent-day-4
https://peakd.com/hive-142010/@wwwiebe/harry-potter-lego-advent-day-5
https://peakd.com/hive-142010/@wwwiebe/harry-potter-lego-advent-day-6
https://peakd.com/hive-142010/@wwwiebe/harry-potter-lego-advent-day-7
https://peakd.com/hive-142010/@wwwiebe/harry-potter-lego-advent-day-8
https://peakd.com/hive-142010/@wwwiebe/harry-potter-lego-advent-day-9
https://peakd.com/hive-142010/@wwwiebe/harry-potter-lego-advent-day-10
https://peakd.com/hive-142010/@wwwiebe/harry-potter-lego-advent-day-11
https://peakd.com/hive-142010/@wwwiebe/harry-potter-lego-advent-day-12
https://peakd.com/hive-142010/@wwwiebe/harry-potter-lego-advent-day-13
https://peakd.com/hive-142010/@wwwiebe/harry-potter-lego-advent-day-14
https://peakd.com/hive-142010/@wwwiebe/harry-potter-lego-advent-day-15
https://peakd.com/hive-142010/@wwwiebe/harry-potter-lego-advent-day-16
https://peakd.com/hive-142010/@wwwiebe/harry-potter-lego-advent-day-17
https://peakd.com/hive-142010/@wwwiebe/harry-potter-lego-advent-day-18
https://peakd.com/hive-142010/@wwwiebe/harry-potter-lego-advent-day-19
https://peakd.com/hive-142010/@wwwiebe/harry-potter-lego-advent-day-20
https://peakd.com/hive-142010/@wwwiebe/harry-potter-lego-advent-day-21
https://peakd.com/hive-142010/@wwwiebe/harry-potter-lego-advent-day-22
---
(c) All images and photographs, unless otherwise specified, are created and owned by me.
(c) Victor Wiebe
---
Photography Tags I Use
---