There is certainly no dearth in the number of minifigs in the advent this year. Truth be told, there are usually 6 or 7, and this year is no exception.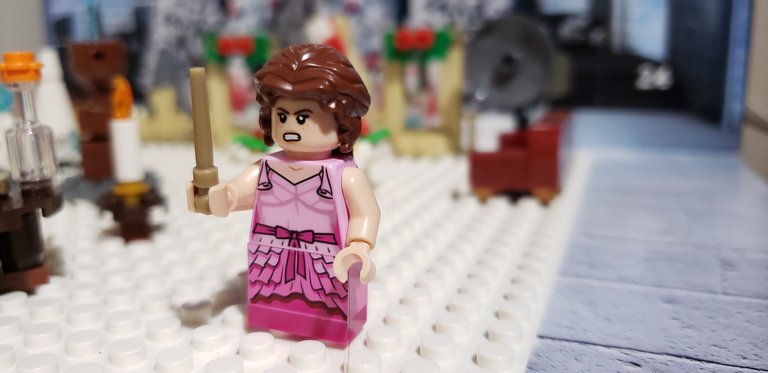 The heads of these minifigs all come with two sides: one happy, and one angry or sad. Being that I don't know who this is today, I felt like going with the angry face to continue my story.
The Yule Story, Continued
"Or rather," Hermione continued as she studied the sheet music through narrowed eyes, "I know who caused this."
"Well, who then?" Ron belted out. "And how do we stop it?"
"It was Patricia Melodinen, that snart second year in Slitherin," Hermione stated matter-of-factly. When Hermione stated something quite that matter-of-factly, no one dared question her, because she was usually quite correct.
Harry paused, thoughtfully, then said, "Oh, I know her. Isn't she the one that wore that scaly pink dress to the ball tonight, like snake scales?"
That was her, alright, and they all remembered. "Well, luckily for us," Hermione continued haughtily, "I know how to fix this. Just give me a quill so I can make some changes on this paper."
"Oh, er.. here.. I think I have one here," Hagrid mumbled while digging through some of his pockets. Even when he was dressed in his Yule best, Hagrid's coat still seemed to have hundreds of pockets. "Ah, here we go Hermione! A Never Dry Quill," he explained while handing it to her. "But.. er... what are you doing?"
The others were also curious, and everyone - Ron, Hagrid, Harry, and the Patil twins, all tried to look over Hermione's shoulder at the same time as she began to write on the sheet music she had found. "It's a simple reversal spell, really. All we need to do is reverse some of these notes and have someone play them on the piano."
"Oh, so the Weird Sisters must have played this by accident," Ron mused out loud. "But why would Melodinen want to not only ruin the ball, but hurt people in the process?"
"Who knows," one of the Patil twins murmured. "She's a Slytherin after all." And to that everyone agreed.
---
Previous Entries
https://peakd.com/hive-142010/@wwwiebe/harry-potter-lego-advent-day-1
https://peakd.com/hive-142010/@wwwiebe/harry-potter-lego-advent-day-2
https://peakd.com/hive-142010/@wwwiebe/harry-potter-lego-advent-day-3
https://peakd.com/hive-142010/@wwwiebe/harry-potter-lego-advent-day-4
https://peakd.com/hive-142010/@wwwiebe/harry-potter-lego-advent-day-5
https://peakd.com/hive-142010/@wwwiebe/harry-potter-lego-advent-day-6
https://peakd.com/hive-142010/@wwwiebe/harry-potter-lego-advent-day-7
https://peakd.com/hive-142010/@wwwiebe/harry-potter-lego-advent-day-8
https://peakd.com/hive-142010/@wwwiebe/harry-potter-lego-advent-day-9
https://peakd.com/hive-142010/@wwwiebe/harry-potter-lego-advent-day-10
https://peakd.com/hive-142010/@wwwiebe/harry-potter-lego-advent-day-11
https://peakd.com/hive-142010/@wwwiebe/harry-potter-lego-advent-day-12
https://peakd.com/hive-142010/@wwwiebe/harry-potter-lego-advent-day-13
https://peakd.com/hive-142010/@wwwiebe/harry-potter-lego-advent-day-14
https://peakd.com/hive-142010/@wwwiebe/harry-potter-lego-advent-day-15
https://peakd.com/hive-142010/@wwwiebe/harry-potter-lego-advent-day-16
https://peakd.com/hive-142010/@wwwiebe/harry-potter-lego-advent-day-17
https://peakd.com/hive-142010/@wwwiebe/harry-potter-lego-advent-day-18
https://peakd.com/hive-142010/@wwwiebe/harry-potter-lego-advent-day-19
https://peakd.com/hive-142010/@wwwiebe/harry-potter-lego-advent-day-20
https://peakd.com/hive-142010/@wwwiebe/harry-potter-lego-advent-day-21
---
(c) All images and photographs, unless otherwise specified, are created and owned by me.
(c) Victor Wiebe
---
Photography Tags I Use
---