We have another ice sculpture today! It's a pretty neat little build.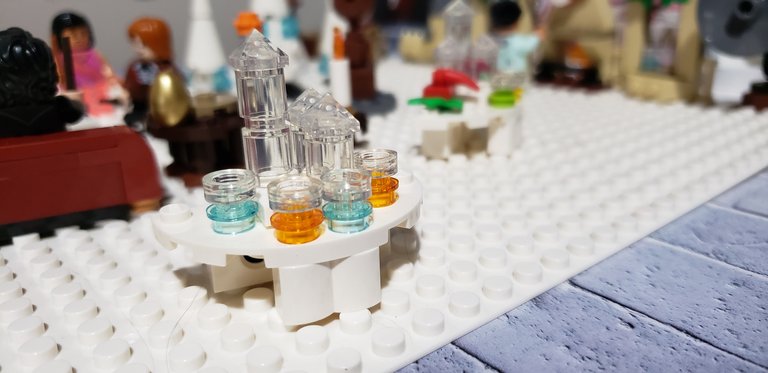 What's really cool about this one is that it's not just any ice sculpture, but the second half to the first ice sculpture from a few days ago. They connect together.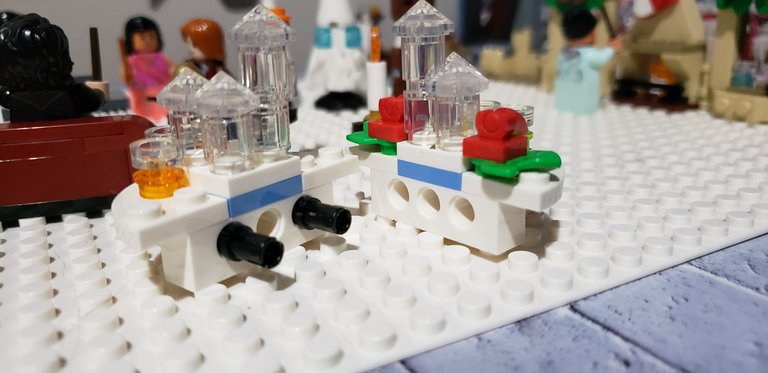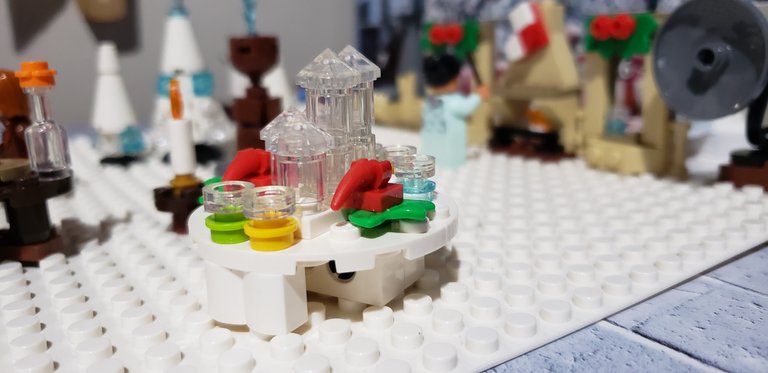 I amuse easily. Modularity such as this really makes me smile. It was some interesting forethought from the designers, for sure.
The Yule Story, Continued
Harry and Ron couldn't believe their luck, and both were completely dumbfounded to be out dancing on the dance floor. Ron caught a sidelong glance at Hermione who seemed to be shooting his ice-dagger-stares, which just confused him. What was she all upset about?
All seemed very well until, quite suddenly and without reason at all, the massive ice sculpture that was in the middle of the ballroom floor exploded into what seemed like a million pieces. Ice shards flew everywhere. Students panicked, screamed, covered their faces from the ferociously flying frozen ice particles. The Weird Sisters, on stage, took a moment to register the commotion, then very quickly withdrew off the stage.
Within moments the entire ballroom was in commotion. There were teachers trying to regain control; Snape was there, looking flummoxed, and McGonagall was directing students out of the ballroom. The Patil twins, along with Harry and Ron, were looking around to see where they should be going as well. "Harry! Ron! Over here!" Over the din and chaos of the room they could hear Hagrid's voice beckoning them to a door by the side of the ballroom. Feeling chivalric, the boys took the girls hands and led them hurriedly to Hagrid and through the door.
---
Previous Entries
https://peakd.com/hive-142010/@wwwiebe/harry-potter-lego-advent-day-1
https://peakd.com/hive-142010/@wwwiebe/harry-potter-lego-advent-day-2
https://peakd.com/hive-142010/@wwwiebe/harry-potter-lego-advent-day-3
https://peakd.com/hive-142010/@wwwiebe/harry-potter-lego-advent-day-4
https://peakd.com/hive-142010/@wwwiebe/harry-potter-lego-advent-day-5
https://peakd.com/hive-142010/@wwwiebe/harry-potter-lego-advent-day-6
https://peakd.com/hive-142010/@wwwiebe/harry-potter-lego-advent-day-7
https://peakd.com/hive-142010/@wwwiebe/harry-potter-lego-advent-day-8
https://peakd.com/hive-142010/@wwwiebe/harry-potter-lego-advent-day-9
https://peakd.com/hive-142010/@wwwiebe/harry-potter-lego-advent-day-10
https://peakd.com/hive-142010/@wwwiebe/harry-potter-lego-advent-day-11
https://peakd.com/hive-142010/@wwwiebe/harry-potter-lego-advent-day-12
https://peakd.com/hive-142010/@wwwiebe/harry-potter-lego-advent-day-13
https://peakd.com/hive-142010/@wwwiebe/harry-potter-lego-advent-day-14
https://peakd.com/hive-142010/@wwwiebe/harry-potter-lego-advent-day-15
https://peakd.com/hive-142010/@wwwiebe/harry-potter-lego-advent-day-16
https://peakd.com/hive-142010/@wwwiebe/harry-potter-lego-advent-day-17
https://peakd.com/hive-142010/@wwwiebe/harry-potter-lego-advent-day-18
https://peakd.com/hive-142010/@wwwiebe/harry-potter-lego-advent-day-19
---
(c) All images and photographs, unless otherwise specified, are created and owned by me.
(c) Victor Wiebe
---
Photography Tags I Use
---