Now my Mack Anthem is complete it's time to start thinking about the next build. I considered a few models, back before Christmas, and made a purchase when they had a really good discount on offer. [G-dog taps his head with a finger and thinks up here for thinking...Saved some cash which keeps my wallet, and wife, happy.]
Wishing to stay with the automotive theme for the moment I chose the 4X4 X-treme Off-Roader as pictured here. src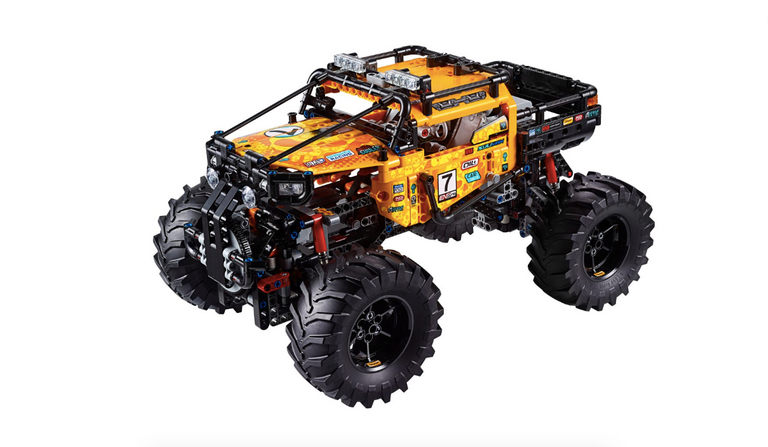 It's a pretty cool model, quite large as with most Lego Technic and with the added feature of remote control. That's right rockstars, this one operates from a smart phone!
It actually has 3 motors and is operated by a smartphone app called Lego Technic Control+ App. The app not only steers it forward and backwards but gives speed and tilt information in real-time as one is driving around. YESSSSS! Exciting huh? Come on, you know it is.
The huge off road tyres (tires), ground clearance and off-road high-lift independent suspension is suited for rough terrain and I'll be testing that out, and videoing it with a new toy I purchased yesterday...You'll have to wait for another post to hear about that.
The 4x4 X-treme Off-Roader measures in at over 7" (19cm) high, 12" (33cm) long and 8" (22cm) wide, not quite big enough for me to ride on, but close.
Just because it's cool I've added in a video from Lego so you can see the off-roader in action. There's others on YouTube as well if you're keen. Click here for the video.
Whilst on YouTube I also found this cool trick to make the vehicle a more capable rock-crawler, which essentially means it's geared lower to cope with rocky terrain. In a real vehicle a lever or button would do that, but in this model it requires a couple of physical gear changes but it looks simple enough.
You can take a look here. I'll build mine to spec then probably give this upgrade a go to see what difference it makes.
There's only 958 parts to this build however I think it's going to be fun, the build and post-build when I play the hell out of it! As usual I'll keep you apprised of the build process and will use the new LEGO Community to do so. Click here to join LEGO Community. Do it, do it now! Lol.
Ok, you don't have to do it, but it would be cool if you do. Feel free to post also, even if you don't love Lego, if you have something to say, Lego-related, that's the place to say it.
Join the LEGO Community and don't forget to use #hive-142010 as your post as the first tag.
Thanks for reading...And remember...If you have to go...LEGO!
---
Tomorrow isn't promised - Design and create your ideal life, don't live it by default
An original post written by a human
Discord: galenkp#9209 🇦🇺