We live and work hard to reach our goals and to make our dreams come true. Just like the slogan of a popular coffee brand in our country, it asks, "Whom do you wake up for?" Finding and doing your purpose is probably the best feeling because it provides meaning to life. Of course, discovering your purpose is the greatest achievement a person can have. Not with how many things he owns or how long the numbers are in his bank.
WORLD DREAM DAY, celebrated last September 25, is a day to talk about your dreams. You can gather your friends, family, or other people and open up about your dreams in life.
(Ah, I know, another super delayed post. 😭 Sorry. )
So, what is your dream?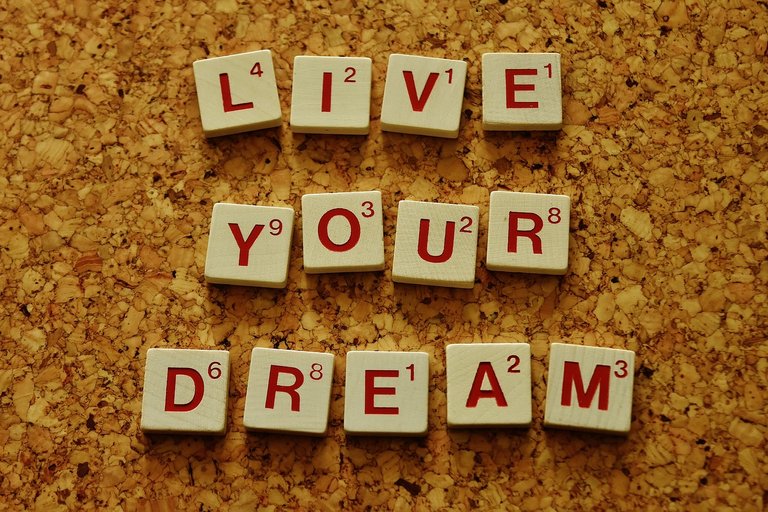 Image source: Pixabay

---
In my case, my greatest dream is just simple, to find my purpose and leave a beautiful memory someday. It's difficult to feel lost, you know. 😅 For me, life would be much easier to navigate if you kno your purpose. Unnecessary things and distractions will be avoided and by then, you can devote your time for the things you are truly meant to do. Hmmm.. Right now, I enjoy drawing and I am thankful Hive provided space for art to be appreciated. I feel free drawing on this platform. No judgement and criticism from "nosy" people. Haha. It's a little dream come true for me.
Now, I'll talk about my current dreams. One of my biggest dreams is to own my own home which I can give a minimalist theme because we currently live with a family member with a hoarding disorder, and a very messy home stresses me a lot. It feels like there is a permanent cloud around my mind. Seeing all the clutter takes most of my energy. If I'll have my own home, I think I'll have more control and authority over what things should be discarded and only be allowed in my minimalist home. I am so tired of a cluttered home. 😂😥
Second dream is to make people happy with my stories and drawings. Well, aside from the monetary reward of Youtube after reaching the requirements, I wanted to share my stories, make them happy, and find people who can relate to it. And again, use it as a place to express my creativity and thoughts. I wish to gather similar people and we will be celebrating our weird little tribe together. Lol. But first of all, I should start making videos to make it come true. 😆
---
Thanks for reading! This post is just short I know. I don't want too much drama. Lol.😁
May our dreams all come true! May we all find our purpose on earth. :)