Crab mentality
also known as crabs in a bucket (also barrel, basket, or pot) mentality, is a way of thinking best described by the phrase "if I can't have it, neither can you". The metaphor is derived from a pattern of behavior noted in crabs when they are trapped in a bucket.
Crab mentality - Wikipedia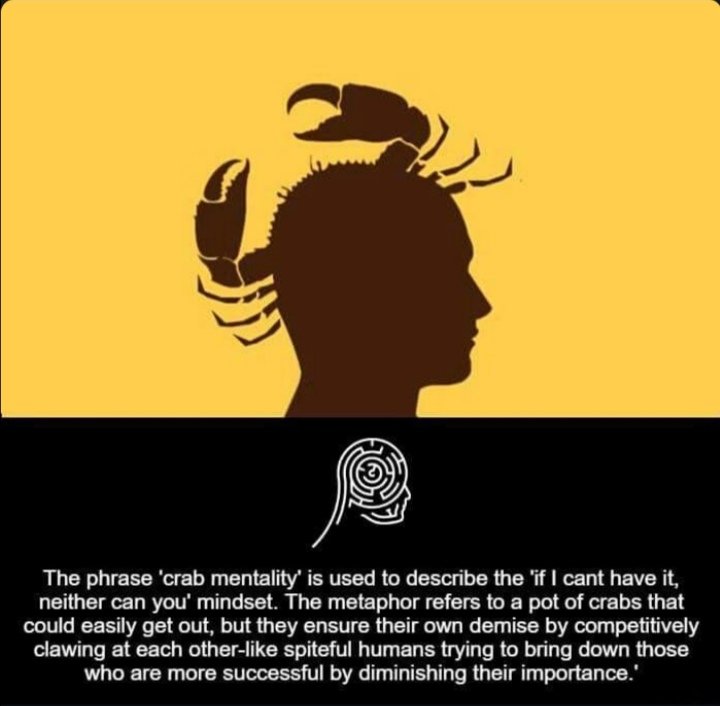 rhinoking
Why do people have crab mentality?
In the same manner, human beings would want to better their circumstances, but they are prevented by others who do not want them to be successful.
Is Crab In The Bucket Mentality Preventing Our Development?
Why Filipino have the trait of crab mentality?
This mentality has been observed in Crabs as when they are put into the bucket they don't let others go and pull their mates. I believe its majorly because of lack of employment or say unemployment because people are interested in others life rather than their own.
Why is crab mentality common in the Philippines?
I also have experienced this.
It's hard, especially when we experienced this with the people close to us. Yes! I do have a job but I have a lot of debts to pay since I have stop working when I got pregnant. We're unable to finish all of our payments. That's the reason why I'm trying to get more opportunities in online selling. But I'm not sure why most of us here in the Philippines. Instead of helping each other out. We tend to push someone back because we thought that they are competing us? We have our different channels of businesses. If you don't want to let the person in on your system then let them be with others. If you're close to them and you know that you have a lot on your plate and they are just starting. You can definitely help them instead of making things to pull them down.
So sad that I have experienced this too. What's hard to understand is that someone who did this. Is the person who's close to me and I admire. I'm not sure if I still feel the same after this things happened. So disappointing. Yes! We all are experiencing the pandemic. We are all staying at home. We all have our different needs. So why not help and be happy. Don't just choose who you want to help because all of us needs to be financially stable. Not just them. Not just you. Not just me.
Now I'm heavy hearted because of that and I'm thinking of different things to sell. So that they will not think that I'm competing them. I will just stay away since I'm the one who can understand.
"Knowing when To stop is not a sign of defeat but that's the sign of maturity."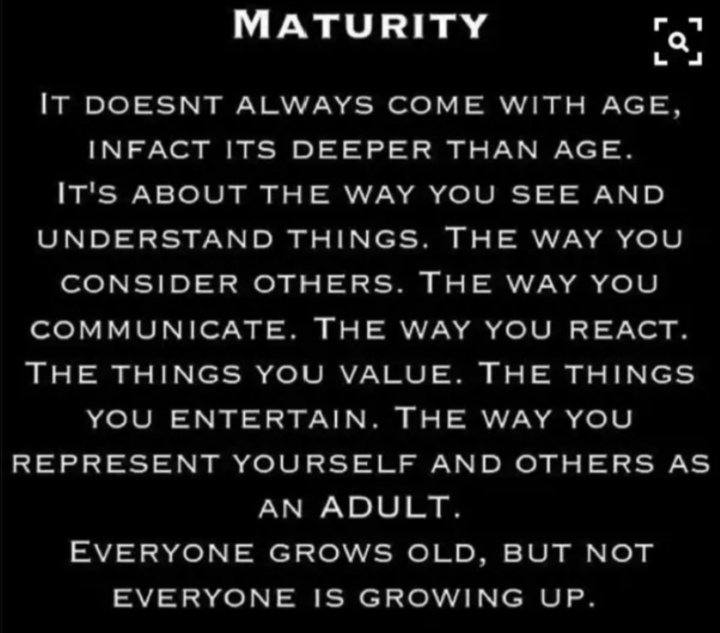 What is Maturity?
"Now I have discovered that even if the person is so dear to you. They are not thinking or feeling the same way. Just be careful in choosing who you will trust and give your hundred percent respect and love."
-----§§§§§§§§§§§§§§§§§§§§§§§§§§§-----
Thanks for dropping by. Until my next one!
"Please do Follow me, Upvote this post and Share or Reblog. Thanks in Advance for the support!"
-----§§§§§§§§§§§§§§§§§§§§§§§§§§§-----