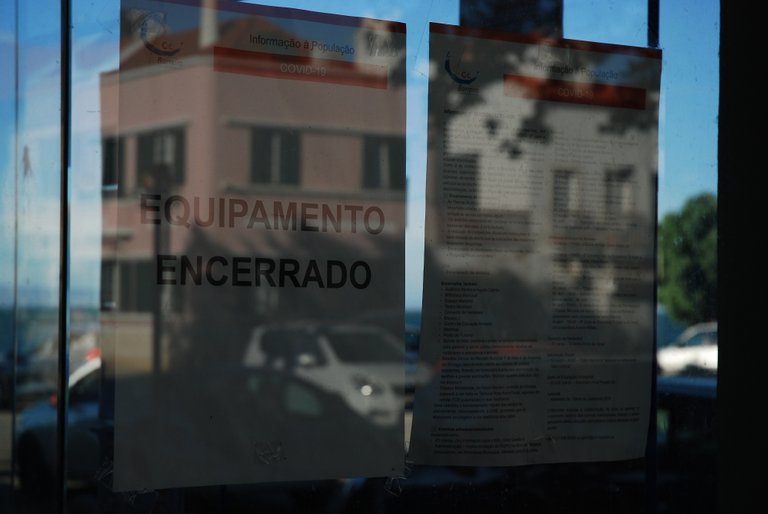 As i write this text and we entered in lockdown 2.5 or 3.0 (it's been almost a year now), thousands of stores in Portugal are closed, a large number of lives are being destroyed, only supermarkets and food delivery services are working after 13h on weekends, during the week there is a mandatory confinement curfew at 23h.
Many other measures are in place of course, no travelling for the most affected areas, mandatory masks in places where its not possible to distance, etc.
The streets are empty at night on weekends with most people having no option but to stay at home without a place to go and spend their money.
The department of culture even begged for people to go to shows in the last months, to keep the money flowing, but the restrictions canceled most as all the summer festivals.
The out of proportion measures will destroy or reshape the economy.
There is no going back, the harm is done, it was done for decades.
Politicians showed no hesitance in applying these measures almost universally.
As a side note, the police have not been enforcing strict patrols or fines, mostly recommendations, maybe more present in the big cities or more crowded areas, but in general worldwide we are seeing an escalation, here they will last for 70 days at least so that was 2020 for us...
All of the massive industrial world that we have, the one that only has to pay a fine for the "extra pollution". The same that dumps us with industrial waste above our heads every day.
The same world that brought us the possibility of a Fukushima accident that is still underway, is telling us what not to breathe.
There is massive division in the world today, war, inflation.
I mean it gets no worse than this.. but still some carry on, there is work to be done.
Technology being deployed, 5G rolling out since March.
Decentralized technology turning the gears with new waves of users and projects emerging, the banks and countries are running to make (at least) "stable digital coins" pegged to a country currency, why ? To control your money of course.
Some governments will try and ban some cryptocurrencies, maybe struggle to regulate it in categories: "white" cryptos which will be exclusive to government or what they will accept, "gray" cryptos that will be tolerated in commerce, etc, and "dark" cryptos which will be forbidden and chased and cracked forever. (insert drama)
Now for someone who saw the whole crypto scene emerge this would make no sense, decentralization represents freedom from middle parties and regulations.
But fast social changes might take place very fast if countries continue this route, the narrative as been laid for decades, and now with covid the path is open for decisions.
Remote work is being implemented massively, the cars should drive themselves because 70% of you cannot, the robots will build the roads and a drone will fly you your lunch, sit tight and watch some mainstream TV series.
If you comply or not, that might or not be registered in a world database. You are free to do so but your social credit score might be affected. We will recommend ads for you to improve your life.
So, the harm is done.
Now, (if you can)(let's) go out there and make it better.
If you are just arriving, have a great awakening and see you on the next one. Oh and thank you for your time and attention on the hive, they are appreciated, and if you are spending time online take your time to direct your votes (or clicks) and attention to communities and people that are building or approaching new ways of life. (consider supporting community growth by powering up hive and / or buying and staking community tokens).
Also consider reading this reflection on going off-grid by @eco-alex https://peakd.com/hive-122315/@eco-alex/the-unspoken-revolution-covid19-is-the-path that he just published.
Some of us are uffing and puffing in the cities working for the next paycheck and most don't understand or cannot do anything about the fact that we built our trap, some realized and started warning others and preparing themselves.
At least if we can start directing our thoughts in a different direction, things start to materialize.
And remember no matter what happens, we can all collectively or individually say "no", turn away, make another corner, live another day.
(This "article" may or may not be advocating for social change)