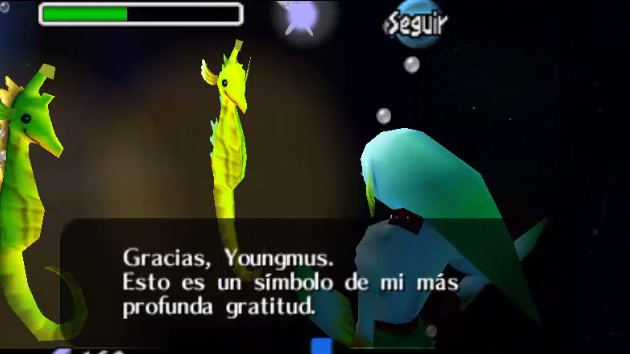 ---
[ENG]
We continue rescuing the Zora eggs to gather them all in the professor's tank and watch them hatch.
To pass through the tricky currents we exchange a pirate pictogram for a seahorse in the fish store.
We finish at the end of the pinnacle stone, where we have to exterminate the sea serpents. In each nest we can find one or another Zora egg.
After this we see how they hatch and learn a new song. Immediately we go to show the song to their mother and she with her voice wakes up a Giant turtle.
This turtle seems to be some kind of ancestor of the sea and will take us to the third temple.
Where we will fight a lot of things and manage to free the 3rd giant, all this to prevent the moon from falling on the world and destroying it.
Thanks for reading! until another gameplay.
➷➹➷➹➷➹➷➹➷➹➷➹ ➷➹➷➹➷➹➷➹➷➹➷➹➷➹➷➹ ➷➹
[ESP]
Continuamos rescatando los huevos Zora para reunirlos todos en el tanque del profesor y verlos nacer.
Para pasar por las corrientes engañosas intercambiamos un pictograma de una pirata por un caballito de mar en la tienda de peces.
Terminamos al final de la piedra pináculo, donde tenemos que exterminar a las serpientes marinas. En cada nido podemos encontrar uno que otro huevo Zora.
Luego de esto vemos como nacen y aprendemos una nueva canción. De inmediato vamos a mostrarle la canción a su madre y ella con su voz despierta a una tortuga Gigante.
Esta tortuga parece ser algún tipo de ancestro del mar y nos llevará al tercer templo.
Donde lucharemos contra un montón de cosas y conseguiremos liberar al 3er gigante, todo esto para evitar que la luna caiga sobre el mundo y lo destruya.
¡Gracias por leer! hasta otro gameplay.
---
▶️ 3Speak