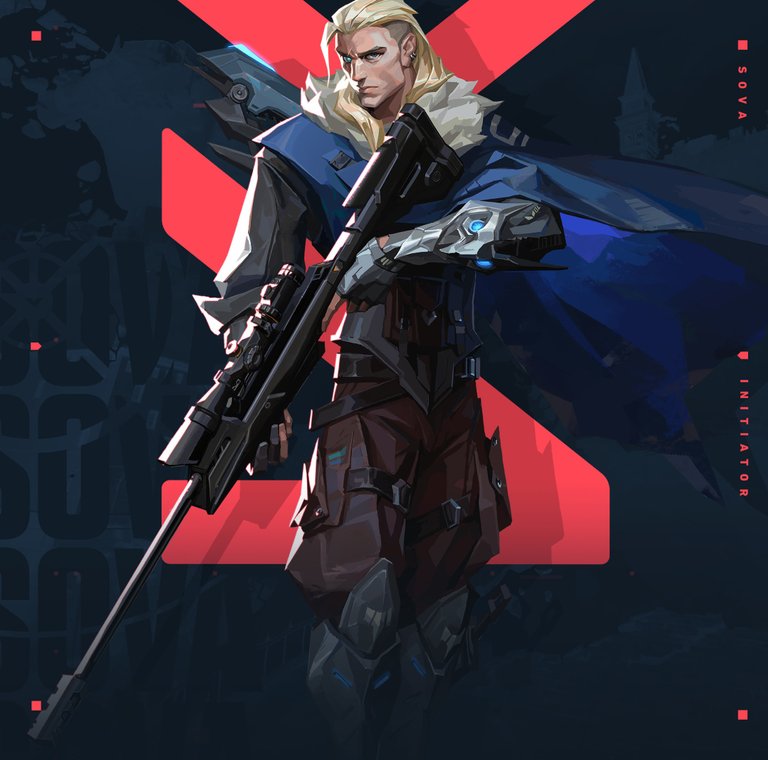 The Russian Hunter, Sova, who brings a bow into a gunfight, but obliterates everyone that he hunts. He has the knowledge to use guns and coped with all the tech he encounters, but still has the mentality of a hunter from a medieval period. He has an eye that helps him see throught his tech and give himself and his team the advantage. The mentality of a true hunter, a honorable and respectable hunter. Care for his arrows, he may kill you with his precise shocks.
Trivia

      Sova was voiced by Aaron Vodovoz, an actor from London famous for his films Killing Eve (2018), The King's Man (2020) and the famous Messiah (2020).



      For the curious folks, here are some trailers of his films.

---
---
Abilities
---
BASIC
---
Owl Drone

      Sova sends a drone from his left arm and lets him see the drone POV using his right eye. Move the drone with the direction keys and shoot tracking darts from the drone, giving the enemy's position hit by the drone. It will reveal the enemy for 3 beeps and will automatically be disabled.
Sound Cues
| | |
| --- | --- |
| Type: | IG |
| Cost: | 300 Credits |
| Slot: | 1 slot |
---
Shock Bolt

      Sova equips his Shock Bolt and shoots it upon activation. It follows a precise trajectory and triangulation. So every arrow is pixel precise when shot. It can be set up to 2 bounces, and up to 3 charges. As it has done all the bounces designated to it, it will release an EMP blast upon landing that will damage enemies within its radius damaging 70-80 health points.
Sound Cues
| | |
| --- | --- |
| Type: | Damage |
| Cost: | 100 Credits |
| Slot: | 2 slots |
---
SIGNATURE
---
Recon Bolt

      Sova equips his Recon Bolt and shoots it upon activation. It also follows precise trajectory and triangulation. It can also be set up to 2 bounces and 3 charges. Upon landing, it sticks to a platform and reveals the enemies in its radius. Recon Bolt can only reveal enemies in its line of scan. It can also stick to an enemy, if you're lucky enough, or skilled enough if I may say.
Recon Bolt Shot
Enemies Revealed
| | |
| --- | --- |
| Type: | IG |
| Cost: | Free/Restock after 35 secs |
| Slot: | 1 slot |
---
ULTIMATE
---
Hunter's Fury

      Sova readies his bow and arrow to shoot a line of powerful shot that goes through walls. It reveals the enemies hit by the Hunter's Fury of a while. You can shoot of a maximum of 3 shots or you may also not shoot and wait for the Hunter's Fury time to run out. You can also cancel it by pressing the ultimate key again.
Sound Cues
| | |
| --- | --- |
| Type: | Damage, IG |
| Cost: | 7 ult points |
---
---
Tips
      The agent is a beast of himself this guy is like a wall hack agent that kills you before you see him. But he is relatively hard to play. As of today, July 2020, Sova has the lowest pick rate. Because of his easy to predict Shock Bolt and Recon Bolt, if used repetitively, his ult that is so hard to hit, and his Owl Drone that makes his body vulnerable to lurking, annoying enemies. But if Sova is used to its fullest, this agent is a pain in the ass. Kill him as soon as possible, or he will take two or more with him to the grave.
---
---
References
Read: IMDB: Valorant
Read: IMDB: Aaron Vodovoz
Read: Mobalytics: Valorant Sova
Read: Mandy: Aaron Vodovoz
---
---
Also Read