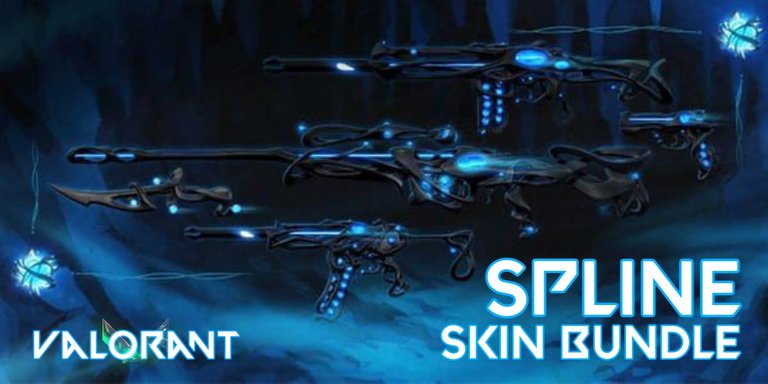 (Image Credits to Riot Games)
      Spline Skin Bundle is now in game! The advance alien-ish weaponry is at your hands already. Look at these wonderful creations that you'll definitely like (if you're into weird style or some sort.)
| SPLINE Skin Bundle | |
| --- | --- |
| Cost: | 7100 VP |
---
KNIFE
---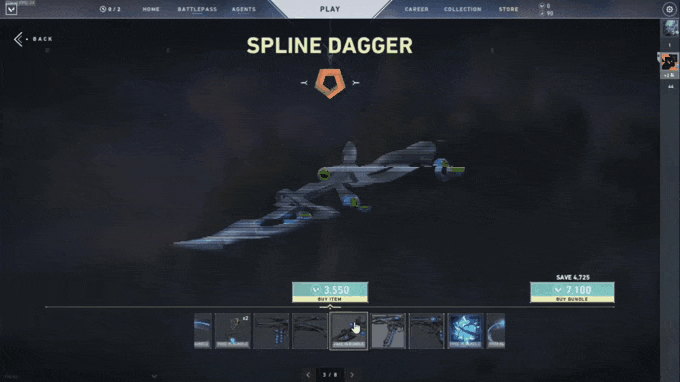 The crazy build on this knife is fairly made and nice to have actually. It's pretty unique especially on its handle since it is covered by its swirly style. Pretty cool!
---
CLASSIC
---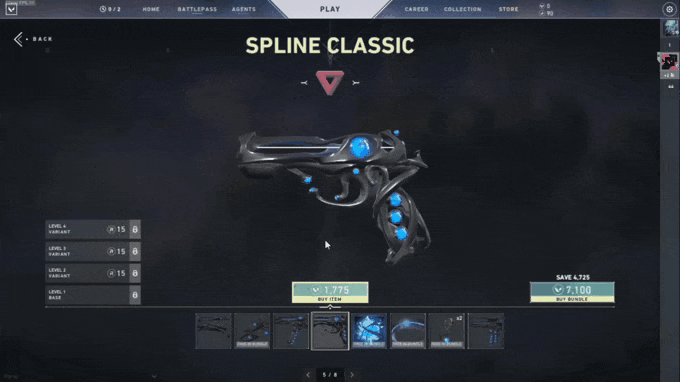 To think that a transparent shaft would be a good style of guns. It's oddly good to look at especially at its sides. It looks small because of its transparent cover and reduced volume. I also like its eye-like thingy in its middle. It's small and simple looking.
---
SPECTRE
---
      What attract my eyes the most in this gun is its magazine. It's cool to look at because it has a lot of its blue thingies and creates alien vibes on the gun. One more thing about this gun that I like is its nozzle. It's uniquely built, emphasizing its alien theme.
---
PHANTOM
---
      For the Phantom users, here's what you've been looking for this Act II. Even if the Battlepass offer right now doesn't have a phantom skin, This one gives them a chance to get more skins on their favorite gun. It is also transparent on a lot of parts and has a big eye-like thin in the middle. Weird styled with fashion!
---
OPERATOR
---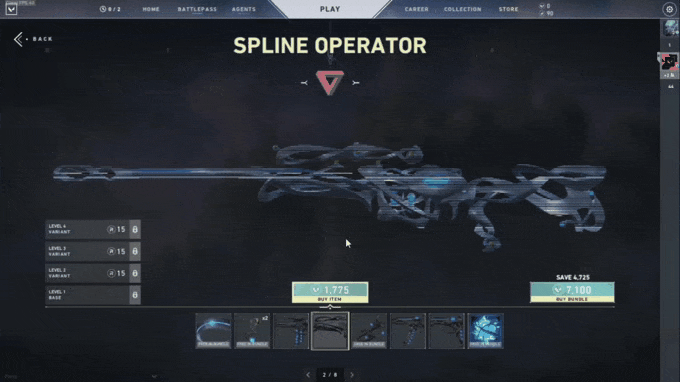 This is my most favorite in this skin line. Not only its weird and long nozzle, but the color of this is very pleasing to my eye. The beam that passes through the swirly style of its nozzle is oddly a site to see. And its scope, unique and cool, what I really like about this gun. It emphasizes its weird property, its color and its texture really goes beyond style. I love it.
---
MISCELLANEOUS
---
      It is my first time seeing a skin bundle that has miscellaneous on them. Let's take a look.
| Miscellaneous | Cost |
| --- | --- |
| Spline Card | 375 VP |
| Spline Spray | 325 VP |
| Spline Buddy | 475 VP |
---
CHECK OUT MY LATEST CONTENT!